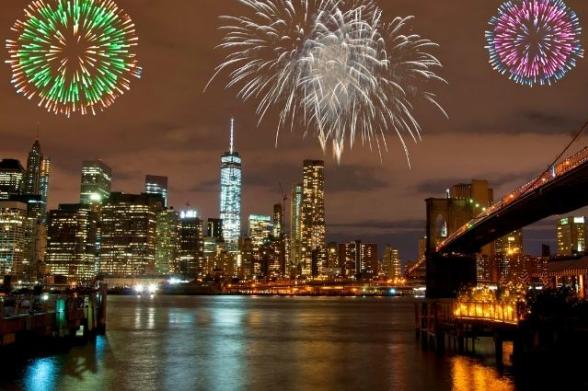 It's time to celebrate New Year's in New York State! Welcome 2021 with a First Day hike at a state park or trail, explore a wildlife refuge, or drive through an amazing light display. Want to stay home while you toast to the new year? Enjoy virtual ball drops, virtual wine and champagne tastings, world-class musical acts online, and home-based family-friendly activities courtesy of New York attractions. Remember to social distance and wear a mask as required by state guidelines. Call ahead and check websites and social media to make sure attractions are open and available. 
Start 2021 safely outdoors on January 1 at a state park or trail near you by taking advantage of First Day Hikes hosted by the New York State Office of Parks, Recreation and Historic Preservation and the Department of Environmental Conservation (DEC). This annual event features more than 60 hikes at state parks, historic sites, and other locations throughout New York State. Some of the locations include: First Day Hike at Fort Ontario State Historic Site, First Day Hike at Franklin D. Roosevelt State Park, First Day Hike at Herkimer Home State Historic Site, and First Day Hike at Montauk Point State Park. Be sure to dress appropriately for winter hiking, wear a mask, and practice safe social distancing. The hikes vary from one to five miles and are led by staff from State Parks and the DEC, as well as volunteers. More information is available on the State Parks page. January 1; various locations throughout New York State; free, but advance registration is required for several of the First Day hikes.
For a relaxing New Year's Eve or New Year's Day break, take a beautiful drive through the colorful light displays at the Festival of Lights in Oneonta's Neahwa Park. Drive past decorated trees, floating luminaries in the pond, and light displays created by community groups to keep you in the holiday spirit into the new year. For more drive-through light displays and virtual holiday happenings, visit Unique Ways to Celebrate the Holidays in New York. Now through January 3; Oneonta; Free admission.
Burn off some holiday calories and enjoy the great outdoors of Long Island by taking a New Year's Eve or New Year's Day hike at Wertheim National Wildlife Refuge. The refuge features miles of scenic trails to hike, go bird watching, take photographs, and simply relax and enjoy the outdoors. The White Oak trail has short (1.25 mile) or long (2 miles) options with river and woodland views. The Black Tupelo trail is 3.3 miles and has views from the east side of Carmans River. Free; 7 am-7 pm.
VIRTUAL NEW YEARS EVENTS:
A cherished annual tradition since 1972, what is now known as "Dick Clark's New Year's Rockin' Eve with Ryan Seacrest®" is the most popular way for viewers to ring in the New Year and is a New Year's staple, with live performances in New York City along with the iconic Times Square ball drop. This year's event is a virtually enhanced celebration that brings Times Square and the ball drop to you digitally no matter where you are, with scaled-back and socially distanced live elements and an extremely limited group of in-person honorees who will reflect the themes, challenges, and inspirations of 2020. December 31; Watch the ball drop and more on ABC at 8 pm EST; New Year's Eve with Steve Harvey on Fox at 11 pm EST; New Year's Eve with Carson Daly on NBC at 11:30 pm EST, and New Year's Eve Live with Anderson Cooper and Andy Cohen on CNN at 8 pm EST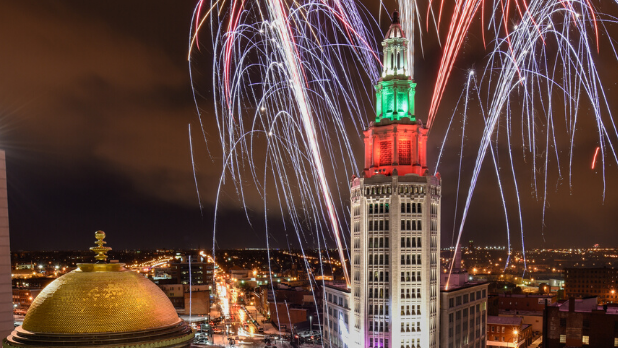 This year marks the 32nd anniversary of First Night Buffalo, and you're invited to celebrate! Stay warm inside your home and experience an affordable night of fun for the whole family. With magicians, exotic animals, jugglers, and much more, make this a New Year's Eve to remember. Purchase your Party Box (sized for a family of 4), which includes party hats, balloons and a pump, face paint, glow sticks, and more, including a voucher for a carload admission to Festival of Lights at the Erie County Fairgrounds. Purchase Party Boxes at select Tops locations or purchase online and the party box will be shipped to your house (must be purchased online before 12/18 to receive by 12/31). December 31; Buffalo; party boxes $20.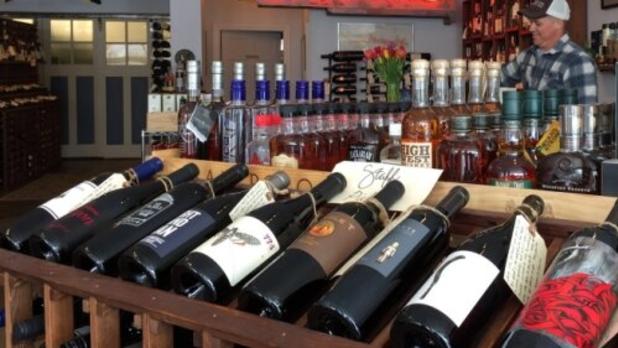 Join Sam Whitmore of Chautauqua County's Bag & String Wine Merchants and 20,000 friends in what is planned to be the biggest virtual wine tasting in the world (it will be submitted for certification with the Guinness World Records). To ring in the new year in a safer way, organizers are hosting a webinar tasting and talking about Champagne and other sparkling wines with the event's co-host, the Robert H. Jackson Center. Whitmore will lead the class and discuss the six wines, the regions they're from, and more. Registration closes December 12 for the complete kit and mailed Workbook; registration closes December 26 for the emailed PDF. December 31; Lakewood; three kits are available, priced at $10, $20, and $120 online.
New Year's Eve celebrations wouldn't be complete without the festive sound of a popping cork. Bid a hearty farewell to 2020 and welcome the new year with authentic New York sparklers, as in sparkling wines from New York! Join in as the New York Wine and Grape Foundation honors New York State's sparkling wine history, celebrates the future, and toasts the new year in a lively virtual tasting with editor-in-chief of the lifestyle blog Wine With Wanda. December 31; Penn Yan; free (registration required).
The Bardavon 1869 Opera House hosts a virtual New Year's Eve concert featuring Grammy-winning singer/songwriter Lucinda Williams. The performance is part of a benefit to help independent music venues, such as this Poughkeepsie theater, that are struggling during the COVID-19 crisis. A percentage of each ticket goes directly to the venue through which it was purchased. December 31; Poughkeepsie; prices vary.