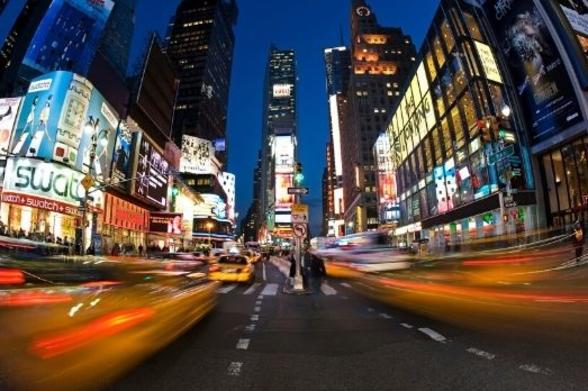 Have you always wanted to "go big" for New Year's Eve in New York? With a dizzying array of celebrations going on throughout New York State, this year you can! From jaw-dropping fireworks displays to impressive musical acts to family-friendly festivities, plan an unforgettable experience as you count down on New Year's Eve in New York! 
Celebrate 2020 early at New Year's at Noon at the Mid-Hudson Children's Museum in Poughkeepsie. Held from 9:30 am–12:30 pm, the event features fun countdown activities held every hour on the hour, crafts, and refreshments. Get ready to dance! With an on-site DJ there will be unlimited dancing for the whole family. Don't wait to get your tickets as they are likely to sell out. Advance tickets are on sale at a discounted rate, $10 per person for museum members or $14 per person for non-members, if purchased by 5 pm on December 30. The museum is closed on December 31 and will only be open for this event. December 31; Poughkeepsie; Day-of tickets are $11 per person for museum members and $15 per person for non-members.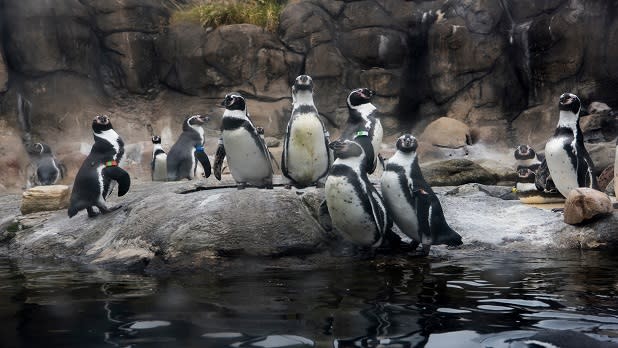 Ring in the new year with the animals at the Rosamond Gifford Zoo in Syracuse! Noon Year's Eve, held from 10 am–12:30 pm, offers an exciting celebration for all ages. With more than 700 animals at the Rosamond Gifford Zoo, there's much to be explored! See penguins, otters, and Dart frogs at the zoo before heading to the dance party, held in the banquet room right off the lobby. Get a sweet drink from the hot cocoa bar before going outside to the courtyard to watch the ball drop at noon—so no one has to miss their bedtime! Snow gear is encouraged as you never know what the weather will be like at the ball drop. December 31; Syracuse; Free for members or with zoo admission; Zoo admission from March–December is free for U.S. Veterans and active military; $5 for seniors ages 62 and older; $9 for adults ages 18–61; $5 for youth ages 3–17; free for children 2 and under. 
Start 2020 outdoors! Take advantage of First Day Hikes hosted by the New York State Office of Parks, Recreation and Historic Preservation and the Department of Environmental Conservation (DEC) on January 1. This annual event features more than 75 hikes at state parks, historic sites, and other locations throughout New York State. Some of the locations include: First Day Hike at Allegany State Park (pictured), First Day Hike at Glimmerglass State Park, First Day Hike at Old Croton Aqueduct State Historic Park, and First Day Hike at Sackets Harbor Battlefield State Historic Site. Be sure to dress appropriately for winter hiking—you never know what the conditions may be! The hikes vary from one to five miles and are led by staff from State Parks and the DEC, as well as volunteers. More information is available on the State Parks page. January 1; Various locations throughout New York State; Free, but registration is required for several of the First Day hikes.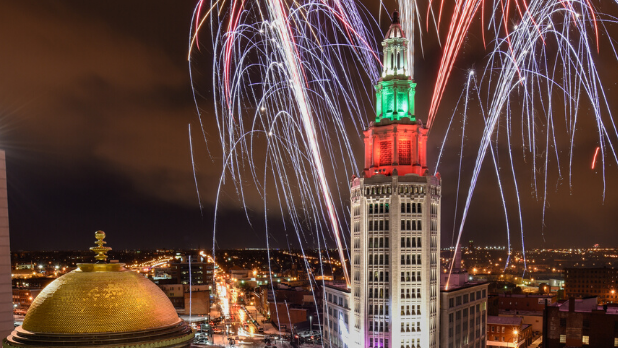 Get your winter jackets on to experience an unforgettable New Year's Eve at Roosevelt Plaza in downtown Buffalo. The 32nd annual celebration begins at 10 pm and is free to attend. Watch musical performances by local acts before midnight. Did you know this event features the second-largest New Year's Eve Ball Drop in the United States? Don't miss it—countdown to the new year as you watch the ball drop at the Iskalo Development's Electric Tower. Stick around for a fireworks show after the ball drop. Looking for an event before 10 pm? Venture to the Buffalo Convention Center for First Night Buffalo, featuring carnival rides, music, and more from 5–10 pm—don't miss the balloon drop at 9:45 pm! December 31; Buffalo; Free. 
Holiday Valley's NYE Celebration and Torchlight Parade (Chautauqua-Allegheny)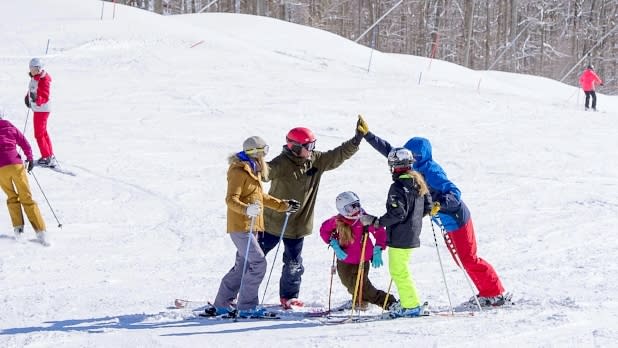 Bring your family and friends to Holiday Valley Ski Resort in Ellicottville for a New Year's Eve celebration on the slopes! After a day of skiing or snowboarding gather in the Holiday Valley Lodge from 9 pm–1 am. The Lodge's main floor hosts the family-friendly event featuring a DJ, games, and more. Keep your eyes on the slopes for the groomer parade and the torchlight parade on Cindy's Run at 11:15 pm, and the fireworks display at 11:45 pm. Interested in being part of the torchlight parade? Intermediate and advanced skiers are welcome to join! All you have to do is head to Cindy's Chair Lift by 11 pm. Children 12 and under need to be accompanied by a parent/guardian. December 31; Ellicottville; Free.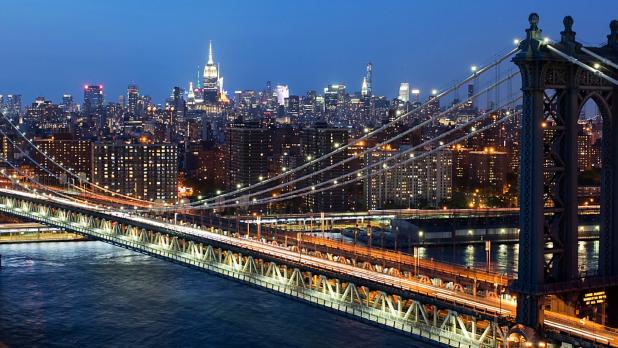 We all know about the impressive Times Square Ball Drop, but maybe you'd like to experience the thrill of the city in a calmer environment. A New Year's Eve walk on the Brooklyn Bridge may be just what you're looking for. Stroll along the pedestrian walkway to find incredible views of Brooklyn and the New York City skyline. If you stay until the fireworks show in New York Harbor at midnight, you'll have a great view from the bridge. If you're starting your walk on the Brooklyn side of the bridge, get a slice of pizza from Juliana's before they close at 10 pm. Looking for a guided tour? The Brooklyn Bridge Walk Into the New Year Tour offers a one-mile walk on the bridge from 10:30 pm–midnight on New Year's Eve. Add a champagne toast to your walk to celebrate the night! Price is $50 for adults, $40 early bird, and $25 for students and children. The champagne toast package is $75. December 31; New York City.
First Night Saratoga (Capital-Saratoga)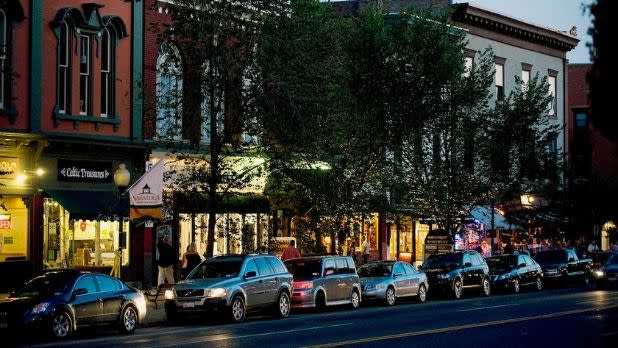 Attend one of the largest New Year's Eve events in the state in the picturesque City of Saratoga Springs. Hosted by Saratoga Arts, First Night Saratoga runs from 6 pm–midnight and features a wide variety of musicians, performers, and singers at more than 25 venues across downtown Saratoga. This year's theme is "A New Dimension," highlighting new acts coming to Saratoga, while also celebrating returning acts. The night begins with the First Night 5k Road Run at Skidmore College. Afterward, browse the local shops along Broadway—Saratoga's main street—which are open for extended hours. Visit nearby Lake Avenue School to watch Arm-of-the-Sea Puppet Theater, an arts ensemble that utilizes visual storytelling and live music. Also at the school, bring your kids to see Silent Wing Raptors, an educational program featuring live birds of prey. December 31; Saratoga Springs; Event buttons are $20 ($15 if purchased early) for adults; children 12 and under are free.
Ring in the New Year on the Slopes of the Catskill Mountains (Catskills)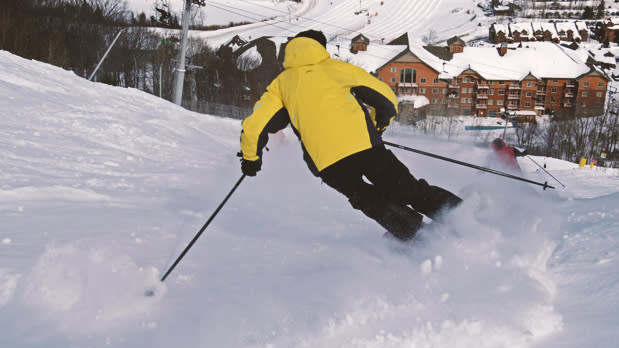 Skiers and snowboarders rejoice! End a thrilling day on the slopes with New Year's Eve celebrations right at the mountain. Head to Hunter Mountain's Main Lodge from 4–9 pm for a free celebration including a torchlight parade, live music, and a fireworks display. Did you spend the day on the slopes at Windham Mountain? Celebrate the new year in style at Windham Mountain's Seasons Restaurant from 7:30 pm–12:30 am. The night includes hors d'oeuvres, an entrée, a dessert display, a champagne toast, live music, a complimentary drink, and fireworks!  Price is $150 per adult and $75 for children under 12. Call 518-310-2725 for additional information. RSVP to Windham Mountain by December 21. December 31; Hunter and Windham.
Spend New Year's Eve with your loved ones and friends at the Foothills Performing Arts Center in Oneonta. This year's First Night Oneonta theme is "20/20—I Can See Clearly Now!" From a parade down Main Street and a Super Smash Bros. video game tournament to poetry readings and live music, the night is filled with entertainment. This alcohol-free celebration also includes activities like face painting and juggling—along with a visit from American Ninja Warrior's Anthony Eardley. Watch the talent show, then dance the night away at the black light after-party. This celebration is a memorable way to kick off the new year! December 31; Oneonta; Free admission.
First Night Saranac Lake (Adirondacks)

Credit: ROOST
Head to the snow-covered Adirondack Mountains for First Night Saranac Lake from 6 pm–midnight on December 31. The family-friendly annual event features more than a dozen musical acts, comedy shows, and dancing at venues throughout the village. With performances starting on the hour, don't worry about missing an act! Ring in the new year watching the ball drop on River Street, then enjoy an incredible fireworks display over Lake Flower. Tickets are available for purchase online or at select local businesses. There is a shuttle bus available to and from Pendragon Theatre and Saranac Village at Will Rogers—buses leave from the central downtown parking lot on Main Street. December 31; Saranac Lake; First Night button prices until December 30 are $15 for adults; $7 for teens; children 12 and under are free; Price increases to $20 for adults on the day of the event.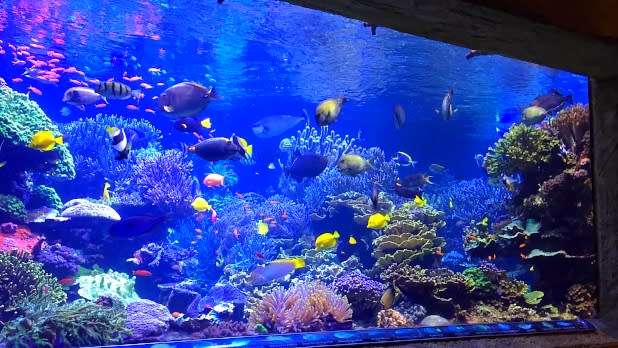 Enjoy New Year's Eve with your family and friends among fish and animals at the Long Island Aquarium in Riverhead. The Fishes and Wishes New Year's Eve party, from 6:30–11 pm, allows you to explore the aquarium at night while also celebrating the new year with dinner, drinks, dancing, dessert, and more! With one of the largest "all-living" coral reef displays, the Aquarium is home to a multitude of unique exhibits. Kids can get up close with penguins at the penguin meet and greet and can participate in crafts at the event. Be in bed before the clock strikes midnight—take part in the mock midnight champagne and sparkling cider toast at 10:30 pm. For reservations, call 631-208-9200 ext. 426 or book online. Overnight packages are also available with Hyatt Place Long Island. December 31; Riverhead; Adults: $99 (members $89); children 3–12: $60 (members $55); children 2 and under: $5.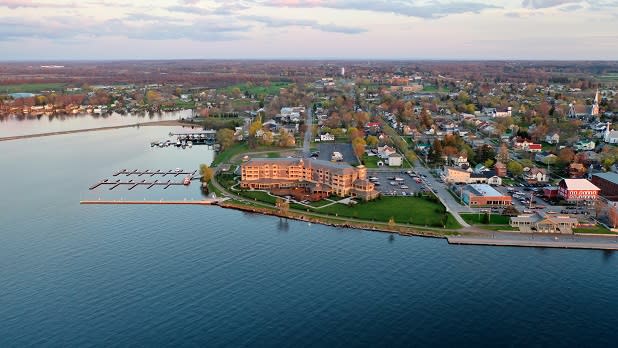 Celebrate 2020 at Hooray for Hollywood from 7 pm–1 am at the 1000 Islands Harbor Hotel in Clayton (pictured). Live like a Hollywood star—begin the night with a cocktail reception, sample delicious cuisine at dinner stations, and dance to live music by Letizia & the Z Band. Ring in the new year with a champagne toast at midnight. Then, relax in your room with a bottle of Harbor Hotel champagne, included with your stay. After a good night's rest, enjoy the breakfast buffet from 8–11 am the next day, followed by a late checkout at noon. A two-night package is also available, which includes an additional breakfast in Seaway Grille. Call 315-686-1100 for reservations. December 31; Clayton; Price starts at $404 per couple, based on room type for a one-night package. 
Don't forget to post photos of your New York winter adventures on Instagram and Twitter with #iSpyNY and tag us on Facebook!