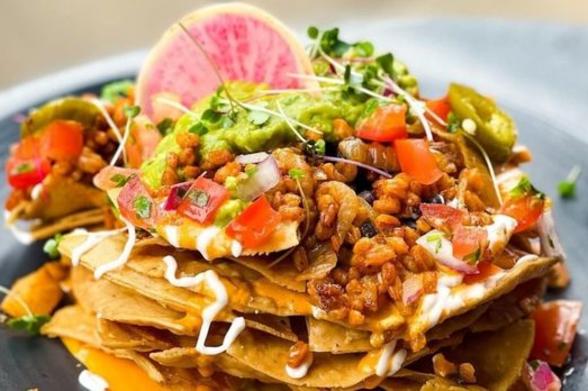 New York State is a melting pot for many reasons, with diverse cuisine and ever-growing inclusive menus taking center stage. Eleven Madison Park in Manhattan is just one establishment paving the way with a fully plant-based tasting menu. Moosewood in Ithaca is a pioneer in plant-forward cuisine and has sold 5 million of their world-famous cookbooks, which introduces generations to a vegetarian gastronomy. New York's first gluten-free brewery, Necromantic Brew Co. resides in Long Island and uses buckwheat, Millet flour, flaked quinoa, rice, and organic corn to make their unique brews. Check out more dining venues that are putting inclusivity at the forefront. No matter your dietary needs or preferences, you can take your taste buds on a tour of some of New York's best vegan, vegetarian, and top 8 allergen-free dining.
Labels throughout blog: GF = Gluten Free  |  NF = Nut Free  |  DF = Dairy Free  |  SF =  Soy Free  |  VE = Vegetarian | VG = Vegan | K = Kosher 
Jump To: Adirondacks | Capital-Saratoga | Central New York | Finger Lakes | Thousand Islands-Seaway | Chautauqua-Allegheny | Catskills | Hudson Valley | New York City | Long Island
Adirondacks
Smoke Signals (Lake Placid)
This popular BBQ joint offers exceptional views of Lake Placid and is best known for their smoked meats, but they're not skimping out when it comes to homemade vegan and vegetarian dishes. The seared scallops, grilled halibut, and vegetable curry are instant crowd-pleasers. (GF, VG, VE)
Rock Hill Bakehouse (Glens Falls)
Rock Hill Bakehouse is a 100% vegan bakery and cafe, proudly using plant-based butters and meats, all locally sourced whenever possible. Gluten-free? No problem, they offer a selection of gluten-free bread options. Taste for yourself the Jewish Rye that the New York Times called "best east of the Mississippi." (VG, VE, GF) 
Irises Café & Wine Bar (Plattsburgh)

Courtesy of Irises Cafe & Wine Bar
A classy cafe offering contemporary American fare with wine pairings and a lounge that regularly hosts live music. Some of the savory selections on the menu include the Jackfruit Reuben, Buffalo fried cauliflower salad, and Asian vegetable noodle bowl. (VG, VE)
Capital-Saratoga 
O'Malley's Oven (Troy)
Catering to dessert lovers of all kinds, this gluten-free bakery offers a wide variety of sweet treats as well as a line of savory hand pies, and bake-at-home flour blends. Want to take your love of desserts to the next level? Check out their hands-on classes, including how to make French macarons. (GF)
Liza's (Troy)
Liza's is a one-stop-shop for all things gluten-free, dairy-free, and plant-based with vegan, raw, nut-free options. The food is as tempting to photograph as it is to eat. Sip your way through the flavorful and creative smoothie menu, snap a pic before you dive into colorful acai bowls, and enjoy cauliflower tacos, raspberry coconut chia waffles, or a butternut squash bowl. (GF, DF, NF, VG, VE)
Nine Pin Cider Works (Albany)
Apple-y ever after starts with a visit to Nine Pin Cider. The cozy and casual ambiance suits every season, with outdoor and indoor drinking and dining, fire pits, and an on-site tasting room with views into the cidery. Pair any of their seasonal, rotating 100% naturally gluten-free ciders with locally-sourced menu options including vegan pizzas, or the popular honey BBQ pizza. Savor the flavor of a black bean or plantain empanada or treat yourself to a NY local cheese plate. (GF, VE, VG)
Schuyler Bakery (Watervliet) 
Operating for over 65 years, Schuyler bakery is proud to be a peanut-free and tree nut-free establishment. With homemade danishes, assorted flavor coffee cakes, cheesecake brownies, lemon bars, donuts, pies, cookies and so much more, sweet tooths everywhere are sure to be satisfied. (NF)
Scallions (Saratoga Springs)
Vivid decor and a warm, inviting atmosphere make this Saratoga staple a must-see. In warmer months, enjoy outdoor dining as you explore a menu offering unique gluten-free, vegetarian, and vegan items including the ultimate falafel, Mediterranean quinoa bowl, romesco linguini, or farmstand salad. (GF, VG, VE)
Tara Kitchen (Troy, Schenectady, Guilderland, new location in Tribeca, NY)
Expand your horizons and your palate at this popular and ever-growing restaurant. In a cozy atmosphere with superb staff, Chef Aneesa pulls in comfort food from beyond North Africa and adds a Moroccan twist. Menu favorites like cabbage rolls, eggplant parmesan, and fish cakes get a tasty makeover that will only make you love them more. Many of the dishes can also be made vegan. Try a vegetable tagine, spicy fava bean salad, or potato patties. (GF, NF, SF, DF, VG, VE)
Bare Blends (Glenmont, Albany, Latham, Glenville, Clifton Park, Saratoga Springs)
Add every color of the rainbow to your diet with perfect on-the-go healthy beverages and bites. The food at Bare Blends is 100% plant-based and the packaging is environmentally responsible. Try the mouth-watering savory taco waffle toast or sweet Hawaiian waffle toast, made using their signature vegan and gluten-free waffle batter. Build-your-own smoothies and smoothie bowls, enjoy salad and grain bowls, and fresh-pressed juices. (VG, VE)
Central New York 
City Café (Whitesboro) 
A fun, casual cafe dedicated to gluten-free, dairy-free, and peanut-free dining. The bakery features cheesecakes, carrot cake cupcakes, the famous Utica halfmoons, breads, and more. From the restaurant side try the vegetable risotto, mac and cheese, portobello burger or a veggie street taco. (GF, DF, NF, VG, VE)
Pizzeria Italia (Utica)
Italian food and pizza- it's what Utica does. And does well. Dine-in or take-out from this popular pizza spot where most of the signature pizzas can be made gluten-free. A dedicated gluten-free fryer also allows for those with special dietary needs to enjoy mouth-watering appetizers and wings. (GF)
Old Barn Market and Gluten Free Bakery (Binghamton) 
Old Barn Market is proud to be the only true gluten-free bakery in the Greater Binghamton Area. The market provides a friendly atmosphere with vast displays of locally-sourced products and the coffee bar serves delicious cold and hot specialty drinks. The kitchen is kept to strict standards so all baked goods are safe for everyone to enjoy. Many of the items can be baked to accommodate vegan and dairy-free diets. Make sure to get your hands on a cheesecake bar or a cinnamon roll. (GF, VG, VE)
Bocca Osteria (Cooperstown)
A small, family-owned Italian restaurant specializing in made-to-order pizzas, pastas, paninis, and more, all offered gluten-free. In nice weather you can enjoy the ambiance of outdoor dining under the lit canopy. (GF)
Finger Lakes 
Get Caked Bakery (Rochester)
This small bakery packs in a wide and diverse selection of splendid sweets. All of the employees at Get Caked Bakery are strictly and regularly trained in allergen-safe dining. Featuring dairy-free, egg-free, nut-free, gluten-free, and vegan desserts including cookies, macarons, brownies, krispies, muffins, cupcakes, and cakes. Separate rooms, utensils, ovens, prep and decorating spaces ensure there is no cross contamination. (DF, NF, GF, VE, VG)
Moosewood (Ithaca)
Moosewood Restaurant, a pioneer in plant-forward cuisine and farm-to-table philosophy offers vegan options including roasted zucchini hummus, barley and roasted brussel sprout salad, and spicy coconut curry. Not only are they world-famous for their restaurant, but also for their cookbooks which have served as the global guide to vegetable-forward eating for 50 years. The culinary movement created by Moosewood has revolutionized the way people think about vegetables. (VG, VE)
Taste of Supreme (Rochester) 
A gourmet bakery serving up a variety of gluten-free and vegan cakes, pies, cookies, and more. The mocha double chocolate cookie, supreme bean chocolate chip, and snickerdoodle will have you reaching deep into the cookie jar. (VG, VE, GF)
Swillburger (Rochester)
Set in an old church building, this trendy hangout offers burgers, cocktails, and vintage arcade games. Swillburger offers a local, sustainable modern take on the classic American burger joint. Where else can you play Skee-Ball with one hand while the other holds a burger? Just about anything on the menu can be served vegan. Gluten-free buns and a gluten-free fryer allow for those with dietary restrictions to dine worry-free. Try the double veggie burger paired with a chocolate or vanilla shake. (VG, VE, GF)
The Cellar (Corning)
The Cellar knows how to provide a wide variety of food options with its ever-changing menu that strives to create special meals for guests who prefer gluten-free, vegetarian, or vegan dishes. The team works daily with local farmers, chefs, markets, and importers to find and utilize the freshest seasonal and locally-sourced products and ingredients. Enjoy delicious vegan dishes like empanadas, ratatouille, kimchi fries, house vegan cheese board, tofu paneer, and more. Save room for dessert and enjoy the dark chocolate lava cake. (VG, VE, GF)
Original Grain (Syracuse) 
Instagram-worthy food that tastes as good as it looks. Original Grain is more than just feel-good food. They pride themselves on self-expression, cool music, good vibes, and colorful culinary curations. Smoothies, green, grain, and noodle bowls, and gluten-free loaded avocado toasts fill the mostly gluten-free, vegetarian menu, with ample dairy-free, vegan offerings, as well. (GF, DF, VE, VG)
Razzle Dazzle "Our Vegan Corner" (Syracuse)
Spice things up at this one-of-a-kind fully vegan soul food restaurant. Its popularity with vegans and non-vegans speaks for itself. Try something different like savory vegan, gluten-free ribs. Choose from seitan, oyster mushroom, or cauliflower fried Chick'n, meatless beef, veggie wraps, and tacos. (VG, VE, GF)
Dinosaur Bar-B-Que (Syracuse)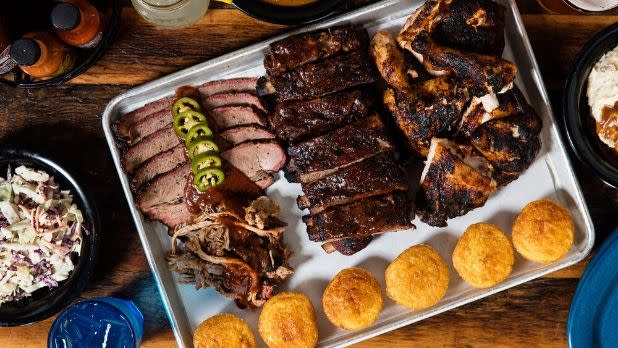 Perhaps one of New York's most-loved restaurants, this retro setting often features live music and is of course, known for their mouthwatering BBQ. But Dinosaur BBQ makes sure to include everyone in their menu offerings. Vegetarians can enjoy a smoked portobello burger, or Impossible BBQ burger. Gluten-free diners can try several BBQ wing flavors, the popular creole deviled eggs, prime brisket, and pulled pork. Stop by their original location in Syracuse, and other outposts in Rochester, Buffalo, Troy, Brooklyn, and Harlem. (VE)
Thousand Islands-Seaway 
Red Sun Fire Roasting Co. (Oswego)
A trendy, casual restaurant with wood-fired pizza and a seasonal, New American menu with plenty of vegetarian and vegan options. Try the gorgonzola leek arancini, spicy riggies, or oaxaca style roasted vegetable mole. (VE, VG, GF)
The Hops Spot (Clayton)
This funky, contemporary space is the perfect setting for happy hour or late night bites. The Hops Spot is a popular burger bar and poutinerie with weekly events. It features a separate gluten-free, vegan menu including tikka masala poutine, seasonal hummus, thai chickpea lettuce cups, and a deep fried "Vegan Dirty Bird" beyond chicken sandwich. Burgers and chicken sandwiches can be made gluten-free, and make sure to add on a side of made-to-order fresh-cut french fries, made in a gluten-free fryer. Save room for dessert with a vegan, gluten-free sundae or float. (VG, VE, GF)
3 Bears Gluten Free Bakery and Café (Potsdam)
A warm, inviting atmosphere welcomes you into this 100% gluten-free bakery. Enjoy homemade breads, cookies, cupcakes, brownies, and more sweet treats. 3 Bears also offers breakfast and lunch, including a delicious grilled caprese wrap. (VE, GF)
Greater Niagara
Mister Sizzle's (Buffalo)
Casual atmosphere, quick service, and good food makes Mister Sizzle's the perfect hangout. Featuring a variety of burgers that can all be made vegan. Pair your burger with a vegan, lactose-friendly peanut butter banana or cinnamon crunch shake. (VE, VG)
Kith & Kin Bakeshop & Bistro (Lockport) 
A dedicated 100% gluten-free facility. This bakeshop is committed to making gluten-free goodies taste great. Enjoy a menu full of allergen-free treats including pies, brownies, cookies, granola bars, and more. (GF)
The Burning Buffalo Bar and Grill (Buffalo)
Festive neighborhood tavern offering elevated American comfort food, drinks and the perfect setting to watch sports. When in Buffalo… wing it! Gluten-free wings are plentiful at this grill, made in a dedicated gluten-free fryer. House favorites include mac-n-cheese, corn tortilla tacos, and brisket chili nachos. (GF)
Lancaster's Broadway Deli (Lancaster)
Considered Buffalo's original gluten-free restaurant. The entire menu can be made gluten-free and they utilize separate kitchen spaces and utensils to ensure food safety. Try one of their award-winning vegetarian paninis that can all be made gluten-free: Italian caprese melt, voodoo Buffalo chicken, and raspberry smoked turkey. (GF, VE)
Strong Hearts (Buffalo)
On the go? Enjoy fast-casual dining in a beautiful and clean interior with ample seating and vibrant wall murals while feasting on a menu that's 100% vegan with gluten-free options to boot Try the fries, wings, or BBQ jackfruit sandwich. The best part? They have over 40 homemade milkshake varieties, all vegan. (VG, VE, GF)
Chautauqua-Allegheny  
Labyrinth Press Co. & Brazil Lounge (Jamestown) 
Born a coffee shop. Married a craft beer and wine bar. Hatched a full service restaurant. Enjoy eclectic vegetarian and vegan food made from scratch daily. The majestic mushroom polenta is a crowd favorite, and so is the African peanut burger, both available as vegan options. (VG, VE)
Om Nohm Bakery and Café (Fredonia)
Homemade recipes from a dedicated gluten-free kitchen. Treat yourself to one of their famous peanut butter chocolate oat bars, or pizzettes (flatbread mini pizzas) which can also be made vegan. Spice things up with a Buffalo tofu melt. (VG, VE, GF)
Catskills 
The Garden Café (Woodstock)
Vegan cuisine, wine and beer in a space furnished with vintage finds and seasonal outdoor seating. This is a community-focused café dishing up fresh, organic, vegan food. Popular menu items include tofu satay, Buffalo cauliflower tacos, spinach basil pesto with gluten-free pasta, and the red bean sweet potato rice burger. (GF, VG, VE)
New York Restaurant (Catskill)
Upscale, trendy Polish cuisine mixed with modern American cooking. This Main Street staple serves up eclectic fare in their warm, modern dining room, and on their outdoor patio. Delicious flatbreads can be made gluten-free with a cauliflower crust. Dinner specials are created with seasonal, local ingredients. Enjoy the vegetable golabki or mushroom ravioli. (VG, VE)
Hudson Valley 
Lagusta's Luscious (New Paltz)
Lagusta's Luscious is so much more than their artisanal chocolates. Their mission is to combine a deep commitment to social justice, environmentalism, and veganism with a love of bold flavor and obsessive commitment to artisan techniques. Chocoholics must try the ancho cinnamon bonbons, butterscotch caramels, and strawberries and cream bark. (VG, VE)
Kitchen & Coffee (Beacon)
This bright, down-to-earth spot is perfect if you need to sit down and get some work done, catch up with a friend, or just have some time to yourself! A 100% gluten-free, vegetarian cafe and bakery. Proudly sourcing local and organic ingredients, local micro-roast fair-trade coffees and fair-trade teas. Fill your plate with flavorful options like the tempeh Reuben, pho, and banh mi bowl. (GF, VE)
New York City 
Dirt Candy (Lower East Side)
One of only two vegetarian restaurants in New York City with a Michelin star, and the city's only entirely vegetable restaurant. Dirt Candy operates on the philosophy of wanting people to crave vegetables the way they crave fried chicken and pizza. Some popular dishes this restaurant has carefully curated include rutabaga gnocchi, Kentucky fried butternut squash, onion tortellini, pumpkin pad thai, and kale matzah ball soup. (VE)
Modern Bread and Bagel (Chelsea, Upper West Side)
Taste for yourself why Modern Bread and Bagel claims to have "the absolute best gluten-free bagels on the planet." This dedicated gluten-free venue serves up hand-rolled, kettle-boiled, baked fresh bagels daily. Enjoy an expansive menu including vegan and certified kosher options. Try their baked goods, deli salads, breads, cream cheeses, smoked fish, and coffee beverages. (GF, K, VE, VG)
Nami Nori (West Village, Williamsburg)
A Japanese-inspired menu, offering open-style sushi temaki rolls and a special vegan section to accommodate dietary needs. The minimalist aesthetic and neutral tones of the venue stand in contrast to the colorful and fresh ingredients on the menu. (VE, VG)
Everybody Eats (Park Slope)
Everybody Eats holds true to its name as everyone can find something they enjoy here, whether it's the multi-grain loaf, egg challah, cinnamon sticky buns, or banana bread. This is a 100% dedicated gluten-free, nut-free, soy-free bakery. (GF, NF, SF, DF, VG, VE)
Kesté Pizza & Vino (Lower Manhattan)
When a restaurant is featured on "Diners, Drive-ins and Dives," let the food do the talking. NYC is known for its pizza and this spot is a must-try. Featuring a separate dedicated kitchen to prep and cook gluten-free pizzas and other Italian fare including arancini and potato croquettes. (GF)
INDAY (Manhattan, Williamsburg)
Perfect for fast casual on-the-go bites. Cuisine inspired by Indian cultures around the world. The crispy lentil falafel bowl is a favorite, along with the crispy rice salad bowl. The golden coconut curry box is a popular vegetarian dish and the masala fries and tandoori pineapple make excellent sides. (GF, VG, VE)
Eleven Madison Park (Manhattan)
This 3-Michelin star restaurant serves a 8-10 course tasting menu consisting of entirely plant-based courses. Guests can enjoy a more abbreviated version of the tasting menu at the bar, along with light snacks, or simply a cocktail or glass of wine. Eleven Madison Park is the epitome of good people making good food doing good work; every dinner purchased there allows them to provide meals to New Yorkers experiencing food insecurity. Advance reservations are required and often fill up quickly. (VG, VE)
Long Island 
Green Street Eatery (Levittown)
Consistently voted as some of the region's best vegan and vegetarian dining. Check out Long Island's first and only fully vegan and gluten-free eatery. Stop in for Sunday brunch and enjoy blueberry lemon ricotta pancakes, strawberry cheesecake French toast, or breakfast nachos. For lunch try the BBQ jackfruit tacos, seoul bowl, or grilled mac and cheese sandwich. (GF, VE, VG)
Necromantic Brew Co (Farmingdale)
New York's first gluten-free brewery. Necromantic Brew Co. uses buckwheat, Millet flour, flaked quinoa, rice, and in some instances, organic corn to make their unique brews that run through 10 tap lines in their facility. Current brews include a roasty, toasty stout with comparisons to Guinness; a bitter orange and grapefruit IPA; a pale ale conditioned over orange and lemon peels; an amber ale; and a brown ale. The brewery also serves gluten-free snacks like cookies, meats and cheeses, kettle corn, and voodoo chips. (GF)
San Remo (Rockville Center)
An intimate, upscale-casual restaurant with a full bar, San Remo is a modern Italian eatery with an entirely separate gluten-free menu, featuring chicken and eggplant parmesan, penne alla vodka, ravioli alla ricotta, and branzino. (GF)
---
Share your New York State adventures with us on Instagram and Twitter and tag us on Facebook!