New York is home to many well-known, world-class attractions. But it's also a state filled with hidden gems that don't attract big crowds—waterfalls, hiking trails, and lakes that you can have practically all to yourself! Check out these outdoor destinations (as well as additional opportunities to get close to nature) that will expand your knowledge of New York State while allowing for safe recreation.
Masks are encouraged, but optional in most settings per New York State guidelines. Individual businesses or attractions may require mask wearing. Call ahead and check websites and social media to make sure attractions and amenities are open and available. 
Updated 05/4/2023
The Adirondacks are known for their hiking challenges, and the most family-friendly of the bunch is this three-mountain effort that's the perfect entry for new and inexperienced hikers. Mount Arab, Coney Mountain, and Goodman Mountain are all a short drive from Tupper Lake with trails that range in duration from one to 1.7 miles with ascents up to 750 feet. As a bonus, those who complete all three hikes can fill out a form (with $5 fee per registrant) to receive a Tupper Lake Triad patch. 
Overlook Park in Cohoes features not only one of New York's most stunning waterfalls, but plenty of space to explore or set up picnics with a view. The nearby Falls View Park includes a 192-foot-long pedestrian bridge spanning the School Street Power canal, with spectacular landscapes and glimpses into Cohoes' industrial past.

Credit: @miho165cm on Instagram
Its name evokes mountain ridges overlooking forest canopy and beautiful sunsets, and that is indeed part of the attraction of this 30,100-acre park in the southeast Catskills. However, Sundown Wild Forest offers so much more, from hiking trails to waterfalls and meandering trout streams. It's a favorite spot of outdoor enthusiasts, anglers, mountain bikers, and those in search of solitary walks in the woods—and of course anyone who appreciates a nice sunset!
Glimmerglass State Park is hardly a hidden gem—it's one of Central New York's most popular attractions! But not as well known is that the park is home to the oldest covered bridge in the United States. Located in the southern part of the park near the main entrance, the Hyde Hall Bridge dates back to 1825. It's close to two family-friendly hikes, Blue Bird Trail and Covered Bridge Trail, and makes for a fun detour during a visit to the park and neighboring Cooperstown.
WAG Trail (Chautauqua-Allegheny)

Credit: @k2yager on Instagram 
This nine-mile trail along the upper Genesee River offers a scenic outdoor escape, especially for bicyclists, hikers, and anglers. The trail itself was once part of the Buffalo and Susquehanna Railroad system dating back to the late 1800s; its name is an acronym of the Wellsville, Addison, and Galeton Railroad. Today, the WAG Trail portion offers opportunities for peaceful reflection or relaxed outdoor activities.
True outdoor enthusiasts will find many opportunities for adventure in this 2,700-acre rustic forest, from challenging hikes to at-large primitive camping (with restrictions). This is also a prime place for wildlife spotting, hunting, and fishing, with black bears, wild turkeys, minks, and otters calling the forest and its wetlands home. Of course, with this much land in an isolated part of the state, Urbana State Forest is also an ideal place for a quiet walk in the woods.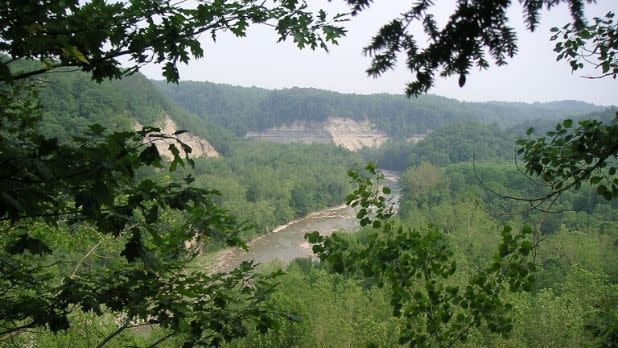 This 3.2-mile loop trail in the 400-acre Deer Lick Nature Sanctuary within Zoar Valley (pictured) and its Multiple Use Area is perfect for a quick family hike in nature, with views of a gorge and great wildlife-spotting. The trail's 429-foot elevation gain means that it can be steep in spots, but the payoffs include diversions such as wooden footbridges and memorable views.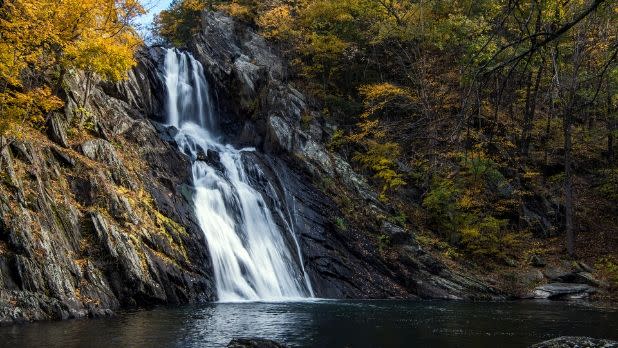 This 1.4-mile loop meanders through a heavily wooded area to an overlook facing a 150-foot waterfall. The 47 acres are set back from the small village of Philmont in the northern Hudson Valley, making this an off-the-beaten-path hidden gem. High Falls is managed by the Columbia Land Conservancy, which offers creative programming like Nature Quests.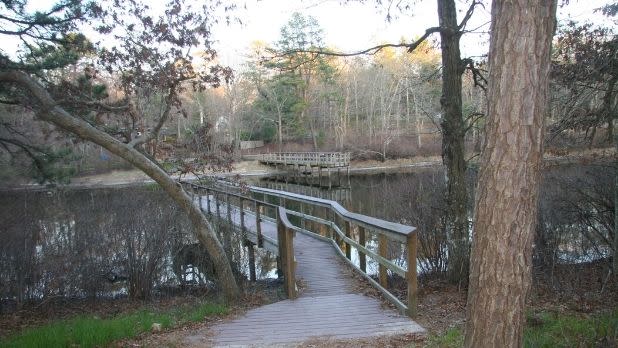 Tucked away in eastern Long Island on the approach to the North and South Forks, Ridge Conservation Area is a perfect family-friendly getaway with marked trails, a pond, and a fishing pier. The wetlands offer excellent bird watching, with colorful ducks and herons enjoying the lush habitat. Hikers will enjoy the interpretive trail's wooden markers featuring information about Long Island's unique ecosystems.

Credit: @djojee on Instagram 
A lighthouse with a view of Manhattan's famous skyline? Yes, you've found Roosevelt Island Lighthouse Park, a 3.5-acre property featuring a lighthouse overlooking the East River, with space to spread out and enjoy the skyline. The lighthouse itself is notable—built in 1872 and designed by the same architect behind St. Patrick's Cathedral.
With 980 acres, shoreline on Lake Ontario, and a small boat launch with access to the nearby Salmon River, Selkirk Shores State Park has something for everyone. The beach on the lake attracts swimmers but is also a popular sunset and bird-watching destination—the park is on a migration route for rare species. Fishing enthusiasts can head out into the lake or onto the river, while visitors can stay for a night or longer—campsites and cabins are available, a great option to take in this hidden gem within one of New York's biggest hidden gems, the Thousand Islands!
---
Don't forget to post photos of your New York adventures on Instagram and Twitter with #iSpyNY and tag us on Facebook!