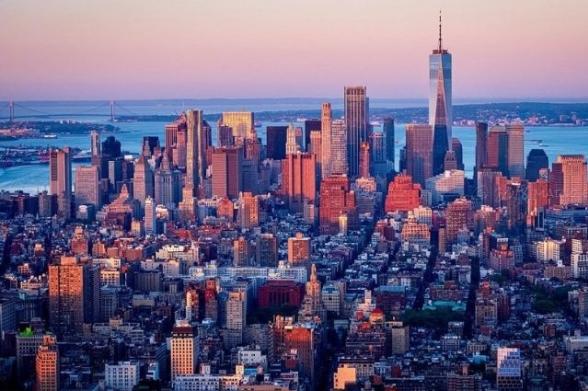 New York, New York: a city so good they named it twice. If you're dreaming of world-class cultural institutions, strolling through Central Park, awe-inspiring views from atop skyscrapers, mouth-watering cuisine from all corners of the globe, and selfie opportunities with famous locations you've seen on TV and in movies, it's all in Manhattan. While 48 hours is barely enough to explore New York's most visited borough, this itinerary is packed with many must-sees and unique experiences beloved by locals and visitors alike, making this a whirlwind tour you'll never forget.
Masks are encouraged, but optional in most settings per New York State guidelines. Individual businesses or attractions may require mask wearing. Call ahead and check websites and social media to make sure attractions and amenities are open and available. 
Updated 02/10/23
FRIDAY:
3 pm: Drop off bags at your Midtown hotel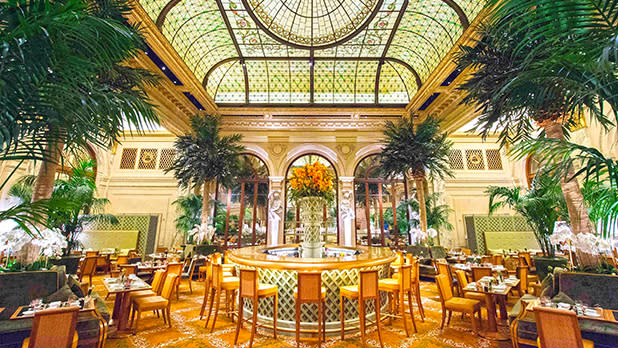 If you want to be in the center of the action with easy access to all that New York City has to offer, your best bet is to make the Midtown area of Manhattan your home base. The area is full of hotels that suit all budgets and tastes, all offering easy access to public transportation. The YOTEL offers budget-friendly "cabins" for solo travelers and fully-equipped family suites. The highly-rated yet affordable boutique San Carlos Hotel boasts spacious rooms and suites—one-bedroom suites even come with a kitchenette and dining area. For a unique experience with top-notch amenities, try the Margaritaville Resort Times Square. This urban resort offers Caribbean island vibes and unique features such as an outdoor rooftop pool right in the heart of Times Square. Looking for a truly luxurious experience where every need is anticipated? The  Equinox Hudson Yards is an oasis that is sure to please the most discerning travelers with wellness-oriented amenities like access to the onsite Equinox Fitness Club, in-room vitamin drips, and techno-therapy spa treatments. For a dream stay the whole family will remember forever, splurge on The Plaza Hotel (pictured) on Central Park South, where "precocious grown-ups" can stay in an Eloise-themed room or enjoy a themed tea service, and parents can take advantage of the white-glove butler service and vetted childcare.
3:30 pm: Visit SUMMIT One Vanderbilt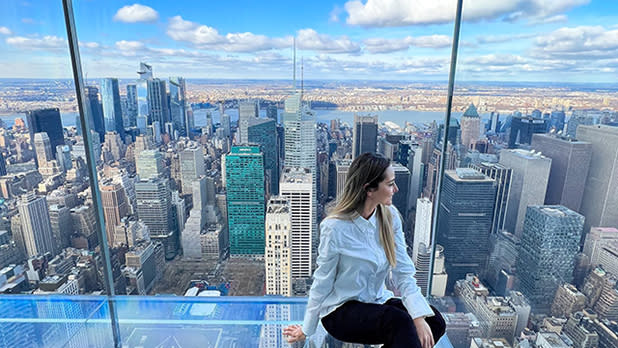 Credit: @jordanabulhoes on Instagram
Ascend to dizzying heights at one of New York City's newest observatories, SUMMIT One Vanderbilt. SUMMIT One Vanderbilt uses innovative technology to combine unparalleled vistas with curated multi-sensory experiences spanning art, nature, and design. Take a ride in Ascent, an all-glass enclosed elevator that travels up the outside of the building to breathtaking views that soar at 1,210 feet above New York City. Adventurers will also enjoy stepping out into fully transparent glass skyboxes called Levitation that jut out of the building and suspend visitors 1,063 feet above Madison Avenue.  
5 pm: Take in the grandeur of Grand Central Terminal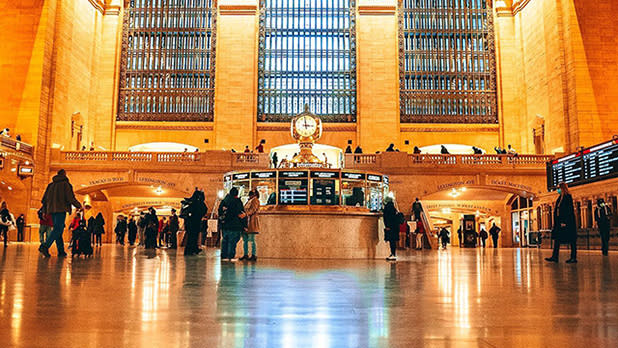 Credit: @chief.jakobe on Instagram
Spoiler alert: you'll be going to a Broadway show tonight. If your show starts at 8 pm, you may have a few minutes to stop by Grand Central Terminal after your SUMMIT One Vanderbilt experience. Head to the main hall to admire the cathedral-like splendor of this active transit hub's architecture. Be sure to stop by the famous clock at its center, which has served as a favorite meeting point for New Yorkers for decades. Take a moment to look up at the ceiling and its 12 constellations and 2,500 stars painted in gold leaf. But Grand Central's most intriguing feature may be the secrets it has to tell. To find the building's famed "whispering gallery," seek out the tiled archway next to the Oyster Bar Restaurant. Once there, position yourself at the opposite corner from a traveling companion and speak softly into the arch to see the acoustical phenomenon in action.
5:30 pm: Dinner in the Theater District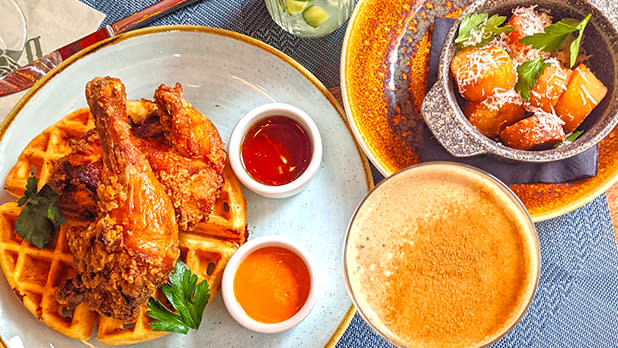 Credit: Anna Pakman
New York's Theater District is not only home to its most beloved theatrical experiences on Broadway but also hosts a bustling dining scene where you can find everything from slice pizza joints to some of the world's best Michelin-starred fine dining experiences. Check out our blog, A Local's Guide to Broadway: What to See, Where to Eat, and Things to Do, for recommended restaurants near the show you'll be seeing tonight. Reservations are recommended for sit-down restaurants as they tend to fill up during pre-theater hours on show nights.
7 pm: See a Broadway show 

Credit: Anna Pakman
New York is full of culture and few experiences are as quintessentially New York as seeing a Broadway show. From long-running musicals like Chicago and Phantom of the Opera to pop culture juggernauts like Hamilton and stage versions of Disney classics to exciting new plays, Broadway offers something for every theater goer's tastes. Every winter, NYC hosts "Broadway Week," a month-long promotion offering 2-for-1 tickets to select shows. While booking ahead is best if there's a particular show or seating location you have your sights on, the TKTS booth in Times Square offers significant discounts on last-minute show tickets year-round.
10 pm: Grab a drink at a rooftop bar

Credit: Francesco Sapienza
New York is known as the city that never sleeps for a reason! For delicious craft cocktails and stunning skyscraper views, take it to the rooftop at popular haunts like A.R.T. NoMad (Arlo Roof Top) or Refinery Rooftop Bar. If you're tucking in young'uns, check with your hotel for recommendations for reputable babysitting services.
SATURDAY:
8 am: Enjoy a typical New York breakfast
We wouldn't blame you if you chose to order room service and enjoy breakfast in bed, but if you're trying to pack in every minute of uniquely-in-New York experiences, we have a few recommendations for you! If your hotel is near Hudson Yards, stop by celebrity chef Danny Meyer's fast-casual Daily Provisions for a ridiculously good egg sandwich served on a Portuguese roll. If your hotel is closer to Hell's Kitchen, don't miss Sullivan Street Bakery, an Italian-style bakery that supplies bread to some of the city's top restaurants (but the star of the show here is the bomboloni–a cream or jam-filled donut!), or take in a bit of history with your coffee at Westway Diner, the very place where Jerry Seinfeld and Larry David first talked about creating Seinfeld.
10 am: Take a stroll through history on a walking tour of Central Harlem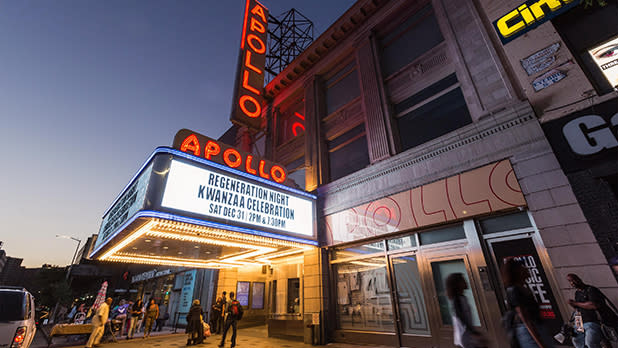 After fueling up for the morning, make your way uptown to explore one of New York's most exciting neighborhoods. A historically Black neighborhood, Harlem was at the heart of the cultural revival of African American music, dance, art, literature, and more in the 1920s-30s, an era known as the Harlem Renaissance, and played a central role during the Civil Rights era. Today, it is home to a diverse community that has welcomed arrivals from Africa, the West Indies, and beyond, who continue to shape the sights, sounds, and flavors of the neighborhood. Discover Harlem and its rich history with the insider perspective that can only be offered by a local guide on a Central Harlem African-American Culture Walking Tour with Harlem One Stop Cultural Tours. During this tour, you'll discover sights like the Apollo Theater, Speaker's Corner, and more, as you walk past the area's distinctive brownstones and visit an authentic Senegalese market.
12:30 pm: Enjoy a soul food brunch at a Black-owned restaurant in Harlem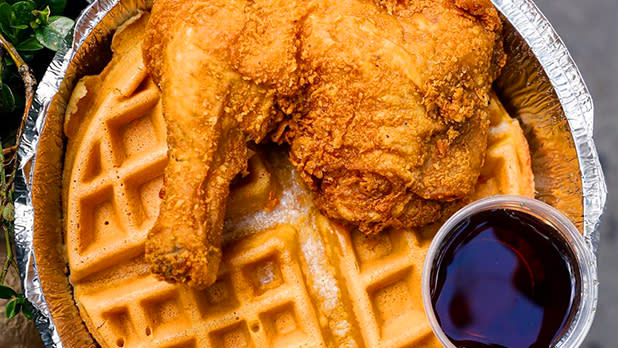 Credit: @nycfoodinsta on Instagram
While soul food got its start in the American South, one can argue that it was perfected in Harlem. For a taste of home cooking from the kitchen of "The Queen of Soul Food," visit Sylvia's Restaurant (pictured) and indulge in dishes like Sylvia's world-famous bar-b-que ribs (with Sylvia's original "Sassy Sauce," of course). To taste the southern fried chicken and eggnog waffles with strawberry butter and maple syrup that slayed on "THROWDOWN!" with Bobby Flay, head to Melba's, a hot spot that counts Prince Harry and Meghan Markle as fans. Whichever option you go with, your taste buds will thank you!
2 pm: Take a guided tour of Central Park's famous movie locations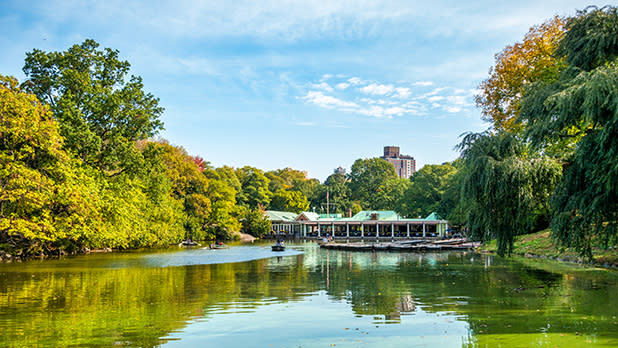 We hope you brought good walking shoes, because this afternoon you'll be exploring another one of New York City's incredible landmarks on foot. At 843 acres, Central Park may only be the city's fifth-largest park (top honors go to the 2,765 acre Pelham Bay Park in the Bronx), but it's undeniably its most famous, thanks in large part to the role it has played in beloved movies and TV shows throughout the years. Take an On Locations Tours guided walking tour of over 30 locations such as the iconic Bandshell amphitheater from Breakfast at Tiffany's or the Boathouse Cafe featured in When Harry Met Sally. If you prefer to go at your own pace, this self-guided option takes you from The Plaza Hotel where young Kevin McCallister famously checked himself into a suite in Home Alone 2: Lost in New York to the Conservatory Water where you can pilot toy boats (available for rent March-November, weather permitting) just like Stuart Little.
4 pm: Visit one (or more!) of NYC's incredible museums along Museum Mile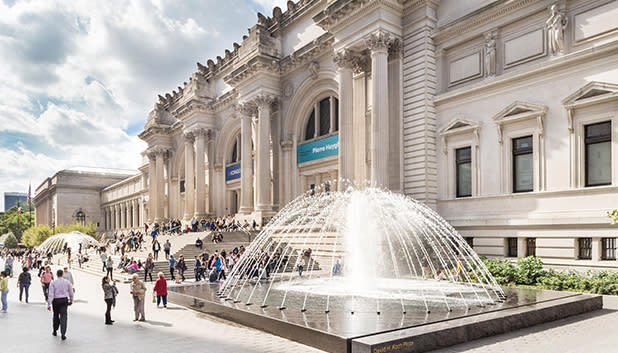 If you're an art lover, New York is the best place in America to visit and there's no area that offers as vast an array of incredible options as Museum Mile along Central Park East. It goes without saying that a visit to the Met, as the Metropolitan Museum of Art (pictured) is affectionately called, is an absolute must, but you would be missing out if you didn't duck into at least one more. Marvel at impressionist, early Modern, and contemporary art at the Frank Lloyd Wright-designed Guggenheim Museum, explore a collection that spans 30 centuries of design at the Cooper Hewitt, Smithsonian Design Museum, or learn about Latin American and Caribbean art at El Museo.   
7 pm: Dinner at Contento in East Harlem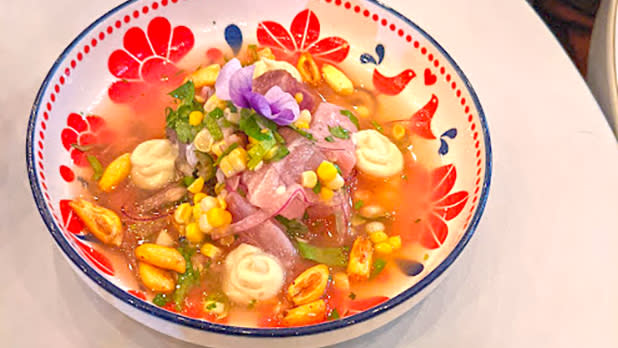 Credit: Anna Pakman
What do The New York Times, Eater, and Esquire have in common? They all put Contento on their shortlists of the best new restaurants of 2021. Take a bite of the grilled octopus with chimichurri and you'll see why. Order the ceviche and you'll be a fan for life. The menu, which is grounded in Chef Oscar Lorenzzi's Peruvian roots, is complemented by an eclectic globally-sourced wine list that has won awards in its own right and features bottles from vineyards owned by members of underrepresented communities. This message of inclusivity is seen through every aspect of the experience design as it is one of the only restaurants designed to be fully inclusive to people with disabilities, with a lowered bar, adaptive utensils, and adaptive menus, among other features. This attention to inclusivity is not surprising considering that Contento is owned by two wheelchair users. Reservations recommended.
SUNDAY:
9 am - Enjoy an authentic New York bagel and smoked fish at Russ & Daughters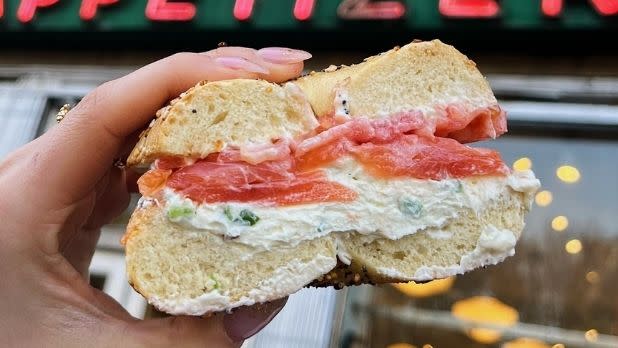 Credit: @cbudzruns on Instagram
There's something about New York water that makes our bagels unlike anything you'll find elsewhere. If there's one thing that New Yorkers have been able to agree on, it's that smoked fish purveyor Russ & Daughters sells one of the very best. Since 1914, multiple generations of the Russ family have served as torchbearers of Jewish food in America. Topped with cream cheese, lox (smoked salmon), tomatoes, red onions, and capers, this classic is enough to fill you up for a while, but you may want to pace yourself as you'll be sampling a lot as you make your way through downtown NYC's best neighborhoods for foodies. 
10 am - Sample Cannoli & cheesecake at Veniero's Pasticceria & Caffe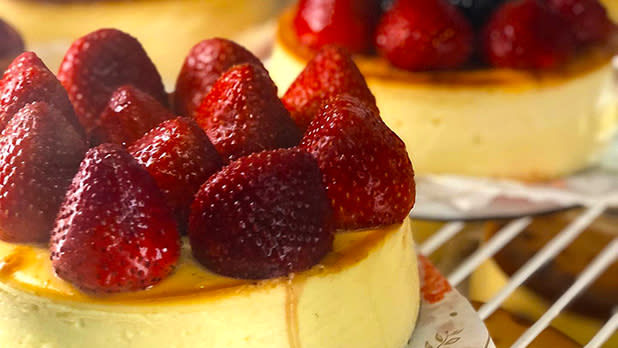 Credit: @courtneyinthemiddleseat on Instagram
Holy cannoli! For the past 125 years, Viniero's has been crafting some of the very best Italian pastries and cheesecakes this side of the Atlantic. Today, this family-run cafe keeps tradition alive with authentic sweet treats and specialty espresso drinks.
11 am - Visit the Tenement Museum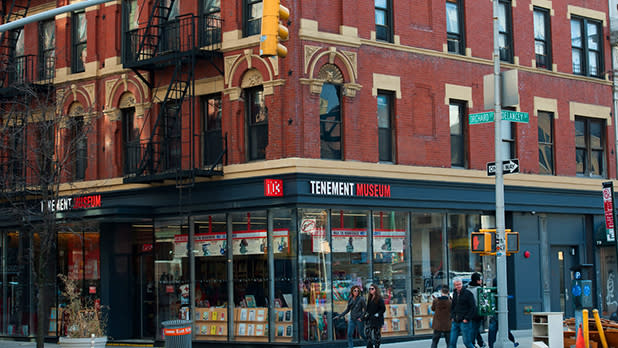 New York City is the eclectic global metropolis it is thanks to the contributions of generations of immigrants who helped shape the sights, sounds, and tastes of the city as we know it today. The Tenement Museum tells the story of working-class tenement residents through guided tours of restored 19th and 20th-century apartments, as well as the Lower East Side neighborhood where many newcomers to the United States settled.
12:30 pm - Self-Guided Food Tour of Chinatown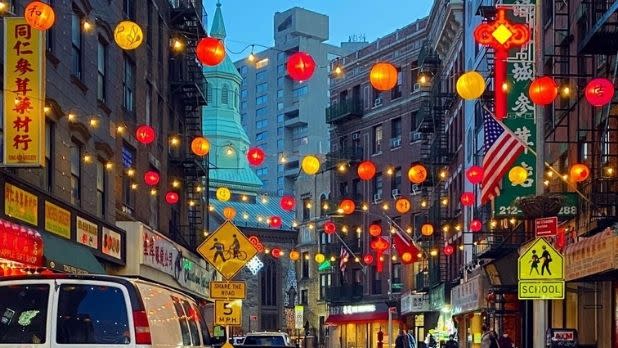 Credit: @david_chita on Instagram
Explore vibrant stores, authentic markets, and try some of the best Asian cuisines in the city in Manhattan's Chinatown district. Over 150,000 Chinese-speaking New Yorkers call this area home, making it the largest Chinatown in the United States. A popular tradition among Chinese families is to gather for a dim sum brunch to enjoy a delicious array of inexpensive shareable small plates such as dumplings, sticky rice, buns, and more. Rather than picking just one destination, taste the best of what the neighborhood has to offer while also learning about its history on Eater's walking tour of Chinatown.
1:30 pm - Famous sights of the Greenwich Village area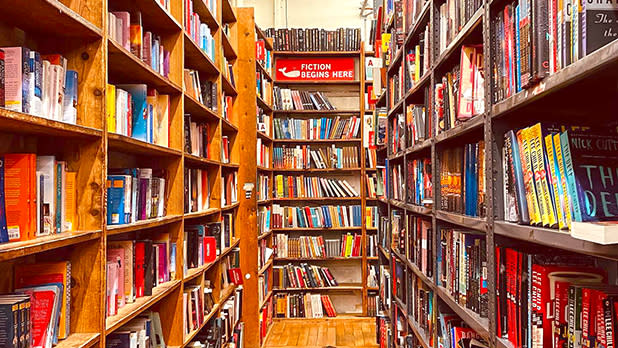 Credit: @iamkayley on Instagram
New York's Greenwich Village is one of its most charming neighborhoods, with selfie-worthy locales such as Washington Square Park, Perry Street (#64 served as the facade for Carrie's apartment building in Sex & the City), and The Cube at Astor Place. Stop by the iconic Strand Bookstore and pick out your next read from their collection of 2.5 million used, new and rare books! If you have a little room in your stomach left from the day's adventures, stop by Joe's Pizza–yes, the very one where Peter Parker worked in the Spider-Man movies–for a classic slice. The Village has long been a hub for the LGBTQ community and abounds with gay bars and LGBTQ-owned businesses. It's also home to the Stonewall National Monument, the nation's first monument dedicated to LGBTQ rights. 
Want to extend your trip? Read our tips for exploring New York City's boroughs (click through for guides to Brooklyn, Queens, and the Bronx), or nearby locales accessible by regional trains to the Hudson Valley and Long Island. You can get even more out of your visit by booking a free tour with a Big Apple Greeter, a service that pairs visitors with locals for a one-of-a-kind look at New York City's hidden gems.
GETTING THERE
By car:
From Albany: 2.5-3 hours
From Philadelphia: 1.5-2 hours
From Boston: 3-4 hours
From Washington, DC: 4 hours
By plane:
John F. Kennedy International Airport (JFK)
LaGuardia Airport (LGA)
Newark Liberty International Airport (EWR)
By train:
Amtrak, NJ Transit, or Long Island Railroad (LIRR) to NYC's Penn Station
Metro-North to Grand Central 
MTA Subway 
By bus:
Bus services to NYC's Port Authority
MTA Express Buses 
By ferry:
---
Share your New York State adventures with us on Instagram and Twitter and Facebook and tag us using #ISpyNY!