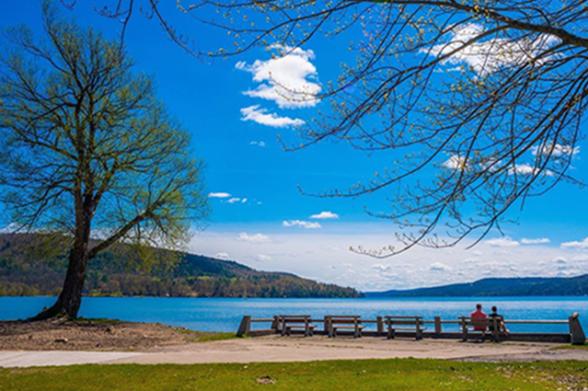 New York State has more than 9,700 miles of lake, river, and ocean shoreline, plus many impressive public swimming pools, which means that it's easy to find a place to cool off on a hot day in summer. From world-class surfing beaches to calm-watered coves to crystal-clear lakes and spacious pools, here is your guide to some of the best places to swim in New York State.
Masks are encouraged, but optional in most settings per New York State guidelines. Individual businesses or attractions may require mask wearing. Call ahead and check websites and social media to make sure attractions and amenities are open and available.
Updated 05/1/2023
Get back to nature at Sandy Island Beach State Park. This freshwater beach on Lake Ontario, which includes a bathhouse, picnic area, and a car-top boat launch, also offers fishing, kayaking, hiking, and bird watching. Walkovers and viewing platforms are available so visitors can enjoy nature without causing harm to the beach's fragile dunes, formed by wind and the waves of a giant sea that came long before Lake Ontario.
Scalloped by lovely sand beaches interspersed with rocky strands, Great Sacandaga Lake is one of New York State's largest, loveliest, and least developed lakes. About 22 miles from Saratoga Springs, the lake is set amid the towering pine forested foothills of the Adirondack Mountains, which form a stunning backdrop for its 125-mile shoreline. Visitors can enjoy waterskiing, kayaking, jet skiing, and fishing, but the biggest draw is the lake's lovely clear waters and inviting natural sand beaches. Be sure to check out Northampton Beach, the most developed beach on the lake, which offers a fun "Junior Naturalist" program and guided hikes.
With its stunning backdrop of the Seward Mountain Range, Long Lake Town Beach is a must for a fun, family-friendly summer vacation. The beach features a swim dock boasting a mini-trampoline, slide, and rope swings. For your safety, Red-Cross certified lifeguards are on site to supervise swimming from 10 a.m. to 6 p.m. daily, and free swimming lessons by a Water Safety Instructor-certified instructor are also available.
Perfect for kids, Lake Superior State Park in Bethel features a beach, swimming, boating and boat rentals, fishing, volleyball, a playground, picnic tables and grills, picnic pavilions (for a fee), vending machines, and a bath house with shower. The beach operates weekends, Father's Day weekend through June, and daily, last week of June through Labor Day. Season and group rates are available.
Heading to Cooperstown this summer to visit the National Baseball Hall of Fame, the Farmers' Museum, or to take in opera at the Glimmerglass Festival? You can cool off in town with a swim at Glimmerglass State Park. In addition to its beach with a large swimming area, the park offers picnic tables with pavilions, a playground, nature trail, hiking and biking, fishing, and a campground with trailer sites. It's open weekends only beginning Memorial Day, and daily, June 19 through Labor Day.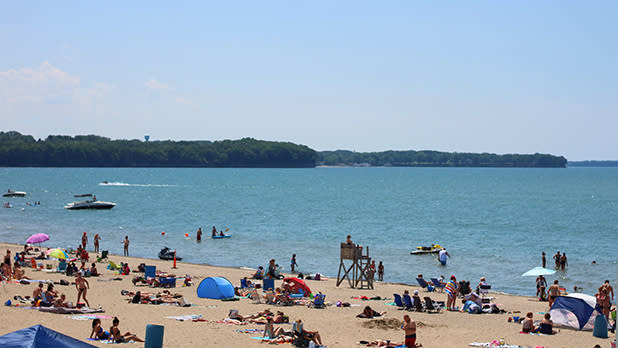 For a summer getaway with a mellow, tropical vibe perfect for sun and water, Sunset Bay Beach, just 40 minutes south of Buffalo in Irving, has just what you're looking for. This gorgeous beachside resort overlooking the seemingly infinite Lake Erie horizon not only has great swimming, but also volleyball courts, the Sunset Bay Beach Club waterfront restaurant, Cabana Sam's Beach Bar & Grill, a video game arcade, ice cream shop, and more!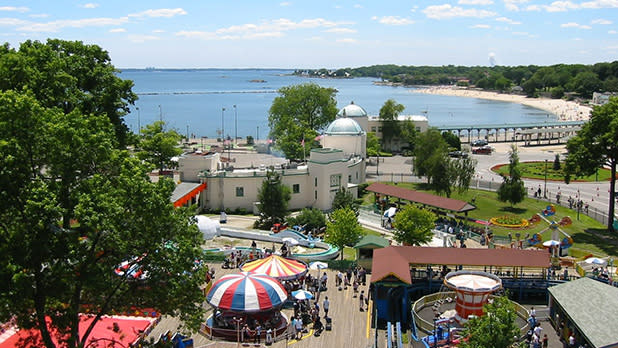 History and fun go hand in hand at Playland Park in Rye. The Art Deco National Historic Landmark, which is also an official Path Through History site, has been entertaining families since its opening in 1928 and is known for its famed "Dragon" roller coaster, which towers over the site. For swimmers, the park offers a sandy lakeside beach with a picnic area, which will open on Memorial Day Weekend.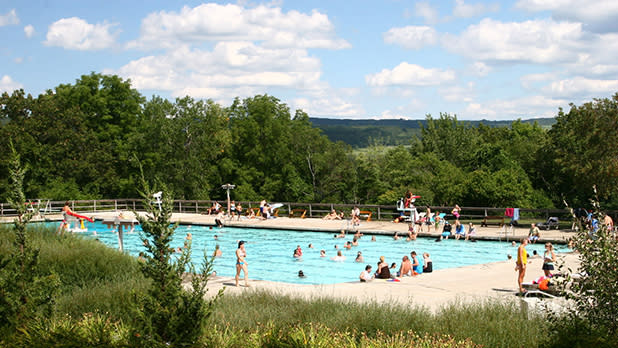 Whether you're a camper or just a day visitor, you'll fall in love with the Olympic-sized outdoor swimming pool at Watkins Glen State Park. Dive into the diving well, test your speed and endurance in a lap swimming lane, or just head to the special section for relaxing. A child-friendly pool and playground adjacent to the Olympic-sized pool make this outdoor area a top pick for families. The swimming pool opens daily from June 30 through September 4. 
In an area noted for its wild beauty, the rugged Enfield Gorge is not only the scenic highlight of Robert H. Treman State Park in Tompkins County, but an outdoor swimmer's paradise, with winding trails following the gorge, taking you past 12 waterfalls, including the amazing 115-foot Lucifer Falls. Cool off on a hot day swimming in a stream-fed pool beneath a waterfall! (in lifeguarded areas only) After you've cooled off, explore some of the park's nine miles of hiking trails. Swimming season begins on Fourth of July weekend.
One of the newest state parks in the Greater Niagara region, Woodlawn Beach State Park in Buffalo features a lovely one-mile natural sand beach with panoramic views of Lake Erie. In addition to swimming, the beach offers picnic areas, beach volleyball, nature trails, and a playground on the beach. For wildlife lovers, Woodlawn Beach supports a diversity of wildlife habitats including one of the finest freshwater sand dune areas remaining on Lake Erie. Swimming season is open weekends, Memorial Day weekend through June 19, and daily, June 20 until Labor Day. 
Take a dip and unwind in the 37,571-square-foot swim area of the McCarren Park Pool on the border of Williamsburg and Greenpoint in Brooklyn! Steeped in rich history, the pool was built in 1936, and was one of the projects overseen by famed New York Parks Commissioner Robert Moses with construction by the Works Progress Administration. After being closed for close to 30 years, the pool was renovated and reopened in 2012, and is now one of the city's most popular places to cool off for summer! 
For an old-fashioned day at the beach, lay down your blanket and pitch your umbrella at Ocean Beach Park in Long Beach. The beach features a beautiful 4-mile beachfront on the ocean with a 2.2-mile boardwalk, and facilities including an indoor pool, playgrounds, fishing pier, beach volleyball, free summer concerts, beach biathlons, boat ramp, and marina.