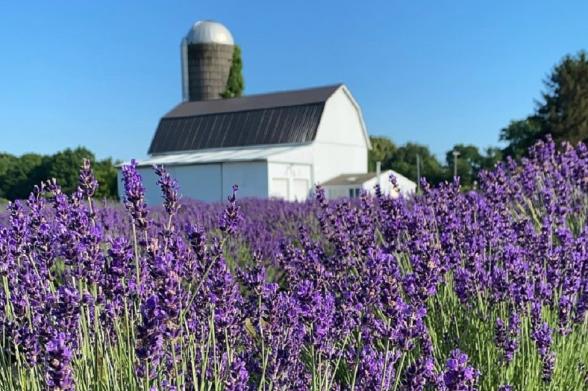 New York is in bloom! Frolic through fields of wildflowers, tiptoe between rows of colorful tulips, and inhale the scent of fresh lavender in stunningly scenic countrysides from Long Island to the Finger Lakes. Spend a fun-filled day on the farm picking flowers, capturing vibrant photos, taking hay rides, petting farm animals, playing mini golf, and more at these picturesque flower farms across the state!
Masks are encouraged, but optional in most settings per New York State guidelines. Individual businesses or attractions may require mask wearing. Call ahead and check websites and social media to make sure attractions and amenities are open and available. 
Capital-Saratoga
Photo by Rachel Dymond
Herringtons might have pumpkins in its name but from mid-July to September they're all about sunflowers! Just 40 minutes outside of Albany, Herringtons is home to 150,000 magnificent sunflowers spread across 12 acres. The best part is you get to pick your own! For $5, stroll through the bright yellow fields, pick three stems, and take as many photos as your heart desires (or phone storage allows)! Be sure to bring your own shears and check the Facebook page for blooming updates throughout the summer.  
While you're in the area visit: Buskirk Covered Bridge, a 158-foot-long span built in 1857 stretching over the Hoosic River making for a charming selfie setting in any season. 
Long Island
Credit: @neon.gn on Instagram
Spend the day tiptoeing through millions of tulips and experiencing all Waterdrinker Family Farm has to offer! Stop in for the farm's 4-5 week long Tulip Festival, beginning in mid-April, and walk through 15 acres of breathtaking orange, pink, yellow, and red blooms while you create your own "u-pick" bouquet of tulips (new this year)! Don't miss out on the Family Farm Adventure where little ones can visit barnyard animals, ride tractor pedal cars, complete obstacle courses, and play mini golf! Next door you'll also find the Long Island Farm Brewery in an old potato barn on 80 acres of land where food trucks and live music compliment their house made beers. 
While you're in the area visit: Quogue Wildlife Refuge, where you can spot diverse wildlife while exploring seven miles of trails winding through forests and ponds.
Take a deep breath of Long Island-grown lavender and soothe your mind, body, and soul at one of Lavender by the Bay's two North Fork locations. Stroll through the wood chip paths of the 17-acre property at East Marion, opened in 2002, full of over 80,000 blooming English and French lavender plants, or the additional 30 acres at the Claverton fields. Witness early-blooming English lavender during mid-June and peak French lavender around early-July.  Lavender by the Bay is also one of the United States' largest lavender farms, so you'll have no problem finding endless Insta-worthy photo opportunities. Don't forget to stop at the gift shop for fresh bunches of lavender, essential oils, honey, soaps, and other products. Tickets are required for entry. Prices vary. Both farms reopen in spring 2023. 
While you're in the area visit: Splish Splash Water Park for thrilling water rides, Orient Beach State Park for a relaxing beach escape, and Castello di Borghese Vineyard & Winery to savor the flavors of Long Island's "founding" winery.
Photo by Anna Pakman
Sip delicious Long Island wine, listen to live music, and savor scenic sunflower views at Pindar Vineyard's Peconic location. Forage the sprawling sunflower field for your favorite flowers and take home a custom bouquet during Pindar's "Sunflowers for Wishes'' event, where proceeds are donated to the Make-A-Wish Foundation. Hold a glass of "wine made by the wind" while you pose among the yellow blooms and a backdrop of Southold's largest windmill, which powers 80% of the winery. Pindar Vineyard is open year-round. Sunflowers for Wishes is held in July.
While you're in the area visit: Cutchogue Green Historic Buildings, a National Historic Landmark with structures dating back to 1649.
Hudson Valley
Credit: @wuyorker on Instagram
Frolic through magical fields while you choose from an endless assortment of whimsical wildflowers to create your own one-of-a-kind bouquet at Hudson Wildflower Co.! Purchase your "u-pick" container, put your sunglasses on, and start foraging through the field.  After you finish picking flowers and taking photos, head to the farm stand and grab a glass of wine or peruse the shop. Look out at the gorgeous view from the shaded picnic tables while you arrange your collection of beautiful blossoms, or just sit back, relax, and take in the beauty, tranquility, and magic of the farm. Hudson Wildflower Co. will reopen in spring 2023. 
While you're in the area visit: The Mohonk Preserve, filled with 40 miles of trails on over 1,000 routes in the Shawangunk Ridge, Historic Huguenot Street to walk amid 300-year-old stone homes that once belonged to Protestant French Huguenots, and the Walkway Over the Hudson, a 1.26-mile pedestrian path on a former railroad bridge stretching over the Hudson River.
Soak up the sun, breathe in the fresh air, and admire the sight of over 3 acres of flower fields bursting with color at Brittany Hollow Farm in Rhinebeck. Create your own centerpiece and fill your "u-pick" flower bucket to your heart's desire or head over to the flower wagon where you'll find mason jars filled with vibrant pre-arranged bouquets. Don't forget to bring your bouquet bucket the next time you visit for a discounted price! Brittany Hollow Farm "u-pick" flowers are open daily from June through October. 
While you're in the area visit: The Old Rhinebeck Aerodrome Museum & Air Shows to witness WWI era airplanes take flight, and Downtown Rhinebeck for unique shops, tree-lined streets, and beautiful views of the Catskills and Hudson River.
Take a leisurely walk through five acres of tulips, six acres of bright yellow sunflower fields, and rows of enchanting wildflowers at Kelder's Farm. Let out your inner child and pick from thousands of blooming sunflowers and more than 15 varieties of flourishing wildflowers for your "u-cut" arrangement. Everyone can experience life on the farm at one of 30 attractions including "Milk-a-Cow", duck races, hay rides, and more! Before you leave, snap a photo next to one of the World's Largest Garden Gnomes! "U-cut" wildflowers take place from June - September. "U-cut" sunflowers take place from August - early-September. 
While you're in the area visit: The Accord Speedway to watch stock cars race around the ¼-mile oval arena, the Trolley Museum of New York for an exciting ride through railroad history, and the Hudson River Maritime Museum to learn about the maritime history of the Hudson River.
Get lost in the beauty of 128 acres of rolling green pastures, bright red barns, and vibrant wildflowers and sunflowers at Germantown Farms. Stroll through pesticide-free fields of color while "u-pick" flowers for your unique bouquet. Better yet, a portion of the proceeds from "u-pick" sales go to local Germantown non-profits! Check out seasonal produce, witness the farm's magical butterfly immersion experience, or just relax in the hayfields. The farm is open July - September. 
While you're in the area visit: Lake Taghkanic State Park for beautiful lake views, lush forests, and entertaining activities. 
Catskills
Wander through wildflowers while you admire the wondrous view of the Northern Catskill Mountains at East Durham Farms. Follow the fresh scents of blooming flowers to the "cut-your-own" fields and collect a beautiful bunch to bring home. Get a taste for farm life on a self-guided farm tour or stop at the shop and peruse farm-grown veggies, pasture-raised chicken, local cheese, jams, pickles, and more! Check East Durham Farms' Facebook page for seasonal updates.
While you're in the area also visit: Zoom Flume Water Park for water adventure and family fun, and Durham Center Museum, an 1825 schoolhouse filled with tens of thousands of interesting artifacts.
Greater Niagara
Spend an afternoon in Cambria inhaling the calming aroma of eight varieties of English and French lavender at Kin Loch Farmstead. This 30-acre "u-pick" lavender farm and events venue, conveniently located along the Niagara Wine Trail, is home to over 2,000 purple, blue, and white lavender plants! Picturesque photo spots are hidden throughout the farmstead, so keep your camera handy. Discover Kin Loch goodies such as lavender honey, oils, and candles at the shop, explore the organic flower garden, or admire the apiary that houses Kin Loch's friendly bees. Kin Loch reopens in spring 2023. See website for upcoming "u-pick" weekend dates. 
While you're in the area visit: The Niagara Wine Trail filled with 60 miles of wineries rich in history and flavor, the Medina Railroad Museum, the largest freight depot museum in the country, and the Iroquois National Wildlife Refuge, New York's largest wildlife refuge and animal haven.
Appreciate the beauty of nature with buzzing bees, fluttering butterflies, and aisles of blooming wildflowers just 30 minutes south of Buffalo. Take a look at one-and-a-half acres of "u-pick" flowers (by appointment only), wonderfully fragrant lavender, and breathtaking views of Springville. Drop by the shop for pre-arranged unique American-grown flowers while supporting local agriculture. The Flower Stand opens for its 10th anniversary in early July.
While you're in the area visit: The Springville Center for the Arts, home to lively and artistic performances, and the Buffalo Botanical Gardens for breathtaking horticulture treasures from around the world. 
Break away from the hustle and bustle of daily life and find peace in 100 acres of lively sunflower fields. Experience the open air among the birds, butterflies, and bees while you pick the perfect bunch of sunflowers. With wagon rides, duck derby races, sunflower trails, corn mazes, gem hunting at the sunflower sifter, and tons of sunflower-themed accessories in the shop, this Sanborn farm is the place to be! Sunflowers of Sanborn is open August 1 through Labor Day. 
While you're in the area visit: Niagara Falls State Park for historic, jaw-dropping views of the United States' oldest state park, and the Aquarium of Niagara for ocean discoveries and marine animals.
Finger Lakes
Enjoy serene views and endless displays of lavender, dahlias, and peonies at Bristol Hills Lavender and Flower Farm. Surround yourself with the aroma of fresh flowers, hues of soft and bold peonies, and views of the rolling Bristol hills while you learn about the farm on a Peony Tour. Lay out a blanket and have a picnic surrounded by bright purple lavender or find a spot at one of the tables in the 200-year-old historic barn at one of the farm's Friday Picnic Nights over the summer. Don't forget to check out Bristol Hills' shop, flower workshops, wreath classes, and more. Bristol Hills Farm opens in summer 2023. 
While you're in the area visit: Sonnenberg Gardens & Mansion State Historic Park to stroll through flower–filled gardens and tour the magnificent mansion. 
Spend the day adventuring through flower fields and exploring over 30 attractions like the jumping pillow, mini golf, train ride, farm animals and more at Wickham Farms! Breathe in the fragrance of fresh lavender (and delicious food) on a scenic hayride through the lavender field from June 22 - August 6. Come back for the Sunflower Spectacular from August 10 - September 4 to roam 10 acres of sunflower fields and choose from 30 sunflower varieties for your "u-cut" bouquet! Keep your cameras at the ready and hunt for the farm's unique photo-ops like the sunflower swing, vintage camper, pink tractor, and others!
While you're in the area visit: The National Susan B. Anthony Museum and House, home of the women's rights pioneer during her 40 most politically active years, Highland Park for 150 acres of beautiful flowers and other activities, and the Rochester Museum and Science Center for a hands-on exploration of science.
Enjoy the great outdoors while you celebrate sunshine and summer at Stokoe Farm's Sunflower Experience! Capture the beauty of the bright yellow blooms alongside breathtaking views of Scottsville in the sunflower fields. Leave time for exciting farm activities like the low ropes course, bounce pillows, giant slide, and more! For a truly enchanting experience, check out Stokoe's Twilight Sunflowers event, where you can witness the moment when the sunflowers gently bow their heads to the setting sun. The Sunflower Experience begins in August 2023.
While you're in the area visit: The Rochester & Genesee Valley Railroad Museum and take a mile-and-a-half train ride through the historic museum grounds.
Central New York
Fresh air, quality time, and rows of over 150,000 tulips in every color await you at Central New York's first "u-pick" tulip field! Follow the half-mile round-trip walking trail through a tulip wonderland as you snap pictures of North Star Orchard's vibrant hues and choose which blooms to add to your "u-cut" bouquet. On your way out, stop by the market for seasonal fresh produce and more flowers. North Star Orchard reopens in April 2023. 
While you're in the area visit: The Oriskany Museum to learn about the Battle of Oriskany, the USS Oriskany, and the village's rich history. 
Adirondacks
Bring your country dreams to life in the heart of the Adirondacks with beaming yellow "pick-your-own" sunflowers, adorable farm animals, wagon rides, and more at Country Dreams Farm! Get to know the farm on a tour or wagon ride, snap pictures in the mesmerizing sunflower fields, then say hi to the pygmy and fainting goats, cows, miniature donkeys, potbelly pigs, and chickens at the petting zoo. Country Dreams Farm is open May - October.  
While you're in the area also visit: Cumberland Bay State Park for a relaxing experience on the north shore of Lake Champlain and the North Country Cuisine Trail, winding through picturesque roads and quaint villages while you explore local products.
---
Share New York State adventures with us on TikTok, Instagram and Twitter with #ILoveNY and #iSpyNY, and tag us on Facebook!