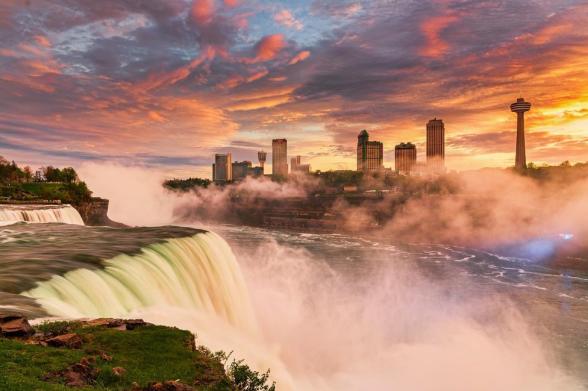 The skies are about to become even more breathtaking than normal on April 8, 2024 in Greater Niagara! Get ready to view the total solar eclipse while overlooking the roaring waters of Niagara Falls, surrounded by the 14,000-acre "Grand Canyon of the East," or enjoying all kinds of festivities leading up to lively celebrations on the big day. Be sure to snag a front row seat in the path of totality for this once-in-a-lifetime event - it only happens once every 400 years! 
*Trained staff will be on site with proper equipment for safe viewing including telescopes with specialized filters and eclipse glasses.
Elevate your total solar eclipse viewing experience from one of the world's greatest natural wonders, Niagara Falls State Park. The park itself is located on 400 acres of stunning landscapes, so you're sure to find a prime location for this once-in-a-lifetime event. Prospect Point and Goat Island offer unique waterfall vistas with unobstructed skies perfect for the celestial occurrence. Not only will Niagara Falls prove to be an exceptional vantage point, but when the eclipse is viewed through the perpetual rainbow that lingers just above the falls, the color of the light will change from rainbow to monochromatic pink! About a 10-minute drive north will land you at Whirlpool State Park where you can watch the event alongside the roaring Niagara River Rapids. After the eclipse, stick around until nighttime when the falls shine with an array of vibrant colors! 
What better place to watch the eclipse than from the "Grand Canyon of the East"? Spectacular views can be found year-round throughout the 14,000-acre park, which means you're bound to find a stunning spot to view the total solar eclipse. Admire totality alongside one of the three magnificent waterfalls, named upper, middle, and lower falls, or on a hike through 66 miles of scenic trails. The best part is if you're not a hiker, various scenic views can be accessible by bike or car throughout the park. Make it an eclipse weekend and stay at one of Letchworth's 19 cabins and cottages, which can be booked now at ReserveAmerica.com. The Glen Iris Inn is also located on-site and provides a unique viewing experience next to Middle Falls where it might even get a little misty. Check website for booking information. 
Watch the eclipse surrounded by the natural beauty of the Beaver Meadow Nature Center with 324 acres of calming meadows, ponds formed by glaciers, boardwalk trails, and wooded forests. Known for its breathtaking clear skies ideal for viewing our galaxy at night throughout the year, this destination is sure to be an amazing spot for the big event. The center will also be hosting a family-friendly viewing event on the big day so everyone can safely admire this celestial phenomenon. Book a stay at the rustic and cozy Beaver Meadow Cabin found on-site for a more secluded experience. For the days leading up to the celestial event, check out the Buffalo Astronomical Association Observatory's schedule for monthly public nights where you can learn more about the eclipse, take a tour of the solar system, and pick up some solar eclipse viewing glasses available for a $2 donation. 
Unobstructed skies combined with waterside views of the Lower Niagara River and Lake Ontario make for a breathtaking eclipse experience. The 504-acre park is home to gorgeous scenery, woodland hiking trails, year-round living-history programs, and the historic Old Fort Niagara, which controlled access to the Great Lakes during monumental wars. Find an eclipse spot among the park's beauty and afterward check out the museum and 18th-century military architecture including the oldest building in the Great Lakes area: the French Castle. Parking is $8 per car.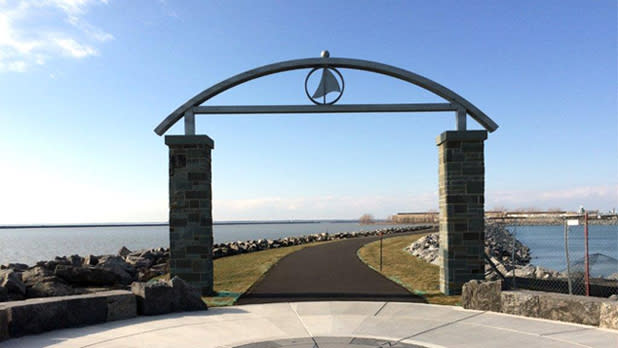 Admire the total solar eclipse under open air and clear skies from the Outer Harbor of Buffalo's first state park. Filled with gorgeous viewing spots from sandy beachside vistas of Lake Erie to the outdoor patio at Charlie's Boatyard restaurant with delicious food, you'd never believe that this beautiful park is just under 10 minutes from Downtown Buffalo. Not to mention the 264-acre Tifft Nature Preserve is right next door with five miles of hiking trails, boardwalks, and hands-on exhibits to explore.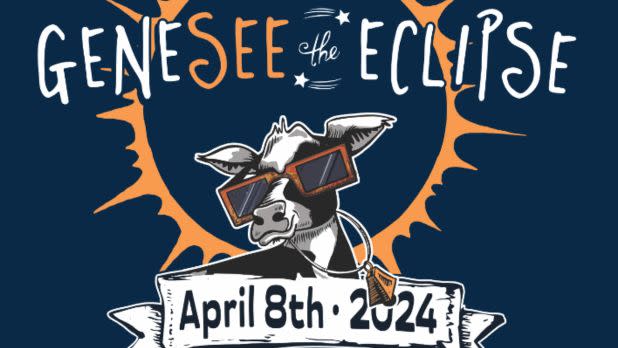 Get ready to embrace the dark side when the sun disappears throughout Genesee County next April. Sprawling rural landscapes and low light pollution make for an ideal eclipse viewing experience, plunging the county into a deep twilight revealing stars, planets, and a new level of darkness larger metropolises won't be able to rival. Clear your schedule for the weekend leading up to the big day for four days of eclipse festivities throughout the county. The Batavia Downs Gaming & Hotel is planning an eclipse-themed party complete with on-site hotel packages, themed menus, live music, gaming promotions and giveaways, and viewing glasses to watch the eclipse from the infield race track. The Genesee County Park, Forest, & Interpretive Center will be providing an educational eclipse experience with informational videos, self-guided activities, crafts and activities for the kids, and a telescope with a solar filter special for eclipse viewing.    
Join the Whitworth Planetarium at Buffalo State College for an educational eclipse viewing. After their kick-off this past April, exactly one year away from the rare event, Buffalo State College officially began its countdown to totality. In the year leading up to the highly-anticipated special celebration on April 8, 2024, the Planetarium will hold various public programs focusing on the eclipse's main players - the sun, moon, and earth, and the mythology, history, and safety behind it all. Plan to stop by for an exciting watch party complete with special viewing glasses, of course.
You can also view the Eclipse at these sites:
Other campgrounds such as Four Mile Creek State Park with 50 campsites and Golden Hill State Park with 25 campsites make for great eclipse stays that can be booked now on ReserveAmerica.com.
Visit 2024 Solar Eclipse in Niagara Falls, Buffalo Eclipse, and Genesee the Eclipse to stay up to date on the latest events, deals, and other eclipse offerings in Greater Niagara.