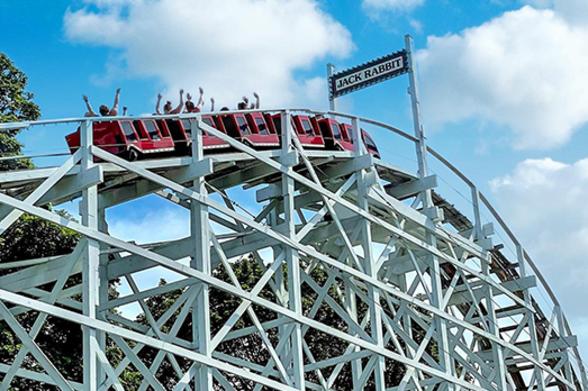 Credit: @ianbeers on Instagram
Looking for thrills and chills this summer? New York's amusement parks have you covered with some of the world's best and most iconic roller coasters!
Masks are encouraged, but optional in most settings per New York State guidelines. Individual businesses or attractions may require mask wearing. Call ahead and check websites and social media to make sure attractions and amenities are open and available.
Updated 07/18/2023
Best Wooden Coasters:

The Cyclone at Coney Island
While some states are seeing their wooden roller coasters disappear, New York has an embarrassment of riches when it comes to these classic thrill rides.
The Cyclone at Coney Island is known to every roller coaster enthusiast in the world. Since 1927, its 2,640 feet of track, 85-foot drop overlooking the Atlantic Ocean, and speeds of 60 mph have kept it at the top of best roller coaster lists.
Older still, Seabreeze's Jack Rabbit in the Rochester suburb of Irondequoit, was built in 1920 and is the longest continuously operating roller coaster in America. There are awesome dips, a wild last curve, and a fun finale through a dark tunnel.
Just north of the New York City, the nearly 100-year-old Dragon Coaster at Rye Playland is not only famous—having been featured in Mariah Carey's music video for "Fantasy" and the film Fatal Attraction—it also has the unique feature of running into the mouth of a fire-breathing dragon!
Between Rochester and Buffalo you'll find Six Flags Darien Lake and the Predator coaster, a newer wooden entry built in 1990. The ride offers some beautiful lake views...if you have time to enjoy them before careening down the tallest wooden roller coaster drop in the state.
Just north of the Capital District right near Lake George, the massive 4,200-foot Comet at Great Escape has been providing nearly 100years of thrills with drops of up to 85 feet.
Best Modern Steel Coasters:

Ride of Steel at Darien Lake
Those who crave multiple inversions and serious g-forces have pulse-pounding steel coasters to choose from in up-and downstate New York:
Six Flags Darien Lake in Western New York boasts more than six coasters, including the Ride of Steel, the tallest and fastest roller coaster in New York State—and one of the tallest east of the Mississippi. After climbing more than 20 stories in 40 seconds that feel like forever, the coaster takes a 70-degree drop and reaches speeds in excess of 75 mph. You'll see what it feels like to fly—right over the lake itself.  The Mind Eraser suspended coaster also takes advantage of Darien Lake's waterside setting, this time by taking riders through four loops and leaving their feet dangling over the water. The Viper is Darien Lake's signature coaster, with five inversions, a tunnel, and a 70-foot drop. 
Take the subway from Manhattan to Brooklyn's Coney Island to experience the roller coasters of Luna Park. The Soarin' Eagle imitates the flight of America's most majestic bird by having you lay horizontal for your ride, taking you up a spiral lift hill, and sending you over 1,293 feet of track at speeds over 40 mph through inversions, hairpin turns, barrel rolls, sudden drops, and exciting twists. Coney Island's Thunderbolt takes you on a two-minute rolling adventure over 2,233 feet of track. Go straight up before plummeting down a 90-degree vertical drop. Speed up to 55 mph around a 100-foot vertical loop, over airtime hills, through an 80-foot zero-g roll, and around a 112-degree over-banked turn, corkscrew section, and heartline dive.
Best Classic Steel Coasters:

Galaxi Roller Coaster Sylvan Beach
You don't have to be young to be a real whipper snapper, as these classic roller metal coasters prove:
The Crazy Mouse at Rye Playland in Westchester County, in keeping with the traditional Wild Mouse roller coasters, glides you around hairpin turns where you feel almost certain that you're heading off the edge of the track.
The Galaxi Coaster at the charming, retro Sylvan Beach Amusement Park on Oneida Lake between Utica and Syracuse features dips and spins that go back and forth through the canyons and tunnels of its serpentine metal frame.
Best Spinning Coasters:

Turbulence at Adventureland
Some New York parks offer a new spin on the classic metal coaster:
The green and yellow Turbulence Coaster at Long Island's Adventureland is a modern steel coaster with fast twists and dips, and the added thrill of spinning cars with seats in the front and back. 
The Tickler at Coney Island calls itself "The Coaster That Doesn't Take Itself Too Seriously" and pays homage to the original 1906 thrill ride and the original Luna Park. A half-moon shaped four-passenger car climbs towards the famous Coney Island Tillie Face sign before embarking on a course of over-the-edge-switchback turns, rapid-fire drops, and unexpected g-force-causing spins.
The Whirlwind at Seabreeze Amusement Park in the Finger Lakes takes you forwards, backwards, sideways and down, racing along a winding track at breath-taking, lake-view heights. Let the spinsanity begin!
Most Unique Coasters:

Bobsleds at Seabreeze Amusement Park
New York State offers a number of coasters that defy categorization, where the 'twist' doesn't only refer to the track:
The Bobsleds at Seabreeze Amusement Park near Rochester were custom-made for the park in 1962. This Seabreeze original is a unique combination of wood structure and 1,240 feet of tubular steel track. Reaching heights of 31 feet, with a collection of runaway hills, speedy dips, and quirky curves, the Bobsleds are a favorite among coaster fans.
Both the Motorcoaster at Six Flags Darien Lake in Western New York and the Steeplechase at Coney Island's Luna Park start by launching riders from zero to 40 mph in three seconds or less, and have innovative pedestal vehicles that you straddle, offering a thrilling free-ride feel. The Motorcoaster is, of course, themed like a breezy motorcycle ride, while Steeplechase gives a nod to the signature attraction of old Steeplechase Park in Coney Island with a horse race theme.
Best coasters for kids:

LEGO® Factory Adventure Ride
Every great coaster thrill-seeker has to start somewhere, and New York's amusement parks offer some great coasters that provide a thrill for the whole family without overwhelming the little ones:
At the Great Escape, the brakes are off on Canyon Blaster, the fast-paced, family runaway train adventure in the park's Ghost Town area. Board a mine car and get ready to brave the swift curves and five-story hills at 45 miles mph. With no major drops, it's well suited for daredevils-in-training learning to take on bigger rides. 
Seabreeze in the Finger Lakes offers a fun and exciting introduction for younger guests to the world of roller coasters. Their Bear Trax junior steel coaster has a height of 12 feet, a track length of 380 feet and a top speed of almost 17 mph, but it's probably the lovely landscaping that really puts these twists and turns on the map.
In the land of Bricktopia at LEGOLAND® New York you'll be magically shrunk into a minifigure on the LEGO® Factory Adventure Ride where Professor Brick will be your host as you are taken on a grand adventure through the factory to see how the famous bricks are made. This ride is exclusive to the New York location.
Don't forget to post photos of your New York adventures on Instagram and Twitter with #iSpyNY and tag us on Facebook!