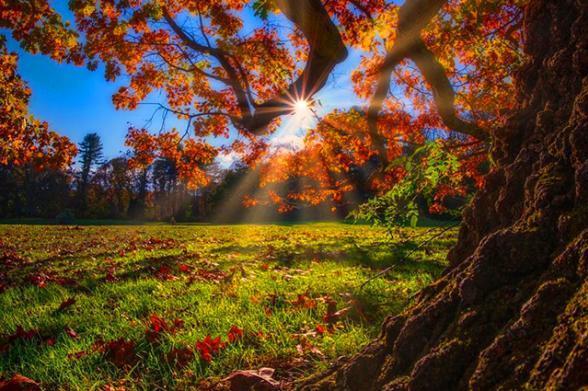 Whether you're looking for a last-minute retreat, have limited time to explore on your weekends, or you're just looking to get out of the city for a few hours, you'll find plenty of things to do and see within an hour of New York City. With so many incredible destinations and attractions just a stone's throw away, from the Hudson Valley to the north and Long Island to the east, grab your keys or hop aboard a relaxing scenic train ride and start exploring today.
Masks are encouraged, but optional in most settings per New York State guidelines. Individual businesses or attractions may require mask wearing. Call ahead and check websites and social media to make sure attractions and amenities are open and available. 
Updated 11/6/2022
Hudson Valley
The ultimate city break is right at New York City's doorstep. Full of winding scenic drives, the historic Hudson Valley is abundant in natural beauty and steeped in culture. Home to countless vineyards and breweries, and a thriving farmer's market scene, you can find historical attractions and outdoor recreation activities around every corner. Start planning your getaway to the Hudson Valley at a few of these towns and villages that are closest to The Big Apple.
Tarrytown: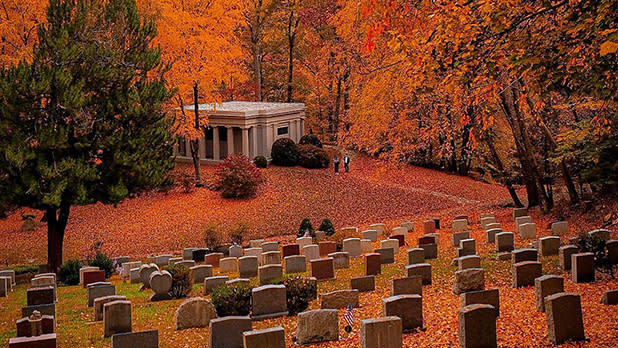 By Car: 35 mins from Upper Manhattan
By Train: 30 mins from Harlem-125th or 47 mins from Grand Central Terminal via Metro-North
For lovers of history, Gothic architecture, and ghost stories, Tarrytown is a must-see destination. Renowned as one of America's "prettiest" towns, this small village within Greenburgh in Westchester County is a hidden gem that lies along the eastern bank of the Hudson River. To the north of Tarrytown, you'll find the "haunted" village of Sleepy Hollow (pictured), the setting for the famed Gothic story by Washington Irving. Take a tour of the writer's enchanting homestead Sunnyside in southern Tarrytown to get a glimpse of the works by the "Founding Father of Literature" (through November 13). A trip to Tarrytown isn't complete without a tour of Lyndhurst Mansion, a feat of Gothic architecture. Head a few miles north to the Stone Barns Center for Food & Agriculture and enjoy tastings from the two Michelin-starred Blue Hill restaurant, tours of the farm and greenhouses, cooking classes, and butchery demonstrations.
Goshen: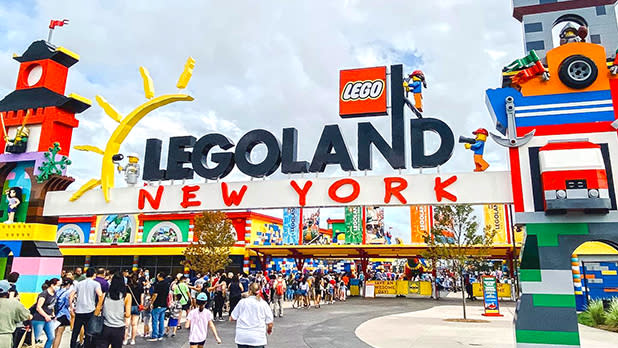 By Car: 1hr 10 mins from Upper Manhattan
Named after the Biblical land of Goshen, this small historic village in Orange County is enveloped in open fields and rural landscapes. For a family-friendly excursion, take a trip to LEGOLAND New York (pictured), the newest amusement park in New York State. The largest LEGOLAND in the United States features seven themed lands with rides, shows, and interactive activities. Battle dragons at LEGO Castle, or defend your gold at LEGO Pirates, or if you're in town during October, take part in LEGOLAND's Brick-or-Treat Halloween spectacular, featuring live entertainment, spooky characters, costume parades, trick-or-treating stations, and more! Goshen is also home to the Harness Racing Museum Hall of Fame, a historic museum that serves to collect and preserve the history and traditions of the beloved American-born sport. Situated in a Tudor-style stable, the museum's collection includes more than 1,700 works of art, 20,000 photographs, and thousands of tickets, programs, and other memorabilia. 
Warwick: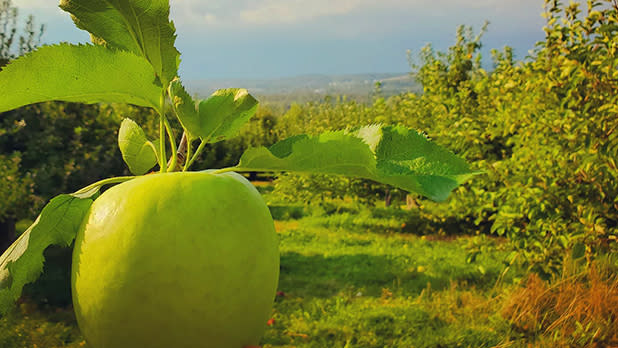 By Car: 1hr 10 mins from Upper Manhattan
Venture from The Big Apple to the Warwick Valley Apple Trail! Travel alongside the clear waters of the Wawayanda stream to the village of Warwick, a vibrant cultural community nestled between four mountains. From farmers' markets to hikes through the valley, farm-to-table dining, and water sports and activities, there is something for every traveler in Warwick. Take the Warwick Valley Apple Trail at any time of year and surround yourself with beautiful fall foliage scenery, as you relax in orchards, taste apples and other local fruits and vegetables, and round off your journey with a cider donut (or two!) 
Croton Gorge Park: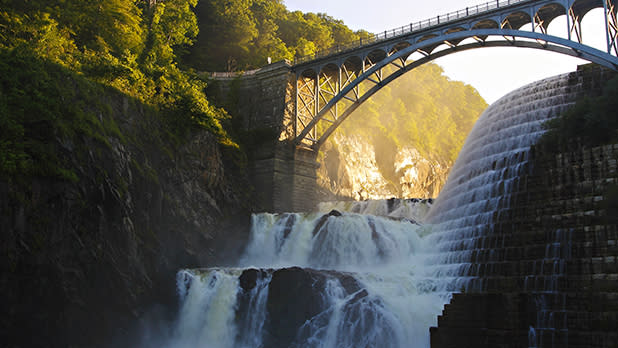 By Car: 53 mins from Upper Manhattan
For picturesque waterfall views from the Croton Gorge Dam and spillway (pictured), a trip out to Croton Gorge Park, a 97-acre property in Cortlandt, is a must. Take the two-mile Croton Gorge Trail from the foot of the dam to its top and look out over the Croton Reservoir from the footbridge. At the base of the dam, you can enjoy views of the impressive waterfall in the field below, perfect for picnics and soaking up the surrounding fall foliage scenery.
Yonkers: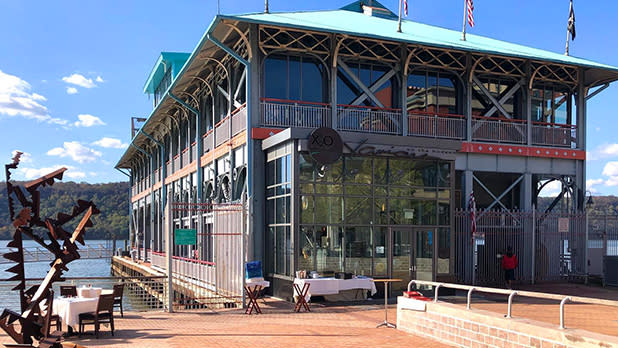 By Car: 25 mins from Upper Manhattan
By Train: 23 mins from Harlem-125th or 30 mins from Grand Central Terminal via Metro-North
Located alongside the majestic Hudson River, the city of Yonkers is home to numerous manors, historical sites, museums, and gardens. If you're traveling by train, hop off at Yonkers Station and take your pick of dining options along the riverfront Esplanade. Enjoy fresh seafood and cocktails at Dolphin Restaurant, or indulge in upscale American cuisine at X20 Xaviars on the Hudson (pictured). For a taste of history in a scenic setting, visit the Untermyer Gardens Conservancy, a 43-acre public park featuring landscape architecture inspired by Indo-Persian and Italian gardens. Take a walk through the famed Temple of Love, or the Rhododendron Walk, a densely planted pathway of rhododendrons, azaleas, and perennials.
Katonah: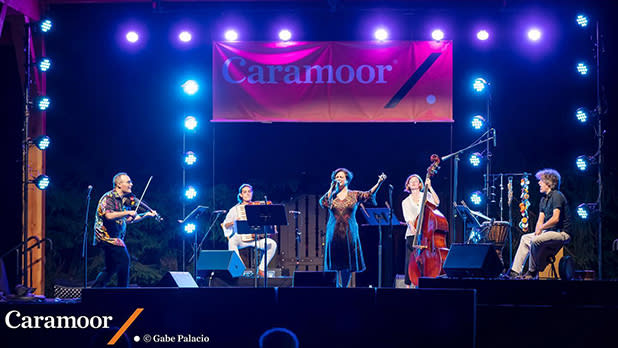 By Car: 53 mins from Upper Manhattan
By Train: 59 mins from Harlem-125th or 1 hour 7 mins from Grand Central Terminal via Metro-North
Utterly picturesque, and brimming with small-town charm, this historical hamlet within the town of Bedford is a welcome escape from city life. With quaint bookshop cafes, sidewalk sales, and window shopping aplenty, almost every store is independently owned. Be inspired by the Caramoor Center for Music and the Arts (pictured), a Renaissance estate with lush green gardens and a byzantine column-lined Spanish Courtyard that hosts a regular program of classical, jazz, and opera performances. The Center is also home to rotating exhibits of historic and modern art.
Long Island
There's more to Long Island than the Hamptons! To the east of Queens and Brooklyn, Long Island is teeming with countless landmarks and historic attractions to explore. Most places along the region are conveniently accessible via the Long Island Rail Road (LIRR) that runs regularly to and from New York City. Here are some great destinations all within an hour from the city.
Garden City: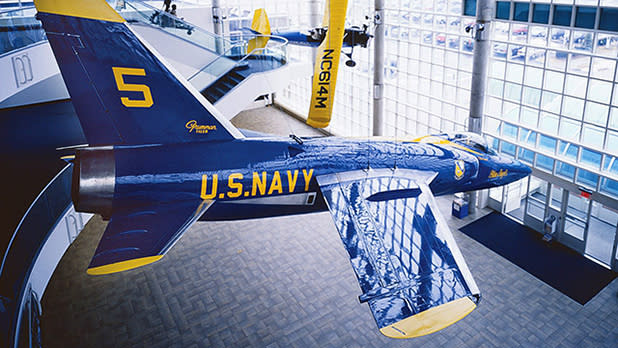 By Car: 53 mins from Midtown Manhattan
By Train: 37 min from Penn Station via LIRR
In the heart of Nassau County, this affluent town is renowned for its wide avenues and tree-lined streets at every turn. A trip to Garden City isn't complete without a visit to Museum Row along Charles Lindbergh Boulevard. Learn about Long Island's longstanding history in the aviation space at the Cradle of Aviation Museum (pictured) and view over 100 years of aerospace history. Visit 75 air and spacecraft models in eight galleries before heading to one of the museum's planetarium shows and special exhibits. Head next door to The Francis X. Pendl Nassau County Firefighters Museum and get up close and personal with firefighting practices at hands-on exhibits and interactive galleries as you learn about local firefighting history. Just around the corner, The Long Island Children's Museum offers 14 interactive galleries plus live theater, art spaces, and daily activities to provide hours of learning and play for children of all ages.
Oyster Bay: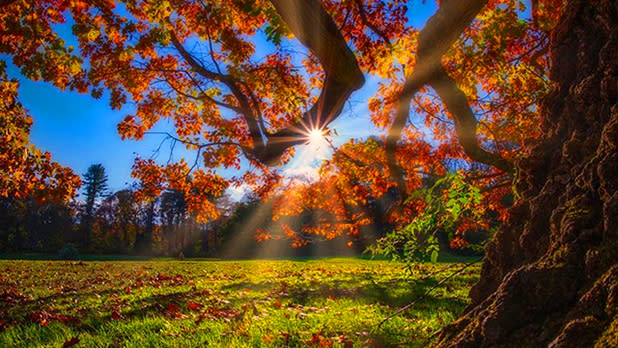 By Car: 59 mins from Midtown Manhattan
By Train: 57 min from Jamaica Station via LIRR
A gem along Long Island's North Shore, Oyster Bay was the famed residence and "Summer White House" of Theodore Roosevelt. Now called the Sagamore Hill National Historic Site, the former home of the 26th President of the United States is an 83-acre National Park comprised of natural sites and historic buildings. For more historic parks in the area and a bit of nature, travel west to Planting Fields Arboretum State Historic Park (pictured) and Coe Hall Historic House Museum, a Gold Coast estate from the 1920s that resembles a 400-year-old English manor and is home to a collection of early twentieth-century and Modern art.
Bethpage: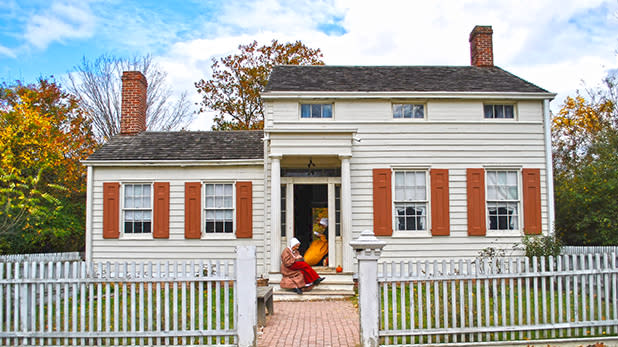 By Car: 56 mins from Midtown Manhattan
By Train: 32 mins from Jamaica Station via LIRR

Within the town of Oyster Bay, the historic village of Bethpage is a picture-perfect retreat. Immerse yourself in 19th-century Long Island living at Old Bethpage Village Restoration (pictured), a living history museum. Explore historic homes and farms, learn about past trade and craft practices, and attend a variety of seasonal events and programs within its walls. Throughout October and November, you can witness the awe-inspiring Great Jack O' Lantern Blaze, which features over 7,000 illuminated jack o' lanterns throughout its grounds. In December, get into the holiday spirit during their special Candlelight Evenings, complete with bonfires, hot apple cider, and more. For those looking to get out on the green, Bethpage is home to one of America's greatest public golf courses, the Bethpage State Park Golf Course. Host of the 2019 PGA Championship, the park features 18-hole regulation golf courses, including the world-renowned Bethpage Black Course.
Old Westbury: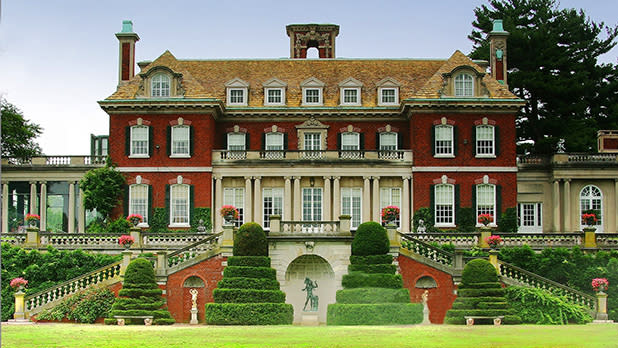 By Car: 48 mins from Midtown Manhattan
Be transported back in time and tour the Early Modern period-inspired estate at Old Westbury Gardens (pictured), the former estate of John S. Phipps and his wife Margarita Grace Phipps, circled by woodlands and formal gardens. Take a self-guided tour of the historic mansion, home to a large personal collection of English antiques and artwork, and marvel at the bright yellow fall foliage and pink Long Island Camelia's in bloom throughout over 200 acres of formal outdoor gardens, woodlands, ponds, and lakes.
Huntington: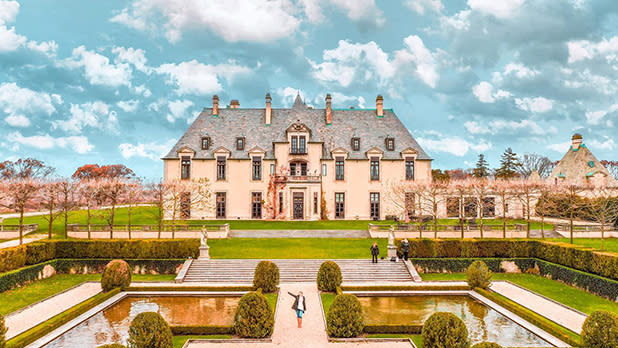 OHEKA CASTLE / CREDIT @noerosetravel on Instagram
By Car: 1 hour 7 mins from Midtown Manhattan
By Train: 42 min from Jamaica Station via LIRR
From its pristine harbors and popular waterfront dining to its rich history, Huntington is a destination with something in mind for all kinds of travelers. Visit the birthplace of Walt Whitman at the Walt Whitman Birthplace State Historic Site, and learn about one of the world's greatest poets at this West Hills historic site. For more history, visit The Heckscher Museum of Art where you can view 185 works of art donated in 1920 by famous German philanthropist August Heckscher. The exhibits, collections, and programming are housed within a new Beaux-Arts building located in Heckscher Park. Longing for intercontinental travel? Oheka Castle (pictured) has brought it to you. Described as "Europe in America" this French-style chateau and highly-stylized grounds is a sought-after getaway and dream wedding location along Long Island's Gold Coast. With nine beaches and three marinas at its doorstep, Huntington is a welcome escape for those itching to get out on the water or learn about its delicate freshwater ecosystem. Take a trip to Cold Spring Harbor Fish Hatchery & Aquarium and discover the largest collection of freshwater reptiles, fishes, and amphibians in New York State. While you're there, be sure to sign up for one of their catch and keep trout fishing sessions! 
---
Don't forget to post photos of your New York adventures on Instagram and Twitter with #NYLovesFall and #ILoveNY and tag us on Facebook!