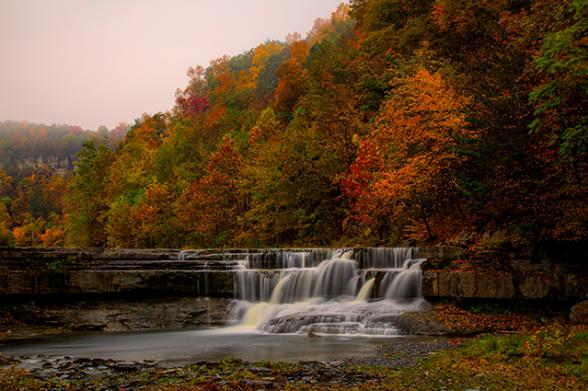 New York State's amazing fall foliage dazzles visitors from around the world and forms the perfect backdrop for a multitude of natural wonders. One of the best ways to view the vibrant, amazing leaves is alongside one of our amazing waterfalls. There are picture-perfect falls with spectacular vistas across the state that will make your autumn travels even more magical. 
Masks are encouraged, but optional in most settings per New York State guidelines. Individual businesses or attractions may require mask wearing. Call ahead and check websites and social media to make sure attractions and amenities are open and available. 
Updated: 7/27/23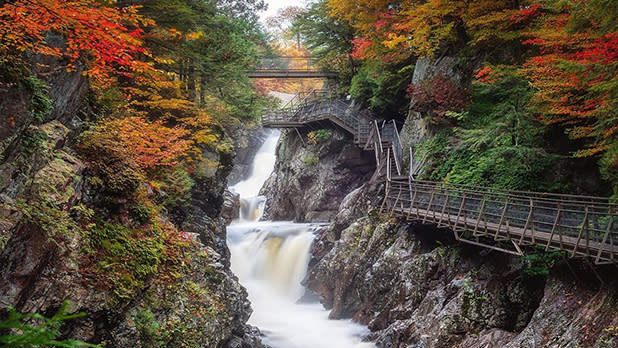 CREDIT @M_SQUAZZO ON INSTAGRAM
Take a half-mile waterfall walk along the mighty Ausable River to view High Falls Gorge. Just a 10 minute drive from Lake Placid, this 22-acre privately owned park along the base of Whiteface Mountain offers access to four spectacular cascading waterfalls and some of the best fall foliage views in the Adirondacks.
While you're there: Refresh yourself with food, and regional craft beer, and award-winning New York State wines at the River View Cafe at High Falls Gorge, explore Lake Placid, and check out the wonderful fall views from the Cloudsplitter Gondola or from the 4,800-foot summit of Whiteface Mountain (accessible via the Veterans' Memorial Highway).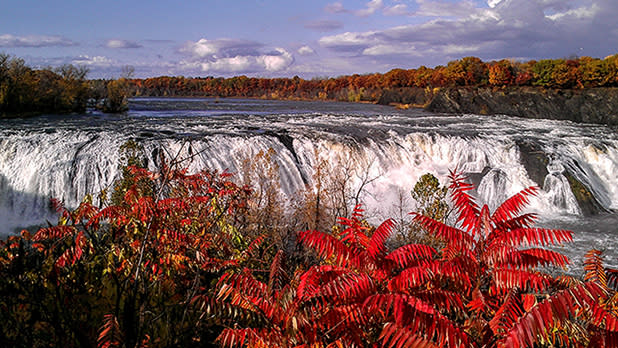 CREDIT @ERICSCHEFFEL
Packed with natural beauty and measuring about 1,000 feet across and up to 90 feet high, Cohoes Falls is the second largest waterfall in New York State. Enjoy the autumn leaves at Falls View Park, which offers a picture-perfect scene for photographs with the rushing waterfall and complimenting vibrant fall colors. 
While you're there: Catch a concert at the Historic Cohoes Music Hall, shop for fresh food, craft beverages, and handmade crafts at the Troy Waterfront Farmers Market, view the fall colors along the canal towpath and locks at the Harbor Visitors' Center in Waterford, or take a scenic nature stroll at Peebles Island State Park.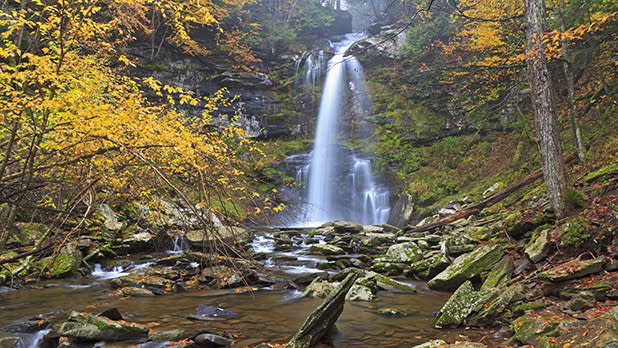 Shooting off a small opening at the top of a sheer cliff and cascading 70 feet into the creek below, Plattekill Falls in Greene County is the waterfall of your dreams. The rock faces surrounding it are covered in moss and greenery, giving it an almost mystical appeal, particularly in fall, and the stream bed it flows into provides ample opportunity for rock hopping. Bring the whole family and spend a day tucked away in a Catskills mountain paradise.
While you're there: Discover even more fall foliage at Mountain Top Arboretum in Tannersville, and, if you're up for some light exercise with a view, ride the rails with Rail Explorers in Phoenicia.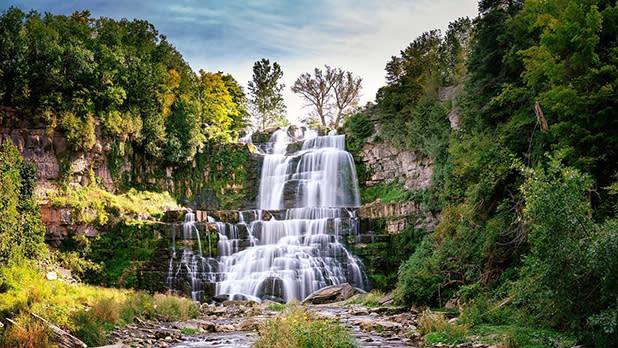 CREDIT @RODDYPITTMAN ON INSTAGRAM
A magnificent 167-foot waterfall that formed 10,000 years ago is the focal point of this 194-acre state park in Cazenovia. Hike the trail winding from top to bottom to see the falls and the vibrant foliage surrounding it from every vantage point.
While you're there: Get lost in the gigantic corn maze at Critz Farms. Take in amazing outdoor art sculptures at Stone Quarry Hill Art Park, located on 104 acres of conserved land and over four miles of trails overlooking the breathtaking rural landscape of Cazenovia and Madison County.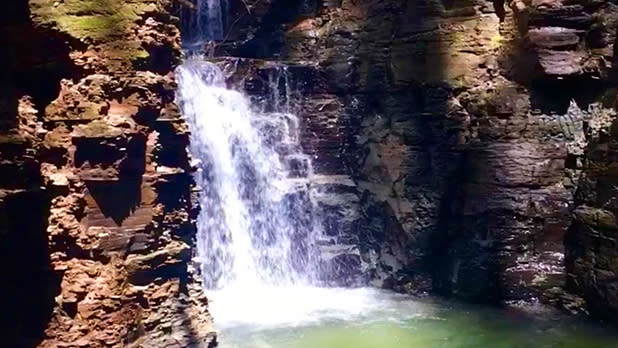 CREDIT @JOHNNYKACKS ON INSTAGRAM
Take a moderate 1.5-mile hike to the secluded Hidden Falls at Allen Lake State Forest in Allegany County. Along the way, you'll climb on top of an esker (a long, narrow glacial ridge), cross streams, and see brilliant leaves on gorgeous rolling hills before reaching the edge of a ravine. Listen for the falling water and hike down the slope to get a better look at the waterfall, which lies in a narrow, vertical gorge.
While you're there: Enjoy more fall foliage and hiking at nearby Coyle Hill State Forest, and get a glimpse into the history of bare-knuckle boxing in Allegany County at the Bare Knuckle Boxing Hall of Fame. 
Located eight miles northwest of the city of Ithaca and three miles southeast of the Village of Trumansburg, Taughannock Falls State Park's namesake waterfall is one of the Northeast's outstanding natural attractions. The falls plunge 215 feet past rocky cliffs that tower nearly 400 feet above the gorge below. You'll find gorge and rim trails with spectacular views of the fall foliage from above and below the falls.
While you're there: Take in more foliage while experiencing Ithaca Falls on Falls Creek, one of the city's secret waterfalls close to downtown, and near Stewart Park, where you'll see Falls Creek's final 150 ft plunge into Cayuga Lake. Travel to the award-winning Downtown Ithaca Commons where you'll find an array of specialty shops, historical architecture, restaurants, and events; and for a taste of local artisan and farm-fresh food, there's no better place to be on the weekend than by the Cayuga Lake at Ithaca Farmers Market.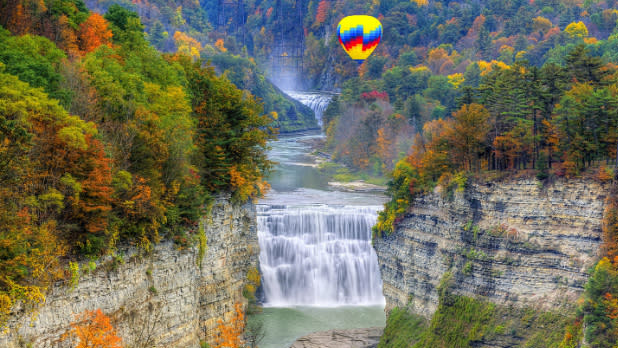 Letchworth State Park's three large waterfalls, dubbed the Lower, Middle, and Upper Falls, were each carved by the Genesee River. Beautiful year-round, the park is especially radiant and captivating in the fall, with overlooks brimming with vibrant autumn colors. You'll soon see why it's called the "Grand Canyon of the East".
While you're there: Consider a short stay or a meal at the park's historic Glen Iris Inn. Take a scenic fall foliage rail tour aboard one of the Arcade & Attica Railroad's historic trains, get up close and personal with some of the world's most exotic animals at Hidden Valley Animal Adventure, or enjoy art exhibits, classes, workshops, concerts, and films at the Arts Council for Wyoming County.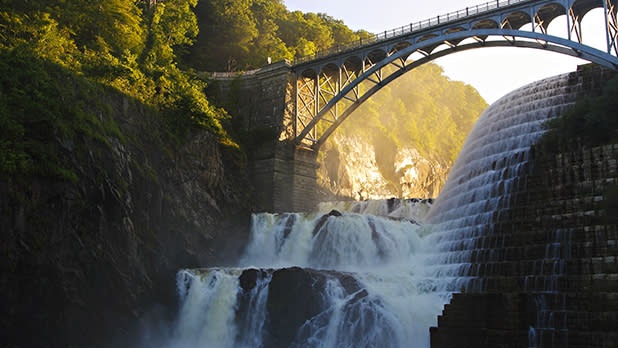 Croton Gorge Park, a 97-acre property at the base of the Croton Dam in Cortlandt, is a great spot for fishing, picnicking and hiking, with direct trail access to New York State's Old Croton Aqueduct. The dam features a spectacular waterfall tumbling down the rocks beside it, and a footbridge lets you look down on the falls and the huge spillway that feeds them.
While you're there: Visit Baked by Susan and grab a delicious cookie, cupcake or one of their famous empanadas. Take a hike to Anthony's Nose and experience the amazing foliage from one of the best overlooks in the Hudson Valley.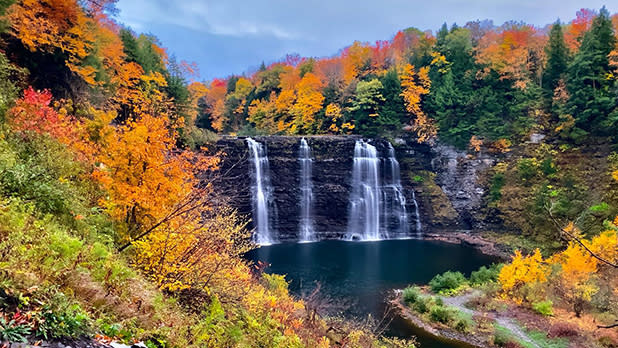 CREDIT @MSR9889 ON INSTAGRAM
Located near Orwell in Oswego County, Salmon River Falls features a wide 110-foot waterfall on 112 acres known as the Salmon River Falls Unique Area, which features a large parking area with access to an easy trail leading to several viewpoints near the crest of the falls.
While you're there: Visit The Pulaski Historical Society's museum and learn about this historic village's past through artifacts, records, and exhibits; or head out on the water and try your hand at angling the famous trophy trout and salmon of Lake Ontario and the Salmon River with Chasin' Tail Adventures.
---
Share your New York State adventures with us on Instagram and Twitter and tag us on Facebook!