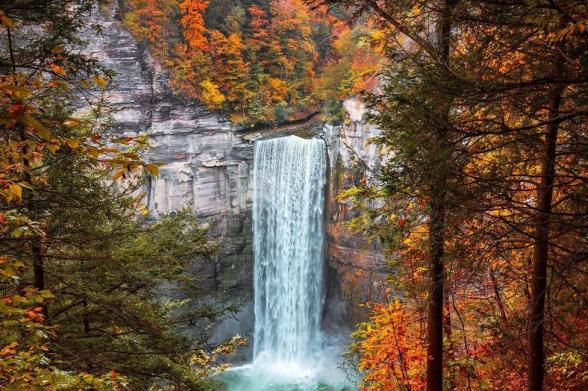 When fall rolls around, a wave of fiery oranges, bright yellows, and deep reds transform New York State into a foliage dreamland. From Central Park and the Catskill Mountains to the St. Lawrence River and Niagara Falls, every corner of the Empire State becomes decorated with the wonders of autumn. But, it won't last for long. Get your cameras (and Instagram captions) ready to fully embrace fall at some of the best photo spots of the season throughout the state. 
JUMP TO: Adirondacks | Capital-Saratoga | Catskills | Central New York | Chautauqua-Allegheny | Finger Lakes | Greater Niagara | Hudson Valley | Long Island | New York City | Thousand Islands-Seaway
Take a leisure drive up the five-mile Whiteface Veterans Memorial Highway and admire passing views of the Adirondack High Peaks as you travel up the state's fifth highest peak. From 4,867 feet above you'll witness the Adirondack wilderness decked in fall colors, and if it's a clear sunny day, you might even see as far out as Vermont and Canada! Open until October 9.
Nestled among the mountains is the picturesque village of Lake Placid with Mirror Lake at the heart. The lake's sparkling waters paired with the bright colors of fall throughout the High Peaks is a treat in itself, but to really immerse yourself in the area's scenic beauty, take the 2.7 mile walking loop.
Credit: @m_squazzo on Instagram
Watch as the AuSable River guides you through four magnificent waterfalls and autumn foliage galore. The 22-acre park is packed with photo opportunities around every corner, from glass platforms that suspend you over the mighty river to hiking trails that follow alongside the falls. Admission is $15.95 per person.
Get your camera ready to explore more than 2,000 acres of dazzling oranges, yellows, and reds at Saratoga Spa State Park. Follow wooded paths of ranging difficulty that'll lead you alongside naturally-occuring mineral springs, past geysers, and through some of the park's most amazing autumn views. Admission is $10 per vehicle.
A visit to one of the region's favorite leaf-peeping destinations is one you won't regret. Take in a vibrant display from over 25 miles of hiking trails where you'll unlock one-of-a-kind vistas of Hudson-Mohawk Valleys, the Adirondack and Green Mountains, and Albany. For a fall photo that's guaranteed to make your Instagram followers jealous, take the 1-mile Indian Ladder Trail loop. Be sure to call ahead as most trails close seasonally. Admission is $6 per vehicle.
This 89-acre Olmsted-designed Albany staple is a sight to see year-round, but a stroll through this park adorned in the elegance of autumn is a true delight. Frame your fall photo with a walk down the Knox Street Mall or from the footbridge (pictured) over the five-acre lake; it was built in 1875 and is the only remaining original structure in the park.
It's no secret that the Catskill Mountains are a magnificent sight during peak fall foliage, but the view from Mount Utsayantha takes it to a whole new level. Hike or drive up the 2.3-mile dirt path where you'll be greeted with breathtaking 360 degree views. If you're still chasing that perfect fall photo, make the last leg of your trek a climb to the top of the Fire Tower, you won't be disappointed. 
Looking to work for those fall foliage photos? Take the 2.5-mile uphill hike to the top of Overlook Mountain where you'll be greeted by jaw-dropping views of the fire tower, mountain house ruins, and transitioning fall colors throughout the Hudson Valley and Ashokan Reservoir.
Be prepared to pull over as you drive along the scenic Route 28. This enchanting 52-mile byway takes you on a journey through the central Catskills and four historic and scenic small towns nestled among the mountains. Follow one of the audio guides and get to know the unique and rich history of the region as it passes by.
You're bound to capture some stunning photos throughout the 193-acre Chittenango Falls State Park. The main attraction, the 167-foot waterfall sculpted by 400 million-year-old bedrock (pictured) is truly a wonderful sight surrounded by vivid fall hues. Follow the winding trail for views of the falls from above, a journey into the gorge, and a stroll alongside the racing waters from the footbridge. Admission is $5 per vehicle.
Credit: @tdecorah on Instagram
Just 10 minutes outside of Cooperstown will put you in the midst of spectacular Otsego Lake lookouts, acres of forested beauty, and plenty of wildlife. Take a relaxing walk through a foliage dreamland from one of the five trails. The Sleeping Lion Trail offers stunning views of the park from the south and the Covered Bridge Trail (pictured) will provide an amazing photo opportunity of the oldest covered bridge in New York and the country!
Explore 65,000 acres of beautiful autumn wilderness at the largest New York State Park this season. Adventure through the park's Hemlock and Hardwood mixed forest and take in the surrounding lakes, mountains, rolling hills, meadows, and diverse wildlife on one of the many hiking trails. Admission is $7 per vehicle.
Show your Instagram feed a unique collection of fall photos from Griffis Sculpture Park, one of the largest of its kind in North America. Take a journey through art and nature on scenic hiking trails scattered throughout 450 acres where you'll see more than 250 large scale sculptures and amazing foliage. Admission is $5 per person.
Watkins Glen State Park already has a reputation for leaving visitors spellbound, but admiring 19 waterfalls amidst the hues of the fall season is sure to take your breath away. A trip to this Finger Lakes favorite isn't complete without a hike on the Gorge Trail (open until mid-late October) that leads you over and under all the cascading falls. Admission is $10 per vehicle.
Watch as the trees surrounding the tallest single-drop waterfall east of the Rocky Mountains trade their green summer leaves for a medley of reds, oranges, and yellows. You're bound to find one-of-a-kind vistas around every turn but to unlock an amazing view of the falls framed with the vibrancy of autumn, get your camera ready and take a walk on the Gorge Trail. Entrance is $9 per vehicle.   
Witness the Buttermilk Creek race down 500 feet through cascades, rapids, and incredible fall foliage. Discover all 10 waterfalls and immerse yourself in the park's beauty on one of seven trails open until October. If hiking isn't your thing, an amazing view of the main waterfall surrounded by lush trees can be seen right from the park entrance. Entrance is $9 per vehicle.
The spectacular beauty of Niagara Falls gets even more marvelous during the height of the fall season. Anywhere in the park will be a treat in itself, but for an undoubtedly stunning picture, make your way over to Goat Island or hike along the Gorge Trail (pictured). Entrance is $10-$15 per vehicle.
From amazing overlooks to winding trails and even a spot named Inspiration Point, you're sure to find all the fall vibes among more than 14,000 acres at the "Grand Canyon of the East." If you're a hiker, take to the 66 miles of trails and if not, hop in the car - both will land you at some of the park's most scenic lookouts. Entrance is $10 per vehicle until October 24. 
Art meets the outdoors alongside wondrous views of the Niagara River Gorge at Artpark. Take an easy walk along the river on the Upper Gorge Trail or explore the Historic Woods on the Woods Trail, and admire Lewiston's renowned foliage.  
Credit: @ianpoley on Instagram
One of the Hudson Valley's favorite fall destinations, the Mohonk Preserve is home to 70 miles of hiking trails, historic carriage roads, world-class climbing along the ridge, and striking views of the famed Shawangunk Mountains. For breathtaking views of the transitioning fall colors, head to the Testimonial Gateway or Millbrook Ridge Loops. Day passes are $15 for hikers and $20 for bikers, climbers, and horseback riders.
Reserve tickets and wander through the historic grounds of the 19th-century Federal-style museum overlooking West Point and the Hudson River. Whether you decided to take a walk through the forest on the one-mile Woodland Trail, stroll through the apple orchard and Formal, Herb, and Hudson River School Artists Gardens, or stop and snap a photo of the tree lined Maple Lane (pictured) leading up to the museum, there's always an opportunity to capture fall ambiance. Admission is $14 per person.
Take in a bird's eye view of the Hudson River and the shades of fall throughout Hudson Valley as you stroll across the longest elevated pedestrian bridge in the world. The walkway is open 24/7, features frequent events, and offers 360 degree views, so plan to visit for a sunrise or sunset; you won't regret it.
This 500-acre outdoor large-scale sculpture garden isn't only known for its harmonious display of art and nature. Lay out a blanket and admire the Storm King's sprawling landscape decorated with the reds, oranges, and yellows of fall, complimenting the already unique artwork. Admission is $23 per person.
Explore the historic grounds of a former Gold Coast Estate this autumn with 22 different gardens, miles of gorgeous landscapes, two greenhouses, and woodland paths. With over 400 different species of plants and trees scattered throughout the park's 409 acres, opportunities for the perfect foliage photo are everywhere. Entrance is $8 per car.
Traverse through 200 acres of formal gardens filled with sweeping lawns, wooded paths, and tons of elegant estate beauty at the Old Westbury Gardens. The Temple of Love (pictured) is framed by bright oranges as it overlooks the pond and mansion in the distance, and a must-stop for fall photo-ops. Admission is $15 per person.
Found on a scenic peninsula leading to the Long Island Sound, this 1,520-acre state park offers a variety of fall photo spots. Look out at Caumsett's unique landscape surrounded by Lloyd Harbor, explore the woodlands, meadows, rocky shoreline, and the salt marsh from one of the walking trails, and be sure to snap a picture of the Henry Lloyd Manor House while you're visiting. Entrance is $8 per vehicle.
Discover one of New York City's favorite fall photo destinations, Central Park. More than 840 acres and 18,000 trees await you as they make their grand entrance with vibrant hues of fall. Be sure to stop at The Mall, North Woods, and Conservatory Garden for pictures that are bound to amaze your Instagram followers.
Brooklyn's Prospect Park is steeped in fall beauty and packed with awe-inspiring photo spots. Uncover them all on a self-guided fall foliage tour. You'll make stops at all the park favorites like the Peninsula, Lookout Hill, Lullwater Bridge (pictured), Nethermead, the Meadowport Arch, and many more.
This 478-acre gothic and historic landmark is the perfect setting for viewing the flourishing fall season. Take a stroll through the gorgeous Green-Wood, one of the country's first rural cemeteries, and admire the statuary, mausoleums, meadows, lakes, gardens, and lush trees scattered throughout.   
Credit: @annab62 on Instagram
Adventure through New York's prehistoric roots and explore the dramatic caves, valleys, ridges, and natural beauty of Inwood Hill Park in autumn. Scout for the perfect photo on foot via hiking trails or on wheels along the Hudson River Bike Trail where you can appreciate the large stretches of forestland - you might even see a bald eagle! 
Autumn along the sparkling St. Lawrence River is truly a sight to see and Wellesley Island State Park is the place to do it. Stroll down three miles of sandy shoreline or take a journey on one of the several hiking trails. Looking to capture the ultimate fall photo? Stick around until sundown for one of the park's famous sunsets over the St. Lawrence. 
This six-story Rhineland-style castle is truly a wonder all year round, but come October, it becomes immersed in the vibrant oranges, yellows, and reds of the season. Until October 9, take a scenic boat ride over to the five-acre Heart Island, where you can roam the grounds, tour the castle, and take all the fall photos your heart desires. Admission to Boldt Castle is $12.50 per person. Prices for boat rides vary. 
Find the fall photo of your dreams on 1,100 acres from 80-foot cliffs, 14 miles of trails, and over 17,000 feet of Lake Ontario shoreline at Robert G. Wehle State Park. For a secluded and unique experience, follow the Snakefoot Trail. It'll guide you along the lake, through the park's globally-rare ecosystem, and deliver some amazing views.
---
Don't forget to post photos of your New York adventures on Instagram, TikTok, and Twitter with #iSpyNY and tag us on Facebook!