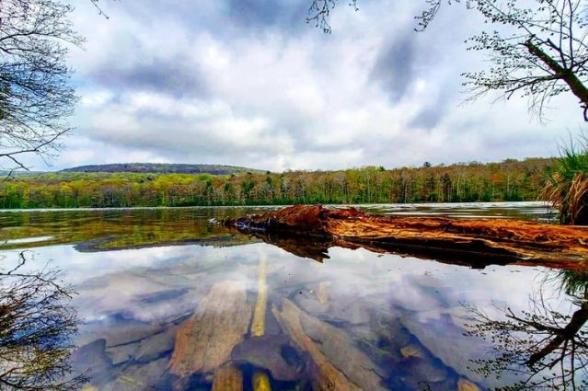 Credit: @renegade_nomad
Your dreams of walking outside to reach incredible scenic views are closer than you think! The Catskills are calling and you can answer by taking one of these hiking itineraries in Delaware and Sullivan counties for a spin, each a short drive from NYC. We've also included where to eat, drink, and play around the hikes to help plan your perfect day.
Sign up for small group guided hikes featured in the itineraries below with the New York State Department of Environmental Conservation. But act fast, as spots are limited!
Itineraries: Cabot Mountain Lookout, Andes; Trout Pond, Colchester; Frick Pond Loop, Rockland; More to Love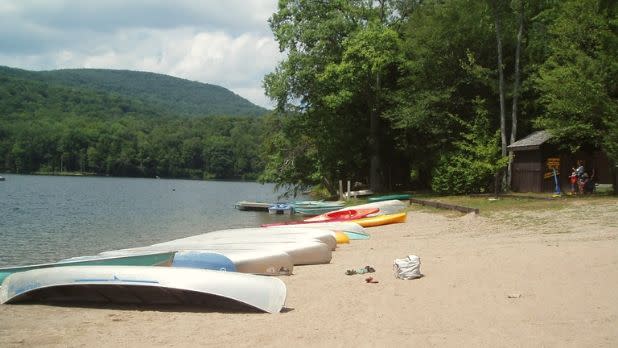 (Moderate, 4.2 miles round trip, 3 hours)
Trailhead parking is found within Little Pond State Campground (fee at entrance). Follow the yellow trail out of Little Pond 1.6 miles to the intersection with the red Touch-Me-Not Trail. Turn left onto the red Touch-Me-Not Trail and climb .5 miles to the Cabot Mountain Lookout, offering spectacular views of Little Pond and the Catskill Mountains.
Reward yourself after your hike at picnic! in Margaretville, about 30 minutes northeast. Visitors rave about the Reuben sandwich, burritos, bagels, and baked goods. Open until 2 pm.
From lunch, take NY-28 S just a few minutes east to the Arkville Station for the Delaware & Ulster Railroad. A round trip along the scenic Delaware River between Arkville to Roxbury takes about two hours. Excursions depart at 11 am and 2 pm on weekends with the option to sit in open-air cars. Tickets are $18 for adults and $12 for children 3–12 years. Be sure to check the website for schedule information.
After your train ride, you may want to stop by Union Grove Distillery across from the railroad station to sample some spirits. Bring home a bottle of vodka produced from local apples and wheat.
Take NY-28 S on the way back to NYC and stop at the World's Largest Kaleidoscope, located within a former farm silo at the Emerson Resort & Spa. A ten-minute show featuring a magnificent display of colors and images costs $5 per person with children under 11 years old admitted for free. There is also great shopping in the attached Country Store, including some kaleidoscopic souvenirs.
Trout Pond (Colchester, Delaware County, NY)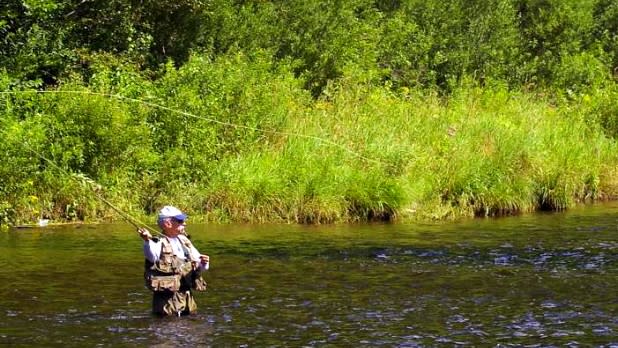 (Easy, 2.8 miles round trip, 2 hours)
Park at the trailhead parking area located on Russell Brook Road. From the trailhead, hike 1.4 miles down the Trout Pond Trail passing Russell Brook Falls on the east side of the trail. Trout Pond is bordered by two lean-tos and is a great location to view Cherry Ridge and take advantage of wonderful backcountry fishing opportunities (fishing license required).  
Once you've finished your hike, head south via NY-206 E and east via Old Rte 17 to the Catskill Fly Fishing Center and Museum (pictured). The Catskills was the birthplace of American fly fishing and this is the world's largest center dedicated to the fly-fishing community. Don't miss the Fly Fishing Hall of Fame. The Center runs a number of programs during the year for kids, such as a tutorial on how to tie a fly with members of the Catskill Fly Tyers Guild. Check the website for the schedule of events.
For a quick bite, head five minutes south via Old Rte 17 to Main Street Farm, a hip market featuring gourmet sandwiches made from locally sourced farm-fresh ingredients and freshly baked bread. After lunch, shop the market for local organic produce, farm fresh dairy and eggs, local trout, and farmstead cheeses and meats.
Stop at the Bethel Woods Center for the Arts to check out a new-in-2019 exhibit, "We Are Golden," commemorating the 50th Anniversary of the Woodstock Music and Art Festival. Museum admission is $19.69 for Adults and $15 for children 6–18. Children under 5 years are free.
Frick Pond Loop (Rockland, Sullivan County, NY)
(Easy, 2.2 miles roundtrip, 1.5–2 hours) 
Hike the Frick Pond Loop, an easy hike around a pond offering plenty of opportunities to see birds and other wildlife as you pass through old fields and northern hardwood forests. From Livingston Manor, take DeBruce Road (County Rt 81, then County Rt 82) to DeBruce, then turn left and head north on Mongaup Pond Road, passing by the DeBruce Environmental Education Camp and Catskill State Fish Hatchery, before bearing left onto Beech Mountain Road. Frick Pond Trailhead parking lot is on the left (west) side of the road, about half of a mile beyond the junction with the Mongaup Pond Campground Road. From the trailhead, follow red markers to the pond, then turn north and follow yellow markers to the "Times Square" trail junction. To complete the loop, follow yellow markers south along the west side of the pond to the red trail, then turn left and head east back to the trailhead.
Drive 30 minutes down the road for lunch at Roscoe Beer Company. In addition to their flagship brew, Trout Town American Amber Ale, and other beers on tap, the menu has salad, roasted tomato soup, nachos, and six different varieties of grilled cheese sandwiches.
Finish out your day with a tour at Catskill Fly Fishing Center and Museum to learn all about the sport, its most famous fishermen and women, and the equipment they use.
More to Love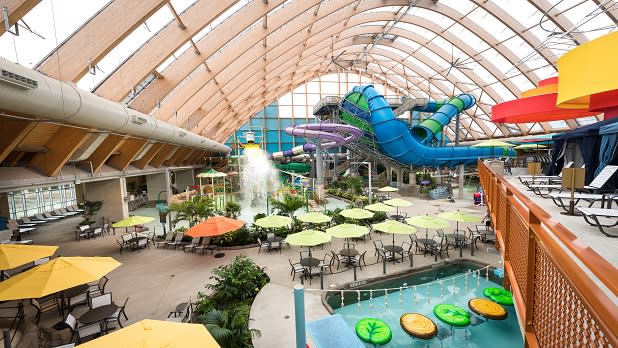 If you have more time, visit some of the following attractions nearby. Check driving times to see what makes sense for the hikes you've included in your day.
Take the Catskills Fire Tower Five Challenge: Hike and climb five Catskills fire towers for a chance to win New York State prizes and badges.
Cool Off: Kayak and fish at Lake Wawaka with Susan's Pleasant Pheasant Farm Canoe and Kayaking or head to Mongaup Pond Campground for swimming, boat rentals, or fishing. Experience the thrills of rides and slides at the largest indoor water park in New York State, The Kartrite Resort & Indoor Waterpark.
Learn Some History: Learn about how the railroads framed the Catskills as a vacation destination at Roscoe O & W Railway Museum.
Enjoy the Farm Life: Buy farm-fresh produce and plants at Livingston Manor Farmers Market or take selfies with adorable creatures at Buck Brook Alpacas.
Where to Stay: Mongaup Pond Campground is great for outdoorsy types. Fans of B&Bs will feel right at home at Rose Cottage Bed and Breakfast, Lazy Pond Bed and Breakfast, and Susan's Pleasant Pheasant Farm Canoe and Kayaking. Luxury travelers will love Resorts World Catskills Casino and Resort with families especially enjoying the neighboring Kartrite Resort & Indoor Waterpark.
---
Read More: Hiking in Ulster County; Hiking in Greene County; 14 Hikes in the Catskills
Don't forget to share your summer vacation with us! Share New York State pictures on Instagram and Twitter with #FindWhatYouLoveNY and tag us on Facebook!