Updated 02/10/22
There are many ways to find the perfect date night or romantic getaway in New York State—even when you're staying at home. From selecting the type of food to eat or cook to planning an engaging activity, let New York help you create the perfect night in your own space. Choose a candlelit dinner, a movie date, a long-distance virtual meet-up (with a picturesque New York background), or make it a solo date night. Here is how to recreate a romantic New York getaway in the comfort of your home!    
Prepare a New York-inspired dinner
New York is known for delicious dishes that are sure to wow your taste buds—and your partner's. Start your evening with a salad topped with Thousand Island dressing, make a main entree with pan-fried Chicken French (pictured), a Finger Lakes favorite, or a classic Long Island lobster roll. It's safe to say that New York is a food lover's paradise. Make these meals and more with I LOVE NY and New York Kitchen's easy-to-follow recipes! Get into the true New York state of mind and create a New York-themed playlist while you chop away.
Relax with a New York-style spa night
First, to help set the mood, order robes online from Mirbeau Inn and Spa, and plan a spa day. Next, you'll want to light candles that will create a spa-like atmosphere. Try the sea-scented option from Gurney's Montauk Resort or buy an apple cider candle from Taste NY's site. Apply your soothing face mask, paint your nails, or use essential oils to kick off your spa time. Don't have spa materials at home? Mirbeau Inn and Spa, Gurney's Montauk Resort, and Taste NY all offer various items like body scrubs and lotions, bath salt, shampoo and conditioner, massage oil, beard grooming products, and more.
Grab your popcorn and enjoy a set-in-New York movie night

There are so many movies (and binge-worthy TV shows!) that can make you feel like you're right in New York, and we've gathered "17 Great Movies and TV Shows Featuring New York Attractions" just for you! From the comfort of your couch, feel like you're swinging with Spiderman, singing in the streets with The Greatest Showman, or laughing in the 1950s with The Marvelous Mrs. Maisel.
Unwind and reconnect together
Feel renewed with at-home virtual wellness classes––take one together! Restore your inner balance with online energy yoga, healing Qigong, and health webinars by Honor's Haven Resort and Spa. Get your heart rate up with total body conditioning, pilates, dance sculpt, or stress relief boxing with Mirbeau Inn and Spa. Read tips on wellness and self-care on Yo1 Wellness Resort and Spa's Facebook and Instagram pages. If you're looking to embrace mindfulness, Mohonk Mountain House offers previously recorded Mindfulness episodes where you can learn about mindful eating, drinking, and your relationship with yourself and others.
Paint, draw or color and sip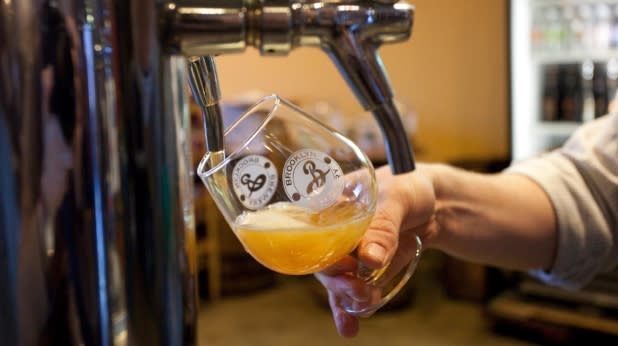 Looking to get in touch with your creative side and also produce a new art piece? Locate your nearest paintbrush or drawing utensil and let the creativity take shape. You can also order paint supplies (or use your own supplies) to paint along with Paint & Sip Studio New York classes. Paint Central Park, the Manhattan skyline, or the Brooklyn Bridge. Pre-recorded paint & sip classes $18, live virtual classes $20. Coloring can also be very relaxing––and with these pages––you're sure to be reminded of everything you love about New York, from the beautiful Boldt Castle in the Thousand Islands-Seaway region to the Lake George Steamboat Company in the Adirondacks. While you discover your inner artist, don't forget to order your drink of choice made specially in New York, from hard cider or sparkling non-alcoholic cider from Nine Pin Ciderworks in Capital-Saratoga to Sparkling Pointe Vineyard wines from Long Island, or find beer like the classic Brooklyn Lager from Brooklyn Brewery in NYC, Ellicottville Brewing Company's Blueberry Wheat Ale, or one of many fruity IPAs from Saranac/F.X. Matt Brewery.