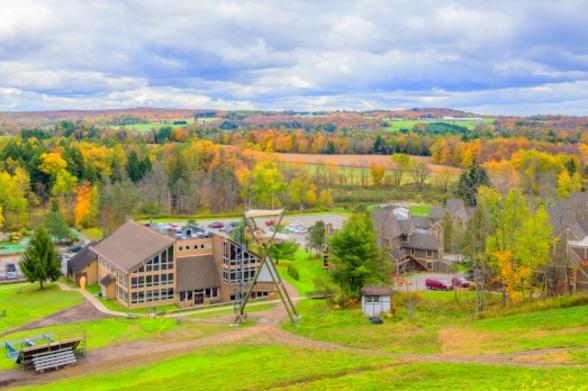 When it comes to fall, New York has it all! Whether you prefer basking in the glow of thousands of jack-o'-lanterns, admiring bright foliage on a scenic gondola ride, or discovering all the pumpkin spice and apple-flavored goodies, the Empire State is bound to have a festivity for every autumn enthusiast. From Clayton's Punkin Chunkin' to the famed Great Jack O'Lantern Blaze, and Oktoberfests scattered throughout the state, grab your crew and get into the spirit of the season with these 19 fall festivals.
Credit: @ddsfoodie on Instagram
If you can't make it to Munich for Oktoberfest this year, head to Pier 15 in New York City for a month and a half long celebration! Gaze out at the Brooklyn skyline while you revel in traditional Oktoberfest food and fun, complete with authentic German beer, brats, giant pretzels, and Lederhosen, of course. September 8 - October 29, free but advanced ticket registration is recommended.
Courtesy Harbes Family Farm
Get your fall on with Harbes Family Farm's two family-friendly harvest festivals this season. From September 9-10, stop by the Riverhead farm for the Apple Festival. Stroll through the 15-acre orchard, pick apples of your own, enjoy live music from Matt Taylor, go for a pony ride, navigate the Robin Hood corn maze, and more. From September 23-24, celebrate the seasonal opening of the Barnyard Pumpkin Patch at the Pumpkin Festival in Mattituck. Pick your own pumpkins, make your way through the corn maze, and listen to live music from Bryan Gallo on Saturday and Deanna Hudson on Sunday. The kids will love watching pig races, taking hayrides, jumping on the bounce pillows, and exploring "Lil' Farmers PlayLand" at the Barnyard Adventure. Parents can visit the 100-year-old renovated potato barn, sample award-winning wines, and take in the rustic ambiance of the farm from the patio. Apple Festival: September 9 - 10. Pumpkin Festival: September 23 - 24. Entrance to both festivals is included in regular farm admission. Prices for additional activities vary.
Credit: @sleepyhollowspellbound on Instagram
Prepare to be amazed as you stroll through more than 7,000 hand-carved jack-o'-lanterns at one of the top-rated Halloween events in the country. With two historic locations (the 18th-century Van Cortlandt Manor in Croton-on-Hudson and the 19th-century Old Bethpage Village Restoration in Old Bethpage), larger-than-life displays, special effects, and an all-original soundtrack, there's literally never a dull moment. Gaze up at the first-ever pumpkin ferris wheel, meet life-sized dinosaurs, and check out the Day of the Dead jack o'lantern display, in Croton. In Old Bethpage, meet the giant pumpkin octopus and gourd-geous Montauk mermaid, peruse the boo-tique, watch live pumpkin carvings, and so much more. Croton-on-Hudson: September 15 - November 19, tickets range from $24-$47. Old Bethpage: September 22 - November 5, tickets range from $19-$39.
Credit: @leenadarling81 on Instagram
If you're looking for fun for the whole family, head to the Altamont Fairgrounds for the 29th annual Capital Apple and Wine Festival! There are classic fall activities around every corner with fresh apples, cider donuts, and pumpkin painting. Adults can stop by the wine & spirits building and sample hundreds of libations including aperitifs, wines, spirits, and ciders, and receive a commemorative tasting glass. Kids will have a blast jumping in the bouncy house, taking pony rides, and learning archery. Throughout the weekend, enjoy live music from Hair of the Dog on Saturday and the Broken Hearted on Sunday, and sample delicious specialty food like tacos, empanadas, dumplings, pulled pork sandwiches, apple pie, cider slushies, and more. September 16 - 17, general admission is $11.02. General admission and entrance to the Wine & Spirits building is $20.53.
Credit: @thefarmersmuseum on Instagram
Step back in time and celebrate the bounty of fall at the Farmers' Museum's annual Harvest Festival. This family-friendly celebration has been a staple in Cooperstown since 1978, bringing together live performers, artisans, vendors, attractions, and farm favorites. While you're there, be sure to explore the picturesque historic village - it's one of the oldest living history museums in the state! September 16 - 17, entrance to the festival is included with regular museum admission.
Credit: @abc50_thefunstation on Instagram
The 15th annual Cape Vincent Oktoberfest returns to the Village Green this September. Take a stroll through the Autumn Farmers and Crafters Market or the Beer Garden with samples of authentic German beer and tastings from New York State wineries and breweries. Watch exciting live entertainment from the Enzian Bavarian Band and Dancers performing traditional German songs and dances. There will of course be a tasty lineup of traditional Bavarian fare like pretzels, bratwurst, sauerkraut, braised red cabbage, German potato salad, and apple strudel. September 23, 21+ only event. Admission prices to be announced.
Credit: @sunnysidegardensllc on Instagram
Witness the northeast's best giant pumpkin growers as they compete in the 8th annual Saratoga Giant Pumpkinfest. Prepare to have your mind blown as you admire pumpkins weighing thousands of pounds — last year's title winner weighed in at 2,006 pounds! You'll also have the opportunity to walk through the Saratoga Farmers Market right next door, try tasty treats at food vendors, explore special exhibits, and snap a selfie with giant pumpkins. September 23, admission is free.
Courtesy of Ksenia Verdiyan
Kick off New York Cider Week with three days of festivities at the 41st annual Apple Harvest Festival in Ithaca. The streets of the lively downtown are transformed into an apple wonderland, decorated with everything from fresh farm stands and apple-inspired products (including tasty baked goods) to live music, food trucks, and tons of apple cider donuts. September 29 - October 1, admission is free.
Credit: @canal.street.marketplace on Instagram
Spend a day on the canal celebrating harvest season in the heart of historic Fort Edward at the 10th annual Locktoberfest. Try flavorful festive food and drinks from local farms and food trucks while you learn about the unique history of the area and witness the original Flight of Five Locks in motion. There's also tons of free activities for kids, live music all day long, and a beer tasting tent, all located on Lockport's Canal Street. September 30, admission is free.
Credit: @oldfallsstreetusa on Instagram
Celebrate Oktoberfest from the famous Old Falls Street USA. Stroll through the three block cobblestone street connecting Niagara Falls State Park to downtown decked out with German cuisine, beer and wine, live music, and dancing from the German American Musicians Association. Be sure to check out the full lineup of Oktoberfest-themed activities and specials happening all weekend long at participating local businesses like Oktoberfest cooking classes with the Niagara Culinary Institute on September 28, German desserts at Mackinali's Cafe & Bake Shop, and more! September 30, Admission is free.
Credit: @thenikkiweston on Instagram
Calling all garlic lovers! Save the date for an exciting weekend celebrating the harvest of garlic, or as it is lovingly referred to by aficionados: the stinking rose. Since 1989, the festival has been bringing together fans from all over to Saugerties, NY, seeing around 30,000-50,000 visitors each year! There's all kinds of activities to do around the celebration. Peruse more than 30 local garlic farm stands, watch live cooking demonstrations, stroll through craft vendors or the garlic marketplace that features all kinds of garlic-inspired goodies, listen to live music all day long, and sample unique garlic-flavored food (like garlic ice cream!). Just be sure to pack some breath mints for the ride home. September 30 - October 1, single day admission is $15, advance online admission is $10.
Credit: @whiteface_mt on Instagram
Mark your calendars for a Bavarian-style weekend celebration at Whiteface Mountain's Oktoberfest, rated one the five must-visit Oktoberfests in North America by SKI Magazine! This family-friendly festival will feature authentic live music from Die Schlauberger, Schachtelgebirger Musikanten (Scha-Musi), the 3 Alphorns, and live dancing from the Alpenland Taenzer dancers. Try some delicious food and German beer, meet the head brewer at Common Roots Brewery at Brewery Talks, make crafts with the kids, and get the whole family together for a Cloudsplitter gondola ride through the scenic fall beauty of the Lake Placid area. September 30 - October 1, single day admission at the gate starts at $18.
Courtesy of Rob Sharpe
Three weekends of Oktoberfest fun await at Hunter Mountain Resort. Revel in the vibrant atmosphere complete with German-themed live music, beer tents, food trucks, kids games, and the doxie derby. If you're looking to take in the gorgeous fall foliage from above, go for a hike up to the fire tower or travel 3,200 feet up to the summit on a scenic skyride. September 30 - October 1, October 7 - 8, and October 14 - 15, Admission is free.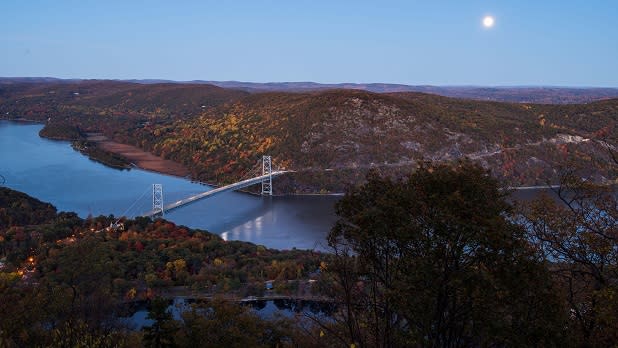 Stop by one of the state's largest free Oktoberfests! With four weekends of classic Bavarian fun all alongside stunning views of Bear Mountain, there's something for everyone to enjoy. Dance to live volksmusic from bands like Bavarski, The Adlers, and the 18-time grammy winning Jimmy Sturr Orchestra, play classic festival games like Corn Hole and Ring Toss, stroll through local vendors, and more. Kids will love bouncing in the bounce castle and sliding down air slides, going for pony rides, and playing fun games like bean bag toss. September 30- October 1, October 7-9, October 14-15, October 20-21. Admission is free. Parking is $12 online and $15 at the gate.
Credits: @amparo.the.photog on Instagram
Dress to impress in your best Halloween costume and join the Bronx Zoo for their annual Boo at the Zoo. This family-friendly Halloween bash features an exciting costume parade, spooky stories, pumpkin carving, magic demonstrations, and wildlife theater shows. September 30 through October 29, Saturdays and Sundays, and Monday, October 9. Tickets range from $28.75 - $37.75. 
Credit: @lakeplacidolympicsites on Instagram
Immerse yourself in the vibrant reds, oranges, and yellows of fall at the Olympic Jumping Complex's Flaming Leaves Festival. Dance to live music, explore the crafts, food, and beer vendors, and take in the beauty of the season all while elite ski jumpers soar overhead among a backdrop of the high peaks at one of the premier ski jumping events of the season, the FIS Continental Cup. October 6 - 8. One-day tickets range from $15-$20. Three-day tickets range from $30-$40.
Courtesy of Bethel Woods Center for the Arts
Take an enchanting walk through hand-carved jack-o'-lanterns and glowing pumpkin art at Bethel Woods' annual Peace, Love & Pumpkins event. Marvel at displays featuring Woodstock festival icons, dinosaurs, mermaids, witches, and other spooky surprises. Themed nights run throughout the month including the October Night Market (weekends) with 50+ craft and food vendors, Spooky Sunday Crafting (October 15, 22, and 29), where kids can craft Halloween masks, trick or treat bags, and make potions, the Sensory-Friendly Experience (October 23 4:30pm-6:30pm) where individuals with sensory sensitivities can experience a sensory-friendly version of the event with trained staff present, and much more. October 13 - 29, tickets range from $13 - $23.
Credit: @ashferbiju on Instagram
Stop by one of the East Coast's largest waterfront festivals, the Long Island Oyster Festival in Oyster Bay. This seaside celebration sees more than 150,000 attendees each year and features live entertainment, ships, pirate shows, midway rides, and of course the iconic oyster eating and shucking contests. There's also a dazzling food court where culinary pros and chefs serve up dozens of unique oyster, clam, and seafood-inspired delights. October 14 - 15, admission is free.
Courtesy of Peek'n Peak Resort
Revel in all things fall with two weekends of festivities at the 35th annual Fall Fest at Peek'n Peak Resort. Take in the brilliant foliage, explore the juried craft show and farmers market with more than 100 vendors including beekeepers, wood smiths, and artisans from all over the state, watch pumpkins fly through the air from the pumpkin cannon, take a ride on the ski lift, zoom down the zipline, and more! The kids will be entertained for hours with all kinds of activities including pony rides, a rock wall, and face painting. October 14 - 15 and October 21 - 22, admission is free.
Ever wondered what happens to the pumpkins that don't get used for jack-o'-lanterns? Head to Clayton's Punkin Chunkin' and find out as you watch pumpkins catapult through the air into the St. Lawrence River. This staple of the Thousand Islands has fun for the whole family with a kids and adult Chunkin, a barbeque contest, and a farmers market to explore. October 21, admission is free.