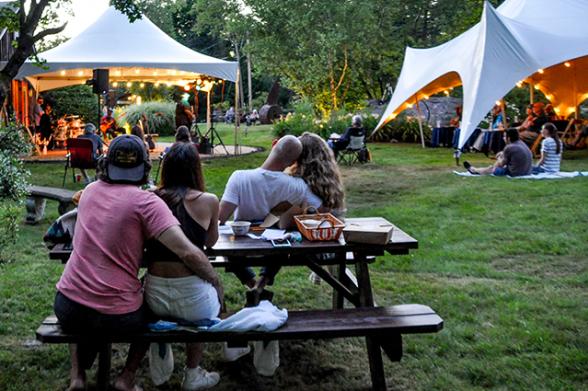 Summer is an amazing time to experience outdoor performances in New York. All across the state, stages come to life with artists from the worlds of music, dance, theater, and more. Visit beautiful outdoor amphitheaters, sprawling great lawns, and other places where you can enjoy a show this summer. As these incredible venues reopen, summer is once again a time for seeing stages come to life across New York State. Tickets are going fast so be sure to reserve your seat! Remember to social distance and wear a mask as required by state guidelines. Call ahead and check websites and social media to make sure attractions are open and available.
Updated 7/6/21
NY PopsUP (NYC/Various Regions)
Courtesy of @nypopsup on Instagram 
Want to see an outdoor performance in a unique New York setting? Keep an eye out for NY PopsUp! This free live performance series features world-class music, dance, theater, and comedy acts in parks and other locations across New York City and in other parts of the state. With NY PopsUp you never know where you'll see a famous face—performers have included Nathan Lane, Patti Smith, and Jon Batiste—or discover a new favorite. Follow @NYPopsUp on Instagram, Facebook, and Twitter to get tipped off about upcoming show locations and see clips from past performances. Various dates.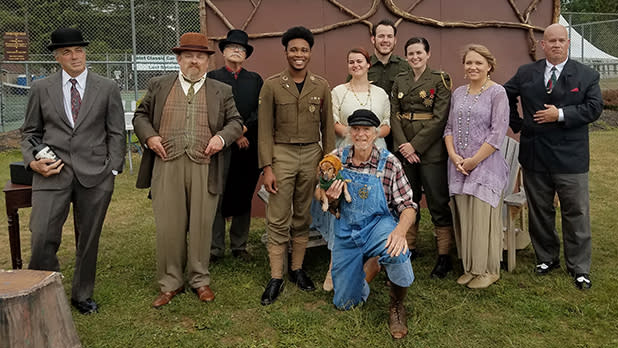 The Summer Theatre Festival, which takes place at various venues in the Adirondacks, will feature several performances at the new "ALCA-Seltzer" outdoor space. These will include comedy-drama, Bakersfield Mist (July 23-25), a radio play of Shakespeare's Twelfth Night (July 29-August 2), and The Great Arts Cabaret (August 19, 20, 22). Various dates.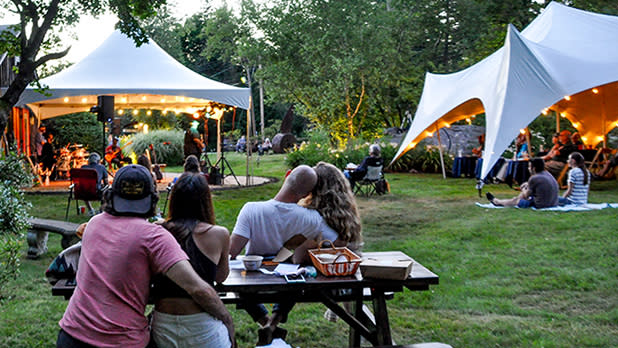 Courtesy of Forestburgh Playhouse
Known as the Miracle of the Forest, the Playhouse has continuously presented hundreds of musicals, plays, cabarets, and concerts since 1947. This year, the Playhouse kicks off a series of events celebrating the theater's 75th anniversary. Broadway stars will take over the Catskills for an evening of live performance under the stars while the audience noshes on delicious bites from the Tavern (June 4-July 3). Forestburgh also hosts a series of Catskills Pride events that feature music, cocktails, and kiki, all in a socially distanced outdoor setting (July 10, August 14, September 4). Various dates.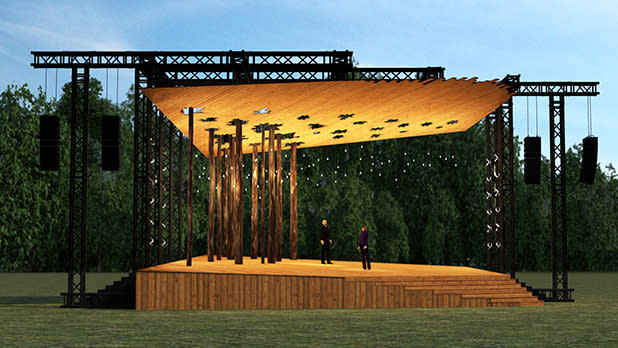 The world-renowned Glimmerglass Festival brings a summer of opera and concerts to Central New York with its "Glimmerglass on the Grass" performance series. Located along the shores of Lake Otsego just a few miles north of the charming village of Cooperstown, this year's festival takes place on a newly built outdoor stage on the lawn of the Alice Busch Opera Theater. Enjoy The Magic Flute or Songbird from socially distanced pods that seat up to four in "Festival Squares" on the lawn or up to six people per party in "Festival Boxes" and "Festival Tables." July 15-August 13.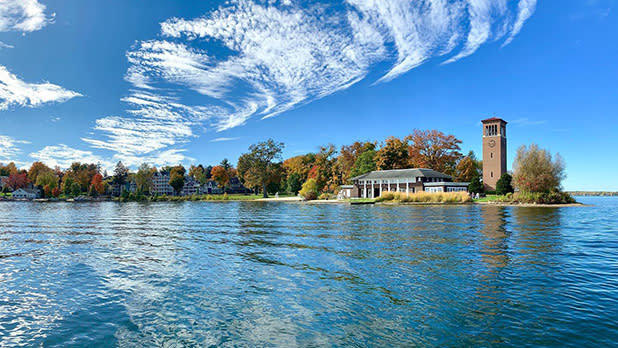 Courtesy of @chqlife on Instagram
With its state-of-the-art open-air Amphitheater, the Chautauqua Institution has long been an ideal location for enjoying top-notch cultural events al fresco. This year's line up includes Grammy Award winning mandolinist Chris Thile, country star Wynonna Judd, and iconic crooner Smokey Robinson, as well as the Chautauqua Symphony Orchestra and legendary comedian Lewis Black. June 26-August 28.
Apple Valley Park (Finger Lakes)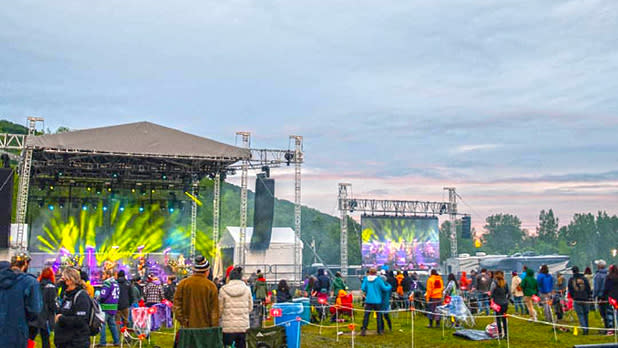 Courtesy of @applevalleypark on Instagram
Located amid the expansive rolling hills of the Finger Lakes, this new outdoor entertainment venue makes for a beautiful setting for concerts featuring Tedeschi Trucks Band (July 9-11) and Billy Strings (July 29-30), to name a few. On August 6, Iliza Shlesinger (of Netflix special fame) brings the laughs with her Back in Action tour. Various dates.
Horse-racing track by day, concert venue by night, the "Rockin the Downs" concert series at Batavia Downs offers an exciting lineup featuring acts like Molly Hatchet (July 2), Tommy James & The Shondells (July 16), The Grass Roots (July 30), and the Spin Doctors (August 27). General admission tickets are BYO-chair but rentals are available at the venue for $5, with all rental proceeds going to Make-a-Wish Western New York. Various dates.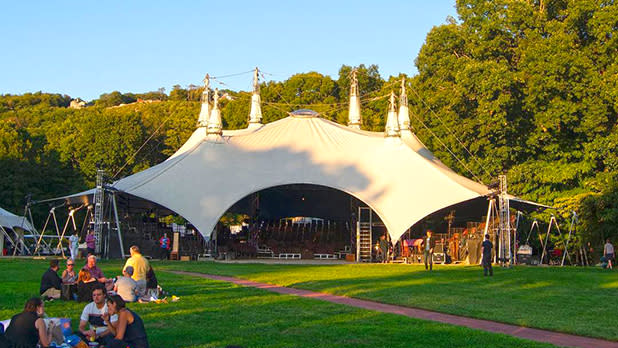 Courtesy of @hvshakespeare on Instagram
With its lush gardens, Boscobel is an ideal location to enjoy the works of the bard—after all, in Shakespeare's time, his work was primarily performed outdoors. This summer, The Tempest comes to the Hudson Valley Shakespeare Festival (August 5-September 4). Believed to be Shakespeare's final play, this enchanting story about human connection is particularly poignant in these socially distanced times. The Festival will also stage the more modern work, James Ijames' The Most Spectacularly Lamentable Trial of Miz Martha Washington, which explores the ramifications of slavery in America. June 24-September 4.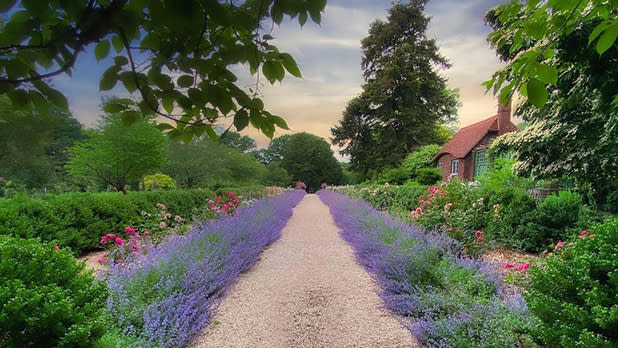 Courtesy of @roydotschneider on Instagram 
Take in the sounds of the Grammy award-winning Orpheus Chamber Orchestra as they perform Wynton Marsalis' take on Stravinsky's classic, The Soldier's Tale as part of the Oyster Bay Music Festival (July 2). If plays are more to your liking, the East Line Theater company will perform The Truth, a four-act play by Clyde Fitch (August 6 & 13). Be sure to build in time before the events to enjoy the Arboretum's 400+ acres of beautifully landscaped grounds. Various dates.
This summer, Central Park, Marcus Garvey Park, and Coney Island come alive with music with a series of performances featuring well-known artists like George Clinton & Parliament Funkadelic (June 27), Gloria Gaynor (July 11), La India (July 18), and Patti Smith (September 19). August 28-29, Marcus Garvey Park hosts the Charlie Parker Jazz Festival, a vibrant celebration of those that made Harlem a world- renowned hub of culture and artistic expression. Best of all: most shows are free, but advanced ticket reservations are necessary. June 17-September 21. 

Courtesy of @zymoshots on Instagram
At the Alexandria Bay Summer Concert Series, the stage isn't the only view on display. Enjoy music in a scenic waterside setting at the Scenic View Park Pavilion Wednesdays at 7 pm. Admission is free and acts range from indie pop to Vegas style lounge and some good old-fashioned oldies. June 30-September 1.
Don't forget to share your summer vacation with us! Share New York State pictures on Instagram and Twitter with #ILoveNY and #iSpyNY and tag us on Facebook!