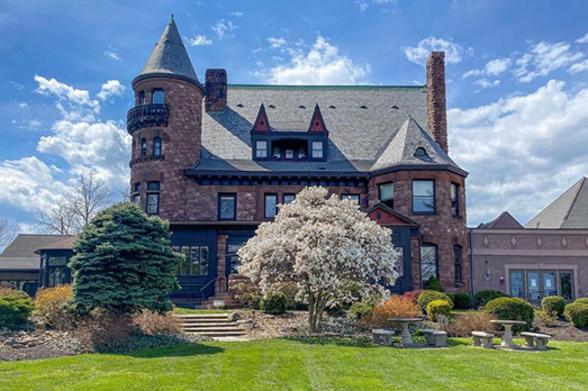 Cheers to the perfect blend of relaxation and indulgence in New York State with a "Sip and Stay" getaway! Venture to picture-postcard landscapes from the Finger Lakes to the Adirondacks to Long Island, all while savoring luscious libations at renowned cideries, wineries, and breweries. Keep the fun going and make it an unforgettable trip by spending the night on-site! Whether it's glamping in a woodland wonder, or living like royalty in a historic castle, you can get a taste of the good life in New York State. 
Masks are encouraged, but optional in most settings per New York State guidelines. Individual businesses or attractions may require mask wearing. Call ahead and check websites and social media to make sure attractions and amenities are open and available.
Plan a Cider Overnighter
South Hill Cider, Ithaca (Finger Lakes)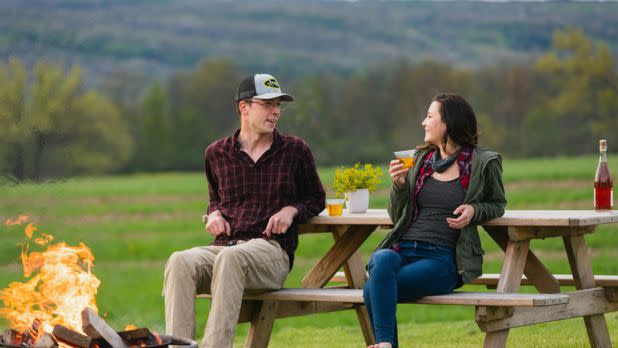 Sip your sights on South Hill Cider in Ithaca, where cider is served by the glass, flight, or guided tasting. After you've had your fair share of apple-infused libations and lite bites, stay the night in your choice of two secluded campsites, both on the edge of a lush forest. Take in pastoral views, gaze at the butterfly habitat, and enjoy easy access to hiking trails along the cidery. A stay here puts you in prime proximity to many flowing Finger Lakes waterfalls, gorgeous gorges, and the tantalizing Taughannock and Buttermilk Falls State Parks.

Finger Lakes Cider House, Interlaken (Finger Lakes)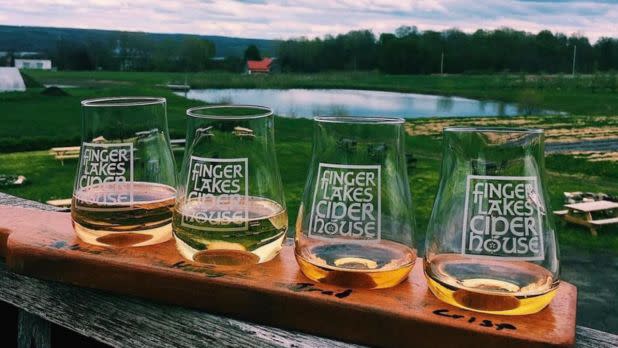 Look on the bright cider life at Good Life Farm, home to the Finger Lakes Cider House, where you can treat your tastebuds to cider by the glass or flight, all produced by their speciality champagne method of cider-making. Savor dishes from the farm-to-table kitchen, pick-your-own apples and peaches, say "hay!" to the farm animals, move to (seasonal) live music, and when you just can't get enough, spend the night! Book a stay at The Yurt or The Loft. The Yurt is a cozy hobbit hole nestled creekside at the Cider House. This rustic, studio-style handcrafted yurt offers stunning panoramic views of the 70-acre farm. At The Loft, guests enjoy private access to a clean, minimalist three-bedroom, one-bathroom space above the Cider House tasting room, featuring reclaimed wood details from the farm, a stunning orchard view, and access to fire cauldrons with firewood.
Beak & Skiff, LaFayette (Finger Lakes)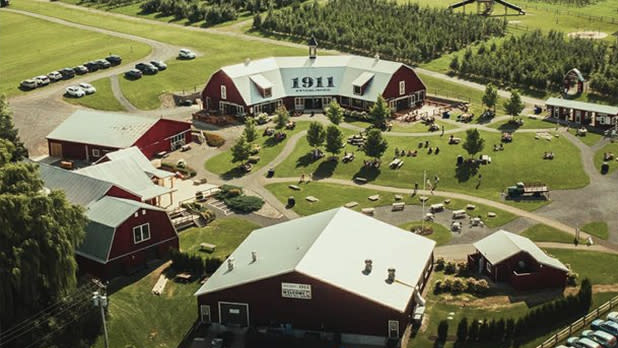 An orchard oasis can be found at the 112-year-old Beak & Skiff. A tasting room, distillery, general store, seasonal live music, and exclusive UTV experience tours add to the full cidery experience. Head to the 1911 Tasting Room to sip on classic flavors like Honeycrisp and Pink Lady, or try seasonal selections like Cider Donut and Maple Bourbon Barrel Aged cider. With about 20 unique flavors to try, you'll want to stick around a while. Settle in at your choice of four houses (Orchard Overlook, Honeycrisp House, Blossom Retreat, and Cider Sanctuary) hosted by the orchard owners, all of which offer modern furnishing, stunning views, and immersive amenities including: cozy fire pits, wrap around decks with grills, outdoor heated pools, hot tubs, swing beds, and more.

Seminary Hill, Callicoon (Catskills)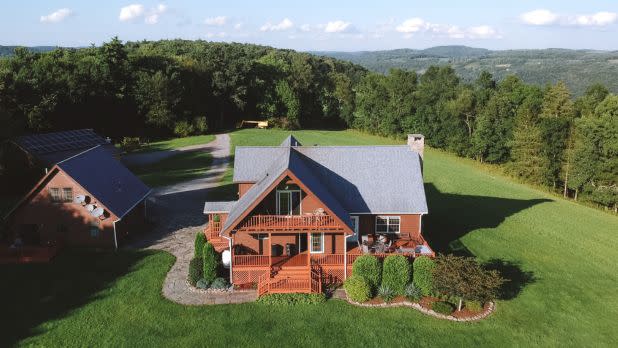 A slice of heaven awaits you at Seminary Hill, set into a hillside overlooking both the holistically tended orchard and Delaware River. Enjoy award-winning cider made from blends of over 60 apple and pear varieties, tour the production facility, and make your way through a guided tasting. Afterward, head to the on-site restaurant, adorned by a wraparound patio and balcony, and relish in a farm-to-table meal crafted from local ingredients. In the evenings, you can wind down with weekly arts and cultural events. Tuck in after a day of cider-fueled revelry at any of their three properties: the Boarding House, Mountain House (pictured), or House on Upper Main. The Boarding House features 17 bedrooms across eight apartments, each with its own living room, kitchenette, and bathroom. The Mountain House sits on 65 nature-filled acres and flaunts a cozy bedside fireplace, large couches, and can accommodate up to 10 guests. The House on Upper Main is a spacious three-bedroom, two-bathroom venue featuring a well-stocked library, full kitchen, and can accommodate up to 6 guests
Embark on a Vineyard Vacation
Rolling Hills Estate Winery, Westport (Adirondacks)
For a divine winery retreat look no further than Rolling Hills Estate Winery on "the sixth Great Lake", Lake Champlain. This spectacular 1,300-acre property is in the heart of the Adirondacks and sits on the same latitude as Bordeaux and other of the world's premier winemaking regions.  Twenty-one picturesque acres of cold-hardy grape varietals are masterfully crafted into wines that capture the pure beauty and essence of both the land and region. Make your way into the Tasting Barn and enjoy scenic sights and culinary delights in the form of a five-course feast with seasonal heirloom vegetables fresh from the garden and greenhouse, all paired perfectly with fine wines. Be among the first to stay in the new expansive 5-bedroom, two-story townhomes on this private, gated Estate Winery property. Each townhome features screened-in porches with rockers and Adirondack chairs, fully equipped kitchens, wood-burning stoves, and everything needed to unplug, recharge, and relax. Adding to the splendor, guests will enjoy access to a private lakeside beach and dock, kayaks, canoes, paddle boards, fishing gear, tennis and basketball courts, and more outdoor oasis opportunities.

Inn at Glenora Wine Cellars, Dundee (Finger Lakes)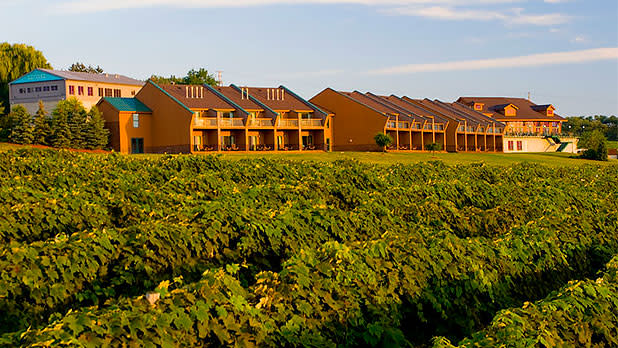 Unwine-d at Glenora Wine Cellars, a beautiful winery resort perched on Seneca Lake in Finger Lakes Wine Country. Taste award-winning wines, go behind-the-scenes on a cellar tour, or  sweeten things up with a gourmet chocolate and wine pairing tasting. Save your appetite for a delicious meal at Veraisons, the scratch kitchen on-site where all meats, produce, and cheese come from local farms, and the fish is sustainably sourced. Curl up for the night in one of 30 spectacular rooms overlooking the vineyard and lake at the Inn at Glenora Wine Cellars. Every room features a private patio or balcony, elegant furniture, and select rooms even have whirlpool tubs and fireplaces.

Buttonwood Grove Winery, Romulus (Finger Lakes)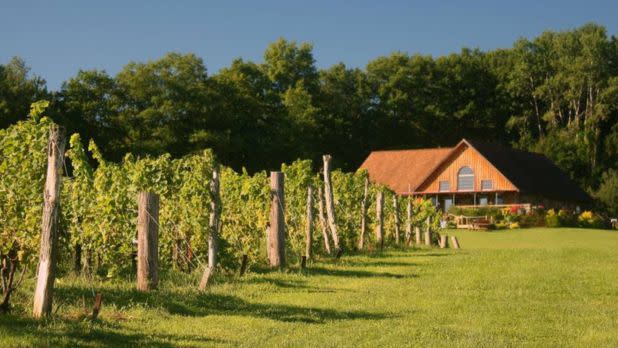 Winner of the Governor's Cup "Best Wine" in New York State, Buttonwood Grove Winery offers exclusive wine tasting experiences whether you're a novice or a well-versed wine connoisseur. Try a blind tasting in one of their unique black Riedel crystal glasses, attend one of the many special events, or book a tour of the production facility. Sip back and relax on the multi-level deck, covered porch, rustically elegant tasting room, or vast outdoor seating area complete with firepits and a spectacular view of Cayuga Lake. Extend your visit by staying overnight at one of their four cozy camping cabins, with breathtaking views of the vineyards and lake (available April-November). The cabins are named after the classic European vinifera grapes produced by the vineyard and have been designed to offer all the comforts of home with the convenience of staying in the midst of wine country. Each cabin guest receives a complimentary tasting making your stay even sweeter!

Belhurst Castle, Geneva (Finger Lakes)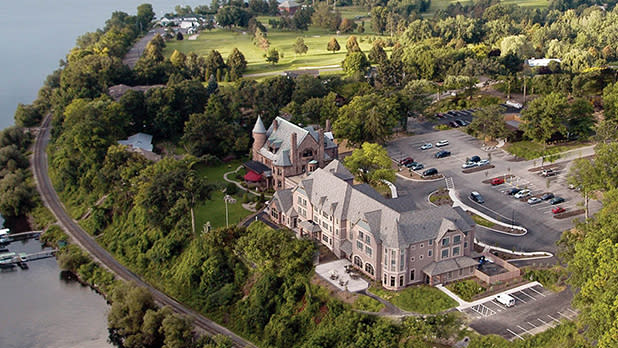 On the shores of deep blue glacier-carved Seneca Lake, Belhurst Castle takes you away to a place filled with history, beauty, and breathtaking views. The romance of the past and comforts of the present, accompanied by fantastic food, fine wines, a full-service spa, and lavish accommodations, make this a premiere destination of the Finger Lakes. Live in luxury in one of the three distinct hotels. An overnight stay in one of the 11 Chambers in the Castle includes a gas fireplace, complimentary wine spigot, and antique furnishings honoring the castle's past. At the Vinifera Inn you'll stay in one of 20 modern guest rooms featuring awe-inspiring views of Seneca Lake, a king size bed, jacuzzi, fireplace, and walk-in showers. Just two miles off-site you can stay at White Springs Manor, once farmland that was home to the largest herd of imported Guernsey cattle in the world. Today, White Springs Manor is a 1900's Georgian revival farm manor home to 12 guest rooms and an adjacent cottage called the Play House. Also, enjoy exceptional food and drink at Edgars Restaurant in the Castle, or the comfortable and spirited Stonecutters Lounge, and savor award-winning wines at the uniquely designed tasting room which provides a relaxed atmosphere overlooking Seneca Lake. 

O-Neh-Da and Eagle Crest Vineyards, Consensus (Finger Lakes)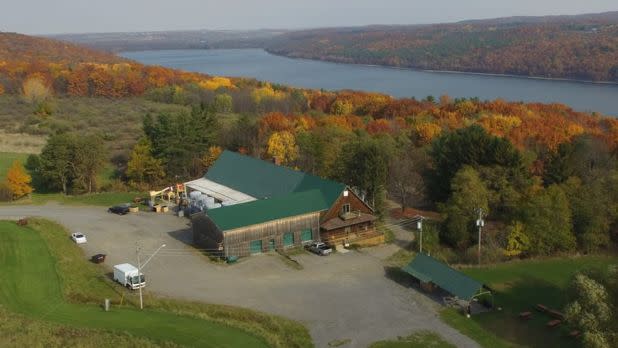 Amidst 6,684 acres of state forest land lies Eagle Crest and O-Neh-Da Vineyards, home to New York State's oldest Bald Eagle nests. For more than 140 years, this vineyard and winery has offered natural, pure grape wines from locally grown Finger Lakes fruit. Experience the pure sanctuary of historic Hemlock Lake during a personal tasting and tour. Immerse yourself into lake life by staying just a stone's throw away with FLX Glamping, set on Hemlock Lake, surrounded by soothing songbirds, whistling pines, and wondrous wines. Each glamp site offers you the privacy of the wild and exclusive trails to the pristine lake, outdoor heated showers, queen size beds, rustic decks with Adirondack chairs, fire pits, and many more glamping amenities.

The Farmhouse at Fulkerson Winery (Finger Lakes)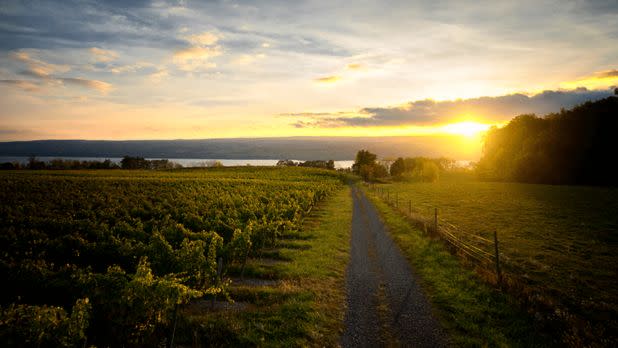 At Fulkerson Winery you can reap all that they sow on their working farm. From u-pick crops to DIY beer and winemaking supplies and equipment, the winery boasts 30+ varieties of fresh, unpasteurized, 100% whole grape juice for home winemaking. Treat yourself to a tour, with opportunities like a self-guided vineyard trek (including over 3 miles of trails), pick-your-own grapes, or savor a wine tasting on Seneca Lake. Fully embrace the farm life by booking a stay at The Farmhouse. The 1856 re-finished home,which sits adjacent to the winery and vineyard, oozes timeless charm and is perfect for large families and groups looking for a place where luxury meets tranquility. Adding to the comforts of home, you can bring up to two dogs along for the stay. Settle into four bedrooms, 2.5 baths, and large common areas. The dining room and kitchen are incredibly spacious, with a dining table that can accommodate up to 12 guests. It also sits on an 18-hole disc golf course and is part of the Seneca Lake Wine Trail.

Becker Farms, Gasport (Greater Niagara)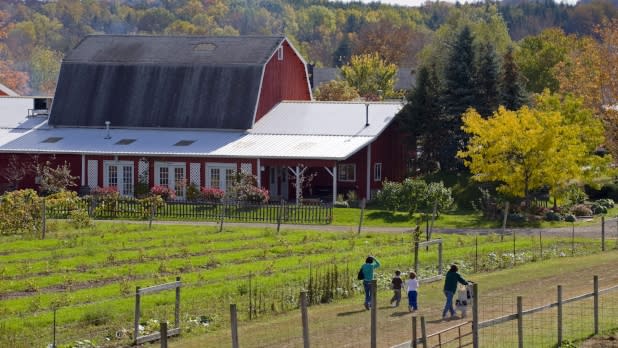 For five generations, Becker Farms & Vizcarra Vineyards has continued to re-imagine what it means to be a small family farm. Perfectly placed on the Niagara Wine Trail, Vizcarra Vineyards offers a variety of nearly 20 wines and plenty of homegrown goodies at the Farm Market. The farm fun continues with seasonal events, u-pick experiences, and tours. It's hard to fit all of those activities into one day, so stay a while and book the charming 1830s Brick Farmhouse, full of modern amenities plus a fireplace room with a grand piano and a covered wraparound porch, or one of the 10 cozy, eco-friendly Press Cabins with high-end fixtures and furnishing, plus private porches and fire pits. All accommodations are situated amidst the picturesque vineyards and orchards.
Sannino Vineyard B&B, Cutchogue (Long Island)
Feel like you've been transported to the Italian countryside in the heart of Long Island's Wine Country at the Sannino Vineyard B&B. The dreamy Tuscan Suite and Tuscan Villa have all of the amenities for the perfect romantic getaway for two. Enjoy the enchantment of the full B&B experience by staying over and waking up to a chef's choice full hot breakfast, delivered to you each morning in the privacy of your room. Your stay also includes one complimentary tasting and cheese platter for two at the Tasting House, as well as a discount card to local wineries, shops, and restaurants. The new and uniquely designed Tasting House allows visitors exclusive views into the production room from the bar or the vineyard from the patio, as they enjoy Sannino's quality crafted wines. Join in various events from brunch, tastings and pairings, to educational tours. 

Jamesport Vineyards, Jamesport (Long Island)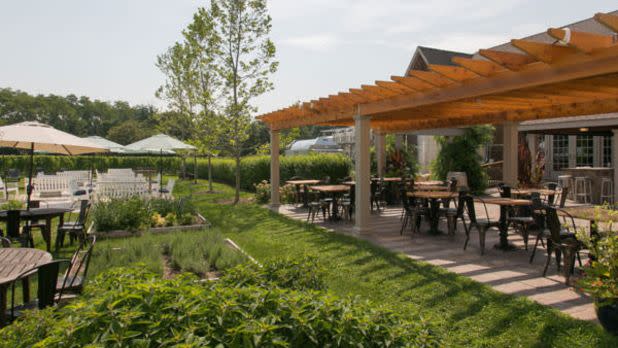 Venture through the vines to Jamesport Vineyards, a father-son collaboration that began in 1986 making it one of the North Fork's oldest vineyards. The great lawn out back provides the perfect setting to enjoy great wine paired with a mouthwatering meal like local grilled shrimp, charred octopus, or an artisan pizza, prepared in the on-site restaurant. Enhance your visit by staying in one of two luxurious rooms: Room 1 is reminiscent of the peaceful waters of the North Fork. Decorated in calming tones of blues and greens, you'll find instant relaxation. Room 2, decorated in warm earth tones, showcases exposed brick and beams which echo the agricultural community. Sandstone tile and a pebble lined shower evoke thoughts of long walks on the beach. In either room you can revel in Jamesport's amazing sunsets from your private sitting room.

Rose Hill Vineyards & Inn, Mattituck (Long Island)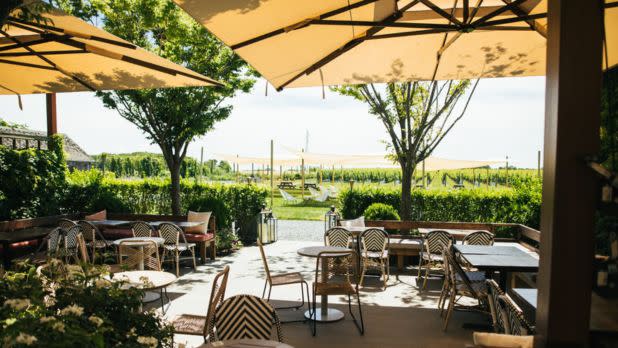 Spend the night at a beautifully restored, historic farmhouse on 22 picturesque acres of vineyards in Long Island Wine Country. Rose Hill Vineyards & Inn is a natural hideaway for relaxation and indulgence, offering four cozy and lush guest bedrooms, each featuring extraordinary views of the farm and vineyard, upscale amenities, and stylish decor. Your stay comes with a farmhouse breakfast, complimentary wine tasting, and local charcuterie board. From the cozy wine library with barrel cellar views to the outdoor patio overlooking the vineyard, this winery truly is a year-round destination. Combine your wine with savory snacks like charcuterie and Mediterranean boards, crudités, or ricotta dip. 
Stay at a Hoppy Haven
The Lodge at Grist Iron Brewing, Burdett (Finger Lakes)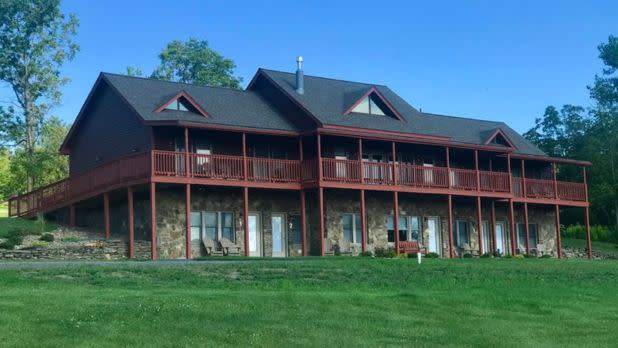 Good times are on tap at Grist Iron Brewing, idyllically perched over Seneca Lake on a lush 150-acre property with over 30 wineries, breweries, distilleries, restaurants within a 10-mile radius. Both The Lodge and The Farmhouse at Grist Iron Brewing can be your home base when you craft your next adventure. Taste your way through the microbrewery's 15 beers on tap and pair your pint with expertly-crafted pub food ranging from pizzas, sandwiches, smoked meats, BBQ, to vegan, vegetarian, and gluten-free specials. Brewing more than just beer, Grist Iron pumps out a year-round schedule of events, festivals, and live entertainment. Make yourself at home in one of the nine modern rooms at The Lodge, a beer-themed inn where guests can enjoy upscale accommodations while taking advantage of the brewery next door. Some of the rooms are even dog-friendly, and continental breakfast is offered each morning of your stay in the open and airy common area, boasting beautiful views of Seneca Lake. If you're looking to stay with a larger group or for a festive gathering, the two-story private Farmhouse can sleep up to 16 people and is filled with warmth and charm.
Seneca Lodge, Watkins Glen (Finger Lakes)
For over 50 years, the historic Seneca Lodge has been a staple for outdoor enthusiasts, racing fans, and those simply looking for good eats and a cozy place to stay. Nestled in the hills above serene Seneca Lake, and just down the road from gorge-ous Watkins Glen State Park, the lodge added to its destination desirability with the addition of a brewery in 2010. Take a swig of a seasonal craft beer in the Tavern Room, with varieties like pumpkin ale, oatmeal stout, orange wit, and session pale ale. Chow down on home-cooked meals for breakfast, lunch, and dinner as you take in the all-encompassing tavern decor, which pays homage to the history of racing at the village's prized track, Watkins Glen International. Overnight accommodation options include an on-site motel with all of the modern amenities, charming A-frames with a family room, kitchen, bathroom, wi-fi, and front porch, or clean and cozy cabins that each include a private bathroom and up to two beds. 

42 North Brewing Company, East Aurora (Greater Niagara)
42 North Brewing Company offers an experience like nowhere else in Western New York. From citrusy hops, to spicy Saisons, to dark chocolate malts, taste a variety of delicious signature, seasonal and limited release brews. Satisfy your appetite with a farm-to-table menu and BBQ classics served in the taproom, which also features games, live entertainment, and glimpses into the brewery production floor. Stay the night at The Lofts @ 42, offering your choice of four themed rooms, each telling a different story of the enthralling East Aurora and greater Buffalo area. If that's not enough to get you to stay, the rooms all have a beer fridge with samples and a complimentary growler fill. 
---
Share New York State adventures with us on TikTok, Instagram Twitter with #ILoveNY and #iSpyNY, and tag us on Facebook!