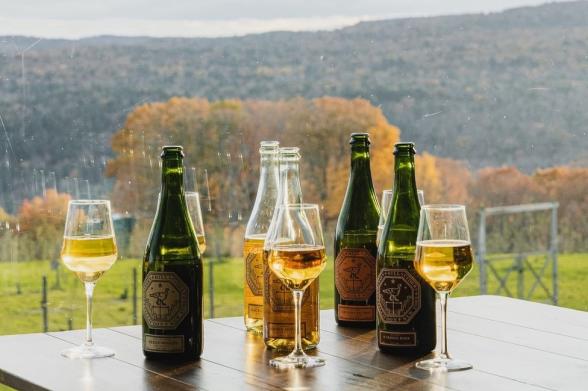 The secret ingredient to well-crafted cider is delicious apples and New York has some of the greatest (there's a reason we're called the Big Apple!). In fact, New York is the largest producer of hard cider in the country and the second-largest apple-producing state. With more than 40 different apple varieties, 600 growers, and hundreds of world-class cideries, this is the place to be for award-winning cider. From the Hudson Valley's fast-growing cideries and photogenic orchards to the Finger Lakes' unique terroir and lakeside views, sip back, relax, take in the apple-scented atmosphere, and enjoy a crisp glass of New York cider. Here's everything you need to know about exploring Empire State apple country. For more information about New York Cider, visit newyorkciderassociation.com. 
JUMP TO: Hudson Valley | Finger Lakes | Capital-Saratoga | Long Island | Greater Niagara | Adirondacks | Catskills | Central New York |Thousand Islands-Seaway | NYC | Chautauqua-Allegheny
Home to one of the most popular and unique apple-growing areas in the country, a visit to the Hudson Valley is a must for cider enthusiasts. Not only will you find breathtaking mountain views and sprawling orchards, you'll also discover a plethora of flavors due to the region's diverse landscapes. The tidal river valley helps to moderate the climate, extending the growing season and creating a perfect environment for delicious dessert apples like Cortland, Golden Delicious, Fuji, and Gala, and crisp and light cider. 
Where to sip
The first stop on your cider journey has to be at the most popular cider brand in the country, Angry Orchard located in Walden. Take a guided tour of the orchard or treehouse and afterwards enjoy a variety of ciders like the ever-popular Crisp Apple from the tasting room or around the fire pit. Pay a visit to one of the largest cider producers in the state, Doc's Cider found at Warwick Valley Winery and Distillery. Home to over 65 apple tree varieties, be sure to try one of the cider tastings ($8) that includes a souvenir glass or try a Doc's classic like the Cranberry Spice, made with New York cranberries. While you're visiting, stop by the orchard and pick your own apples to take home. Listen to live music and relax with an award-winning cider at Brooklyn Cider House's pavilion. Found at Twin Star Orchards in New Paltz, their wide range of ciders use fresh apples grown at the orchard that you can also explore and hand pick yourself. Gather around the fire, grab a donut and a refreshing cider from 12 taps (including zero sugar cider), and gaze out at Bad Seed's sixth generation family-run orchard in Highland.
Where to eat
Photo courtesy of CIA New York Restaurants
If you're looking to keep those cidery vibes going, each one sports a tasty menu of casual bites like wood-fired pizza, burgers, and of course hot apple cider donuts. When it comes to dining in the Hudson Valley, you're spoiled for choice. The Culinary Institute of America (pictured) features six student-run establishments including the Bocuse Restaurant that serves French cuisine and Ristorante Caterina de' Medici with authentic Italian dining. Barrel 28 located 15 minutes from Doc's is another great option with a cozy yet classy environment and creative dishes made with local ingredients. Gunk Haus in Highland was voted best of the Hudson Valley in 2023 by Hudson Valley Magazine, and features the welcoming atmosphere of a Bavarian Gasthaus.  
Where to stay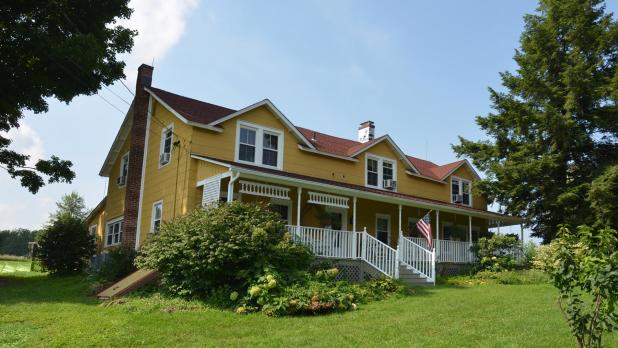 The quaint Inn at the Ridge (pictured) in Wallkill has four beautifully rustic guest rooms to choose from with CIA graduate-made breakfasts on the weekends and exceptional views of the Shawangunk Mountains. Travel back in time when you stay at the Inn at Kettleboro, an 1830 Dutch Colonial house with four guest rooms located on a 12-acre apple and peach orchard in New Paltz. 
How to get around
Get the crew together and climb aboard the Brew Bus for a Hudson Valley Cider Tour featuring stops at nine of the region's favorite cideries, a chance to learn even more about apple country, and an unforgettable experience.   
Other things to do in the area 
While you're here be sure to check out the all-inclusive, four season family resort, Rocking Horse Ranch. Zoom down slides at the indoor waterpark, explore the 500-acre campus on horseback year round, or go kayaking, fishing, or swimming on the lake in the summer. Experience world-class hiking, climbing, biking, and horseback riding along the 'Gunks on more than 70 miles of trails at the Mohonk Preserve. Journey back 300 years to Historic Huguenot Street with homes that once belonged to Protestant French Huguenots, a reconstructed 1717 French church, and early burial ground. Take in a birds' eye view (pictured) of the Hudson River and Catskills as you stroll along the longest elevated pedestrian bridge in the world, the Walkway Over the Hudson.
Credit: @pesta02 on Instagram
When you think of the Finger Lakes, grapes may be the first fruit that comes to mind. While this region is known for producing some of the country's best wine, the dramatic landscapes that were carved by the last ice age also help moderate the climate for high-quality apples and other fruit. On your journey, you'll discover an abundance of awe-inspiring lakeside views and apple varieties such as Northern Spy, Golden Russet, Macintosh, and Golden Delicious that help give ciders of this region their distinct acidity and texture. 
Where to sip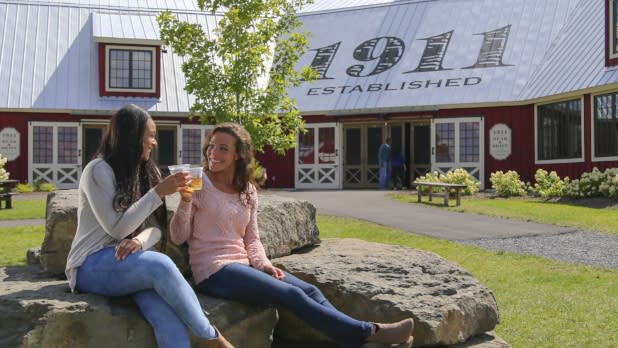 Stop by the 1911 Established tasting room (pictured) found at Beak & Skiff Orchards, voted #1 Best Apple Orchard by USA Today's 10Best. This fifth generation family-run orchard in Lafayette handles every part of the cider-making process from "tree to can" and offers seasonal sips like Maple Bourbon Barrel Aged and Cider Donut hard ciders on the the menu. Afterward, pick some apples of your own, shop at the Apple Barn, or enjoy a sweet treat at one of the picnic tables. Finger Lakes Cider House's impressive menu and breathtaking orchard views in Interlaken are sure to please every kind of cider drinker. Take a guided tour of the farm and then stop by the house for a flight. Choose from dry, sweet, or ice ciders and discover new favorites like the two-time Governor's Cup winner, Pioneer Pippin. Dive into the terroir of the Finger Lakes and pop in at South Hill Cider in Ithaca where you'll find ciders made from hand-foraged wild apples, abandoned orchards, and heirloom varieties. Enjoy a flight or a glass with a beautiful view across the Cayuga Lake Valley. If you're looking to explore more of the region's finest cideries follow along the Finger Lakes Cider Trail. 
Where to eat
While each establishment has bites that pair perfectly with a glass of cider, including house-smoked meat sandwiches, homemade cider donuts, and farm-to-table food, the area also offers some great formal dining options. Hazelnut Kitchen in Trumansburg has a casual but elegant vibe and uses local ingredients. For a cozy atmosphere, try Doug's Fish Fry in Cortland. The Moosewood Restaurant (pictured) in Downtown Ithaca is known internationally for their impressive lineup of vegetarian, pescatarian, raw, and organic dishes made from local ingredients. 
Where to stay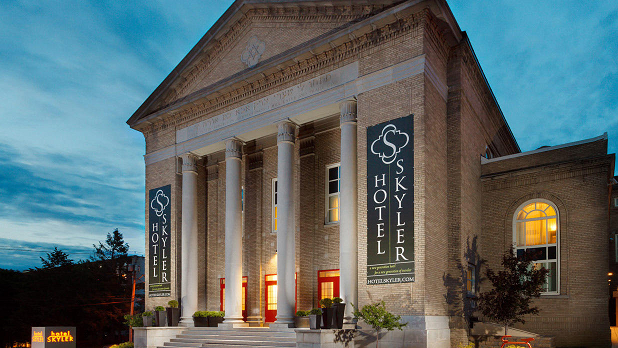 Get the full experience and stay over at a beautiful orchard. South Hill Cider offers two secluded campsites with gorgeous views, easy access to the cidery, hiking trails, and Taughannock and Buttermilk Falls State Parks. Finger Lakes Cider House offers two cozy overnight accommodations for guests to enjoy, The Yurt & The Cider Loft. Beak & Skiff has four newly-opened houses each with modern furnishing and stunning orchard views. If a boutique hotel sounds more your speed, check in at the Hotel Skyler Syracuse (pictured); it was once a former temple and theater. 
How to get around
For groups of up to six people, explore the Finger Lakes Cider Trail on a journey with Winewagon Tours. If there's a few more to your party, Big D's Limousine Service accepts reservations for up to 40 passengers. 
Other things to do in the area
You can't visit the Finger Lakes without paying a visit to some of its gorges attractions. Experience the wonder of Buttermilk Falls State Park (pictured) as you watch water race down a series of cascades and rapids. Taughannock Falls State Park is also a must-visit with a 215-foot plunge, three stories higher than Niagara Falls. Get to know Ithaca as you stroll through the award-winning four-block pedestrian shopping area, Downtown Ithaca Commons or the quaint Ithaca Farmers Market with local artisan crafts and produce. 
Home to sprawling open farmland and a variety of cideries that span through New York's capital, including the state's first farm cidery, there's tons of apple adventures throughout the Capital-Saratoga Region. 
Where to sip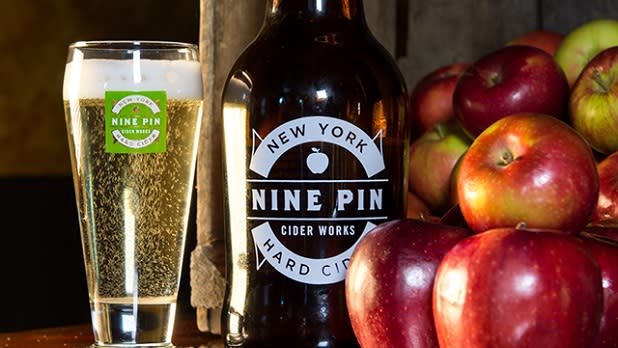 Kick off your journey with a visit to New York's first farm cidery, Nine Pin Cider Works in Albany. All of their small batch ciders are made from 100% locally-sourced New York apples and fruit which means there's always a new specialty cider to try on tap like Apple Pie-Secco and Cider Sangria. Indian Ladder Farms in Altamont is one of the region's favorite fall destinations with u-pick apples, a farm store with famous apple cider donuts, and a rustic tasting room where you can enjoy their hard cider made on site. Sample six rotating taps of cider with a view of the cider press where it's made, or sip out in the biergarten and gaze out at the hop yard, berry patches, pumpkin fields, and orchards. Admire the beautiful view of the orchard meadow at Rogers Family Orchard in Johnstown, then get a taste of the apples grown there yourself and enjoy a cider from the patio at Rogers' Cideryard. Check out the free Capital Craft Beverage Trail passport for some of the region's best cideries, distilleries, wineries, and breweries. 
Where to eat
Quick eats like sourdough pizza, locally-sourced cheese boards, and soft pretzels can all be found without even leaving the cideries. But, if you're looking to get a taste of the capital region, options are aplenty. For a welcoming atmosphere, stop by Druthers Brewing Company (pictured) for a menu filled with tasty classic bar food and craft beer. The Hollow Bar + Kitchen also has American cuisine and a live music scene. If you need a post-dinner sweet treat, Cider Belly Doughnuts is known for having some of the freshest and tastiest in the state. 
Where to stay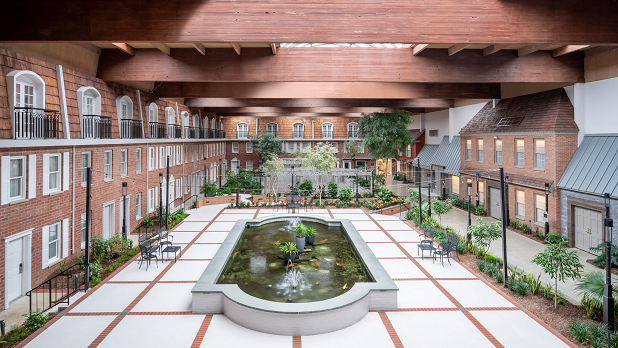 Experience the historic heart of downtown Albany and stay at the elegant Morgan State House Inn located on Washington Park. The Desmond Hotel (pictured) located near Albany's business district is known for its unique architecture and 322 pet-friendly modern guest rooms. If you're chasing a rustic vibe, try the Saratoga Farmstead Bed & Breakfast with five guest rooms in the lovingly restored farmhouse.
How to get around
All aboard the Spa City Brew Bus! Take a guided tour for up to 24 people making stops at some of the area's best cideries, breweries, wineries, and distilleries. 
Other things to do in the area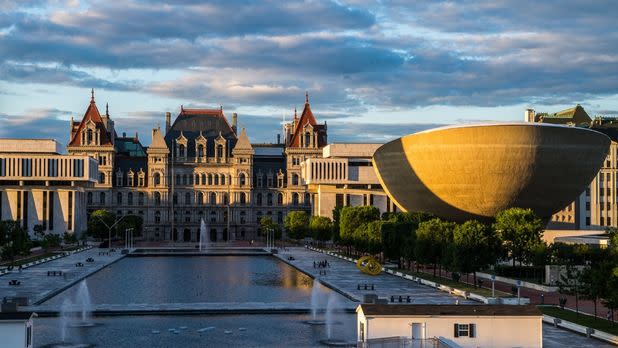 While you're visiting, cross some of the region's most popular attractions off your to-do list. The 96-acre marble Empire State Plaza (pictured) is home to the tallest building in the state outside of NYC, the NYS Capitol, and the Egg. Take in spectacular fall foliage from one of the hiking trails at John Boyd Thacher State Park. Explore Albany by water on a scenic and historic cruise with Dutch Apple Cruises.
Credit: @lieats on Instagram
Known for its award-winning wine country, Long Island is also a great apple-growing territory. The cider story is just beginning for this region with many wineries taking a dip into the world of hard cider and new cideries popping up. Grab a refreshing glass and take a gander out into the scenic farmland and seaside views. 
Where to sip
For a festive atmosphere and signature cider recipes, relax in Riverhead Cider House's 8,000-square-foot cider-making facility. Their ciders are made using apples straight from the gorgeous orchard featuring 200 trees which can be sampled alongside live music from the tasting room. Woodside Orchards on Long Island's North Fork, has been family-owned and operated since 1982 and crafting delicious hard ciders since 2012. Venture into the orchards and pick some apples to bring home and then head to the tasting room and sample ciders like Cinnamon Apple. Well-known for award-winning wine and amazing tasting room views, Wolffer Estate in Sagaponack also has been making delightful ciders since 2013 and was named the New York Rosé Cider Producer of the Year at the New York International Cider Competition. Their ciders are made from apples grown all over the state including farms right in Bridgehampton. 
Where to eat
Credit: David Benthal Photography
While you're visiting Long Island's superb cideries, be sure to check out their menus full of tasty treats before you depart. Woodside Orchards is known for mouthwatering apple pies and Riverhead Cider House's cider doughnuts won't disappoint. If you're looking for a casual and friendly sit-down establishment, stop over at Fairway Restaurant in Sagaponack for breakfast or lunch. Take in one-of-a-kind waterfront views and dig into fresh seafood at On the Docks in Aquebogue. You're sure to find something you love at Mattituck's Love Lane Kitchen (pictured) where everything is made from scratch.
Where to stay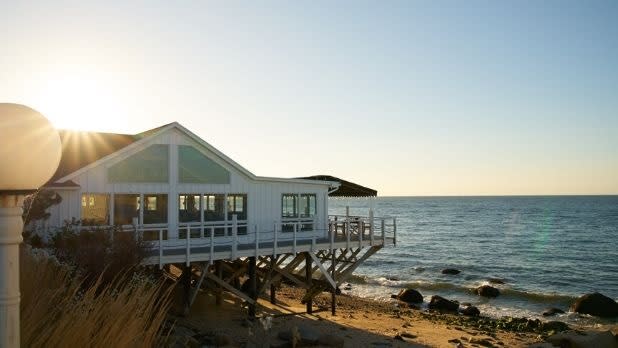 Travel back through Hamptons history in one of the six guest rooms or the carriage house at the 1770 House Restaurant & Inn. Sound View Greenport (pictured) sits on a beautiful private beach looking out at the Long Island Sound with stylish rooms all located just steps away from Greenport.
How to get around
Tapped Enterprises offers tours and transportation for up to 55 passengers to cideries, wineries, and breweries throughout Long Island. 
Other things to do in the area

Harbes Family Farm (pictured) promises hours of fall fun for the whole family throughout their 100-acre farm with hayrides, u-pick pumpkins and apples, corn mazes, a petting zoo with farm animals, and more. Explore the beautiful grounds and former home of Theodore Roosevelt from 1885 until his passing in 1919 at the Sagamore Hill National Historic Site. Discover the history behind Long Island's Gold Coast era at the Sands Point Preserve which was also the site that inspired the Great Gatsby's East Egg.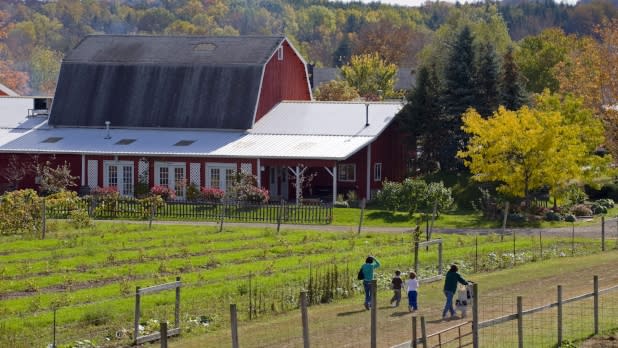 Idyllically sitting along the south shore of Lake Ontario is the largest apple-producing region in the state. Not only will you find the awe-inspiring Niagara Falls, but also the area's unique geography and climate perfect for supporting its long apple-growing history. You'll usually find Cortland, Northern Spy, Baldwin, and Rhode Island Greening apples throughout the region and ciders that tend to be lighter and more acidic than the Hudson Valley but without the heaviness of the Finger Lakes.  
Where to sip
Owned by a sibling duo, OSB Ciderworks in Buffalo crafts a quirky lineup of cider in-house using New York apples and other produce. Revel in the vibrant atmosphere and sip on some seriously fun ciders like Earls Just Wanna Have Fun infused with Earl Grey tea and Applegato Jeans made with espresso from Undergrounds Coffee. Becker Farms (pictured above) in Gasport has it all with hand-crafted ciders and micro brews at Becker Brewing Co., farm made wines at Vizcarra Vineyards, u-pick apples and pumpkins, a petting zoo, Haunted Hayride, and more. Head to the Brew Pub and try the Black Cherry Hard Cider on tap or take a Winery/Brewery Tour with the head cider and winemaker, it even includes a flight, pint, or glass of a beverage of your choosing. Have a seat in the Clarksburg Cider Co. tap room found in Lancaster and filled with classics challenging conventional flavors and creative seasonals, all gluten free and made from local New York orchards. Stop by the tap room on October 14 for Cider Fest featuring tastings of local craft beverages including 21 Brix Winery, Tree Hugger Hard Cider, Steampunk Cider, and more. Beer and cider fans, you're in luck. Check out the WNY Beer Trail pass ($30) that features the area's most popular cideries and breweries with discounts at over 53 participating locations. 
Where to eat
At the cideries mentioned above, you'll find tasty smaller and casual bites including S'mores at OSB Ciderworks and brick-oven pizza at Clarksburg Cider Co. Explore Buffalo's exciting culinary scene at eateries like the famed Anchor Bar (pictured), where the Buffalo Wing was first invented or Tappo for delicious Italian cuisine that can be enjoyed alongside views of downtown from the rooftop outdoor patio. In Gasport, stop in at Chop's Shop for delicious pizza.  
Where to stay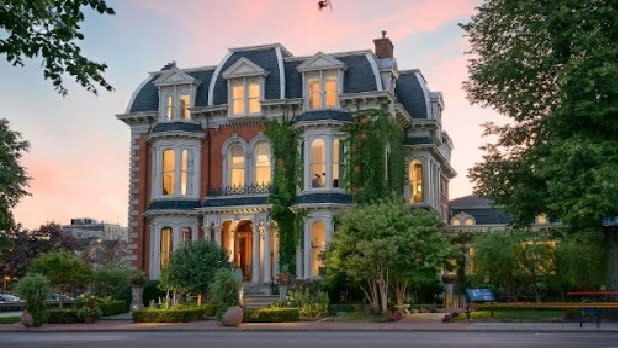 For an unforgettable farm stay experience, book a weekend at Becker's Farm's 1830s Brick Farmhouse or one of the cozy cabins, privately located between the orchards and vineyard. Stay at the first AAA rated Four Diamond hotel in the area, The Mansion on Delaware Avenue (pictured) with 28 luxurious guest rooms and suites in the heart of downtown Buffalo. The Asa Ransom House is also a great lodging option if you're looking for a charming and secluded B&B just 15 minutes outside of Buffalo and 28 miles from Niagara Falls. 
How to get around
716 Limousines offers tours for up to 25 people, guiding you on a fun and safe journey throughout the region. 
Other things to do in the area
Take in jaw-dropping views at the oldest state park in the United States, Niagara Falls State Park (pictured) and for a one-of-a-kind adventure, the Cave of Winds is a must-do. Experience Buffalo's lively, bustling waterfront, Canalside. It's packed with all sorts of fun activities and historic sites to discover. Fully embrace fall on a scenic foliage or haunted Halloween train ride with the Arcade & Attica Railroad or try out one of the other year-round themed rides.
Home to forever wild experiences, mountain views, and family-owned cideries scattered throughout the region, there's nothing like a visit to Adirondack apple country. Take a sip of experimental and refreshing ciders made with all kinds of apple varieties including Macoun, Cortland, Spygold, and Empire, that are grown throughout the region. 
Where to sip
Immerse yourself in the aromas of fresh apples at Prairie's Orchard in Malone. Among the 875+ apple trees you'll find Mountain Miss Ciderworks and the tasting room with delicious ciders, like semi-dry All Tied Up, and a stunning view of the orchard. There's also homemade cider donuts, fruit pies, and baked goods in the bakery and u-pick apples and pumpkins. Lake George Cider Project can be found at the Adirondack Pub & Brewery located on Lake George's Canada Street. Made from McIntosh, Spygold, Gala, and Empire apples, and fermented with Chardonnay yeast, this cider leans towards the dryer side and is a favorite among enthusiasts and casual cider-goers. If you're looking to explore all that the region has to offer, try the self-guided Adirondack Craft Beverage Trail featuring 16 of the area's best cideries, distilleries, breweries, and more. 
Where to eat
Credit: @thelogjam on Instagram
Grab classic pub eats at Adirondack Pub & Brewery or try out one of the sweet treats from the bakery at Mountain Miss CiderWorks. While you're in the Lake George area, be sure to stop at favorites like Log Jam (pictured) with American cuisine and a casual vibe. In the Malone area, stop for a bite at Pine's Tap and Table with farm fresh food and cozy lounges with fireplaces.
Where to stay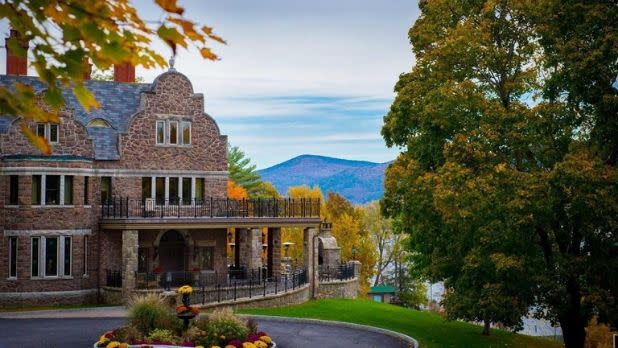 Check in to the Harrigan House B&B, a warm and inviting Victorian farmhouse that includes a tasty homemade breakfast. For a luxurious lake getaway, book a night in one of the 10 guest rooms at the Inn at Erlowest (pictured), a mansion that was originally built in 1898.
How to get around
Premier Plus Tours offers an exciting tour exploring the Adirondack Craft Beverage Trail for up to 14 passengers called the Hoppy Trails bus, or plan your own itinerary and book one of their buses. 
Other things to do in the area
Credit: @travellerari on Instagram
Spend some time on the water with a scenic fall foliage cruise with the Lake George Steamboat Company (pictured). Make the journey to Ausable Chasm, also known as the "Grand Canyon of the Adirondacks", packed with gorgeous waterfalls, vistas, and adventure. Take a tour of the grounds and museum at the Battle of Plattsburgh War of 1812 Museum. Play with farm animals, navigate the corn maze, stroll through the pumpkin patch and more at Country Dreams Farm in Plattsburgh.
This new and emerging cider-making region boasts a unique terroir and short growing season. You'll find many hard ciders made with the wild apples that represent the region along with dedicated cider makers cultivating orchards amidst the beauty of the Catskill Mountains. 
Where to sip
Taste some seriously awe-inspiring cider blends at Awestruck Ciders in Sidney. They were voted People's Choice Best Cidery at the Adirondack Wine Festival 2019 and produce exciting flavors, like Lavender Hops, from Hudson Valley apples and seasonal ingredients. The lively and rustic Wayside Cider Tap Room in Andes is located on the scenic foothills of the Catskills and uses wild, heirloom, and dessert apples to make their unique lineup of small-batch mountain ciders. Enjoy a glass while you listen to live music and entertainment. Set into a hillside overlooking the stunning orchard and beautiful Delaware River valley in Callicoon is Seminary Hill Orchard & Cidery (pictured), the New York Heritage Cider Producer of the year for 2022. Settle into the tasting room, sip some small-batch ciders made from apples and pears straight out of the holistic orchard, and take in the beauty of the western Catskills.
Where to eat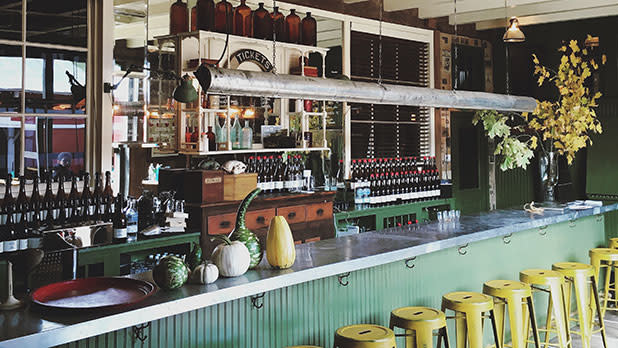 Seminary Hill's on-site restaurant has a full menu of smaller bites, main courses like skirt steak, dessert, and on Wednesdays and Thursdays, a Barbecue menu with family-style meals. Wayside (pictured) also offers a lighter lineup of local meats, cheeses, and other snacks, and pub fare like flatbread pizza and mac and cheese bites can be found on Awestruck's tap room menu. Get a taste of mountain comfort food at Binnekill Tavern in Margaretville with a scenic view from the dining terrace. At the Bavaria Restaurant in Sidney you'll find tasty German and Bavarian cuisine like mini potato pancakes and traditional apple strudel  for dessert.
Where to stay
For a cozy small-town hotel, book a night at the Andes Hotel. They've got a revamped tavern restaurant in the hotel with exciting events and appetizing dishes. Escape to the peaceful tranquility of the Callicoon Hills (pictured) with A-frame cabins, a guest house for families, and guest rooms in one of their four houses. Seminary Hill also offers 17 guest rooms in their boarding house, if you're looking for the ultimate cider experience.
How to get around
If you're starting your journey in New York City, the Catskill Carriage bus brings guests to and from the Catskill area. Once you get here, Majestic Limo Services offers transportation for groups of up to 14 passengers. 
Other things to do in the area
Nestled among the rolling hills is Bethel Woods Center for the Arts, the site of the famous 1969 Woodstock Music Festival. Explore the museum and travel through the '60s and the history of the festival itself and during the summer, be sure to snag a ticket for a concert. If you're a hiker, amazing views (pictured) of the Hudson Valley and Ashokan Reservoir can be found from the two and a half mile trail leading up to the Overlook Mountain Fire Tower. You won't be disappointed. 
Amid the rolling hills and sprawling farmland are orchards filled with bright bunches of delicious apples. Throughout the region, you'll find a variety of family-owned and operated farms with welcoming atmospheres and one-of-a-kind views.
Where to sip
Relax in the beautiful tasting room at Critz Farms Brewing & Cider Company (pictured) in Cazenovia. These award-winning ciders are hand-crafted in small batches with ingredients all grown from the farm. You can even see a demonstration of their traditional pressing style with their antique rack-and-cloth press at their fall harvest celebration, taking place on weekends until October 22. Fly Creek Cider Mill is also a favorite in the region with a tasting room that overlooks Millpond and serves hard and sweet cider, apple and grape wine, and spirits all made with 100% New York State-grown apples and other fruit. This family-friendly farm has activities for everyone with cider mill tours, Tractorland, gem mining, and duck racing for the kids, as well as a store selling all kinds of apple goodies. If you're looking to explore Cooperstown, the Cooperstown Beverage Trail is a great way to sample it all. Visit all the participating members and you'll receive a free pint glass! 
Where to eat
The Brae Loch Inn in Cazenovia serves up American cuisine with Scottish and French influences and fine dining in a warm atmosphere. In Cooperstown, you'll find Bocca Osteria (pictured) that's been making delicious Italian fare since 2011. Mel's at 22 is also a favorite in town with entrees like chicken parmesan and baked haddock. 
Where to stay
Discover stunning views of Cazenovia Lake from one of the 17 guest rooms at the Brewster Inn. Aside from delightful cuisine, the Brae Loch Inn also has 12 charming rooms for visitors. Check in at the late-Victorian era Cooperstown Bed & Breakfast, just a short walk away from all the fun on Cooperstown's lively Main Street. 
How to get around
Absolute Taxi offers a shuttle through the Cooperstown Beverage Trail which includes Fly Creek Cider Mill as well as buses and taxis to other destinations. 
Other things to do in the area
Credit: @visitcny on Instagram
A must-do for baseball enthusiasts and all visitors, the National Baseball Hall of Fame and Museum (pictured) will transport you through baseball history and its most impactful players. Get into the fall spirit with the Cooperstown and Charlotte Valley Railroad that offers fall foliage excursions, train rides to pumpkin patches, spooky trick-or-treat rides, and other year-round themed rides. Watch New York's agricultural history come to life at the Farmers' Museum. It's one of the oldest living history museums in the U.S. and features exhibits, craft demonstrations and hands-on activities.
Located along the sparkling St. Lawrence River, the gorgeous landscapes of the Thousand Islands create an excellent climate ripe for growing ingredients for high-quality craft beverages. In the fall, orchards scattered throughout the region come to life with bright bunches of apples that are pressed into award-winning ciders. Relax among the inviting environment of family owned and operated orchards with a refreshing cider in hand and a cool fall breeze on your skin.
Where to sip
Home to over 35 apple varieties, Kaneb Orchards in Massena makes some of the region's tastiest ciders like their Cranberry Crisp that won best cider in 2017. Stroll through the orchard, fill a bag with freshly-picked apples, and stop by the tasting room for an entertaining lineup of live music, cider donuts, baked goods, and cider slushies, while you revel in the inviting atmosphere. Wood Boat Brewery in Clayton is well-known for crafting some of the state's finest beers (and brick-oven pizza) but they also have their house made NYS Cider on the menu that's made from local apples with notes of honey and a tart, semi-dry finish. Grab a glass and have a seat on the outdoor deck and take in spectacular views of the St. Lawrence. 
Where to eat
Have a seat at Morley's American Grill in Massena for American fare and a relaxed and laid back atmosphere. Maggie's on the River in Watertown also has an extensive menu of enticing bar eats. The Seaway Grille found at the 1000 Islands Harbor Hotel boasts one-of-a-kind views, a tasty lineup of American cuisine, and an outdoor patio with cozy firepits.   
Where to stay
Stay at the famed 1000 Islands Harbor Hotel in Clayton with luxury accommodations and rooms that overlook the crystal clear waters of the St. Lawrence. 24 East Main Street Bed & Breakfast is another great option with homey and comfortable rooms in Canton.
How to get around
Best Limo DB offers a wide range of transportation options for large and small groups throughout the area.
Other things to do in the area
If you're visiting the Thousand Islands-Seaway during the fall months, Burrville Cider Mill (pictured) in Watertown is a must-stop. This family-owned cider mill and farm stand is the place to be for fall fun and has warm apple cider donuts, freshly-pressed sweet cider, pumpkins, apples, and amazing orchard views. Robert Moses State Park on Barnhart Island in Massena is filled with beautiful flora and fauna and beautiful views of the shimmering river. Sackets Harbor Battlefield and Historic Site is about 30 minutes from Wood Boat Brewery and will take you on a journey through the site that saw two War of 1812 battles. Visit the largest collection of antique and classic boats in North America at the Antique Boat Museum right in Clayton.
Apple orchards may be hard to come by in the big city, but you're sure to find a plethora of lively bars and restaurants serving up some of New York's finest hard ciders made with apples all the way from Greater Niagara down through the Hudson Valley.
Where to sip
The Owl Farm in Brooklyn's historic Park Slope neighborhood has 28 rotating taps featuring beer and cider from New York State producers like Seminary Hill, South Hill Cider, and Sundström Cider. Cardiff Giant in Clinton Hill is a unique bar that only serves beer, cocktails, spirits, and cider made in New York State, including Eve's in the Finger Lakes, Slyboro in the Hudson Valley, and Wayside. Another lively bar with an exciting rotating cider selection is Eli's Night Shift, featuring Hudson North's Strawberry Rhubarb, Ginger Hibiscus, and Standard ciders.
Where to Eat
In New York City, you're spoiled for choice with exceptional dining experiences around every corner. If you're looking to stay close by, try Walter's Brooklyn that serves American fare in Fort Greene and Danny Meyer's famed Gramercy Tavern in Flatiron offers contemporary American cuisine. Hearth in East Village by Chef Marco Canora serves up warm hospitality and delicious meals alongside a drink menu that features NYS ciders. 
Where to stay

Credit: @baterveer on Instagram
Throughout the city, you'll find a wide range of lodging options fit for any adventure. The newly-opened Penny Williamsburg (pictured) is a great pet-friendly option if you're looking to stay in the Brooklyn area. The San Carlos Hotel also has charming and stylish rooms in centrally-located Midtown. 
How to get around
Cabs, rideshares, the MTA, and good old walking are all excellent ways of navigating the Big Apple. If you're looking for a unique experience, try booking a bus with NYC Party Bus Pros that transports up to 50 people throughout the city. 
Other things to do in the area

Credit: @dinnerwithcarly on Instagram
Take a relaxing stroll through Brooklyn's Prospect Park, known for sporting beautiful fall colors. Be sure to check out their self-guided fall foliage walks throughout the park throughout autumn. Soak up 52 acres of natural beauty at the Brooklyn Botanic Garden filled with more than 18,000 types of plants from around the world. Look through all kinds of goodies from farmers and artisans throughout the state at the Union Square Greenmarket (pictured), including hard cider from New York producers.
Nestled among enchanted landscapes and tranquil vistas are the beautiful orchards of the Chautauqua-Allegheny region. Throughout your exploration, you'll find an impressive lineup of cider and other craft beverages this region is renowned for. 
Where to sip
Stop by the Winery of Ellicottville where you'll discover their hard cider brand Hideous Plaid Cider. Immerse yourself in their relaxing tasting room and sample your pick of ciders like Sweet Red, Blood Orange, or Berry Hard, then stop by the production room and watch how their wine and cider is bottled and labeled. Known for mouthwatering barbecue and craft beer, Sensory Smokehouse & Brewpub also has a signature cider available on tap to enjoy in the fun atmosphere. 21 Brix Winery is of course a favorite for exceptional wine but if you're looking to expand your horizons, try their "Not Wine" Hard Cider and lounge in the beautiful tasting room set on the scenic grounds of the vineyard. 
Where to Eat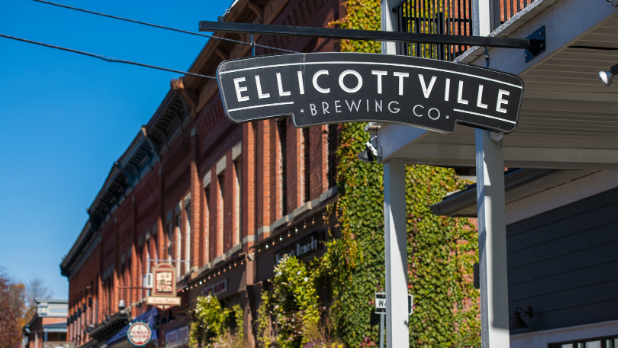 Grab a bite and a brew amidst the casual atmosphere at Ellicottville Brewing Co. Better yet, if you're looking for more New York State cider, they also have 1911 Established on the menu. At Sensory Smokehouse & Brewpub, you're sure to find your fill of delicious food to have with your cider. Near 21 Brix Winery is Jack's Barcelona Drive In with indoor or outdoor seating and tasty homemade desserts. 
Where to stay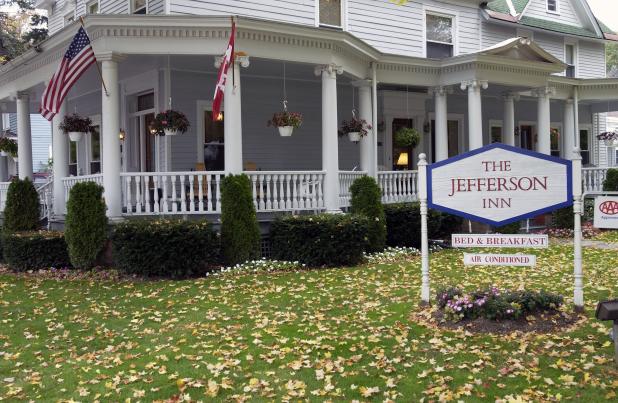 Book a night at the comfortable Inn at Holiday Valley located at the base of the famous slopes with a heated pool, outdoor hot tub, and located just a mile from downtown Ellicottville. The historic Jefferson Inn is also a comfortable option, found in a quiet Victorian era B&B that includes gourmet breakfast every morning. The Athenaeum Hotel at the renowned Chautauqua Institution is truly a sight during the fall months decorated in colorful foliage with beautiful yet cozy guest rooms. 
How to get around
Giorgio's Limousine Service offers customizable services for up to 34 passengers throughout the region. 
Other things to do in the area
Holiday Valley Resort in Ellicottville is one of New York's most popular skiing destinations and vacation resorts. In the fall, foliage is spectacular, especially from above on a chair lift ride. In the winter, hit the 60 slopes spread across four terrain parks and in the summer climb through the adventure course. Have a laugh at the National Comedy Center in Jamestown with more than 50 interactive exhibits like Comedy Karaoke, Make a Meme, and the Stand-Up Lounge. Take a scenic boat ride on Chautauqua Lake with The Chautauqua Belle. There's all kinds of exciting cruises including fall foliage tours in September and October. Meadows Apple Farm in Forestville has all the fall ambiance with 30 acres of farmland, 10 varieties of apple to pick from, freshly-pressed cider, and other local produce.
---
Don't forget to post photos of your New York adventures on Instagram, TikTok, and Twitter with #iSpyNY and tag us on Facebook!