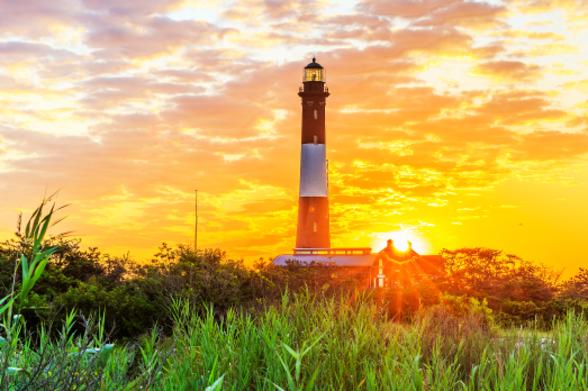 Credit: Sean Mills
You're probably most familiar with Long Island as a summer vacation destination, and we don't blame you for that. After all, Long Island's gorgeous, award-winning beaches attract summer visitors from around the world, city-dwellers looking for a weekend escape, and celebrity-moguls such as Robert DeNiro, Kelly Ripa, Steven Spielberg, Jay-Z, and Beyoncé. But there are three other seasons of the year, and this region of New York State shines through them all, even when the sun doesn't. Off-the-beaten-path destinations on Long Island offer surprises for all kinds of visitors, from families looking for relaxing nature or enriching cultural experiences to travelers looking to explore one of the first LGBTQ communities in the country.
The oldest working ranch in the US!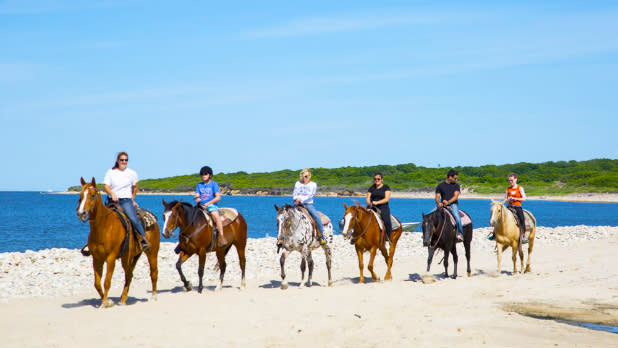 You probably wouldn't expect the United States' oldest ranch to be in beachfront Montauk, but that's exactly where you'll find Deep Hollow Ranch, established in 1658. That's not a typo: the cattle ranch is older than the USA by more than a century! Its location means that you can hop on a horse and ride on the white sand beaches, whether you're an expert or a beginner.
An island without cars AND one of the country's first LGBTQ communities!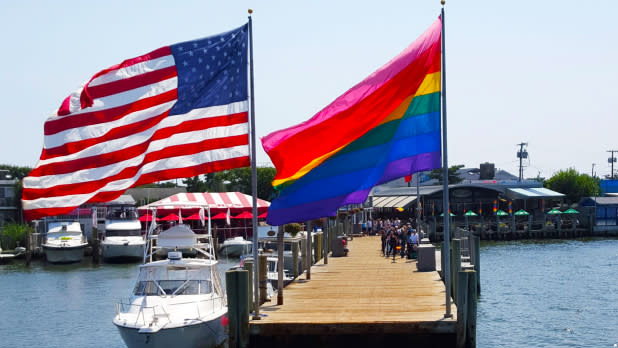 On Fire Island, a tranquil 32-mile oceanfront becomes even more relaxing because of the absence of cars during the summer. That's right, no honking noises, less difficulty crossing the streets, and an invitation to slow down, stroll, and take a bike ride. 17 different communities and hamlets make up Fire Island and two of them are known for being some of the earliest LGBTQ communities in the country. In the Pines, you'll find special events like Invasion of the Pines, a drag-queen parade held annually since 1976 on July 4th, and all-night dance parties on the beach. Cherry Grove has restaurants, bars (including a popular piano bar), and two annual drag contests, the weekends of Memorial Day and Labor Day. Families will find plenty to do on Fire Island, from playing in the Atlantic surf and strolling the boardwalk to ranger-led tours of the Sunken Forest and visiting the lighthouse (more on that below).
Lighthouses for days!

Credit: Brittany Hochman
Montauk Point Lighthouse is well-known for being the first lighthouse in the state, completed in 1796, with George Washington himself authorizing construction. But did you know that Horton Point Lighthouse in Southhold was also commissioned by the nation's first president (though it was not completed until 1857)? Fire Island's lighthouse is a pretty popular climb, but don't miss out on the easy, scenic, six miles of hiking trails surrounding the historic structure. Our pick for most adorable lighthouse, if a lighthouse can be called adorable, is "Bug Light" in Greenport, which you visit via boat with Peconic Cruiseline. Another lighthouse you can tour by hopping on a boat is Huntington Harbor Lighthouse in Halesite. Lighthouse climbs and tours are seasonal, check the website for each particular lighthouse.
A sandy beach on the North Shore!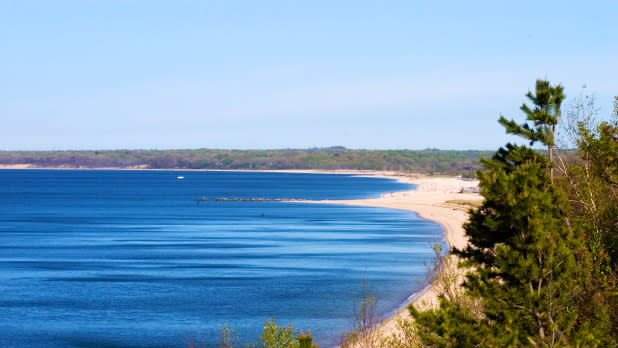 While most of the region's most celebrated beaches are on the South Shore, Long Island is an island, which means there are beaches on the North Shore as well. Sunken Meadow State Park in Smithtown has plenty of sandy beaches (rarer for the North Shore) and calm waters. Lest you think beaching is a summer activity, there's a lot to do outside of the hottest days as there are three nine-hole golf courses, good fishing, playgrounds, picnic areas, a 3/4-mile boardwalk, winter nature programs, and one of the best sunsets you can get in the region.
A peace-promoting park!
"Life is determinedly vital. Our responsibility is to recognize its innate value, and treasure it," notes the official website of Avalon Park & Preserve in Stony Brook. This park (8 acres) and the surrounding preserve (76 acres) promote peace and being one with nature to the fullest, with five distinct natural habitats, hiking trails, yoga in the barn, meditation classes, bird-watching walks, a labyrinth, and telescopes at the observatory. It also offers environmental programs for kids during the summer and if you look hard enough, you may find some trees wearing sweaters, among other public art pieces integrated with the nature.
Sneaky good seafood from shore to shore!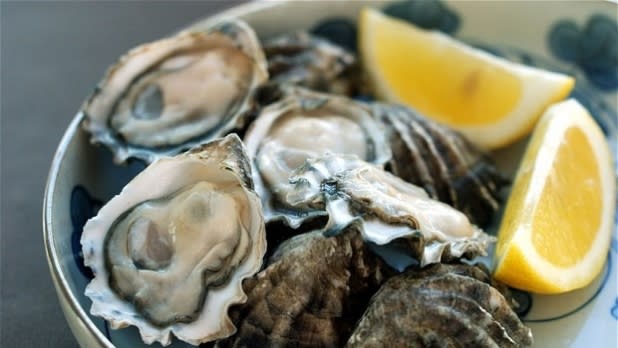 While on Long Island, make sure to indulge in some of the freshest seafood on the East Coast. You have many options here. One of the most unique dining experiences in New York is shucking your own oysters at Little Creek Oyster Farm & Market in Greenport. You'll have a blast exploring the seafood shacks in the beach towns. Pop's Seafood Shack & Grill (Island Park), Clam Bar (Amagansett), and Butler's Flat (Port Washington) all have outdoor seating. Seasonal, days and times vary.
The opportunity to walk on a masterpiece!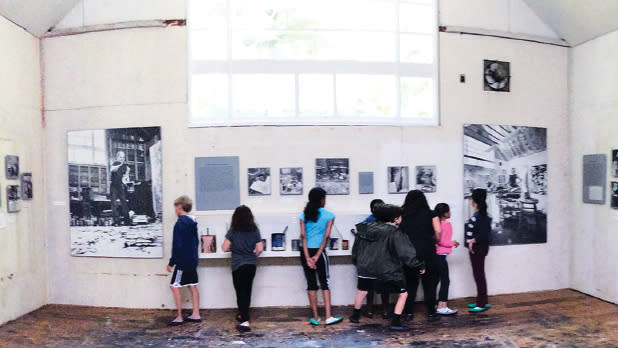 Artist Jackson Pollock famously quipped, "My painting does not come from the easel," and when you visit his East Hampton home and studio at the Pollock-Krasner House and Study Center, you'll realize exactly what he means. Of course, if you're already familiar with Pollack's work, you know that he's most famous for his technique of dripping paint skillfully and beautifully onto canvases on the floor. Learn about the life and art of Jackson Pollock and his wife, Lee Krasner, an artist in her own right. The highlight—especially for fans—is definitely the studio with paint splatters on the floor along with Pollock's own paint brushes and cans. You can even walk on the paint splatters if you wear special booties. Reservations required for private tours.
The country's first spy ring!
A few hours with Tri-Spy Tours of Historic Setauket is a must for followers of history, fans of James Bond, and lovers of nature. Take a tour either on foot (2–3 miles), bike (10–15 miles), or even by kayak, to learn all about George Washington's secret spy ring on Long Island during the Revolutionary War. Along the way, see historic sites, homes, and cemeteries from as early as 1665. Tours are for ages 14 and up. Seasonal: March to November.
An awesome chance to see awe-inspiring wildlife!

Credit: James Katsipis
We can't make any guarantees, as nature can be unpredictable, but in 2018, Viking Fishing Fleet Ferry Service in the waters off of Montauk had a 100% whale-watching success rate on their tours. There is a certified marine biologist on board to guide the way and to answer questions so you won't be left wondering about the whales, dolphins, turtles, or seabirds you may catch a glimpse of from July to September. If you're visiting in the off-season for whales, other wildlife tours may get your seal of approval instead; harbor seals lounge along Long Island's coast from November to May. Contact Coastal Research and Education Society of Long Island, Freeport Water Taxi & Tours, or Riverhead Foundation for Marine Research and Preservation for a seal walk or cruise.
A food tour and mystery all in one!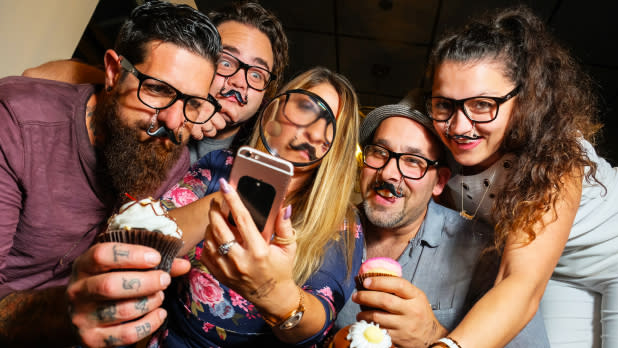 This is not your father's food tour. Unless you bring him along, of course. Food Done It Edible Mystery Tours, a play on "Who Done It," is a self-paced food and pub crawl during which the participants are also trying to solve a mystery. At all six stops along the tour on one of Long Island's main streets, you'll find clues, puzzles, and opportunities to interview suspects. Of course, you'll also get to sample the local food, like a chef-featured small plate, which will add up to a full meal by the end! Tours are currently available in Babylon, Huntington, and Patchogue.
The birthplace of an American literary legend!
Walt Whitman, considered one of the greatest American poets, was born right in Huntington on Long Island. Whitman's place of birth as an attraction is a bit more off-the-beaten-path than the mall that bears his name, but it's well worth a visit, especially for fans of Leaves of Grass, giving us such quotes as "I am large, I contain multitudes" and "Do anything, but let it produce joy." Walt Whitman Birthplace State Historic Site & Interpretive Center has portraits and artifacts of the poet as well as authentic 19th-century furnishings in the home. 2019 marks Whitman's 200th birthday, so there will be a special celebration at the site the weekend of May 31, featuring poets from around the world.