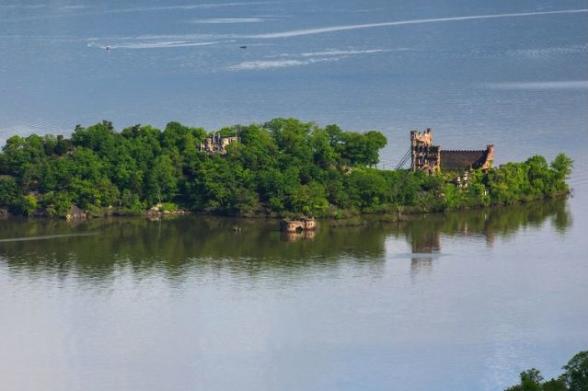 The Hudson Valley has been a hot spot for centuries so you can imagine how many secrets it must hold. We've uncovered off-the-beaten-path attractions and experiences below, including how to make a luxury resort more affordable and where to find one of the best hot dogs you'll ever try. The picturesque scenery, the farm-to-table dining, and charming small towns that will round out your visit are not secret, nor is it a surprise that the Hudson Valley is one of the easiest getaways from NYC. Start planning your trip now, especially if you'd like to experience the splendor of fall foliage season.
Updated 06/28/23
An opportunity to experience luxury at a discount!

Credit: Courtesy of Jim Smith Photography
Most would consider it a splurge to stay at Mohonk Mountain House, a grand Victorian castle in New Paltz that is recognized as a National Historic Landmark Resort. Thankfully, Mohonk offers day passes for all to enjoy its vast facilities, even if you are staying elsewhere. Hiking passes are first-come, first-served and provide access to 85 miles of trails. Make reservations in advance for all other one-day packages, including a day at the spa, a round of golf, and dining experiences such as brunch with a view, a buffet lunch in the main dining room, or an evening cookout at the Granary (seasonal).
A hotel with a secret location!
You'd think that out of everyone, we'd be the ones to know where a secret hotel in New York State is, but the truth is, we don't! The Dutchess, led by alumni of two of the best food experiences in the world (Mark Margiotta of Eleven Madison Park in NYC and Zach Wolf of Stone Barns Center for Food & Agriculture in Westchester County), is currently by invite only, though you can throw your hat in the ring on their website. The meals are obviously to die for, given who's in charge, and places to stay range from a reconstructed barn to a stone building with a centuries-old framework. The farm is sustainable (we're talking solar power, geothermal heating, planting based on where the planets are, and more) and grows so much that 80% of the food is donated to local food pantries. Let us know if you find your way in there, or if you need a plus one.
The greatest school project ever!

Credit: Courtesy of Dutchess Tourism, Inc.
Students from Millbrook High School have helped run Trevor Zoo since 1936, while learning about wildlife, conservation, and operational management. Today, the only zoo located at a high school in the United States has more than 170 animals from around the world, including endangered species like the Red wolf, Golden lion tamarin, and the Australian Kea. Special keeper talks are held on species like otters, lemurs, white-naped cranes, and bobcats.
A geological secret!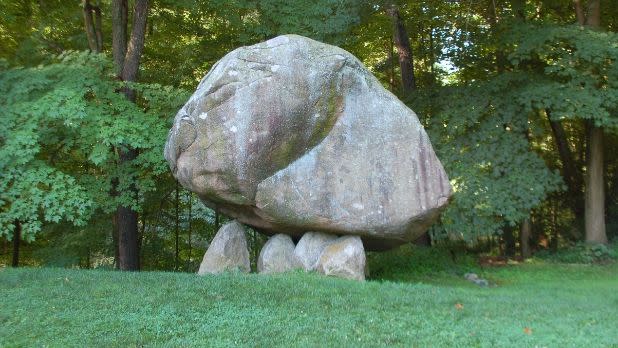 There's a mystery to solve in North Salem. At "Balanced Rock" on the side of Route 116, a 60-ton rock sits balanced on a few much smaller rocks, hence the name. The larger rock is composed of granite which doesn't match the geological features of the surrounding area, leading most to believe that it was deposited there by melting glaciers during the last ice age. Another theory is that it may be a dolman, a ceremonial rock placed there to signify a burial ground or to honor the dead thousands of years ago. Some think the rocks are a product of the ancient Druids, known for finding significant spots when it comes to energy and nature. The magnetic field at Balanced Rock has been measured at 10 to 50 times larger than other areas and the high frequency of UFO sightings in the Hudson Valley in the 1980s was centered around this spot. Visitors to Balanced Rock have reported pain and distress disappearing—see for yourself if you feel anything while you're there!
Four corners of history!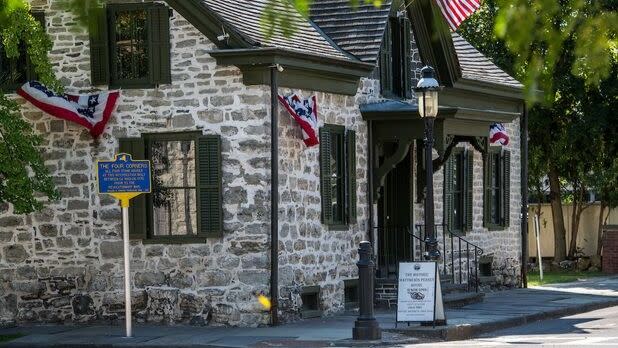 You may know about the other four corners in the southwest US, but the town of Kingston has a more "Revolutionary" version. Head to the historic Stockade District intersection of Crown Street and John Street and spin yourself around a couple times, taking in the only intersection in the United States with 18th-century buildings on each corner. The Matthew Jansen House is the oldest, from the mid-1600s. The Franz P. Roggen House (1752) was also a former station for the Underground Railroad. Kingston Academy (1774) now houses an incredible bookstore slash bar called Rough Draft. Lastly, you can tour the Matthewis Persen House (pictured, 1752) to get a true idea of what it was like in Kingston when the Dutch were in town (check the site for visiting hours).
The country's oldest winery!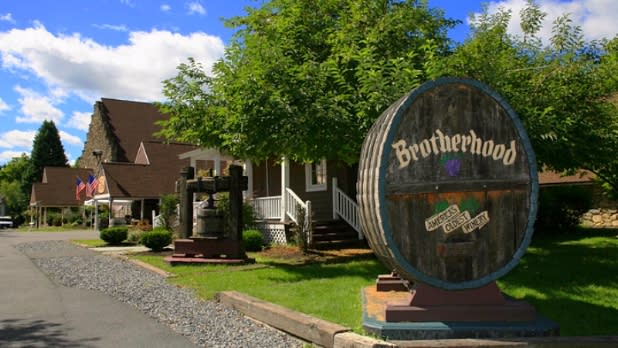 Brotherhood in Washingtonville has been making wines since 1839 and has been on the National Register of Historic Places since 2000. The reason this spot wasn't shut down during Prohibition is because it continued to produce wine for religious services. After Prohibition, the owners realized that their proximity to New York City put them in an interesting position to start offering tours of the underground cellars, the vineyards, and the production itself, which helped kickstart the wine tourism trend we all know and love today. 
A world-famous hot dog!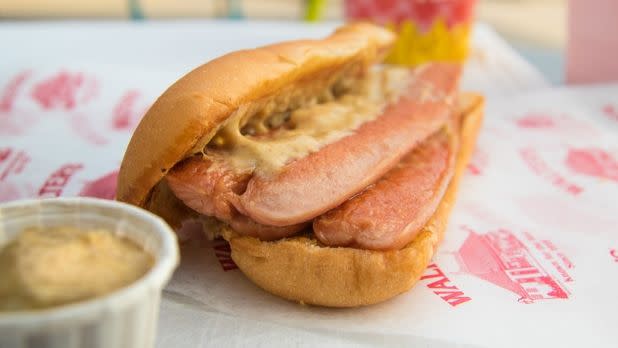 Walter's Hot Dogs are a cult classic recognized by The New York Times and other food authorities. The fourth-generation family business celebrated its 100th year in 2019. They've expanded from the original Mamaroneck location and the Chinese pagoda they've been calling home since 1928. Now you can also catch Walter's on the road at one of their food trucks or at the White Plains location. Walter's serves a special blend of beef, pork, and veal hot dogs split open and slathered with their signature mustard (seeds, relish, spices). Pump up the nostalgia by ordering a malted milkshake or a root beer float with your dog.
Many drive-in theaters for you to choose from!

Credit: Four Brothers Drive In
In the 1950s, there were approximately 4,000 drive-in theaters in the United States, but nowadays, there are only about 300. Though you may feel like you're in your grandparents' time, these aren't your grandparents' movies, as these theaters show mostly first-run films. Overlook drive-in theater in Poughkeepsie and the Warwick Drive-In have both been around since the 1950s, Fair Oaks Drive-In in Middletown offers motion pictures with a stunning view, or mix nostalgia with modernity at Four Brothers Drive-In (pictured) in Dutchess County, built in 2014. Order locally sourced food and drinks to your car with a mobile app and charge your electric car while you watch.
The only National Historic Site dedicated to a First Lady!

Credit: ​NPS-Bill Urbin
Eleanor Roosevelt was the First Lady of the United States for 12 years, a champion for women's/civil/workers'/human rights, and an all-around inspiration. You can visit her home, Val-Kill, and the surrounding hiking trails in Hyde Park, near the Franklin D. Roosevelt Home National Historic Site. Take a free docent-led tour of the peaceful retreat to learn all about the fascinating story of Mrs. Roosevelt and her work. During the tour, you will see a 15-minute film, artifacts and photos of the Roosevelts, and furniture, pewter, and cloth crafted as part of Val-Kill Industries, a small factory started by Eleanor Roosevelt and two friends to help boost local farming families' incomes.
A Scottish castle on the Hudson!

Credit: Courtesy of Dutchess Tourism, Inc.
Bannerman Castle sits on its own island in the Hudson River and can be spotted from the train window when traveling in and out of NYC. Scotsman Frank Bannerman built this impressive structure over a 17-year period in the style of a Scottish castle. Strangely, it was not built to house his family, but to store weapons and explosives that the family had acquired after the Civil War. You can visit this ruin very easily with MTA Away, which includes round trip train tickets to Beacon from NYC, a round trip boat ride to the island, and a guided walking tour. If you're already in the area, arrange kayak tours or the aforementioned boat ride here. Seasonal, May through October. 
Don't forget to post photos of your New York adventures on Instagram and Twitter with #iSpyNY and tag us on Facebook!