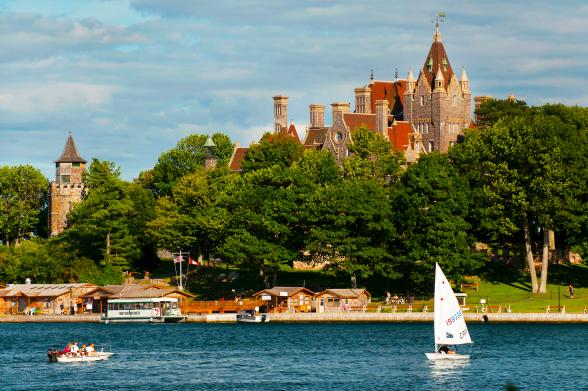 Updated: 03/28/2022
The name of the Thousand Islands is not an exaggeration—there are more than 1,800 islands straddling the US-Canada border in the freshwater St. Lawrence River. The gorgeous coastline, spectacular castles, and the opportunities for boating and fishing make this region something of a best-kept secret in itself. Read on to discover some of our favorite hidden gems within the hidden gem that is the Thousand Islands.
Remember to social distance and wear a mask as required by state guidelines. Call ahead and check websites and social media to make sure attractions are open and available.
A celebrity farm! (Kind of)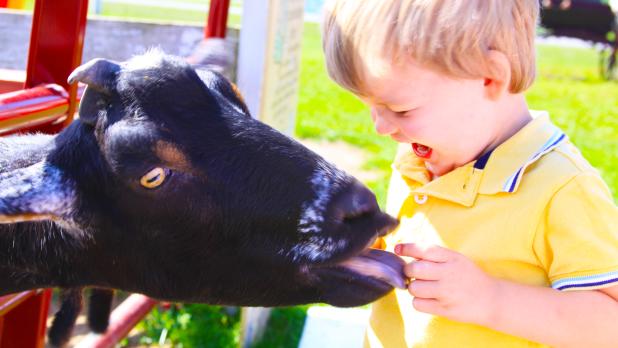 If Old McDonald is a celebrity in your home (yes, that Old McDonald who had a farm), you won't want to miss a visit to his actual farm, or at least, a farm named after him. In perhaps a nod to the region's islands, there are more than 1,000 animals at Old McDonald's Farm Village in Sackets Harbor, including cows, camels, and reindeer. A wide variety of activities await your crew—tour the dairy farm, take a Wizard of Oz hayride, feed a beef cow, pet the goats and sheep, ride a pony, wander through the corn maze, play mini-golf, and sample the ice cream at the Lazy Cow Cafe. The farm is typically open to visitors from mid-May to October.
A striking example of true love!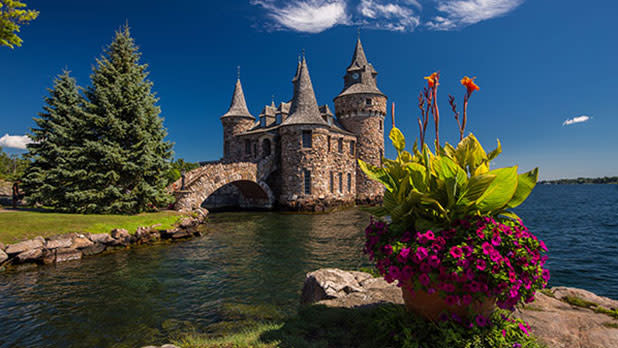 While it's not a secret within the region, Boldt Castle may be a secret to those unfamiliar with this area of New York. What's love got to do with it? In 1900, millionaire George Boldt (general manager of the Waldorf-Astoria in NYC, credited with popularizing what became known as Thousand Island dressing), commissioned a six-story castle for his wife, Louise. When Louise passed in 1904, Boldt ceased construction as he was too devastated to continue. In the 1970s, the Thousand Islands Bridge Authority restored and completed the castle. Today, you can visit by boat with Uncle Sam Boat Tours and explore the 120-room castle, the Power House, the Alster Tower, and the George C. Boldt Yacht House nearby. This testament to true love is located, of course, on Heart Island.
The smallest inhabited island on Earth!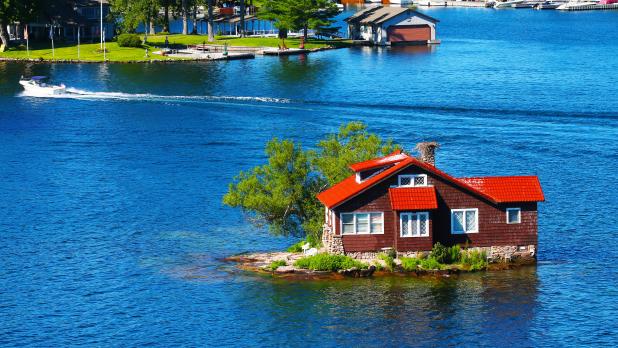 As you can imagine, since there are so many islands in a somewhat small area, some are quite tiny. One is actually the smallest inhabited island in the world, at just 3,300 square feet! It's called "Just Room Enough Island" because there is "just room enough" for a cottage, a few chairs, and a tree. While you need to know the family in order to get an invite onto the island, you can definitely see it by boat (it's right by Boldt Castle) to take in its charm.
A fun frozen treat for adults!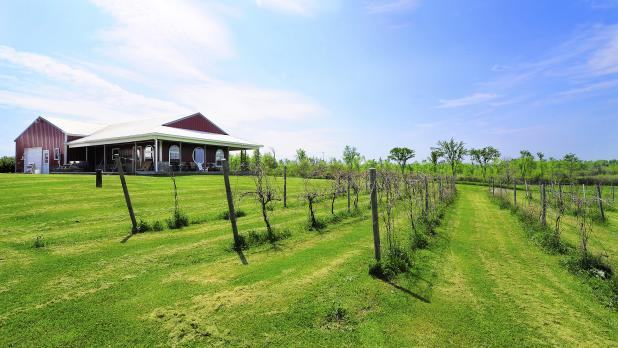 If you thought refreshing wine slushies were just for the Great New York State Fair, think again. You can get them at many Thousand Island wineries along the Taste 1000 Islands Craft Beverage Trail, like at Northern Flow Vineyards in Clayton—also a garden center, if you're in the market for some flowers. Or try them at Otter Creek Winery (pictured), with a vineyard in Philadelphia, NY, and a tasting room in Alexandria Bay. You can also purchase wine slushy mixes by the bottle to enjoy at home at Thousands Islands Winery.
A fairytale getaway!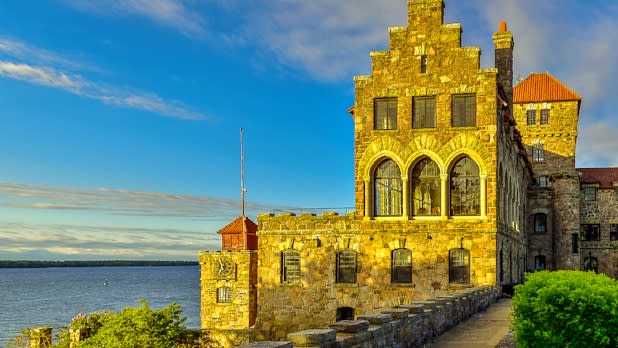 Speaking of castles, another big one up here is Singer Castle, on Dark Island, once owned by a former CEO of Singer Sewing Machine Company. Not only can you tour the castle, but you can also actually stay here overnight in the Royal Suite, an entire wing with room for six to sleep, a catered dinner, and the views to watch both the sunset and the sunrise. Grab your friends for the adventure of a lifetime. As you might expect, this one's a splurge: rates start at $700 a night.
A little-known history of helping refugees!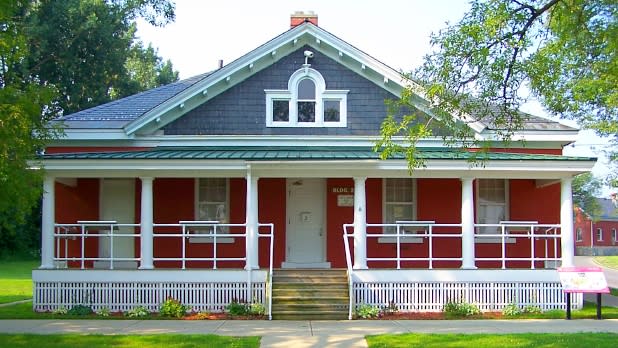 The Safe Haven Holocaust Refugee Shelter Museum in Oswego tells the story of the 982 World War II refugees from 18 different countries who President Franklin D. Roosevelt invited into the country to stay at Fort Ontario. This was also the only shelter for Holocaust survivors in the United States. Residents stayed from August 1944 to February 1946. They were permitted legal entry into the country in 1946.
A stay in a historic lighthouse!

Credit: Oswego County Tourism 
The Salmon River Lighthouse in Pulaski is one of only three lighthouses in the country to have kept its original 1838 "birdcage" design. Stay in the lighthouse or the nearby cottages from April to November or rent kayaks, canoes, or fishing boats (the lake is full of brown trout, steelhead, king and coho salmon, and bass). Bonus: its beaches have soft sand, unlike the surrounding rocky coastline around Lake Ontario, so go ahead, dip your toes in.
A ride in an antique boat!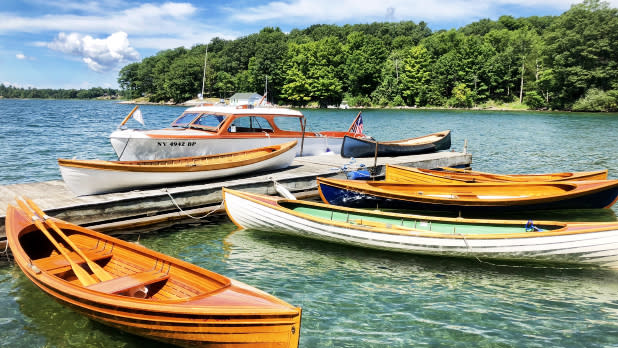 With all these islands, it's no surprise that recreational boating has long been a primary draw to the region. The Antique Boat Museum in Clayton is known as the premier freshwater nautical museum in North America. See more than 320 unique and beautifully preserved crafts and tour a houseboat from 1903. The secret here is that you can even ride the river yourself on a cruiser from the 1950s—available during sunset. The museum is open seasonally, from May to October.
An opportunity to see under the sea!

Credit: Christopher Lenney
While you should definitely get out on the water in this region, you may also want to see it under the water. The St. Lawrence River is clean, clear, and home to pike, smallmouth bass, and muskellunge, as well as the remains of shipwrecks that are visible from the surface. Among other tours, Clayton Island Tours offers a Glass-Bottom Boat tour on the Night Heron to Rock Island Lighthouse. Scuba divers can get up close and personal with the wrecks and the fish with Thousand Islands Dive Excursions, Captain Jack's Charters, or Hunt's Dive Shop. Tours and dives are seasonal.
A stop on the Underground Railroad!

Credit: Haunted History Trail, Amityphotos
Starr Clark's tin shop in Mexico, NY, now also an Underground Railroad museum, was an important stop on the path to freedom. Abolitionist meetings were held, housing was provided to freedom-seekers, and arrangements were made for additional stops along the path. Visit to learn about the region's involvement with the abolitionist movement, see tools, clothing, and money that were used during the era, and to learn about how tin was made and sold.
A front row seat to a transportation feat!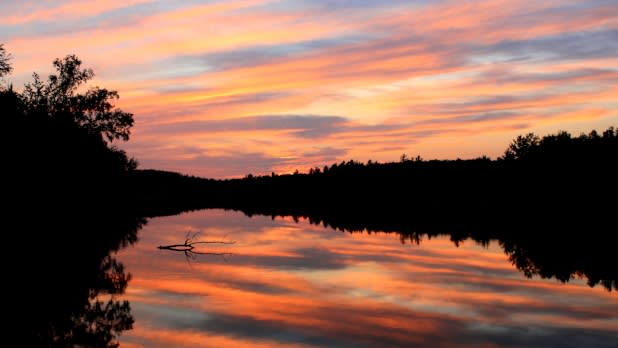 Hundreds of ships make thousands of trips through the St. Lawrence Seaway to pass between the Great Lakes and the Atlantic Ocean. They all travel through the Eisenhower Lock in Massena, where they are either raised or lowered nearly 40 feet, depending on which direction they are going. You can watch the lock system do its job while guides explain the process. If you've never used the timelapse video setting on Instagram, now is a good opportunity. Open seasonally from May to September.
---
Share New York State adventures with us on Instagram and Twitter with #ILoveNY and #iSpyNY, and tag us on Facebook!