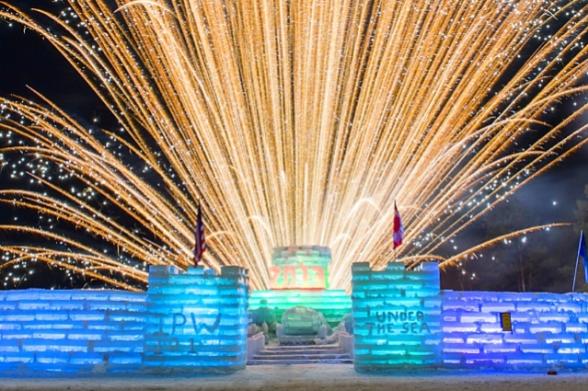 Indoors or outdoors, there are plenty of great things to do in New York State in February. Celebrate Lunar New Year, Valentine's Day, and Black History Month, enjoy a chocolate and wine festival, tap your feet to great jazz, savor delicious mac and cheese, treat your taste buds to some hearty chowder, experience the ultimate snow day in Manhattan, walk on a beach with seals, and much more. It's all here waiting for you in New York State!
Masks are encouraged, but optional in most settings per New York State guidelines. Individual businesses or attractions may require mask wearing. Call ahead and check websites and social media to make sure attractions and amenities are open and available. 
February 1-28, 2023
Celebrate the achievements and contributions of African Americans and explore the state's rich heritage of Black history and culture at events happening all across New York all month long. Learn about the contributions of Black scientists on Long Island, celebrate the work of African American artists in Western New York, and enjoy an evening of smooth jazz at the 15th Annual CNY Jazz Black History Month Cabaret (pictured) featuring a rare female double bill with performances by Detroit-born flutist Althea Rene and saxophonist Jeanette Harris, known as the "Queen of Soul Jazz." From children's events to profound lectures, there are many ways to Black History Month this February in New York State. Various dates, locations, prices.
February 2-5, 2023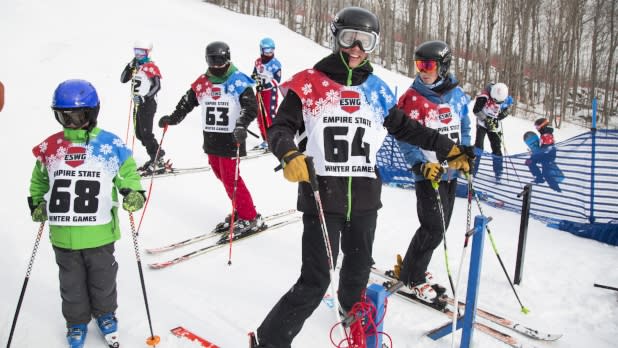 New York's finest amateur athletes of all ages and abilities are heading to the Adirondacks for the thrilling Empire State Winter Games. Patterned after the Olympic program, it's a great family event full of fun, excitement, and terrific winter competition. Now in its 43rd year, this year's games promise to be more fun than ever, with more than 2,000 athletes from across New York State and beyond competing in 22 winter sports events. You'll enjoy cross-country and alpine skiing, biathlon, figure skating, ice hockey, ski jumping, bobsled, skeleton, luge, plus adaptive winter sports! Lake Placid, Wilmington, Tupper Lake, and Saranac Lake; some events free, various prices for others depending on venue; ski jumping and Nordic combined events taking place in March.
February 3-5, 2023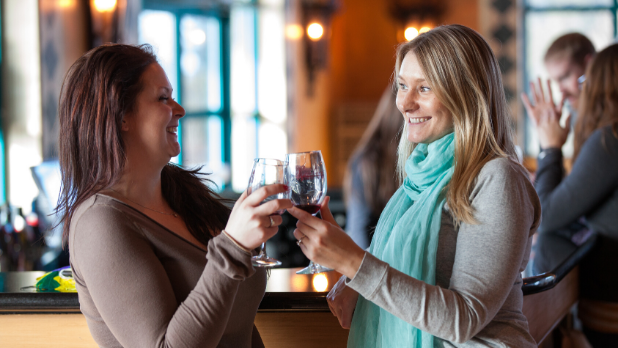 Wine and chocolate are on the menu as you embark on this deliciously-indulgent self-guided tour of 14 wineries along the beautiful Seneca Lake Wine Trail. Some of New York State's best wines will be perfectly paired with scrumptious eats that feature chocolate as a key ingredient. You can expect to sample lots of desserts, plus some surprisingly savory treats along the way including chocolate-covered pretzels with a toasty kick and a pulled bison "Swiss roll" with roasted garlic and chocolate glaze. Enjoy a guided wine tasting experience at each vineyard and discover how each carefully prepared bite complements and brings out new flavors in the wine. Various locations; $70.
February 3-12, 2023 

Credit: @kylevt on Instagram
Get ready for great outdoor fun at the Saranac Lake Winter Carnival, the longest-running event of its kind in the eastern U.S. Since 1897, the celebration has grown into a 10-day festival that includes sports, performances, two parades, and three sets of spectacular fireworks. Tour the ice palace, marvel at snow and ice sculptures, take part in a scavenger hunt and snowshoe race, and satisfy your sweet tooth at the annual chocolate festival. You'll also enjoy the Camp Sagamore Family Concert and firefighters' broom hockey games, plus innertube races and a woodsmen's exhibition! The festival concludes with a breathtaking gala fireworks display on February 12th. Saranac Lake; some events are free (including the famed Ice Palace), others may have minimal fee.
February 3-5, 2023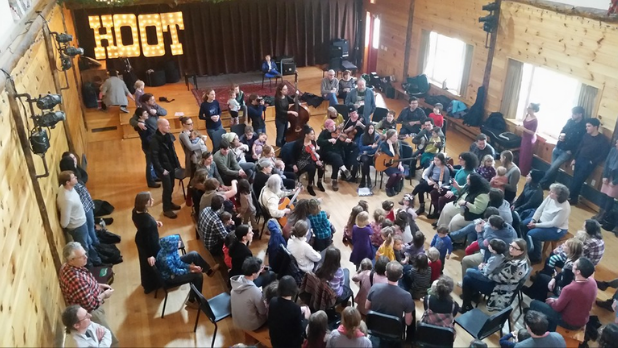 Celebrate live roots music, local food and crafts, and the joyful spirit of an amazing community where the Catskills meet the Hudson River Valley at Winter Hoot 2023, a three-day music festival at The Ashokan Center, just 20 minutes from Woodstock or Kingston. This down-home, multi-generational event features a dinner, documentary, and discussion followed by a jam session on Friday; live music all day and night, plus fun activities for all ages on Saturday; and a brunch and farewell singalong on Sunday. Advance tickets are recommended and will guarantee parking and entry. Olivebridge; $50, kids under 12 admitted free. 
February 4, 2023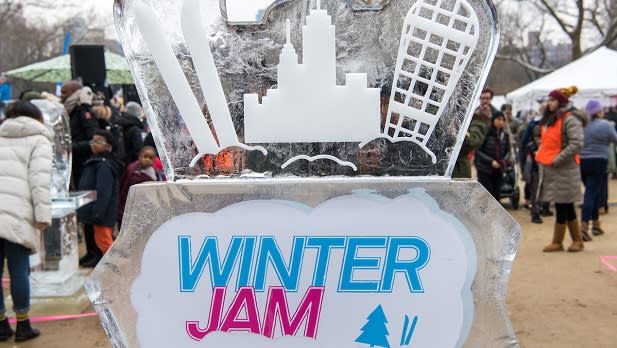 It's time for the ultimate snow day – in New York City! Winter Jam 2023, a free winter sports festival for all ages, features fresh blown snow in the heart of Central Park, courtesy of Gore Mountain, and plenty of winter excitement for everyone! Try your hand at snowshoeing, curling, ice bowling, and dodgeball. There's also live ice carving, an ice sculpture garden, a heated New York Public Library reading room, and bobsled and snowcat photo ops! In addition, a limited number of attendees will have the chance to learn to ski with instructors from I Ski NY. New York City; free admission.
February 10-11, 2023 

Credit: @arch.type on Instagram
Experience an "unforgettable" evening honoring the legacies of Nat King Cole and Natalie Cole, who put their individual stamp on the jazz and pop music of their day. Celebrate Nat's 100th birthday at Kleinhans Music Hall with conductor John Morris Russell, and vocalists Dee Daniels and Denzal Sinclaire paying tribute to this incredible Grammy Award-winning father-daughter duo whose flexible musical styles and undeniable talent continue to influence the best musicians of today. Buffalo; $32 - $93.
February 11, 2023 
Get ready to chow down at one of the Capital-Saratoga region's most highly anticipated events – Chowderfest! This fun and utterly delicious annual food happening draws thousands to downtown Saratoga Springs as more than 80 vendors dish out 4-ounce servings of creamy and hearty chowder to hungry crowds. In between spoonfuls you'll be treated to live entertainment and a host of family-friendly activities all day long. Saratoga Springs; $2 per chowder sample.
February 12, 2023 
Chinatown's annual Lunar New Year celebration features stunning visuals, tantalizing treats and impressive performances, capped off by the always fabulous lion dance. This year the festivities usher in the Year of the Rabbit. You may also want to check out similar Lunar New Year events that take place in the Chinatowns in Sunset Park, Brooklyn and Flushing, Queens. New York City; free admission. (Check out our blog 7 Ways To Celebrate the Lunar New Year in New York State for more events.)
February 13-19, 2023
Love is in the air at the Buffalo and Erie County Botanical Garden. No matter your relationship status, there's plenty of ways to celebrate Valentine's Day at this tropical paradise amid the stunning lights and exotic plants at Gardens After Dark. Enjoy a wine and waffle pairing with your besties at Galentine's After Dark, celebrate Love is Love Night with the Pride Center of WNY, make Thursday a date night with drinks, eats, and chocolate, and more! Plan the perfect start to this season of love at a Valentine's Day floral arrangement workshop on February 11. Buffalo, Prices vary.
February 16, 2023 
All you can eat mac and cheese? Yes, please! Make sure to bring your appetite to the 8th Annual Mac & Cheese Fest at the Holiday Inn in downtown Binghamton as 16 eateries from P.S. Restaurant to Kampai Japanese Steak House serve up their takes on this ultimate comfort food all for a good cause. The event benefits the Binghamton Philharmonic, which will perform live during the cheesy feast. Don't forget to cast your vote and see who wins Best of the Fest, Most Original Mac, and Most Classic Mac! Binghamton, $25.
February 16-19 and February 23–26, 2023 
Since Ornette Coleman's "The Shape of Jazz to Come" caused a stir in 1959 for its inventiveness, jazz fans have grown to appreciate the enormous breadth of jazz expression. Get an exciting glimpse of where jazz is today and what's to come at the 2023 Hudson Jazz Festival: The Shape of Jazz Today. Taking place at Hudson Hall over the span of two weekends and curated by creative producer Cat Henry, the festival brings together adventurous, inventive artists whose bold vision takes jazz in new directions while honoring the traditions of the past. Festival goers will enjoy performances from vocalist Sarah Elizabeth Charles, trumpeter Marquis Hill, vocalist Michael Mayo, Ulysses Owens Jr. and Generation Y, Lucy Yeghiazaryan & Vanisha Gould, Aaron Parks & Samantha Rise, and Endea Owens & The Cookout. Hudson; festival passes, single tickets, and livestream passes available, various prices.
February 18, 2023 
In recent years, the number of seals swimming Long Island's waters has dramatically increased. While harbor and gray seals are still the island's most abundant species, sightings of their arctic relatives, such as harp and hooded seals, are becoming more common. Experience these fascinating creatures up-close as they frolic in the water and on the sand by taking a guided one-mile seal walk along the beautiful shores of Cupsogue Beach County Park in Westhampton. Westhampton Beach; Suggested donation of $5 per adult and $3 per child under 18; reservations are required.
February 18-19, 2023 
New York State's Tug Hill Plateau, commonly known as the snowiest location east of the Rocky Mountains, is the perfect setting for the annual Tug Hill Challenge. This exciting weekend of dog sled racing takes place along the park roads, wooded trails, and rolling hills of beautiful Winona State Forest in Mannsville. Over 100 teams of mushers from across the nation and Canada will compete in dog sledding, skijoring, and weight pulls. Mannsville; free admission.
February 25, 2023 
Good times and great beer are around brewing at the annual Buffalo on Tap! For your sampling pleasure, you'll enjoy the best selection of craft beer, seltzers, and hard ciders from breweries near and far! Jam out to live music, savor delicious snacks, peruse unique wares from local vendors, and just have a great time hanging out with your friends while sipping a hand-picked selection of craft beverages. This is a 21+ event, and designated driver tickets will be available at the door. VIP tickets will give you an additional hour of sampling time, as well as access to a Special VIP Area with exclusive beers. Buffalo; $64.01 (general admission, at door) and $89.25 (VIP, at door), $52.54 online. 
February 24-26, 2023 
Get ready for a high-energy weekend featuring three days of great live music in all the hotspots of the amazing ski town of Ellicottville at Winter Music Jam '23. After a day of skiing at nearby Holiday Valley, head to downtown Ellicottville to catch a variety of musical performances at different venues and grab a bite to eat. All performances are within a four-block radius. Various locations in downtown Ellicottville; prices vary.
---
Share New York State adventures with us on TikTok, Instagram and Twitter with #ILoveNY and #iSpyNY, and tag us on Facebook!