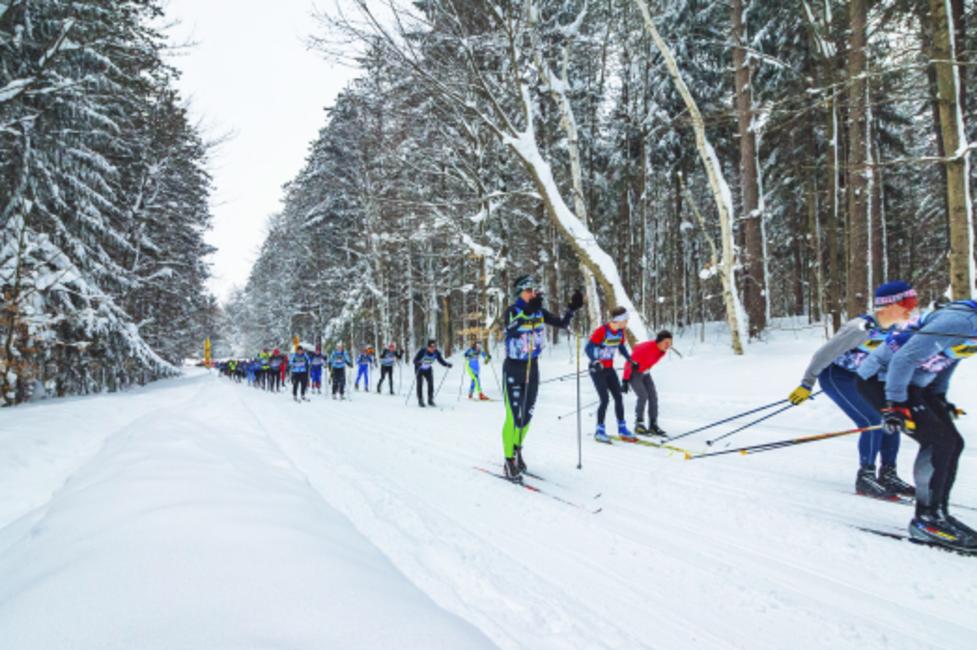 There are so many reasons to fall in love with February in New York (besides amazing options for the holiday of love!). Winter carnivals, ice festivals, and snowy sports will help you appreciate all the ways to have fun in the cold, while a celebration of chowder, an indoor tennis expo, and hot glass demonstrations can help warm you up. Now that we're halfway through winter, make the most of it with these fun events all over New York State!
Saranac Lake Winter Carnival (Adirondacks)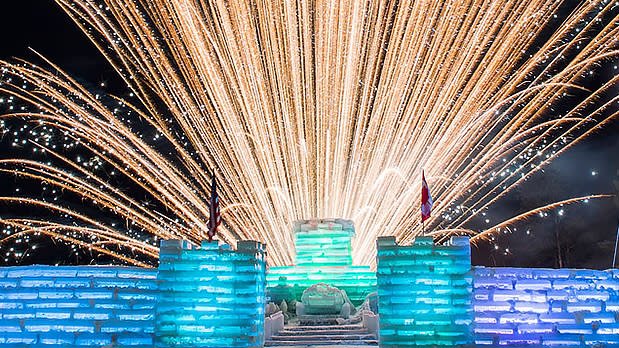 Come partake in a winter celebration that is 122 years old! The ten-day-long Saranac Lake Winter Carnival has drawn the Adirondacks community together since 1897, making it one of the longest-running events of its kind—and it's still going strong. It kicks off with a coronation of the carnival King and Queen. Of course, where would the King and Queen stay but a majestic (and enormous) ice palace? The palace has always been a key component of the carnival and takes about two weeks to construct. It houses hallways and rooms that you can explore, as well as ice thrones for the royal party. In addition to the palace, the carnival includes ski, snowshoe, skating, tubing races, games, live comedy, fireworks, two parades (one of which is just for kids), and so much more. Don't miss a romp through this winter wonderland! Saranac Lake; February 1–10; Free
Stay toasty during the chilly days of February with steaming hot chowder. More than 80 vendors open their doors to the public during the annual Saratoga Chowderfest, so you can try every different imaginable take on the hearty dish, from the classic version to interesting flavors like buffalo chicken and even dessert chowder! Taste any or all of them in 3-oz. servings at $1 a cup. Then vote for your favorite! Winners will be selected in seven categories, such as People's Choice and Best Newcomer. Listen to live music while you chow down on delicious chowder, and in between bites, attend a daytime dance party and join in on games like giant Jenga and cornhole. Saratoga; February 2; Free
Ice Harvest Festival (Catskills)

Credit: Kevin Q Gray
Celebrating the icy weather in New York isn't just good winter fun—it's a tradition! Back in the days before refrigeration, people would hold special festivals to harvest ice to preserve food in later months. The Hanford Mills Museum brings the historical event back to life. Attendees can use vintage tools to cut blocks of ice, just as it used to be done. You can watch live ice-carving and blacksmith demonstrations, go ice fishing, and ride a horse-drawn sleigh. A hot soup buffet, hot cocoa, and a bonfire will keep you warm! Or, warm-ish. It's still a good idea to bundle up! East Meredith; February 2; Adults and teens: $9, Children 12 and under free
Cooperstown packs its three-day winter carnival with fun family-friendly activities. The festival kicks off on Friday night with a gathering at Pioneer Park with hot cider from Fly Creek Cider Mill and special ice games. Then it's non-stop fun with a bowling tournament, a special showing of the documentary about Mr. Rogers, Won't You Be My Neighbor, candlelight ghost tours, trivia, and more. Kids from four to ten can get crafty at the make-and-take station, find their favorite flavors at the Fudge-Tasting Flurry, and strap on skates to glide across the rink at Badger Park. Meanwhile adults can enjoy bourbon, whiskey, and wine tastings. Try a horse-drawn wagon ride, roast marshmallows around a fire pit, and ooh and ahh as the Saturday night fireworks light up Otsego Lake. Cooperstown; February 8–10; Free
Here's something to celebrate that you might be unaware of: the Hudson Valley has successfully restored bald eagle populations from near extinction in 1970. Today, a healthy population settles around the Hudson River for their winter migration, and anyone who wants to see these magnificent creatures is invited to the annual Teatown Hudson River EagleFest in Croton Point Park to rejoice in their recovery. Organizers set up viewing scopes so you can watch the birds in their natural habitat, but you can also see them a little closer up with plenty of live bird-of-prey shows displaying their skills. There will be activities for little ones, plenty of food trucks, and educational exhibits in heated tents. Croton-on-Hudson; February 9; Adults presale: $22, day-of: $25; Children (ages 6– 11) presale: $13, day-of: $15; Children 5 and under free

Credit: Long Island Tennis Magazine
All tennis lovers from near and far will definitely want to find themselves at Long Island's NYCB LIVE (Nassau Veterans Memorial Coliseum) February 9 when the New York Tennis Expo kicks off the New York Open. The event is super child-friendly, with action-packed activities to get them excited about the sport. There will be a 10 and Under Mini Tennis Court for all skill levels, and onsite instructors will offer guidance and tips. Any little ones who don't love tennis (yet!) can play in the bounce house, have their faces painted, and play games in the Kids' Zone. Uniondale; February 9; Free
Winona Forest Tourathon (Thousand Islands-Seaway)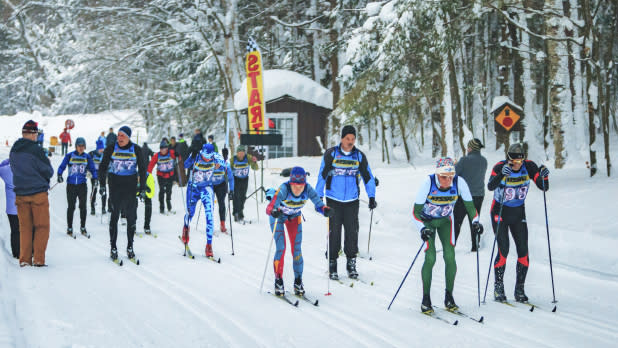 If you resolved to get into shape and to accomplish great things this year, complete both goals at the annual Winona Forest Tourathon. Register now to attempt Nordic skiing for distances of 12.5, 25, or 50 kilometers through the gorgeous Winona Forest. Trails are immaculately maintained with the help of a lake effect snow machine and professional grooming equipment. Hot and hearty food, desserts, beverages, and showers will be on offer for racers at the nearby Mannsville Elementary School. Make yourself proud this winter! Lacona; February 10; Fees vary by race, from $20–55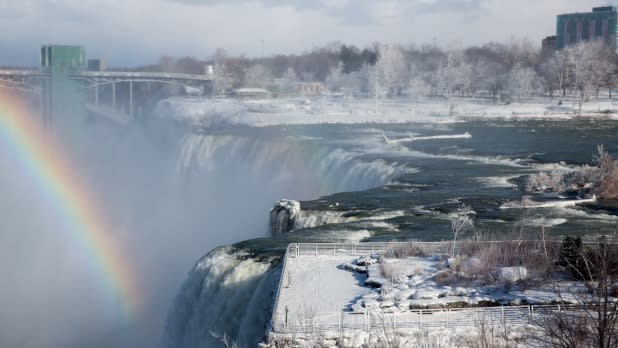 This Valentine's Day, enjoy a stroll through nature by the glow of lantern light. The Niagara Region Park Interpretive Programs is holding a special night with hot chocolate and the chance to make your own lantern before a guide will take you on a peaceful walk through the old growth woods in De Veaux Woods State Park. You must register in advance to attend, so call (716) 282-5154 to reserve your spot. Take a special someone, good friend, or just try something new solo! Niagara Falls; February 14; Free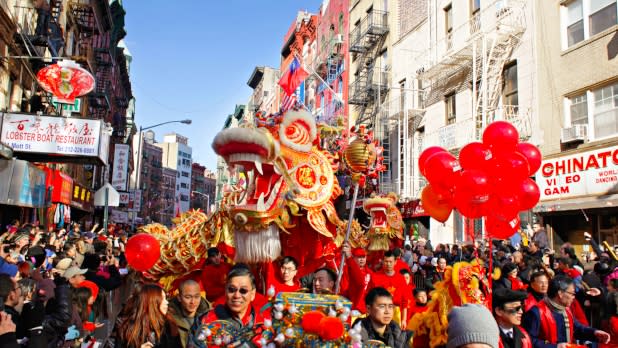 Get ready for round two of new year's celebrations! Chinese New Year falls in February and New York City's Chinatown holds an epic parade and festival to ring it in. Live performers will don eye-popping outfits, there will be martial arts demonstrations, dragon dancing, music, and food vendors. Arrive at noon to see the fireworks, then follow the parade through the cozy streets of Chinatown and Little Italy. Happy year of the pig! Chinatown; February 16; Free

President's Day Winter Festival (Chautauqua-Allegheny)
The President's Day Weekend Winter Festival, aka the Mayville Ice Castle Festival, aka your best long weekend this year, sets up along Chautauqua Lake and celebrates all things icy! Local volunteers will construct an ice castle, and the public is invited to partake in the annual polar bear plunge. So long as the lake is good and frozen, people will take to the ice on skates, and there will be a sledding track carved into piled up snow, so kids can ride on their sleds almost like a bobsled (bring your own sled!). The whole family can tour the edge of the lake in a horse-drawn sleigh, or try a snowmobile ride. Stop inside one of the heated tents for food, treats, and crafts. Mayville; February 16–17; Free

Credit: The Corning Museum of Glass
It's okay if you've lost your marbles, because the Corning Museum of Glass can help you find some new ones! The museum is holding a day of interesting and fun events to celebrate the centuries-old toy. Take a special tour of all the marbles and glass spheres in the exhibits, play marble games and practice your skills—the museum will provide marbles and mats but you're welcome to bring your own. A few visiting National Marble Tournament experts will play live so you can see what marble-playing looks like at the highest level of skill! And best of all, watch how marbles are made at a live demonstration. Corning; February 17; This event is open to all ages and is included in Museum admission. Kids, 17 and under, are free.
Share your New York State adventures with us on Instagram and Twitter with #iSpyNY and tag us on Facebook!