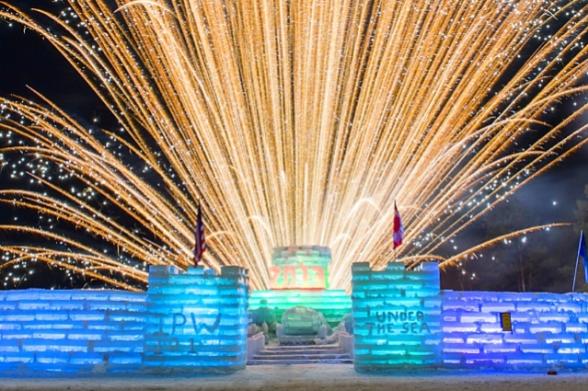 Whether you're waiting for the snow to melt or busy seeking out new adventures, there's plenty to do this February in New York State! Join in the festive atmosphere at one of the many winter carnivals or celebrate the 40th anniversary of the 1980 Winter Olympics in Lake Placid. Warm up with a cup of chowder in Saratoga, tantalize your senses at Buffalo's Botanical Gardens, or dance the day away at a musical performance. February is the shortest month of the year, even with 2020 being a Leap Year, so make the most of it with these fun things to do in New York State! 
Winter Carnivals (Various Regions)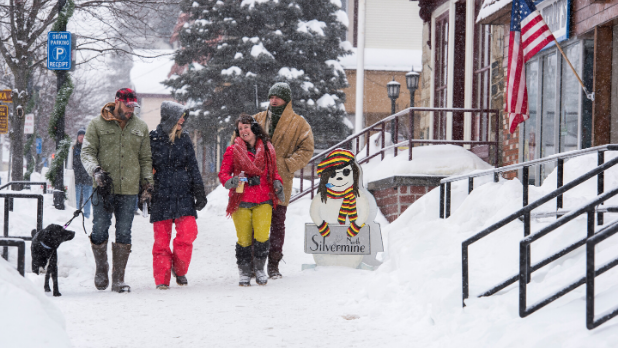 February offers revelry and excitement for the whole family. Experience one of the oldest winter festivals of its kind January 31–February 9 at the Saranac Lake Winter Carnival. Tour through an ice palace, join in amateur ski races, and dance to live musical entertainment. Head to Cooperstown's Winter Carnival February 7–9, where ghost tours through the historic town and a speakeasy offering music and 1920s-themed cocktails await. In Lake George, the family-friendly winter carnival is every weekend all February long, offering helicopter rides, pond hockey, a hot chocolate bar, and more. The Alexandria Bay Winter Carnival, January 29–February 9, offers 12 days of entertainment and fun in winter. Participate in a snow sculpture activity, or go on the family scavenger hunt, watch the Alexandria Bay Figure Skating show, go ice skating, and more.  
New York State Fairgrounds Winter Fair (Finger Lakes)
If staying warm while enjoying the season is more your speed, head to the New York State Fairgrounds' Expo Center to experience the indoor Winter Fair. The Mini-Midway will feature two Ferris Wheels, a new MARVEL Avengers-themed ride, and a dazzling fireworks display on Friday and Saturday evenings. Cultural dancers from the Six Nations tribes, as well as Irish Dancers, and a karate demonstration offer unique experiences. Enjoy fair food favorites from Kiki's Authentic Greek Food, Limp Lizard BBQ, Henry's Hen House, and Glazed and Confused Donuts. February 7–9; Syracuse; Pre-sale tickets are $5 for adults, $3 for teens, preteens and seniors, and children 10 years and younger get in free. Tickets are $7 at the door for adults and $5 for teens, preteens, and seniors.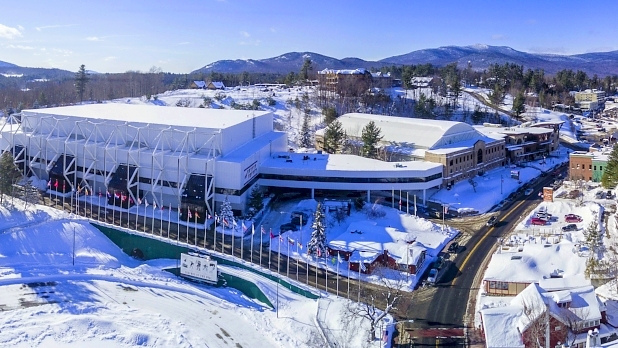 This February marks the 40th anniversary of the "Miracle on Ice" Winter Olympic Games in Lake Placid, and the village is planning an epic celebration to commemorate it. Festivities kick off with an Opening Ceremony and Olympic torch lighting, officially marking the start of 10 days of sports-themed fun. Meet-and-greets with former Olympians including alpine ski racer Andrew Weibrecht, luger Mark Grimmette, figure skater Paul Wylie, and speed skater Dan Jansen, are planned. Enjoy ice-skating on the same track where Eric Heiden won five gold medals during the 1980 games, ski with two-time Olympic medalist Weibrecht, learn how to be a biathlete, go luging, Nordic skiing, and more. A special screening of the Disney movie Miracle, an athlete forum on Lake Placid's Olympic Legacy, and a Fun Zone on Main Street offering hot cocoa, games, music, and more make this family-friendly event a must-experience. February 14–23; Lake Placid; Free, but some activities may incur costs.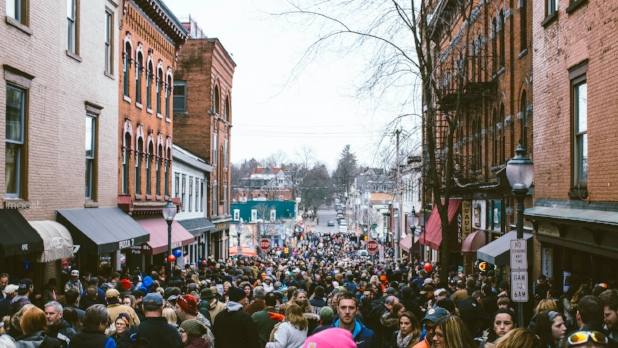 What better way to warm up this winter than with bowl after bowl of hearty chowder? That's the enduring idea behind Saratoga County's annual Chowderfest, one of the year's most anticipated events. For one day only, meander from town to town around Saratoga County and sample up to 80 different kinds of chowder for $1 per cup. This is a non-ticketed event, but festival goers are encouraged to pick up a ballot from participating establishments and vote for their favorite chowder in 10 new award categories, from People's Choice for 500 or less bowls served, up to 4,000+ bowls served, as well as chowders made with Saranac Beer, and the best dessert-themed chowder. Free shuttles from Wilton Mall and Saratoga Casino will transport festival goers from 10 am–6pm. February 1; Saratoga Springs; $1 per cup to sample chowder. 
Chocolate and Wine Weekend (Finger Lakes)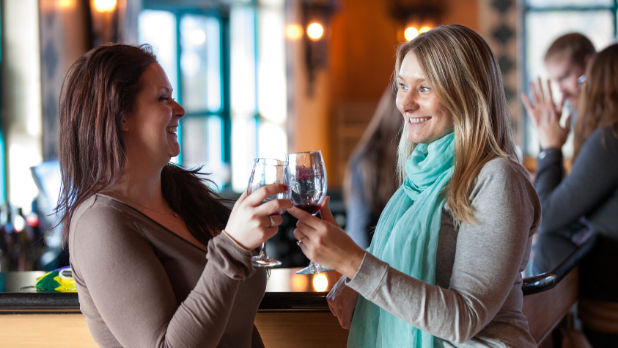 Indulge in a decadent getaway on the Seneca Lake Wine Trail February 7–9 when 23 wineries offer sweet and savory snacks and perfectly paired New York State wines during the deliciously indulgent Chocolate and Wine Weekend. Enjoy a guided wine tasting experience at each vineyard and discover how each carefully prepared bite complements and brings out new flavors in the wine. February 7–9; Seneca Lake; Tickets are $40 and good for the whole event. $20 for designated drivers.  
NYC Broadway Week (New York City)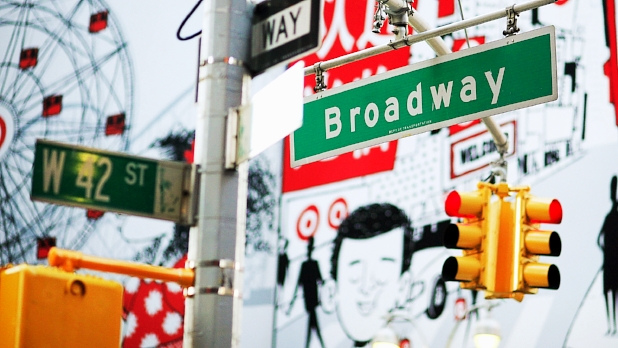 From theaters inspired by the songs of Bob Dylan to all that jazz, NYC Broadway Week offers two-for-one tickets to the hottest shows in town. Don't miss your chance to see old favorites like The Phantom of the Opera and The Lion King, and score tickets to some of the buzziest productions out now. Grab seats to Girl from the North Country, and listen as the stories in Dylan's songs come to life, or take a magic carpet ride to a whole new world and enjoy a night at the theater as your kids fall in love with the tale of Aladdin. January 21–February 9; Manhattan; Two tickets for the price of one. Ticket prices vary.

Credit: @dansobsey on Instagram 
Explore the dynamic and larger-than-life wonders of Storm King's outdoor sculpture park against the stark contrast of a wintry landscape during special Winter Weekends. Guided tours led by docents and members, as well as tram tours, transport visitors around the grounds to the different sculptures and areas of the park. Plan for cold weather and dress accordingly, and after exploring the grounds, head indoors for a quick bite and a warm drink. February 15–16 from 11 am–4 pm; New Windsor; Admission is $18 for adults, $15 for seniors, $8 for students and children ages 5–18. Children four years and younger get in free.
Lumagination (Greater Niagara)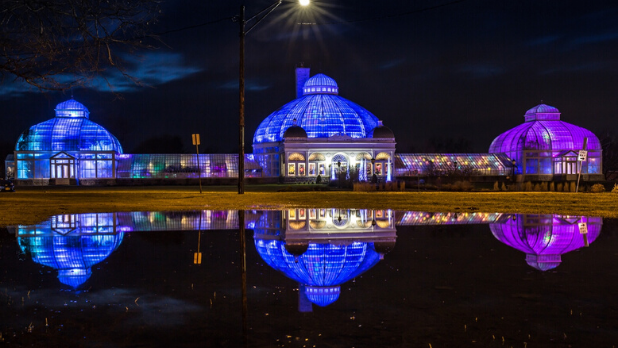 What better way to brighten a winter night than with a trip to Buffalo Botanical Gardens during Lumagination, a special installation in the gardens that offers a light-filled adventure in the heart of winter. This year, a theme of Mysterious Minerals brings botanical displays to life, creating simulated salt caves, and a world of sculptures, stalactites, balancing stones, geodes, and crystals. Part three of a four-part series explores water, air, earth, and fire. Enjoy special family nights with unique activities including hands-on art experiences, critter meet-and-greets, and more. Doors open at 5:30 pm. February 1, 5–9, 12–22, 26–29; Buffalo; Tickets are $15.50 for adults, $14 for seniors and students, $7 for kids ages 3–12, and kids ages two years and younger get in free.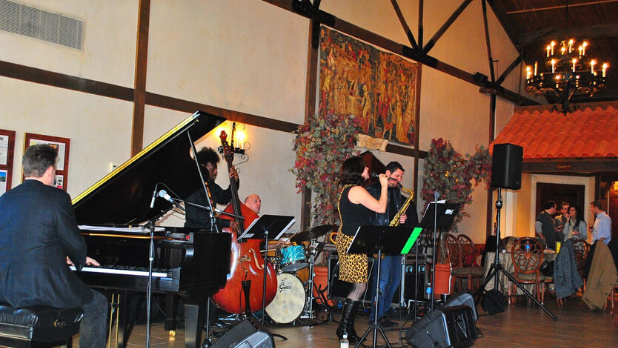 For five weeks, the East End of Long Island comes alive during the "hottest party in the winter," featuring exciting events, great food, live music, and of course, locally made wines. Hosted at venues spread across the entire region, including vineyard tasting rooms, theaters, breweries, hotels, and historic places, enjoy wine tastings of rare Long Island wines and local specialty dishes. The Kick Off Party on February 7 at Hotel Indigo in Riverhead includes craft vendors, food and drinks, a Chinese Auction, a photo booth, and two floors of entertainment. Listen to live music and take advantage of deals on overnight packages at participating hotels on Long Island. February 7–March 8; Long Island; Free to attend. 
 
Get ready for a winter festival celebrating fire and ice during Harborfrost in Sag Harbor. This free family event includes live ice carving demonstrations, live music at different venues throughout town, and a fireworks show over the bay. When you get chilly, duck inside participating shops and restaurants to warm up. Kids will love stopping by different locations for free glitter tattoos and face painting, hot cocoa, and posing for silly photos at the John Jermain Library's photo booth. February 23; Sag Harbor; Free to attend.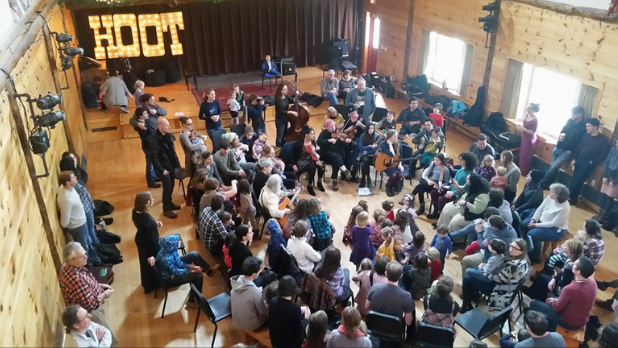 This all-ages celebration is about families having fun in nature while enjoying live music, local food, and crafts. This year's Hoot schedule includes hands-on blacksmithing lessons, group hikes to the Cathedral Gorge, square dancing, and plenty of local food and drinks. The musical lineup includes JK LOL, David Amram, Jeffrey Lewis, and The Mammals. Enjoy special dance parties and more. The Hoot is slated for January 31–February 2 at the Ashokan Center in Olivebridge. January 31–February 2; Olivebridge; Prices vary.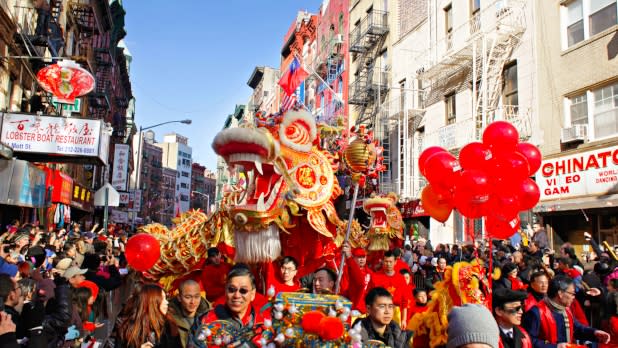 Ring in Chinese New Year at the Lunar New Year Parade & Festival on February 9 in New York City's Chinatown. Enjoy live performers, food vendors, traditional dances, music, and festivities for all ages. Watch the vibrant dragons dance through the main streets of Little Italy and Chinatown starting at 1 pm. Make sure to be there early to celebrate the year of the rat! February 9; Chinatown; Free to attend.
Ellicottville's Winter Music Jam (Chautauqua-Allegheny)
Wrapping up a month of must-experience February festivities is Ellicottville's Winter Music Jam. Listen to 16 musical performances playing at different venues throughout downtown Ellicottville. After a day of skiing at nearby Holiday Valley, check out the live music and grab a bite to eat. All performances are within a four-block radius. February 21–22; Ellicottville; Free.
Don't forget to post photos of your New York winter adventures on Instagram and Twitter with #iSpyNY and tag us on Facebook!