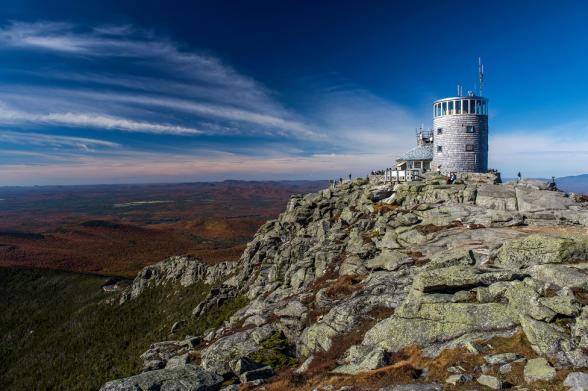 Fall is a spectacular season in the Adirondacks. Outdoor adventurers can hike, climb, mountain bike, and canoe amidst colorful fall foliage. Visitors can stay in campgrounds or resorts within the six million acres of the Adirondack Park—with natural beauty everywhere you look! The Olympic Sports Complex in Lake Placid offers opportunities to try favorite winter sports activities, and while the ski runs at mountains like Gore and Whiteface aren't quite open yet, fall is an incredible time to take a scenic skyride on a chairlift, try out some downhill mountain biking, or go for a hike! Here are our favorite things to do this fall in the Adirondacks. 
Originally published: 10/4/19
Hike the 46 High Peaks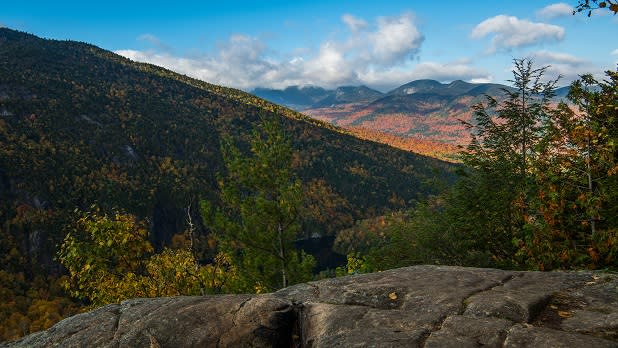 The 46 High Peaks include 42 mountaintops higher than 4,000-feet elevation, making this wilderness area one of the most popular in the northeast during fall for leaf peepers in search of expansive scenery.
Canoe or kayak on Saranac Lake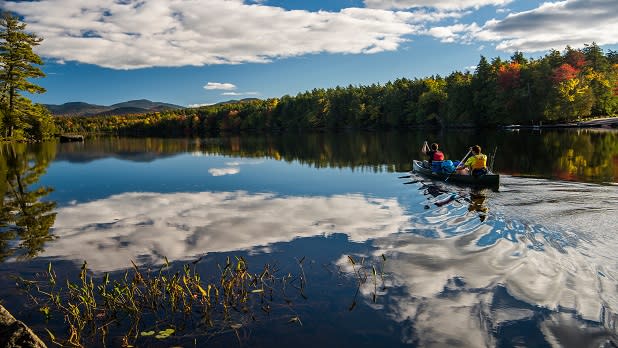 Canoe or kayak the Saranac Lake Chain. Three lakes connected by the Saranac River, this natural linkage creates a 17-mile canoe and kayak route. St. Regis Canoe Outfitters will hook you up with their best tour guides and sporting gear including canoes, kayaks, and camping gear for rent. Cruise the water for stunning lake views and keep an eye out for bald eagles, beavers, and other wildlife. 
Take a rafting trip through Ausable Chasm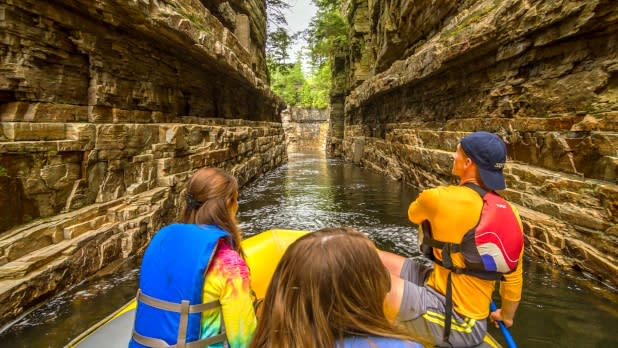 Head to breathtaking Ausable Chasm, where naturally formed sandstone aging back 500 million years creates a memorable backdrop for a fall excursion. Make sure to take a family float tour through the Grand Flume and Whirlpool basin.
Get the adrenaline pumping at Adirondack Extreme Adventure Course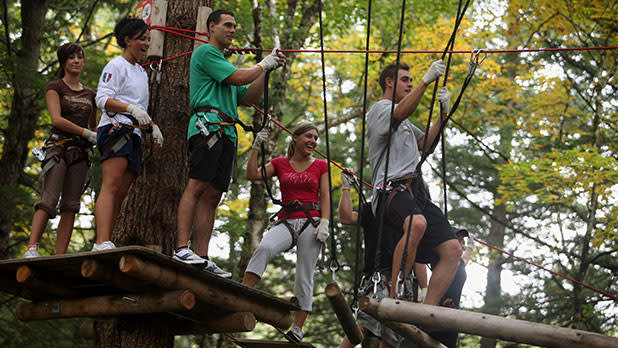 If you've ever dreamed of flying or jumping from branch to branch like a bird or a forest animal, the skilled team at Adirondack Extreme Adventure Course near Lake George is here to help! Get up in the air with the tree-top challenge obstacle course, six aerial adventure courses, zip lines, jumps, rope swings, slides, and ladders—it's a thrill for the whole family.
Go for the gold at the Olympic Sports Complex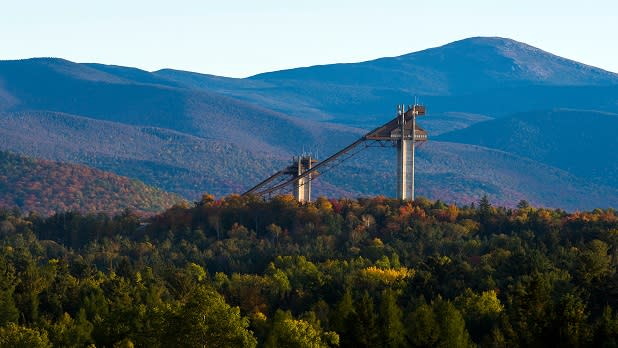 Visit the Olympic Center, site of the 1932 and 1980 Winter Olympics, both held in Lake Placid. Race like an athlete at the Lake Placid Bobsled Experience or take in panoramic views of the High Peaks at the top of the Jumping Complex (pictured). 
Learn about wildlife at the Adirondack Experience

The Adirondack Experience in Blue Mountain Lake provides visitors with a complete history and immersive activities of the region, from learning about the wildlife and viewing Native American art to writing on a slate tablet in a one-room schoolhouse and feeding trout. Exhibits include "Work in the Woods: Logging in the Adirondacks," "Woods and Waters: Outdoor Recreation in the Adirondacks," and "Boats and Boating in the Adirondacks." The New York Times called this outdoor museum "the best of its kind in the world."
Imagine defending a fortress at Fort Ticonderoga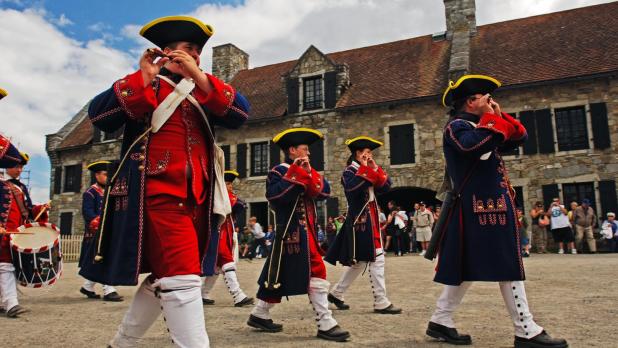 Have you ever imagined what it would be like to storm a castle or defend a fortress against 18th-century colonial powers? Visit Fort Ticonderoga, where you can experience daily programming like tours, Fife and Drum Corps marching, historic trade demonstrations, daily cannon- and musket-firing demonstrations, and hands-on family activities.
Mountain bike down Gore or Whiteface (or take a gondola ride)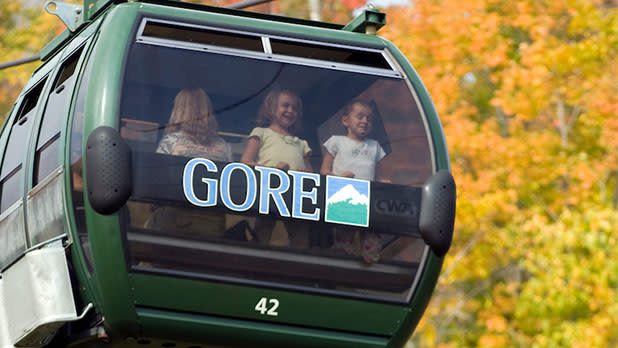 Weekends until October 9, get a serious rush as you speed down Gore Mountain or Whiteface Mountain, both skiing areas that offer downhill mountain biking in summer and early fall. You'll maneuver down maintained trails during peak foliage season. For those who don't want to experience the twists and turns, both mountains offer scenic rides in gondolas—the Scenic Skyride at Gore (pictured) and the Cloudsplitter Skyride at Whiteface—or on ski lifts weekends through October 9 as well. Ski season at both mountains typically begins by mid-November, and season passes and other frequent skier tickets are already available for those who want to get an early start on winter planning. 
Walk on the "Wild" side
The Wild Center in Tupper Lake is a dynamo of a museum that seeks to draw people closer to understanding their natural environment. Through immersion in the rich environment of the Adirondacks—there is an indoor fish pond and otter pool, and nature trails all over the 81-acre property—visitors young and old are afforded the chance to ponder their inevitable footprint. Bring the kids to the Wild Walk (pictured), an elevated trail with a spider's web and bird's nest to play in, for an adventure in the treetops!
Take a scenic drive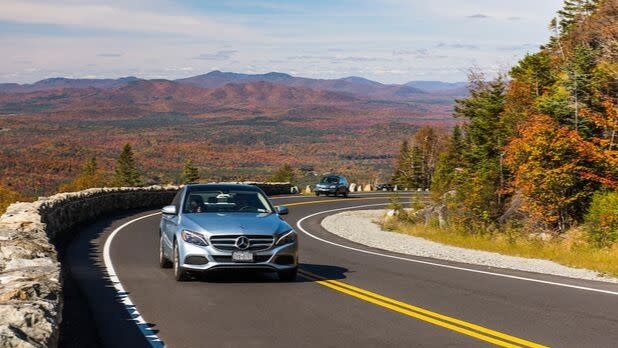 One of the best ways to experience the stunning vistas of this majestic region is to take a spin in the mountains! The Adirondacks offers two incredibly scenic drives: Whiteface Memorial Veteran's Memorial Highway (pictured) is a five-mile toll road with views of the Adirondack High Peaks, open through October 9; and Prospect Mountain Veterans Memorial Highway, a 5.5-mile road with three overlooks and expansive views, is open until Veteran's Day (November 11). 
Note: The Adirondacks region is a place filled with ethereal views, pristine forests, and lively small towns, and it requires responsible tourism to keep it that way. Please consult the DEC's High Peaks Wilderness page for more details on traveling to and adventuring in the 46 High Peaks, even if you're an experienced hiker.
Don't forget to post photos of your New York adventures on Instagram and Twitter with #NYLovesFall and #ILoveNY and tag us on Facebook!