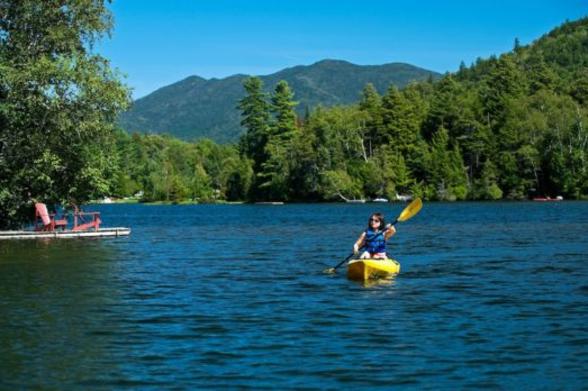 New York is a paddler's paradise like no other! From glacial lakes to Great Lakes, and class IV whitewater rapids to calm creeks, the Empire State's landscapes have it all. Splash into 17 miles of heart-pounding whitewater rapids in the Adirondacks, embark on a jaw-dropping skyline kayak tour of Manhattan, or soak up shimmering sunsets while cruising through the Hudson Valley. Whether you prefer a kayak, canoe, paddleboard, or raft, aquatic adventure is abound. So, water you waiting for? Immerse yourself in New York State's most picturesque places to paddle.
Adirondacks

Lake George
Just outside the grounds of the Sagamore Resort in Bolton Landing, you can paddle your way around some of the 170 islands that dot the "Queen of American Lakes." As you go with the flow you'll see parasailers soaring above, historic steamboats cruising by, and the liveliness of the Sagamore Resort, all surrounded by the alluring Adirondack mountains. Lake George Kayak Co. offers kayak, canoe, and paddleboard rentals, and even provides lessons to first-timers and those looking to up their skills.
Hudson River
30 minutes north of Lake George in North Creek, you can take one of the top ten whitewater rafting trips in America! Join Beaver Brook Outfitters on the Hudson River Gorge for a guided rafting trip through 15 miles of whitewater as you take in spectacular scenery. This full day guided adventure has it all — big rapids, swimming, a picnic lunch, and tons of fun. Beaver Brook Outfitters offers guided day and overnight rafting trips, guided kayak and canoe trips, and rentals so you could build your own adventure.
Mirror Lake
The sparkling water of Mirror Lake beckons from behind Lake Placid's charming downtown buildings, loons float alongside paddlers, and standing on the lake's shore reveals stunning panoramic views of the famous High Peaks. Cruise your way through this 128-acre, one-mile long lake, and see Lake Placid from all angles. Mirror Lake Boat Rental has canoes, kayaks, and paddleboards for rent and even hosts special events like stand-up paddleboard yoga at sunset. 
Capital-Saratoga

Saratoga Lake
Just a few miles south of Saratoga Springs, this 4.5-mile long and 1.5-mile wide lake is perfect for a warm-weather adventure! As you navigate the calm waters you'll enjoy seeing wildlife including various species of birds, turtles, and fish. You can even kayak and dock at a waterfront restaurant nestled on the lake, 550 Waterfront by Druthers. Stop by Kayak Shak to rent a paddleboard, kayak, join one of their paddleboard yoga classes, or rent their unique "hammocraft" which lets you relax in a hammock while floating on the water. 
Grafton Lakes State Park
This serene state park in Grafton includes six ponds and nearly 2,500 acres. Long Pond has a large, sandy beach, volleyball courts, picnic areas, hiking trails, and swimming in the summer. It's also an ideal place to launch a watercraft right from the shore and enjoy the surrounding greenery. You'll often see anglers fishing for rainbow and brown trout right from their boats! Stop by the boathouse on site to rent a kayak, canoe, or rowboat.
Rensselaer Lake/Six Mile Waterworks
Tucked away in a tiny corner of Albany, this 35-acre park is a recreational oasis offering many outdoor activities and a tranquil lake to paddle through. For anglers looking to fish right from their kayaks, Rensselaer Lake is stocked several times each year with fish from the City's Alcove Reservoir, said to be home to some of the biggest fish in the Capital District! This is also a beautiful spot to leaf peep in the fall while wading your way through the water. There are no rentals available so visitors should plan to bring their own vessel.
Catskills

North-South Lake
In the heart of the Catskills near Palenville, this popular lake and campground destination is the biggest and most popular state campground in the Catskill Forest Preserve. Offering extraordinary scenic beauty with access to two lakes, two beaches, picnic areas, volleyball and so much more, paddlers can pack a whole day of fun into one place. Stop by the boathouse on site to rent a kayak, canoe, paddleboard, or rowboat.
Delaware River
In the small hamlet of Barryville situated on the historic Delaware River, you can take a self-guided rafting trip and row along cliffs, beneath bridges, amongst abundant wildlife, and past spectacular rock formations as you take in the breathtaking panoramic views that can only be seen from the water. Whether you're seeking out calm waters or whitewater rapids, this river has it all, and for every level of adventurer! Kittatinny offers rafting, kayaking, and canoeing trips.
Athens (Hudson River)
Set your sights on the shores of the Hudson River! Launch from the riverside town of Athens and take in views of the quaint Catskills towns of Athens and Catskill, all from a guided kayak tour that will give you a rare 360-degree glimpse around the striking Hudson-Athens Lighthouse. Screaming Eagle Outdoor Adventure offers kayak and paddleboard rentals as well as sunrise and sunset guided paddling tours.
Central New York

Otsego Lake
Located within Glimmerglass State Park is the glacially-formed Otsego Lake, which serves as a giant water basin for the village of Cooperstown and the source of the mighty Susquehanna River. Enjoy paddling through nearly 8 miles of clean (and drinkable) water. Kayak, canoe, and paddleboard rentals are available.
Goodyear Lake
Located just minutes south of Cooperstown is a hidden gem of a calm lake, great for hand-launched boating, fishing, and walking trails around the perimeter. Kayak, canoe, and paddleboard rentals are available.
Chautauqua-Allegheny

Chautauqua Lake
Make your way to Mayville and float on one of the highest navigable waters in North America. The 17-mile long Chautauqua Lake is a rower's resort, and you might even get to row alongside the historic Chautauqua Belle as it cruises the lake. Launch from a number of other scenic points along the lake including: Bemus Point, Long Point State Park, and Lucille Ball Memorial Park. Evergreen Outfitters offers kayak and paddleboard rentals, and you can even rent a "monster standup paddleboard" which fits up to six people!
Cattaraugus River
Experience thrills and chills when you raft on the mighty Cattaraugus River, splashing out of the village of Gowanda. As you navigate whitewater rapids on a guided trip with Zoar Valley Rafting, you'll view rugged cliffs hundreds of feet high, waterfalls (both free falling and hidden by old growth stands of oak, hemlock, and tulip), nesting bald eagles and so much more in the remote wilderness! Check out the historic Hollywood Theatre next door after your adventure.
New Albion Lake
Bring your personal watercraft to this beautiful and small lake within the village of Cattaraugus. Ideal for the peaceful paddler, you can launch right from the grassy areas and enjoy tranquil waters and greenery as you soak in the sights and sounds of nature.
Finger Lakes

Green Lakes State Park
15 minutes from downtown Syracuse will land you in a Caribbean-esque oasis. Only at Green Lakes (pictured) can you find water that resembles the cool blue hues of a tropical destination! The 195-foot deep glacial lake was formed during the last Ice Age nearly 15,000 years ago, and the captivating color is attributed to its minerals and salts. Add to the spectacle by renting a crystal kayak, which is a completely transparent vessel allowing for the fullest immersive lake experience. Stop by the boathouse on site to rent a kayak, canoe, rowboat, or crystal kayak.
Seneca Lake
When you float upon Seneca Lake you'll be on the largest of the glacial Finger Lakes and the deepest glacial lake in the state, exceeding 600-feet deep. These characteristics also create the prime environment for grape growing, making Seneca Lake a foundation of the wine industry in the Finger Lakes. After your paddling, roam around neighboring destinations that include the Seneca Lake Wine Trail or the race track at Watkins Glen. Quaint towns and villages line the shores of Seneca Lake, including beautiful Geneva. Seneca Lake Kayak offers various guided kayaking tours including a sunset paddle, tiki bar lunch trip, and a waterfall tour, as well as kayak and paddleboard rentals.
Skaneateles Lake
The sparkling blue-green waters of Skaneateles Lake shine like a gem among the forested ridges of the Finger Lakes region. The sixth largest of the Finger Lakes, this popular spot for paddling is exceptionally beautiful and serene, and has water so pristine it's a source of unfiltered drinking water for the city of Syracuse. Check out Skanmarina for kayak and paddleboard rentals.
Taughannock Falls State Park
Row your way around Taughannock Falls State Park set on Cayuga Lake, where you'll likely hear the park namesake's roaring waterfall in close proximity. Taughannock Falls plunges 215 feet past rocky cliffs that tower nearly 400 feet above the gorge. As you cruise along the longest of the Finger Lakes, you're in prime position to make pit stops along the Cayuga Lake Wine Trail. Paddle-N-More offers guided tours of Cayuga Lake out of three locations, as well as kayak, canoe, and paddleboard rentals.
Greater Niagara

Buffalo River
Learn about Buffalo's historic waterfront as you take a guided or self-guided kayak tour along Canalside on the Buffalo River. Knowledgeable guides will bring you down the endlessly fascinating, and always changing Buffalo River landscape where you will see sleek and new contemporary Buffalo development, amidst a backdrop of century-old historic landmarks including the Buffalo Naval Park and the Explore & More Children's Museum. Join BFLO Habor Kayak for a silo city kayak tour, sunset river tour, silo city sunrise tour, or just rent their kayaks or paddleboards.
Ellicott Creek
Embark on your aquatic adventure at the beautiful Gateway Harbor Park in Tonawanda. From there, you'll hop aboard a kayak and explore the beauty of the Ellicott Creek while you take in views of surrounding small towns and signature sights like the massive iron railroad bridges that cross both the creek and Erie Canal. Waterbike & Boat Adventures rents out kayaks, paddleboards, and also waterbikes, which are hydrobikes that glide along the water with ease and are great for any age and ability!
Niagara River
Take off from Lewiston, right by the epic outdoor entertainment venue Artpark, and paddle with the current on the lower Niagara River as it flows into Lake Ontario. Where else but the Niagara River can you paddle between the border of two countries?! Wave hello to your Canadian neighbors as you enjoy cool blue New York waters and wildlife. Choose your paddling adventure with Niagara Outfitters as they offer an Erie Canal Lock Tour, Lower Niagara River & Nature Walk tour, and kayak, canoe, and paddleboard rentals.
Hudson Valley

Hudson River in Beacon/Cold Spring
The tour options are endless with Hudson River Expeditions! Take a self-guided tour of the majestic highland region of the Hudson River, from Long Dock Park in Beacon, to the charming village of Cold Spring, and on to the Peekskill waterfront. Or leave it to the experts to show you the area waterways with exciting tours including a destination waterfall tour, nature tour, sandy beach tour, twilight tour, fireworks tour, and even a paddle n paint tour! Kayak, canoe, and paddleboard rentals are also available. 
Hudson River in Cornwall-on-Hudson
Head to Cornwall-on-Hudson, just a few minutes from the alluring Storm King Art Center, and embark on a guided kayak tour of the mysterious Bannerman's Castle on Pollepel Island. Your adventure begins under Storm King Mountain before crossing the Hudson River toward the base of Breakneck Ridge on the Eastern bank. You'll then paddle North to Pollepel Island all while your guide shares the fascinating history of the castle built in 1901. This is a truly unique experience to paddle around the island viewing the ruins from the water-level perspective. 
Lake Taghkanic State Park
Nestled in the rolling hills and lush forests of Columbia County, Lake Taghkanic resides in a bustling state park that offers a variety of activities in addition to boating, including: sports fields, picnic areas, playgrounds, and camping. Whether you prefer paddling a rowboat, kayak, or canoe, all are available at the onsite boathouse to take out on the calm 1.5-mile long lake. 
Long Island

Credit: @fullcircleshirt on Instagram
Baldwin Bay
Explore Freeport's calm bays off of Long Island and step ashore the pristine white sand beaches. Launch from Waterfront Park and make your way into Baldwin Bay and the many canals and creeks nearby. You'll see at least a dozen different species of birds flying about, running along the beaches and diving into the water. Under the water you'll have an up-close view of fish darting about, jellyfish, crabs, and beautiful clam shells to keep as souvenirs. Freeport Kayak Rentals has kayaks and paddleboards available to rent and offers eco tours, full moon paddle tours, and paddle and pub tours!
North Sea Harbor
Breathe in the salt air of the luxurious Hamptons and listen to the waves of the ocean as you cruise the natural wonders of the waters around Long Island's east end. Between North Sea Harbor, Davis Creek, and Little Peconic Bay, you'll get the full aquatic experience while also enjoying the sights and sounds of all kinds of water-based wildlife. Customize a guided paddling experience with East End Explorer that could include an adventure paddle, food delivery, and beach bonfire! Or book their eco-experience kayak excursion which includes fishing, digging for clams, crabs, and beach combing. Or go your own way on a self-guided tour with one of their kayak or paddleboard rentals.
Oyster Bay
Traverse the protected waters of the Oyster Bay National Wildlife Refuge on the North Shore by watercraft! As you float upon the calm waters of the bay, you'll enjoy observing high quality marine habitats that support a variety of aquatic-dependent wildlife. The refuge's waters and marshes surround Sagamore Hill National Historic Site, home of Theodore Roosevelt. The WaterFront Center rents out kayaks, paddleboards, and a giant 17-foot paddleboard called "The Mothership'' which fits up to six people. 
NYC

Credit: @hudsonriverpark on Instagram
Hudson River in Manhattan
Experience the beautiful skyline of Manhattan by water! Tour guides at Manhattan Kayak Co lead you into the Hudson River for stunning panoramas of the famous skyscrapers and architecture. More of a night owl? When the sun goes down you can take a night kayak tour where you'll ride LED glow light kayaks along Manhattan's skyline during sunset, twilight, or after dark. As you paddle along the shore you'll even get a unique and close-up view of the Intrepid Sea, Air & Space Museum. New York City also boasts the world's largest free kayaking program! Head down to Pier 26 for select free kayaking days with the Downtown Boathouse. Rent a kayak or paddleboard with Manhattan Kayak Co.
Lower and Upper Bay
Launching from two sites out of Staten Island (one at the South Shore and one at the North Shore) you can simply walk-up and kayak for free or at minimal cost on New York's Lower and Upper Bays. The South Shore launch site is free and first-come, first-served and you'll enjoy a smooth cruise along the bay. The North Shore site offers low-cost guided tours and rows along an unfinished urban shoreline, resulting in choppier and more dynamic water.
Hudson River in Brooklyn Bridge Park
Explore the East River Estuary and glide across the water by kayak for free with an amazing view of lower Manhattan and the NYC harbor! The Brooklyn Bridge Park Conservancy and Brooklyn Bridge Park Boathouse partner to offer free kayaking opportunities each summer, launching off of Pier 4 Beach.
Thousand Islands-Seaway

Oneida Lake
In the charming lakeside village of Cleveland, you can paddle the largest lake entirely within New York State, Oneida Lake. Roughly 21 miles long, 5 miles wide, and only 20-feet deep, the lake water is pleasantly warm in the summer and perfect for dipping your feet in as you cruise through the blue. Boat Oneida has kayak, canoe, and paddleboard rentals available.
St Lawrence River
Launch from the riverside hamlet of Chippewa Bay and explore the Thousand Islands the way it was meant to be experienced– by water. Paddling this beautiful stretch of river will offer you island views of Cedar Island State Park, castle views of the iconic Scottish-inspired Singer Castle, miles of scenic shoreline, cottages, secluded coves, creeks, and bays. Riverbay offers a guided kayak tour where you'll navigate the islands, learn local history, and see the diverse ecosystem up close! They also offer kayak, canoe, and paddleboard rentals.
Black River
Head to Watertown just past the wildlife wonder of Zoo New York, and take a thrilling guided raft tour with ARO Adventures of class IV rapids on the Black River in the Thousand Islands! Go with the flow of roaring waters released from dams high in the Adirondack Mountains that surge into the Black River Gorge, plunging over ledges and boulders along the way. The narrow gorge constricts the water increasing its velocity and magnifying the excitement.