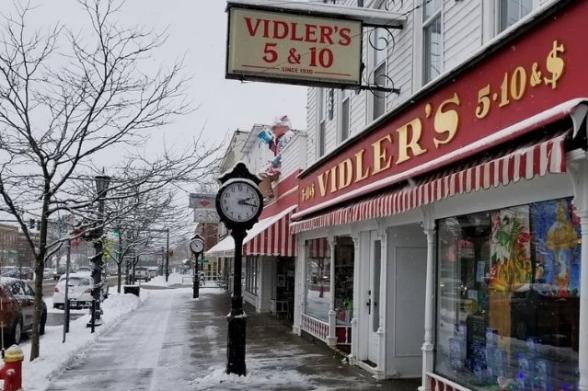 The holiday season is here! The festive lights are glowing, the hot chocolate is flowing, and in between this magical atmosphere, people across the state are scratching their heads trying to think of that special gift to give to a special someone in their lives. If you've exhausted all your latest creative ideas and shopping lists, you're in luck! -- because we've done the hard work for you. All throughout New York State you'll find a seemingly endless amount of unique gifts and shopping experiences you won't find anywhere else. Plan a trip to visit these stores the next time you're in town. 
Masks are encouraged, but optional in most settings per New York State guidelines. Individual businesses or attractions may require mask wearing. Call ahead and check websites and social media to make sure attractions and amenities are open and available.
Originally published 11/16/2021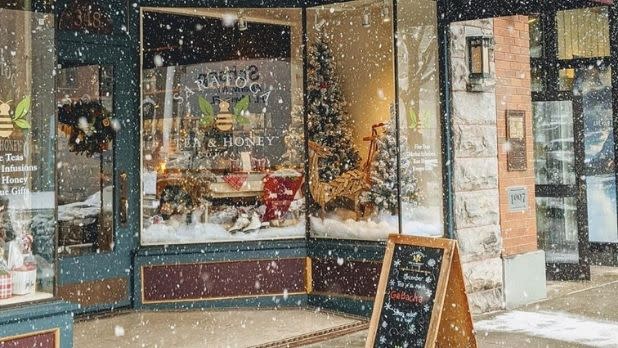 For small-town charm with world-class taste, Saratoga Springs checks the boxes. Discover the Shangri-La for tea lovers at Saratoga Tea and Honey Company, and immerse yourself in their wide collections of loose-leaf teas and honeys produced both locally and around the world. Sourced from far and wide, and curated by a team of tea experts, the store offers samples of organic and fine tea and a series of mono-floral and infused honeys. Shop organic tea, specialty tisanes, honey, gifts, teaware, and more, or take a seat at the Tea Bar and learn about brewing techniques, or order a cup to stay or to-go.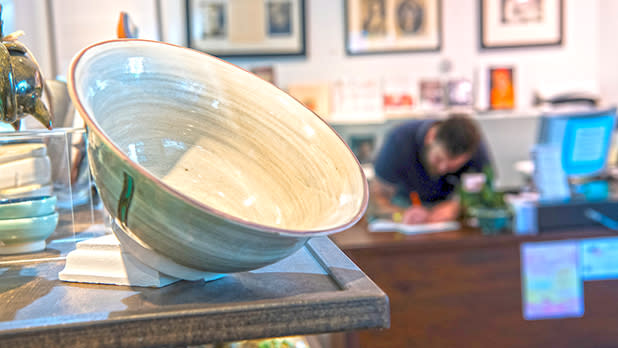 History and art meet at The Byrdcliffe Art Colony in Woodstock -- the oldest continuing arts and crafts colony in the United States. Founded in 1902, the craft community is an oasis of wooded acres, historic buildings and mountain views, drawing artists of all disciplines from all over the world. Alongside housing an artist-in-residence program, the Woodstock Byrdcliffe Guild offers walking tours, classes, and workshops in ceramics, jewelry making, dance and more. Stop in at the Byrdcliffe Shop and browse through work for sale from local ceramic artists, jewelry designers, textile designers, woodworkers, metalworkers, glass blowers, and visual artists.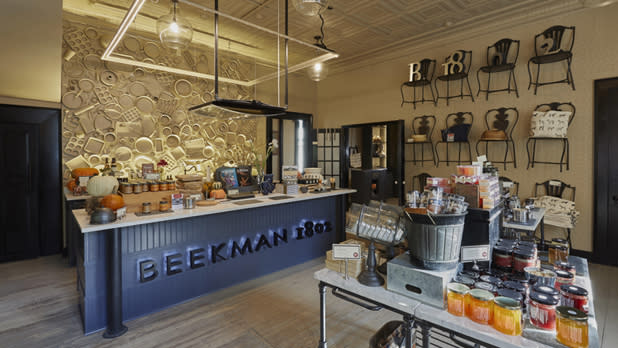 Credit: Ayesha Thomas
A rare gem nestled in the heart of Sharon Springs, Beekman 1802 Mercantile is home to beautifully designed and elegantly curated beauty products and artisan goods. Within the walls of its rural flagship store, you'll find your every skincare need, as well as locally-sourced crafts and gourmet foods from over 300 artisans within the community. Throughout the year you can find an assortment of farm-inspired bath, beauty and skincare gift sets and holiday deals.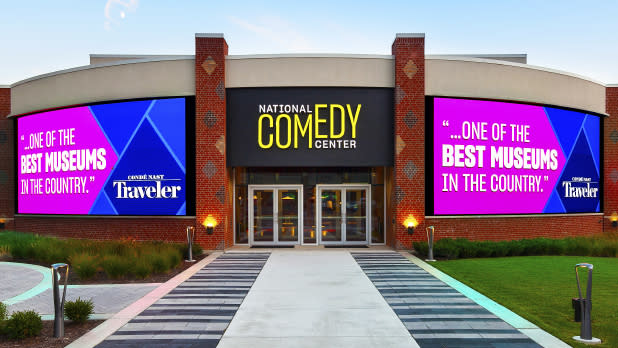 Credit: Jay Rosenblatt
With great museums, come great gift shops. And that is what you'll find at the National Comedy Center in Jamestown. With more than 50 immersive and interactive exhibits, including the Comedy Karaoke, Make a Meme, Hologram Theatre, and Stand-Up Lounge, you can shop for quirky gifts, apparel, and souvenirs from all of your favorite TV shows and legendary comedy icons. As the home of comedy legend Lucille Ball, you'll also find an extensive collection of I Love Lucy collectibles, apparel, gifts, and more!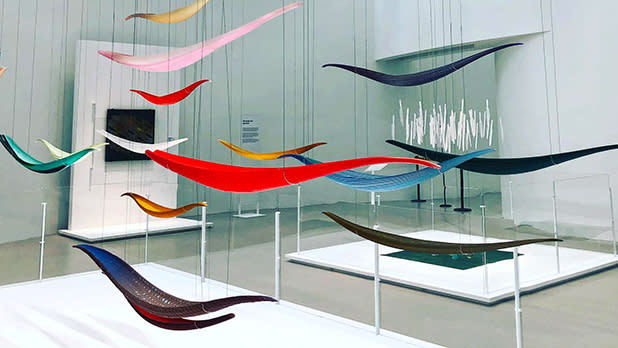 Credit @krmusician on Instagram
As the largest space dedicated to displaying contemporary art and design in glass, The Corning Museum of Glass will blow you away. After viewing its collection of modern and historical glass spanning 3,500 years, and seeing live hot glassmaking demonstrations, the museum's store displays thousands of items of decor, jewelry, gifts, and more. If you're looking for a unique one-of-a-kind gift, sign up for a Make Your Own Glass experience, where you can work with the museum's professional glassmakers to create your very own sculpture or ornament, or try your hand at fusing or sandblasting your own designs.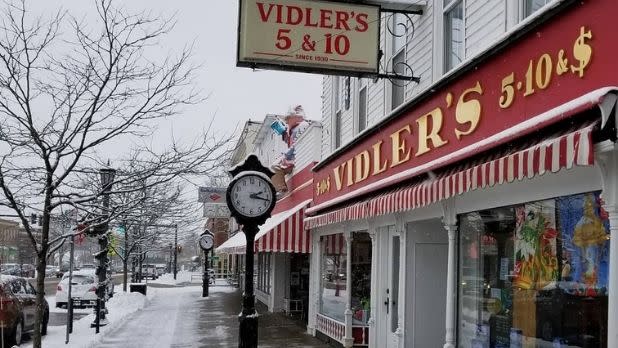 Credit @vidlers_5and10 on Instagram
History, nostalgia, and lots of fun - you can find it all at Vidler's, the largest variety store in the world for over 90 years. Take a stroll back in time as you wander through 75,000 items spread out over two floors in four connected buildings. From their old-fashioned candy counter to their 10-cent popcorn machine, Vidler's is as much an architectural delight as a unique shopping experience. With homewares, toys, vintage collectibles, candy, craft supplies, and more, you'll be sure to find what you're looking for.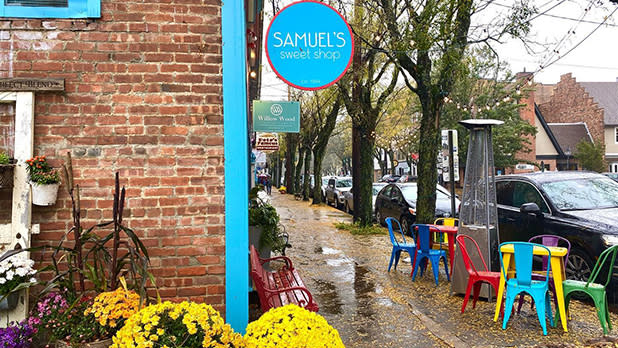 Nestled in the heart of Dutchess County in scenic Hudson Valley lies the charming historic town of Rhinebeck. Home to over 400 registered historic landmarks, the town often feels like a living history museum. Stroll along its tree-lined streets in the center of town and explore its quaint shops, art, food and history. Snack on new and vintage candy in local institution Samuel's Sweet Shop (pictured), or go to book heaven at Oblong Books & Music. Or simply walk the downtown area and view the collective facades of preserved buildings that seem frozen in time, along with beautiful views of the Catskills and Hudson River. Make sure you check out Rhinebeck's array of craft, antique, wine and food, and agricultural festivals, held at various times throughout the year.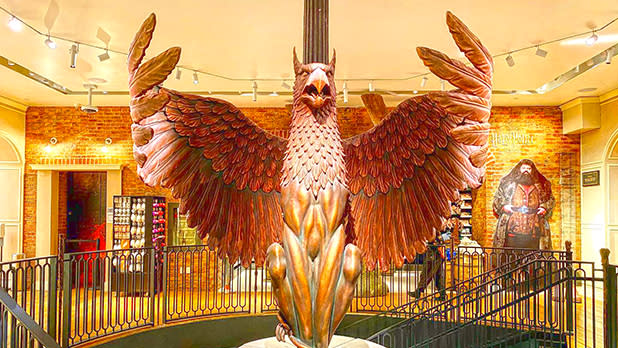 Credit @vemprany on Instagram
For a uniquely magical shopping experience, take a trip to the Harry Potter Store behind the Flatiron Building in New York City. Home to the largest collection of Harry Potter and Fantastic Beasts merchandise and exclusive products in the world, the Harry Potter Store sells everything you could imagine, from apparel to wands, confectionery, games, books, and more. A visual spectacle across two floors, you'll find a candy store, London phone boxes, and a giant phoenix centered around a staircase that descends into a dark arts-themed basement. Don't forget to stop by the Butterbeer Bar for a foaming cup of the popular wizarding drink, or butterbeer-flavored ice cream!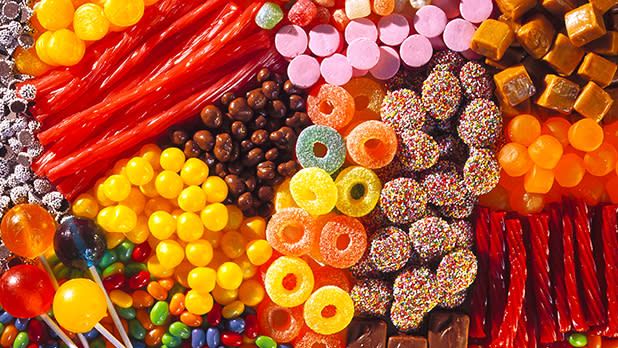 With thousands of unique and fun candies, over 500 soda pops, gag gifts, toys, and nostalgia candy, and taffy in every imaginable flavor (such as "birthday cake", "mimosa", and "horchata"), Rocket Fizz Soda Pop and Candy Store is the Willy Wonka of Long Island. The ultimate destination for all your sugar needs, the store is home to a constantly revolving inventory, where you'll find a wide range of nostalgic candy and important treats. If you've ever wondered what a Japanese Kit Kat, martian soda, or Duff energy drink tastes like, you can find the answers here.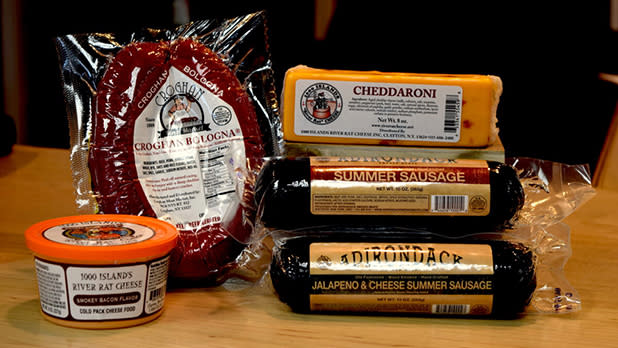 Credit: River Rat Cheese Website
The flagship brand of Gold Cup Farms, Inc, 1000 Islands River Rat Cheese is a family-owned business with a wide selection of internationally-renowned cheddars. Aged to perfection in a controlled environment, their carefully selected New York cheddars result in a sharp and tangy finish. Situated along the St Lawrence River, you'll find an array of aged and flavored cheddars, specialty cheese spreads, mustards, pure New York State maple syrups, and more. You can buy a selection of your favorite cheeses, or gift packages of curated cheeses and artisan goods specially curated by the famous "River Rat" cheese experts.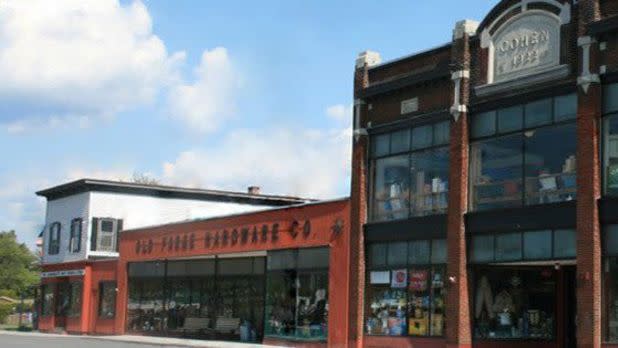 Those seeking a slice of the Adirondack way of life will delight in browsing through the many rooms and shops available at the Old Forge Hardware store. Located in the small hamlet of Old Forge, the family-run business was established in 1900 and is a shopper's paradise among locals and visitors from all across the world. Self-described as "The Adirondacks' Most General Store", Old Forge Hardware sells everything from everyday essentials to homewares, furniture, textiles, books, arts and crafts supplies, outdoor equipment, and more. Whether you're traveling for serenity or adventure, be sure to stop by the village and browse the shelves of this historic landmark among the mountains. 
---
Share your New York State adventures with us on Instagram and Twitter with #ISpyNY and tag us on Facebook!