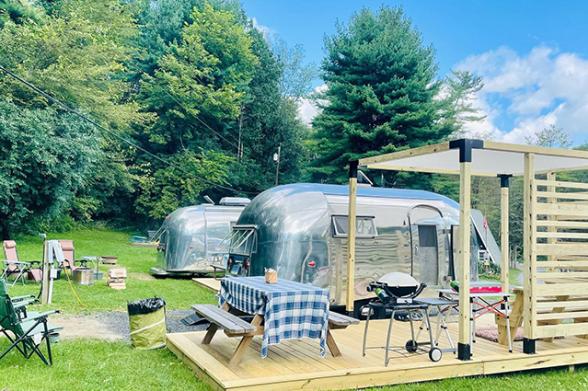 If you miss the days of paper road maps and cassette tapes, New York has plenty of activities and experiences to add a vintage vibe to your next vacation. Get groovy at a roller disco, take a thrill ride on a historic wooden coaster, or catch a movie by trading your living room couch for a car. Travel back to the good old days and add a dash of nostalgia to your next New York adventure with a perfect throwback that fits your style.
Masks are encouraged, but optional in most settings per New York State guidelines. Individual businesses or attractions may require mask wearing. Call ahead and check websites and social media to make sure attractions and amenities are open and available.
Updated 04/26/2023
Ready, Set, Skate! (NYC)
Get ready to roll because roller rinks are making a serious comeback. New York City has plenty of places to lace up from Flipper's Roller Boogie Palace at the Rink at Rockefeller Center — the reincarnation of a legendary West Hollywood roller disco, to The Standard hotel and Pier 2 at Brooklyn Bridge Park. A trip to Cohoes in the Capital-Saratoga region will bring you to Guptill's Roller Skating Arena — recognized by the Guinness Book of World Records as the largest indoor roller skating rink. The family business has been in operation for 71 years and also has some of the best ice cream around.
Take a Ride on a Historic Wooden Roller Coaster (Various Regions)

Credit: @ianbeers on Instagram
Wooden roller coasters have been delighting generations of thrill seekers for more than a century and New York is home to some of the most historic rides in the country, and the world. The Jack Rabbit at Seabreeze Amusement Park in Rochester was built in 1920 and is the oldest continuously operating roller coaster in America. With 2,150 feet of track, seven dips, and a 75-foot drop, this iconic coaster continues to thrill 102 years later. Perhaps the most famous wooden coaster is the Coney Island Cyclone in Brooklyn, which opened in 1927. Sweeping views of the Atlantic Ocean and bustling beach before descending on the coaster's heart-racing 85-foot drop are hard to beat. The Dragon Coaster in Rye Playland is sort of a celebrity, being featured in the films Fatal Attraction and Big, as well as Mariah Carey's music video for "Fantasy." The ride takes you along 3,400 feet of track and at one point sends you through the mouth of the dragon down a tunnel into the belly of the beast. Rye Playland itself is a National Historic Landmark featuring other vintage, one-of-a-kind attractions like the Ye Old Mill dark boat ride and Derby Racer carousel, both of which debuted in the late 1920s.
Visit an Old School Ice Cream Parlor (Finger Lakes)
Ah, Ithaca. The land of waterfalls and the birthplace of the ice cream sundae? According to legend, the first ice cream sundae was created in downtown Ithaca in 1892. In fact, a plaque on State Street commemorates the site where the treat was said to have been invented at Platt & Colt's Pharmacy. The pharmacy may be gone, but that doesn't mean you can't get your fill of ice cream here. From a giant red and white striped awning to a 1950s style black and white tile floor to its classic chrome ceiling fans, Purity Ice Cream, which opened in 1936, serves up old school vibes with every scoop. Visitors can indulge in dozens of ice cream flavors including chocolate chip cookie dough and green tea, and pick up some delectable cupcakes and pies cooked up from-scratch at its bakery. There's also a kitchen serving up all the hits like burgers and fries, and of course, milkshakes.
Catch a Drive-In Movie (Various Regions)
Drive-in movies are the perfect setting for a night out with friends, a family outing, and a memorable date. The family-owned Overlook Drive-In Theatre in Poughkeepsie is home to the largest outdoor film screen in the Tri-State area, standing as tall as a six-story building, and has been delighting movie going crowds since 1955. In Amenia, the Four Brothers Drive-In Theater hosts two family-friendly films nightly and has a car hop delivery service, mini golf, pergola with a fire pit that can be booked for private parties, playground, and arcade. Finger Lakes Drive-In, in Auburn, is New York's oldest operating drive-in theater, and in Brooklyn, you can take in a flick and stunning views of the Manhattan skyline at Skyline Drive-In. Don't have a car? Fear not, outdoor seats are available for those who show up on foot, by bike, or scooter. With New York boasting the most drive-in movie theater screens in the country, there are plenty more to discover throughout the state.
Take a Steamboat Tour (Various Regions)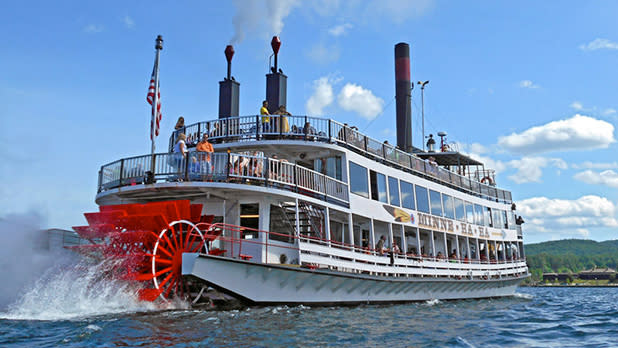 Go way back in time and explore some of New York's most stunning waterways with a relaxing cruise aboard a historic steamboat. While steamboats reigned the waterways in both trade and travel throughout the 1800s, now there are just five major commercial steamboats left in the United States — two of which are in New York. Take in sweeping views of the Adirondack Mountains from the water with Lake George Steamboat Cruises, in operation for more than 200 years. The beautiful Minnie-Ha-Ha with its bright red paddle wheel, three steam whistles, and 30-foot stack sets sail on daily one-hour cruises through September and lets riders imagine the way people traveled Lake George a century ago. Summer evenings on Thursdays and Fridays, the Minnie-Ha-Ha plays host to a one-hour Pirate Adventure Cruise, complete with a treasure quest and goodie bags for the kids. New York's other treasured steamboat is the Chautauqua Belle. Visitors can learn all about the history of Chautauqua on daily narrated tours or take a cruise to enjoy evening cocktails, fireworks, and fall foliage.
Camp in an Airstream (Catskills)
Unplug and unwind in the Catskills on a retro-style camping trip with a stay in a classic polished aluminum Airstream. The Treetopia Campground in Athens has two options to choose from. The 200 square foot 2020 Airstream Bambi has one double bed and one twin bed, as well as a full bath and kitchen. The spread is complete with an outdoor picnic table and a fire ring, perfect for roasting marshmallows for s'mores. Opt for the more spacious jumbo Airstream experience, which has a separate master bedroom with a queen-size bed, and you'll get to enjoy a private deck with a grill station, bar seating, and an exposed section perfect for sunbathing. The campground also offers luxury family cottages, RV camping, glamping canvas tents, and traditional pitch-your-own tenting. The location is perfect for a fun summer getaway with plenty of activities and attractions nearby including Zoom Flume Waterpark, the Olana State Historic Site, and Hudson River Cruises.

Credit: @madwarsh on Instagram
American Girl Place New York in Rockefeller Center is a treat for the whole family. Immerse yourself in true '90s nostalgia and reconnect with Samantha, Molly, and Addy, or make new friends over tea at the American Girl Cafe. Bring your own American Girl doll, or borrow one, to join you at the table for tea. Yes, the doll gets to sit in a personal high chair, and also is supplied with a placemat, napkin, plate, and cup. The cafe's black and white decor with floral prints and hot pink accents makes for a classy (and picture-worthy!) setting as you eat your way through a spread of dainty finger foods and mini desserts that of course include their famous cinnamon buns. The cafe is also available for brunch and dinner in case you need to recharge after taking your American Girl doll for a salon treatment or a check up at the in-store doll hospital. Private rooms are also available for epic birthday parties.
Antiquing Near the Hudson River (Hudson Valley)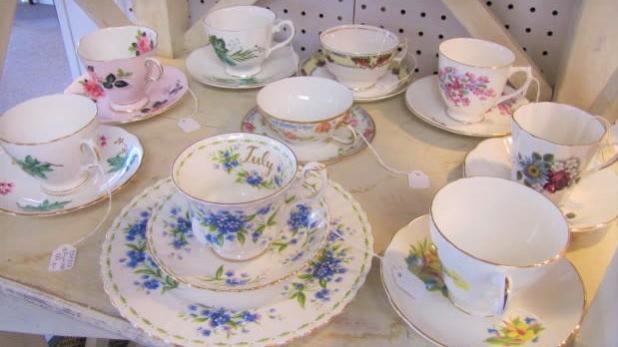 The Hudson Valley is the premiere retreat for treasure hunters who want to bring a unique vintage souvenir home. The Beekman Arms Antique Market, housed in a historic two-story barn, and Rhinebeck Antique Emporium, both in Rhinebeck, are a must-visit for those fancying a bit of antique shopping. About 40 minutes north, the city of Hudson beams with over 50 antique dealers on its grand boulevard of Warren Street and near the waterfront. Nearly four decades ago, antique dealers fled to Hudson in droves, cementing the city as one of the top destinations to score some timeless wares.
Eat Up at an Old School Diner (Various Regions)

Credit: @nhkueny on Instagram
While there's no debating that New York has some of the greatest cuisine in the world, sometimes nothing beats the meal you score at a classic diner. Crazy Otto's Empire in Herkimer is housed in a 1952 silver Mountainview train car and has upheld many of its original features. In addition to serving up two award-winning burgers, Crazy Otto's also holds the title for World's Largest Omelet, as recognized by Ripley's! Believe It or Not. The owners created an omelet spanning 2,128.75 square feet and containing 41,040 eggs. Saddle up to the counter at Swan Street Diner in Greater Niagara for a tasty breakfast taco or comforting turkey club lunch. You'll feel like you've traveled back in time as you fill up in this fully restored 1937 diner car with mahogany trim, barrel vaulted ceiling, and walls made of porcelain enamel. The cushioned red bar stools and wood trim are both original. You know the Hudson Valley's Eveready Diner, which has locations in Brewster and Hyde Park, is legit, having won mention in the travel series Diners, Drive-ins and Dives. The jukebox and soda fountain treats like Brooklyn Egg Cream and old fashioned root beer floats complete the 1950s vibe and will be sure to take you down memory lane.
Make Memories at a Vintage Amusement Park (Various Regions)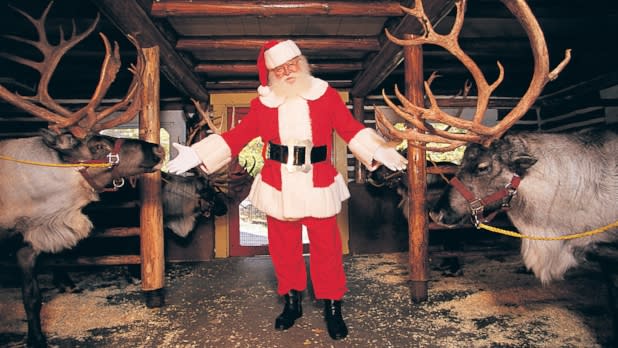 Nostalgia abounds at these vintage theme parks. It's no surprise that in North Pole, NY it's Christmastime all year long at Santa's Workshop. This magical theme park has been a family attraction since opening in 1949. Visit with Santa and Mrs. Claus to personally hand over your wish list before feeding Rudolph and all the other reindeer in the barn. Ride carousels and mini coasters, explore Santa's Toy Shop, hop aboard the steam train, and attend special events like Breakfast with Santa. The historic Sylvan Beach Amusement Park, located on the shores of Oneida Lake, is the definition of a retro amusement park. Spend the day riding bumper cars, playing mini golf, and trying out vintage rides like the steel Galaxi Coaster and the 1950s-era Laffland dark ride, known for its signature pretzel carts. Midway State Park, in operation since 1898 on the shores of Chautauqua Lake, also has plenty of old school charm with its vintage kiddie rides and carousel, arcade games, mini golf, go-karts and more.
Unique Mini Golf Experiences in Lake George (Adirondacks)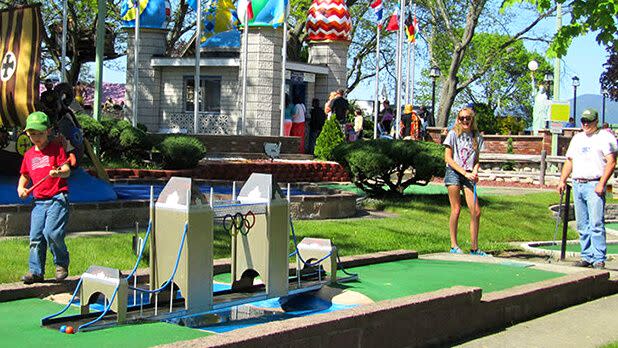 Is there anything better than a round of mini golf on a beautiful summer day in New York? In lovely Lake George, you can travel the globe and across the U.S. in 18 holes at Around the World Mini Golf. Inspired by designer Harry Horn's world travels and souvenirs, this quirky course features a giant sombrero, towering Paul Bunyan, life-sized lobster, massive beer stein, replica NYC subway train, and landmarks like the Taj Mahal. Goony Golf takes you on a storybook adventure with its vintage fantasy theme. The course is dotted with all types of statues from Humpty Dumpty to Black Beard steering a 30-foot pirate ship to a T-Rex that challenges you to putt the ball between its legs.
Retro Stores for Nostalgic Shopping Sprees (Various Regions)
Remember the old Five & Dime general stores of yore? Well, Vidler's 5&10, located in Aurora, is known for being the world's largest variety store for over 90 years. You can easily spend hours exploring the 75,000 items for sale spread out across four buildings on two levels. You'll find everything you could possibly need and then some at this signature five and dime – from kitchenware to specialty foods to fabric and yarns. Stop by the original candy counter where you can find vintage treats like Mallo Cups, Turkish Taffy, wax bottles, and rock candy, or discover classic toys like yo-yo's, slide whistles, rubber bugs, paper dolls, and jack-in-the-boxes. Old Forge Hardware has been in business in the Adirondacks since 1900. Browsers and shoppers alike will delight in "The Adirondacks' Most General Store" as they comb through camping and fishing supplies, tools, books, clothes, gourmet food, yarn, holiday decor, furniture, and Adirondack-themed gifts. The fun doesn't stop there; discover more unique shopping experiences in New York State.
Discover Museums Frozen in Time (Various Regions)
The William Phelps General Store Museum, located in Palmyra, is where time appears to have stood still. Constructed in 1826, the building served as a boarding house, tavern, bakery, and lastly, a general store. Once the doors closed in 1940, the general store sat and was preserved in all its glory, becoming the museum we now know today with all the original items still stocked on its shelves. It's part of a larger complex that also features a print shop museum, the Erie Canal Depot, the Palmyra Historical Museum, and a museum that holds the largest collection of American hand woven coverlets.
Celebrate all things JELL-O at the birthplace of "America's Most Famous Dessert." The jiggly treat was invented in Genesee County in 1897 and the JELL-O Gallery explores its history through ads, TV commercials, molds, paintings, collector's items, and even JELL-O Fun Barbie dolls. Pop by the gift shop to find unique JELL-O themed goods from t-shirts to books to molds.
The Herschell Carrousel Factory Museum (pictured) and the fully-operational 1916 carousel housed on-site are both on the National Register of Historic Places. Theme park enthusiasts will love exploring the history and science of the amusement industry at this museum, which is housed in the original 19th century factory building where some of the most intricately made carousels were created. See the Carving Floor where the hand-crafted wooden carousel animals came to life and get a glimpse of a still-operational Wurlitzer Music Roll machine, the only such equipment of its type on public display in the U.S. Also on display are 1,600 hand-punched music rolls dating back to the turn of the 20th century. Music rolls are also produced on site and available for purchase. 
---
Don't forget to post photos of your New York adventures on Instagram and Twitter with #iSpyNY and tag us on Facebook!