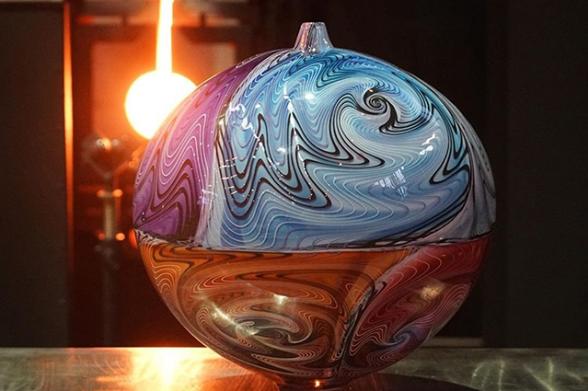 Updated: 1/27/2023
Get creative this Valentine's Day and find the perfect gift to show a loved one how much you care about them with help from New York State! Below are ideas for gifts to ship and unique online experiences to send a Valentine's Day message to that special someone in your life, with love from New York!

Credit: Anna Pakman
Here's one Zoom call your Valentine won't mind logging into. The Bronx Zoo is offering a unique opportunity to get up close, virtually, to wild animals, including some of the stars of Animal Planet's hit show The Zoo! Bronx Zoo Virtual Wild Encounters include one-on-one time with sloths, camels, porcupines, penguins, and other intriguing creatures, as well as chats with keepers who can answer any questions about the animals. The encounters last 15 minutes and proceeds help support the Bronx Zoo and its beloved residents. Prices can range from $80-$150 per session for a private group.
The Corning Museum of Glass is a magnificent institution that showcases glassmaking history going back millennia to the present day. The museum's online shop is also impressive, offering a range of gifts for every budget, including many items perfect for Valentine's Day gift-giving. You'll find traditional gifts like jewelry and home decor items but for a unique option, try a piece of original glass art from the dozens of artists featured in the shop. The beautiful works range from inexpensive yet colorful keepsakes to breathtaking sculptures from top artists in the field. Prices vary.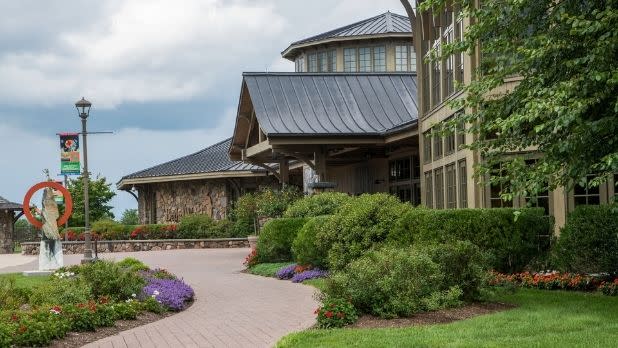 One of the hallmarks of the original Woodstock music and arts festival in 1969 was the spirit of peace and love evident throughout the landmark three-day event. Celebrate this spirit, and the Woodstock Festival, with a beautiful "LOVE" silver necklace with crystal dangle charms from the Bethel Woods Center for the Arts, a perfect sentiment to express for the romantic day. $24.95.

Credit: Courtesy of Lucille Ball Desi Arnaz Museum
Tickle your Valentine's funny bone with mirthful heart-adored apparel from Jamestown's Lucille Ball Desi Arnaz Museum. You'll find a wide assortment of humorous tees, crewnecks, hoodies, sweatshirts. and more featuring the iconic I Love Lucy heart logo and your favorite characters. For the Ricky in your life, they've got you covered with Ricky Ricardo's Club Babalu Mens Button-Up Shirt. For more comedy-themed gifts from the area, also take a virtual shopping trip to the National Comedy Center shop. Prices vary.
Design the perfect Valentine's gift for your beloved with gifts inspired by renowned architect Frank Lloyd Wright's iconic Martin House. The many beautiful items from which to choose include candles, jewelry, apparel, books, home decor, and games and puzzles. Gift prices vary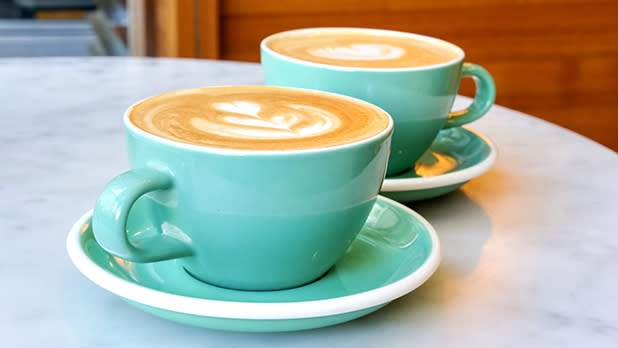 If your Valentine is a lover of great coffee, treat them to some of the best java they've ever had with a coffee subscription from North Fork Roasting Co. The Coffee Geek subscription features two 12-ounce bags (1 single origin and 1 blend) delivered every two weeks to your door for three months! Coffee Geek Subscription $190.

Credit: @nybg on Instagram
For a red heart to send to your special green thumb, the Brooklyn Botanic Garden is offering online classes for the horticulturally minded. Upcoming sessions include Winter Tree Identification, Introduction to Scientific Botanical Watercolors, Great Native Plants for Containers, Color and Saturation: Watercoloring Spring Blooms Far Away and Close-up, and more. At the New York Botanical Garden in the Bronx, online classes range from gardening to botanical art and illustration to horticulture. In other words, everyone from botany lovers to botanical artists and illustrators will find exciting learning options, making this a gift that keeps on giving. Prices vary.
One of New York's best-curated lifestyle boutiques, located down a winding road in the quaint small town of Sharon Springs, is Beekman 1802 Kindness Shop. Founders Josh Kilmer-Purcell and Dr. Brent Ridge moved to the area, bought the Beekman Farm, and took in a farmer and his 100 goats in an inspiring act of kindness that changed all their lives. Producing goat milk products, the Beekman 1802 skincare line has grown over the years, and now features every sort of beauty product—moisturizers, serums, lotions, and more—to ship and gift to your Valentine. Prices vary.
Does your significant other love working in the kitchen? Help them up their game with a subscription to online cooking courses from the school known for training esteemed chefs around the globe, the Culinary Institute of America. The DISH package is an affordable culinary school education, with access to technique and how-to videos, recipes, weekday recipe planning, and more. $4/month (annual plan) or $7/month (monthly plan)
Is your Valentine a horse racing fan? Say "Happy Valentine's Day" and share your love for the sport and Saratoga Race Course with these fun and functional stemless wine glasses with unique, hand-sandblasted Saratoga horse logos. Use them while planning your next experience or virtual event in the city! $17.

Credit: Courtesy of Thousand Islands River Rat Cheese
The bustling cheese shop in the heart of the charming village of Clayton offers gift baskets for shipping, a great option for a Valentine who appreciates cheddar, curds, and spicy cheese spreads. River Rat has gift baskets not only for cheese fanatics but for meat lovers (featuring cured and smoked meats), breakfast lovers (pancake/waffle mix, syrup, and coffee), and maple lovers (featuring maple coffee, syrup, taffy, and more). All products are sourced as locally as possible. Prices range from $13.95-$74.95.
More gift guides and Valentine's Day ideas from New York State:
Order Classic New York Foods Online | Create a New York Date Night at Home | Mother's Day Gift Guide |
Father's Day Gift Guide | Holiday Gift Guide