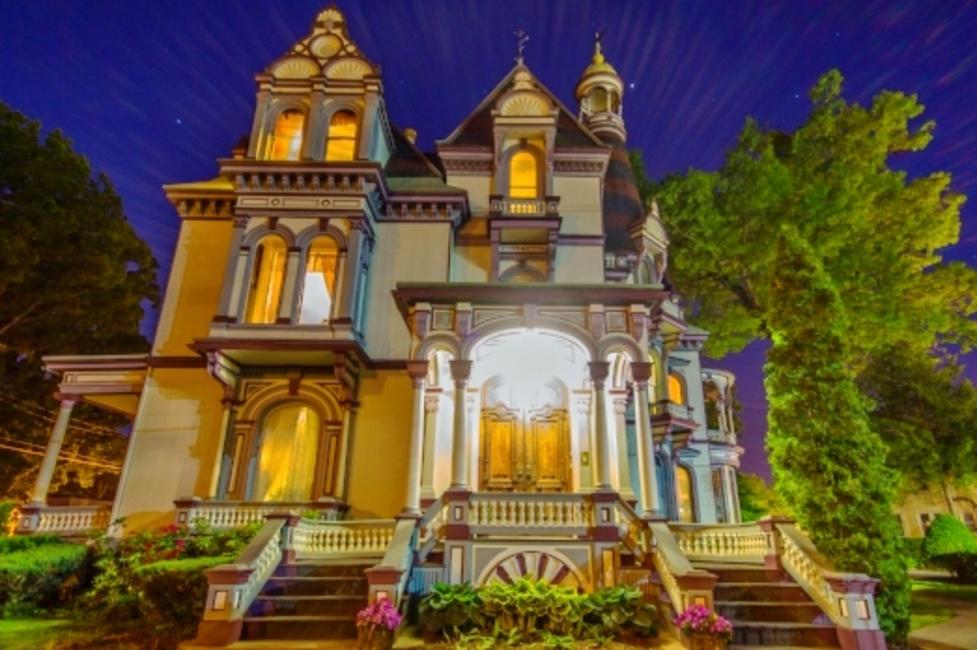 If you're the type who starts a Halloween countdown the second you feel a cool autumn breeze, you're going to want to make your holiday plans in New York State. From the seriously scary haunted houses to Jack O'Lantern wonderlands, choose the right level of fright for you (none at all is an option!). Read on and find something fun that will get you into the holiday spirit—no tricks, all treats!
1. New York has horrifically exciting haunted houses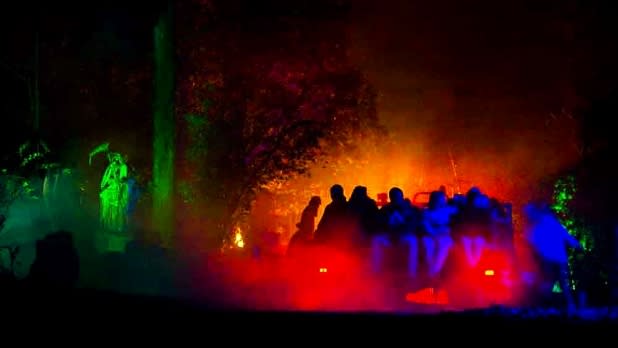 If you're a person who enjoys being frightened, we know just where to go. Head to the 65-acre Headless Horseman Hayrides and Haunted Houses in the Hudson Valley and put your scare tolerance to the test. Explore six different haunted houses, each with its own backstory and unique characters, such as a motel, a slaughterhouse/diner (good luck enjoying your next burger), and a tomb. You can also take a haunted hayride, try to survive the mile-long corn maze (also haunted, of course), and enjoy a totally creepy circus sideshow. Normally, these attractions are no place for kids but on the Saturdays of October 12 and 26, the manor holds Children's Day with only "a tiny taste of terror." The day includes hayrides in broad daylight, games, face painting, and entertainment.
2. New York is packed with history—and lots of ghosts

Credit: Haunted History Trail
What's one of the best parts of being a really, really old state? All the ghosts we've accumulated over time! Okay, that's a bit macabre, but New York is basically heaven for anyone who loves history, ghosts, and historical ghosts. You can take advantage of that thanks to the Haunted History Trail of New York State. More than 65 different locations and events, each creepier than the next, are awaiting your discovery. Check out ghost hunts, cemetery tours, haunted hotels, and more. You can research the background of all the participating locations on the website, just remember to plan ahead. Certain events book up faster than you can say boo!
3. New Yorkers get really creative with their Jack O' Lanterns
Halloween has a funny way of bringing out people's creativity, and not just in their costumes! For the eighth year running, the Old Westbury Gardens in Long Island is transformed for its RISE of the Jack O' Lantern event, with 5,000 uniquely carved and illuminated pumpkins. You'll see hyper-detailed portraits, carved pumpkins that weigh more than 100 lbs, and even entire structures, such as a fire truck, a skeleton biker gang, and a 40-foot-long dragon. A musical score plays as you walk through the sculptures, and they'll have baked goods from local bakeries and hot apple cider to sweeten the deal. And get this—those 5,000 pumpkins? They're carved fresh every single weekend! That's a total of 20,000 jack o'lanterns after the month is over!
4. New York pumpkins make the perfect blank canvas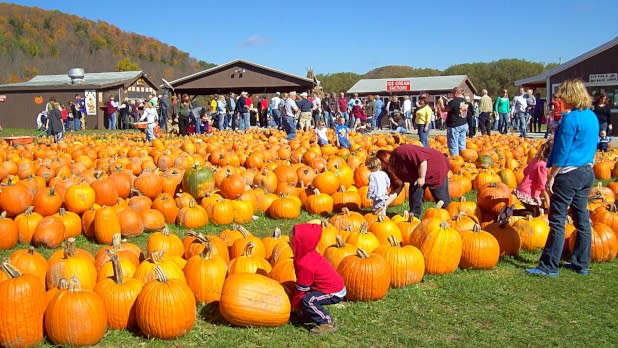 Now that you're inspired, head on over to Pumpkinville in Great Valley to select your Jack O'Lantern-to-be! Not only is pumpkin-picking super fun, but when you get to choose from literally thousands of options, your imagination is free to roam wild. It's almost like cloud-gazing—one pumpkin might look like Frankenstein, another might look like a minion, or even a brain-eating zombie (pumpkin innards make for a great brain-like effect). Pumpkinville also has ten varieties of winter squash for sale and you can use a wheelbarrow so you can dream big!
5. New York theme parks get perfectly on theme for Halloween
Six Flags Great Escape in the Adirondacks gets a complete Halloween makeover to fill you with delight and fright each weekend in October. First, the park is overrun with zombies and ghouls whose reign of terror begins each day after sunset. There will be several haunted houses and scare zones, including an old family manor, an Undead Alley, a wild west ghost town, and a carnival, spelled Carnevil (who doesn't love a good Halloween pun?). Pump up that adrenaline on one of the many roller coasters and live shows with performances from evil doctors, zombies, and beasts.
6. Even the nature in New York gets spooky
Ready to face your fear of heights AND zombies? Mountain Ridge Adventure in Schenectady has an extra special way to get into the spooky spirit with its Zombie Zipline. It starts with a tour of the grounds led by a corpse—beware, the woods are filled with (fake) serial killers. Once you're strapped in, you'll be zipping through the trees in complete darkness, left to the mercy of roaming zombies hungry for your brain! This is not for young children or the faint of heart, ages 14 and up only.
7. New York animals are ferocious—but also really cute

Credit: Binghamton Zoo at Ross Park
Let's ease up from the extreme fright for a moment, because Halloween is not just about giving yourself the heebie-jeebies. It's also about funny costumes and eating massive amounts of candy! Mix things up this year by heading over to the Binghamton Zoo for its annual Howloween where kids and parents can celebrate Halloween along with all animals. Little ones will love activities like pumpkin painting, pumpkin bowling, ring toss, crafts, and plenty of chances to win prizes and candy. Come ready to compete in the costume contest, maybe as a lion, tiger, or bear? Oh my! 
8. In fact, Halloween was made for New York dogs in costumes

Credit: Fort Greene PUPS
Turning the "cute" dial ALL the way up, get into the festive mood at the 21st Annual Great PUPkin Dog Costume Contest! Organized by PUPS, the Fort Greene Park Users and Pets Society, the contest will be judged by a three-person panel at 11:30 AM sharp and all contestants must be pre-registered. Prizes donated by local vendors will be awarded to a number of winners. The proceeds of the recommended $5 donations go to supporting PUPS in its mission to help local shelters and dogs in need. Previous contestants included a Corgi dressed as an ice cream cone, a Jack Russell Terrier dressed as a little Starbucks barista, and a French Bulldog dressed as the city of Tokyo! 
9. New York is the pump-king of fun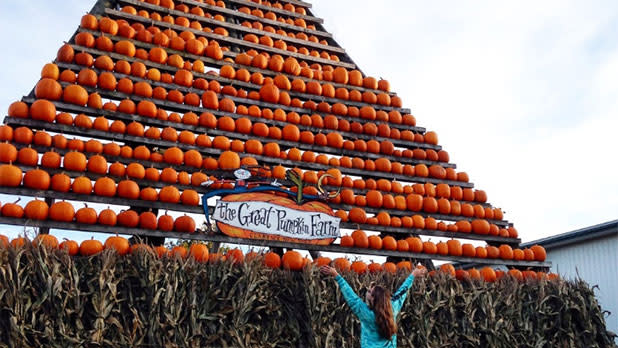 Half an hour outside of Buffalo, the Great Pumpkin Farm isn't a Halloween-exclusive attraction, but it is a perfect place to celebrate. Not only do they sell pumpkins and fresh-baked pumpkin pies, they also offer a ton of fun and unusual activities that will get the family having a blast outside in the crisp autumn weather. Conquer the corn or hay mazes as a team, swing by the petting zoo, make some festive fall crafts, try your hand at the pumpkin slingshot, or, if you dare, the zombie paintball train! You'll take a ride through the forest in a wooden wagon armed with paint guns. Then, keep your eyes peeled and your finger on the trigger because zombies will be on the prowl—and hungry! 
10. In New York, the fun doesn't stop when the sun goes down
Movies like The Shining and the 2010 slasher flick The Maze certainly reflect the fact that there is something creepy about mazes. And trying to solve a maze in the dark? Even better! Long Acre Farms in the Finger Lakes offers an incredible, intricate Moonlight Maze open for exploring on select dates throughout the month. They serve fresh, wood-fired pizza and wine if you arrive early so you can fuel up before you get to it. Children 12 and under must be accompanied by an adult, but it's okay if you're not looking to be scared silly; there won't be anything jumping out at you. Just bring a flashlight and your wits about you! 
Don't forget to post photos of your New York adventures on Instagram and Twitter with #iSpyNY and tag us on Facebook!