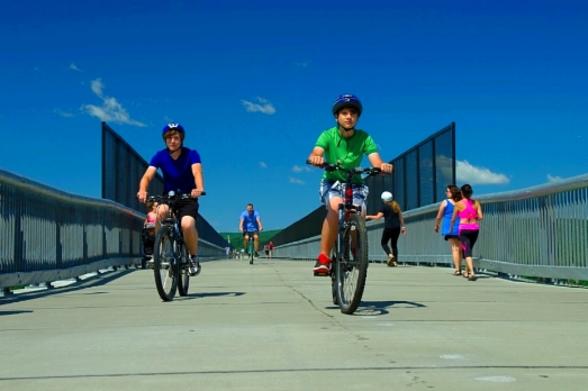 Soaking up New York's most stunning scenery is as easy as riding a bike! Grab your helmet and an autumn jacket and go explore the beautiful foliage, great bodies of water, towns, and cities—all from the seat of your two-wheeler. The state has so many amazing trails, plus many more coming soon. In fact, the new 750-mile Empire State Trail connects New York City to Canada and Buffalo to Albany! So whether you're a casual biker looking for a great date activity, a family with tricycles in tow, or you practically live in your bike shorts, we've got a trail that's just right for you. Remember to social distance and wear a mask as required by state guidelines. Call ahead and check websites and social media to make sure attractions are open and available.
Updated 08/31/21
Adirondacks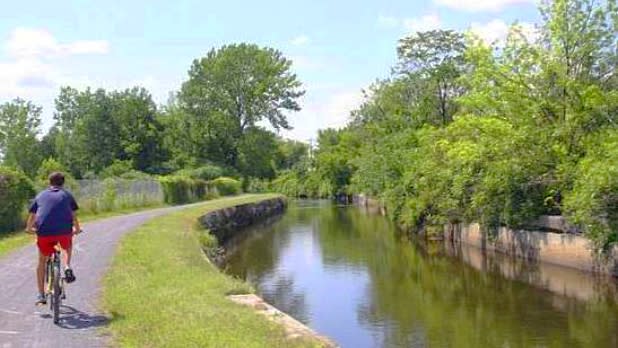 The Adirondacks region is famous for its untouched wilderness, so whether you're biking on paved or dirt trails, you can feel completely immersed in jaw-dropping natural beauty. The stunning Ausable Chasm, for example, nicknamed "the Grand Canyon of the Adirondacks," is home to 15 miles of beginner, intermediate, and advanced mountain bike trails. Beginner trails are wide and flat so families can ride side-by-side, while the advanced levels take you through thick forests and up some steeper hills. Moving down south a bit, the Warren County Bikeway starts off at the southern tip of Lake George, taking you 9.2 easy miles down on paved bikeway through Glen Falls, passing numerous picnic tables along the way. It also connects to the Feeder Canal Trail, a flat gravel path (better for mountain bikes) that grants lovely views of the canal, which feeds into the Hudson River, hence its name. Many of the area's ski resorts, such as Dewey Mountain, Whiteface Mountain, and Gore Mountain offer tons of mountain biking trails in the summer and autumn before snow turns the mountain into ski slopes—and at Whiteface and Gore Mountain you can reach certain bike trails via gondola ride!
Capital-Saratoga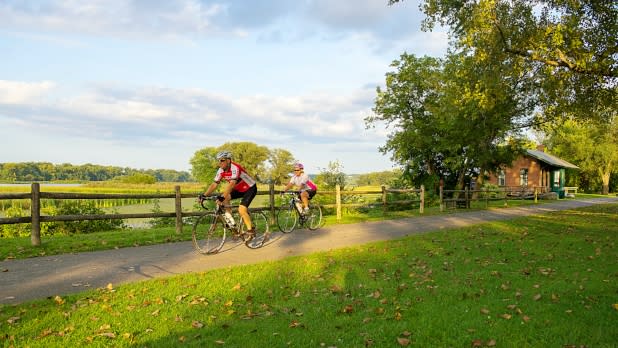 Famous for hosting the world's largest single-day bike race, the Tour of the Battenkill, the Capital-Saratoga region is definitely a biker's heaven. Of course you can start exploring the Battenkill trails to prep for the next race in spring 2019, but there are plenty of other options for the less competitive biker as well. The paved Mohawk Hudson Bike-Hike Trail is perfect for peeping various wildlife, and the mountain biking trails in John Boyd Thacher State Park will reward your exercise with epic overlooks of the countryside and Albany off in the distance. More expert riders should try Daniels Road State Forest for 14 miles of challenging terrain through the woods.
Catskills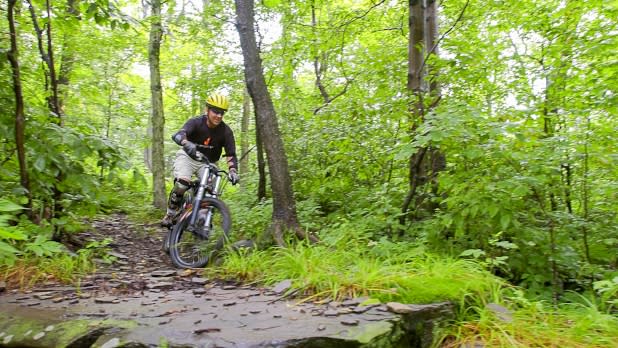 Bring the whole family on a quick, refreshing three-mile ride on the paved Ashokan Reservoir Promenade to enjoy stunning views of the reservoir's vast waters surrounded by the Catskill Mountains—sheer perfection. Seek out even more mountain vistas on the 26-mile Catskill Scenic Trail Loop. It stays fairly flat and offers dynamic scenery, including waterways, farmland, and mountains. Only about half the trail is paved, so a mountain bike or hybrid mount-road bike is best for this one. Plattekill Mountain is another ski resort that has amazing trails open to bikers during the off-season. Best of all, a bike lift will carry you up the mountain so you can enjoy the speedy ride down without killing your thighs on the uphill. The trails are suitable for a range of abilities, not just the experts, but absolute beginners might want to skip this one.
Central NY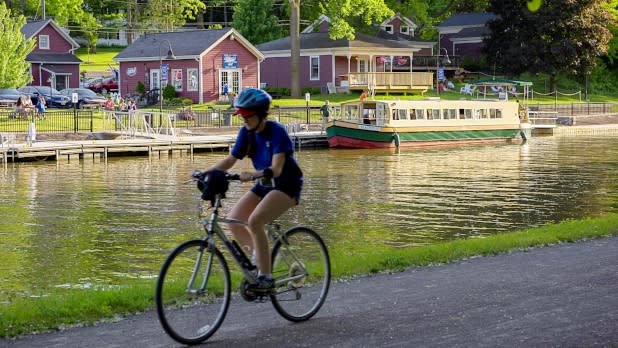 The Erie Canalway Trail is enooormous, and spans several regions as it runs the length of New York state from Albany in the east to Buffalo in the west. We're not saying you should attempt all 360 miles (although hey, if you're feeling ambitious, more power to you!), but various sections are perfect for exploring nature, small towns, history, and culture. The section in New York's Central region lets you explore 14 miles from Rome to Utica, where you can stop off at Fort Stanwix to learn about the history of a failed British siege, or at Erie Canal Village, an outdoor living history museum in a recreated village from the mid-1800's.
Chautauqua-Allegheny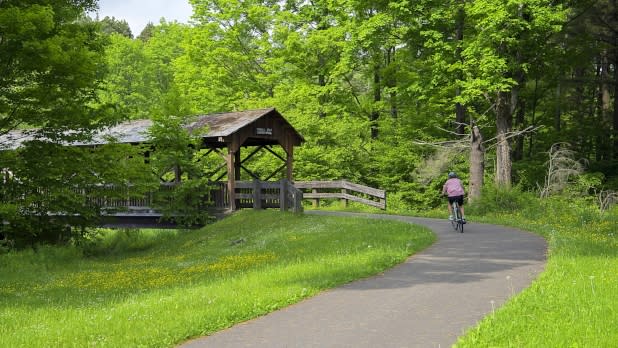 Unlike most rail-trails which run perfectly straight (and often require that you turn back and retrace your route), the Allegheny River Trail forms a loop and stands apart for its curves. The trail will lead you about three miles along the Allegheny River through a forest and stretches six miles without crossing a single street. It's wide, paved, and fairly flat, making it an ideal option for families with tykes on bikes. Craving more of a challenge? Head to the mountain biking trails at Holiday Valley to bike a five-mile "race loop" where you can choose between cross-country trails and a winding single-track, or their new Senear Valley Trail, which zig-zags down across ski slopes. For the real challenge-seekers, the 31-mile Ellicottville Epic is one of the most scenic bike trails in the Eastern U.S., chock full of steep climbs and rocky descents.
Finger Lakes
You already know you're in for some gorgeous water vistas from bike trails in the Finger Lakes. Take it easy on Ithaca's paved two-mile Cayuga Waterfront Trail loop which runs through Cass Park. You'll pass hills, the Cayuga Lake Inlet, and plenty of spots to take a break for a picnic in the park. While in Ithaca, you can also try the more challenging Two Gorges Tour, which runs 28 miles between the equally beautiful Taughannock Falls State Park and Robert H. Treman State Park. The Charlie Major Nature Trail is short (just about one and a half miles) but crosses over a creek via three wooden bridges and passes the remains of a railroad and old buildings. You'll need mountain bikes but it's definitely easy enough for the whole family to enjoy. Advanced bikers will love Harriet Hollister Spencer Park with a variety of trails that cover uphill climbs and steep hills, but the view overlooking Honeoye Lake definitely makes it worth breaking a sweat!
Greater Niagara

Credit: Destination Niagara USA
The Northwest segment of the great Erie Canalway Trail runs from downtown Buffalo to Rochester and follows the canal closely. You'll be able to ride the Riverwalk along the Niagara River and pass landmarks, historic canal locks, and quaint charm in the town of Lockport. Try the four-mile Robert Moses Recreational Trail, starting on Main Street in Niagara Falls, which will take you through several state parks, and gives you the chance to break off onto the Great Gorge Railway Trail. This trail is wide and easy, but brings you to several amazing viewpoints, including the Whirlpool State Park where you can watch as rapids church and morph into a real live whirlpool! You can also bring your bike to ride on Goat Island, the little island within Niagara Falls State Park which divides Niagara Falls into American Falls and the Horseshoe Falls. You won't see any goats but you will see the rushing falls in all their glory. A paved trail loops around the island and also connects to pedestrian bridges leading to the Three Sisters Islands where you can see more rapids.
Hudson Valley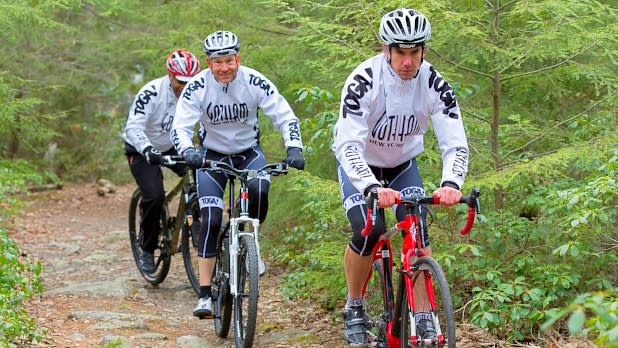 With plenty of small towns, abandoned rail lines, and forests, the Hudson Valley is packed with biking options for all skill levels. To start off, it's home to the popular Walkway Over the Hudson, the world's longest elevated pedestrian bridge, coming in at one mile long. It's perfect for an easy, breezy paved ride and the ideal vantage point for leaf-peeping. It's also at the center of the Discover Hudson Valley Ride (postponed to 2022), a 100-mile bike tour comprised of five routes set for summer (so you have time to start training!). Then there's the Wallkill Valley Rail Trail, 20 miles of what used to be a railroad in the 1800s connecting the towns of Kingston and Gardiner. You'll pass the Rosendale Trestle, an enormous restored bridge that's more than 100 years old and 940 feet long! The trail is a mix of pavement and gravel, and for most of your ride you'll be passing forests, fields, and fun towns like New Paltz. Both Minnewaska State Park Preserve and Mohonk Preserve are packed with old carriage roads which make for flat, easy rides. From the path, you can look up to see rugged mountain ridges and ravines. If you want to really fire up those quads, Hudson Valley has you covered. The Ninham Mountain State Forest in Carmel offers a trail with 15 miles of challenging terrain that draws in hardcore cyclists.  
Long Island

Credit: Discover Long Island / Long Beach Chamber
If biking on Long Island makes you think of coasting along the seashore, you're half right. There are indeed trails by the beach, such as the five-mile paved Jones Beach Bikeway which runs from Cedar Creek Park to Jones Beach, or the Long Beach Boardwalk which has great views and way fewer crowds in the off-seasons. But Long Island has more than just breezy beach rides! The Rocky Point Mountain Bike Trail, for example, is a challenging dirt route that runs for more than 15 miles through beautifully dense forest (dogs on leashes welcome!). Cathedral Pines County Park has a 10-mile single track trail that includes a six-mile loop great for beginners as well as shorter, trickier loops for the more experienced. You'll also find camping and picnic sites with water hookups, bathrooms, and showers if you want to make a weekend of it! Take your wheels over to Caumsett State Park for an all-levels-friendly dirt trail from which you can admire the Long Island Sound.
New York City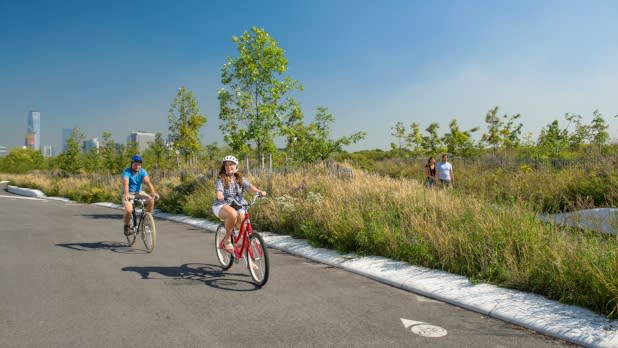 Spoiler alert: you won't find a ton of mountain biking in New York City, but get ready for amazing road biking you can fit right in the middle of your busy city day. Biking is a great way to see all of Central Park (which can be a bit tiring on foot). The park offers 1.7-, 5.2-, 6.1-mile rides, but with all the entries and exits, it's super easy to tailor a ride that's just as long as you want. (P.S. if you want to go full-on romantic, tandem bikes are available for rent!) Governor's Island is another amazing option which includes a ferry ride and seven miles of car-free riding—and one of the most incredible views of the New York City skyline. They have bikes as well as four and six-person surreys available for rent. Head to Cunningham Park in Queens to put your mountain bike to good use on its six and half miles of dirt trails evenly divided for beginner, intermediate, and advanced levels, plus its very own pump track for practicing those BMX moves.
Thousand Islands-Seaway

Credit: Nathan Lashomb, Forevermore Studio Photography
Similar to the Erie Canalway Trail, the Great Lakes Seaway Trail is multi-regional, and spans a whopping 518 miles from Niagara Falls to the Thousand Lakes. It's also incredibly picturesque, passing miles of freshwater coastline along the St. Lawrence River, Lake Ontario, the Niagara River, and Lake Erie. Bea-u-tiful! And great news for families, it's totally accessible to all levels thanks to the fact that it's 100% paved.
Don't forget to post photos of your New York adventures on Instagram and Twitter with #iSpyNY and #ILoveNY and tag us on Facebook!