With waterfront parks, open-air restaurants, vintage boutiques and historic downtowns, these New York villages are storybook settings you can revisit time and time again. Explore these walking-friendly, charming locations and see why people are falling in love with New York's village. 
Port Jefferson
The salty sea breeze fills village boutiques, wine glasses chime from open air bistros and the marina sunset greets families as they stroll by Ralph's ice cream parlor. This is Port Jeff, a coastal gem whose lively downtown and beachy atmosphere creates a storybook setting. Whether you're exploring Harborfront Park, walking the kids to the Maritime Explorium, sampling brews at Port Jeff Brewing Company or browsing main street's vintage boutiques, this North Shore treasure will have you buzzing all weekend long.
Cold Spring
The magic of this town lies in its location--on the shores of the Hudson River and neighboring Breakneck Ridge--it's a dream destination for artists and outdoorsmen alike. Walk its 19th century streets where you'll discover art galleries, farm-to-fork eateries like Hudson Hil's and hikers find refuge after a exploring the woodlands of Hudson Highlands. 
Ithaca
It may be the rhythmic beat of live music from The Dock or the Hogwarts-like architecture of Cornell University, but one thing's for certain, a walk through Ithaca will leave you spellbound. Overlooking Cayuga Lake, this village is a trove of artisan shops, music and craft beverages. Walk among vintage stores and open-air restaurants at Ithaca Commons, absorb the cascading beauty of Ithaca Falls and fall in love with this village with every step.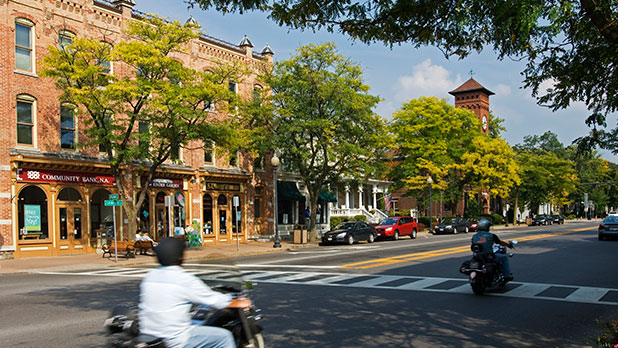 Skaneateles 
Mirroring the elegance of its namesake lake in every art gallery and B&B, the village of Skaneateles is a favorite for outdoorsmen and wine-lovers alike. Stroll the red brick sidewalks to White Birch Vineyards Tasting Room, witness the architecture of its historic district or set sail on the lake, and the formidable beauty of the Finger Lakes will reveal itself.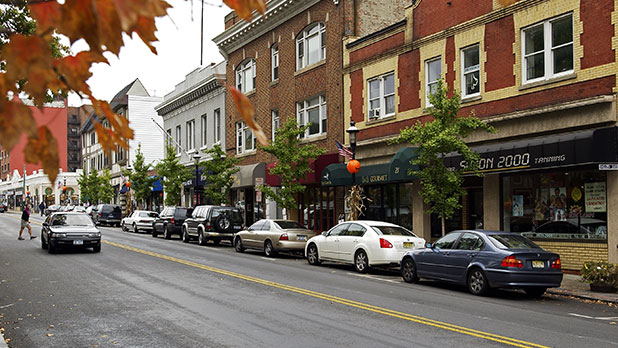 Tarrytown
The setting of and around The Legend of Sleepy Hollow, novelist Washington Irving knew Tarrytown's romantic landscape would captivate the world. View the Gothic Revival architecture of Lyndhurst estate, stroll past quaint village shops to a show at Tarrytown Music Hall and enjoy a waterfront feast at Sunset Cove as you explore this enchanting village by foot.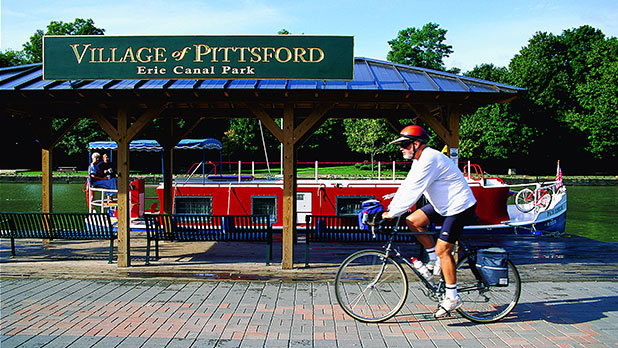 Pittsford Village
Many villages boast character, but few can compare to the canal-side charm and storied history of Pittsford Village. Whether you're strolling the Erie Canal Heritage Trail, tasting craft beers at Lock 32 or exploring the water with Sam Patch Erie Canal Tours, this village's refined yet down-to-earth atmosphere will have you hooked.
Lake George
Travel + Leisure deemed it one of America's most beautiful lakes, and for good reason; the mountains of Adirondack Park and troves of uninhabited islands dotted throughout the lake, create a natural playground for exploration. Navigate by kayak or take a cruise with the Lake George Steamboat Company before you head into the village where museums, outdoor restaurants and live music color the streets.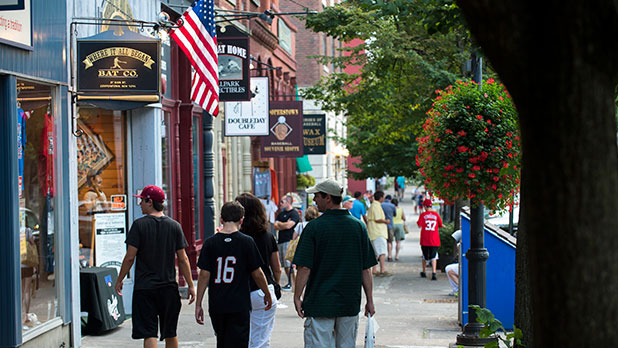 Cooperstown
The baseball mecca and craft beer hub, this village is known for its sport culture and all-American charm. While the National Baseball Hall of Fame put Cooperstown on the map, it's since grown into a top destination for people seeking artistry and craftsmanship at cultural spots like the Fenimore Art Museum, the Glimmerglass Festival opera and the Cooperstown Beverage Trail.
Share New York State adventures with us on Instagram  and Twitter with #ILoveNY and #iSpyNY, and tag us on Facebook!