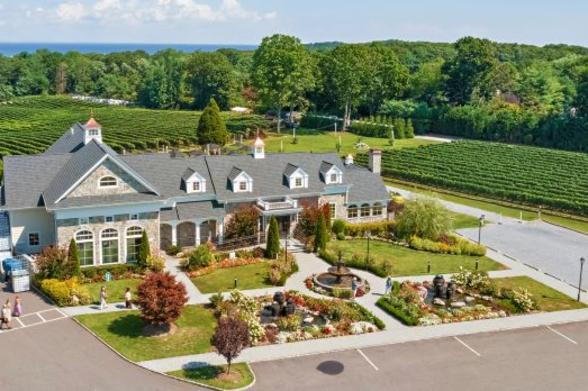 Grab your favorite sweater and head out on an al fresco autumnal culinary adventure across New York State! As the vibrant hues of fall paint the charming towns and cities of the Empire State, there's no better time to feast your eyes and stomach on unparalleled outdoor dining spots. Harvest seasonal splendor coupled with sweet and savory flavors against the backdrop of the alluring Adirondacks, complete with fire pits to keep you warm. Or seas the day on a historic ship overlooking the Hudson River and Manhattan skyline as you cozy up to a cup of clam chowder. Fall into deliciousness and taste your way around some of New York's best outdoor eateries. 
Masks are encouraged, but optional in most settings per New York State guidelines. Individual businesses or attractions may require mask wearing. Call ahead and check websites and social media to make sure outdoor dining is open and available.
Jump to: Adirondacks | Capital-Saratoga | Catskills | Central New York | Chautauqua-Allegheny | Finger Lakes | Greater Niagara | Hudson Valley | Long Island | NYC | Thousand Islands-Seaway
Credit: @rich.amo on Instagram
The Docksider (Lake George)
This spot is voted "#1 best outdoor dining– since 2007" and it's easy to see why! Revel in the colors of autumn on the lakeside patio at The Docksider, situated on Glen Lake. Enjoy pub-style food including pizza, burgers, and sandwiches on the covered deck which features heaters and stunning lake views. Drive over or dock your watercraft on-site!
Smoke Signals (Lake Placid)
Park yourself on the heated patio of this beloved BBQ joint in downtown Lake Placid. Get a glimpse of your reflection in Mirror Lake as you begin your lakeside dining experience, surrounded by the Adirondack High Peaks. Slow-smoked meats are their specialty, and you can wash it all down with beer on tap, live music, and some of the best sunset and foliage views in town.
The Sagamore Resort (Bolton Landing)
For world-class cuisine, scenery, and accommodations, make your way to beautiful Bolton Landing where The Sagamore Resort (pictured) boasts two unique outdoor dining venues: Caldwell's and La Bella Vita. At Caldwell's, enjoy the grand front porch and panoramic Lake George views as you dine on dishes like stone oven-cooked pizzas, lobster and crab ravioli, warm burrata dip, and hand-crafted cocktails. At La Bella Vita, celebrate Italy's culinary passion with garden-fresh ingredients and centuries-old recipes. Savor a delicious meal on the outdoor deck with Lake George and the Adirondack Mountains as your backdrop.
Indian Ladder Farms Tasting Room & Biergarten (Altamont)
Grab grub on the grounds of one of New York's most popular apple orchards and farms. Indian Ladder Farms (pictured) is serving up farm-to-table fare in its idyllic outdoor tasting room and biergarten. This fall they're also debuting a wood-fired pizza garden! Indulge in delectable dishes like the HelderBurger (a nod to Helderberg mountains enveloping the farm) or the NYS charcuterie board. This pet-friendly place also hosts a weekly "Bark and Sip" where humans and their pups can both enjoy specialty hot dogs. Much like their cider, you'll be hard-pressed to find a better outdoor dining experience, as you're surrounded by orchard and mountain views, pumpkin picking, farm animals, and exciting events.
550 Waterfront | Druthers (Saratoga Springs)
Enjoy a variety of flavors and craft brews as you're immersed in Saratoga Lake's scenery and lush landscapes. Row your way over to 550 Waterfront while you soak in the sights and sounds of flora and fauna. Whether you come by car or watercraft, you'll find yourself in an outdoor oasis on the expansive heated patio, with some tables right on the sandy shore.
Olde English Pub (Albany)
This picturesque and historic venue is one of Albany's oldest buildings, constructed in 1736. The charming pub offers one of the best outdoor dining settings in the Capital District, featuring a front dining patio along bustling Broadway and an enchanting "backyard" dining garden that is as jaw-dropping as the cuisine. Relax under blossoming fauna, string lights, and twisted vines as you savor the flavors of classic pub fare and English staples like fish and chips, while incorporating the cultural influences of India and the Caribbean.
The Shaker & Vine (Schenectady)
For stellar food, drinks (featuring a self-serve wine bar), and a trendy, laid back outdoor atmosphere with views overlooking the Mohawk Harbor, The Shaker & Vine is the place to be. Palm trees, fireplaces, private gazebos, and comfy lounge seating areas make for an unforgettable al fresco evening on the harbor! Crafted for all-season dining, the retractable roof allows you to dine outdoors rain or shine.
Prospect at Scribner's Lodge (Hunter)
The prospects for fresh air and food are promising at Prospect at Scribner's Lodge (pictured). With a focus on local cuisine and the diverse offerings of the Catskills, the serene deck pairs exceptional food with stellar views. Grab brunch on the weekends, breakfast or lunch during the week, or dinner Wednesday-Sunday. For dessert there's nothing sweeter than their Catskill Mountain views (although the homemade strawberry shortcake is a close second) and leaf-peeping festivities at Hunter Mountain just next door.
The Homestead Restaurant & Lounge (Eldred)
Venture to the Catskills for a modern steakhouse offering a true farm-to-table experience. Enjoy classic fare and contemporary farm-to-table comforts featuring organic produce from The Eldred Preserve Farm. Numerous dining environments await you, including a sunroom dining area, and large outdoor terraces that are ideal for dining al fresco. Feel like you're outside even while you're inside as floor-to-ceiling windows offer unobstructed views of the picturesque ponds, a stream, and the gently rising, tree-covered hillside beyond.
Phoenicia Diner (Phoenicia)
Relish in the good eats served up at Phoenicia Diner, a Catskill staple that has been around for over 30 years. Fresh, seasonal ingredients from Catskill and Hudson Valley farms fill the menu that offers traditional diner favorites with a modern twist. Order inside then grab a picnic table outside at "The Lot", the venue's rustic patio, enveloped by leaf-peeping glory and mountain views.
SILVIA (Woodstock) 
New American dishes like trumpet mushroom, bibimbap, and wood-smoked and brined chicken are best savored on the cozy, chic, and intimate covered and heated deck. SILVIA's innovative dishes and craft cocktails paired with its warm ambiance in the heart of Woodstock, make this venue a must-try. Before it was an open-kitchen eatery, the spot was home to a famous dive bar called Joyous Lake, which entertained legends like The Rolling Stones and Muddy Waters. 
Southern Tier Brewing Company (Lakewood)
While best known for their beer, Southern Tier is also delivering delicious dishes to pair with your fall-themed beverage of choice. Breathe in the crisp fall air on the outdoor patio as you take in views of colorful leaves and trees surrounding the distillery and brewery. Bring along your pup to this pet-friendly venue that regularly features live music!
Andriaccio's Restaurant (Mayville)
Find rustic respite on the outdoor covered and heated patio at Andriaccio's Restaurant, conveniently located right by the lively Chautauqua Institution. The longtime bar and eatery specializes in gourmet pizza, and an array of Italian steak and seafood dishes. Catch a stunning sunset above the vibrant treeline as you peruse the provisions. 
Ellicottville Brewing Company (Bemus Point)
Recognized as one of the best breweries in New York State, Ellicottville Brewing Company (pictured) is award-winning for their brews and we'd also vouch for their views! Set on the captivating Chautauqua Lake, you can gaze in awe at the scenery from the expansive covered and heated patio, all while chowing down on steak and frites, gouda mac and cheese, or blackened fish tacos.
Origins Cafe (Cooperstown) 
For a twist on outdoor dining, Origin's Cafe (pictured) is a must-try. While technically enclosed, the outdoor greenhouse and garden sets the scene for a truly serene and green dining experience. The eatery prides itself in creating direct connections with growers of responsibly harvested products around the world, including coffee, tea, cacao, spices, and olive oil. The menu, which changes daily to ensure freshness, is curated from organic foods from local farms and their own gardens on-site. You'll feel one with nature as you're embraced by plants all around you (available for purchase.)
The Hawkeye at The Otesaga (Cooperstown)
Cozy up around the large fire pit as you soak in the sunset over tranquil Lake Otsego. The Otesaga, an award-winning resort features a treasured outdoor restaurant, The Hawkeye. The heated patio overlooks a glimmering lake and vivid vegetation, and presents a diverse menu featuring dishes like a prime rib panini, vegan bahn mi burger, and stone-fired pickle pizza.
Garage Taco Bar (Binghamton)
Tacos, tequila, and good vibes are at the heart of what Binghamton gem Garage Taco Bar has to offer. Local flavors fill an inclusive, street inspired menu that is best enjoyed in its trendy outdoor dining area. Grab a picnic table near the gas fireplaces and take in views of downtown Binghamton amidst string lights and open-mics.
Sapalta (Himrod)
Offering both incredible views and amazing food, Sapalta focuses on dishes with locally sourced ingredients from Finger Lakes farms. Breakfast and dinner menus fluctuate throughout the seasons to ensure availability of the freshest local ingredients. Sapalta is part of the Plum Point Lodge, a lakefront hideaway on the shores of Seneca Lake. Cozy outdoor patio dining complements quintessential Finger Lakes scenery and crystal-clear lake views.
Francesca's Cucina (Syracuse)
A rustic garden patio topped by vines and pergolas beckons you to Francesca's Cucina. This family-owned Italian restaurant is located in the heart of Little Italy and many of its classic recipes have been passed down for over four generations. Enjoy lunch or dinner under the stars, warmed by outdoor fire pits and gas fireplaces.
The Boatyard Grill (Ithaca)
Just one mile from downtown Ithaca, right on the shore of Cayuga Lake, you'll enjoy watching the local college crew teams and lake cruises pass by as you enjoy a gourmet meal at this idyllic lakeside eatery. When the weather is nice, you can even catch live music on the patio as you sit back and relax in the Adirondack chairs surrounding the fire pit.
The Terrace at Delaware Park (Buffalo)
Head over to Buffalo's premier venue for terrace dining, Jazz brunch, and social gatherings! The Terrace at Delaware Park serves divine dishes like shrimp and grits, mushroom etouffee, bourbon salmon, and ahi tuna nachos in the midst of panoramic views of Hoyt Lake, Delaware Park (pictured), Buffalo History Museum, Buffalo AKG Art Museum, and superb sunsets best enjoyed by the patio's numerous fire pits.
The Dockside Bar & Grill (North Tonawanda)
Located directly on the striking Erie Canal, the historic establishment dates back to 1890 and has since transformed into a waterfront dining destination near the Gateway Harbor of North Tonawanda. The newly renovated and spacious patio welcomes guests to bask in bucolic horizons while savoring jambalaya, filet medallions, or a haddock po boy.
Coco Bar & Bistro (Buffalo)
"Simplicity is always in vogue" is a sentiment embraced by Coco Bar & Bistro, whose name pays homage to Coco Chanel. Classic bistro fare complements the nostalgia of simpler times which can be enjoyed on the umbrella covered garden patio. From the french onion burger and steak frites to pea and prosciutto pizza and pappardelle funghi, there is something for every palate.
Backbar (Hudson)
Quell your feelings of wanderlust when dining out on Hudson's famed Warren Street (pictured). This self-defined "funky space" is in the rear of an antique shop and serves Malaysian plates and carefully curated cocktails. Find a table in the quirky, giant string-light-covered backyard that is also pet-friendly!
Harvest on Hudson (Hastings-on-Hudson)
Break bread at this upscale riverfront Italian restaurant, set in a romantic farmhouse with a stunning and roomy heated patio, and vegetable and herb gardens that source much of the cuisine. Take in up-close vistas of the Hudson River as you admire the wraparound pergola, hanging grape vines, outdoor fireplace, and cocktail bar in a greenhouse. 
Blu Pointe (Newburgh) 
Popular for its all-you-care-to-eat Sunday brunch, this all day establishment boasts the best views of the Hudson River and Beacon from the riverfront patio. Between the raw bar, locally-influenced seasonal dishes, and imported wines, Blu Pointe will transport you to an autumnal outdoor oasis, with patio heaters to keep you warm while you chill out in the fall air.
Gatsby's Landing (Roslyn) 
Nestled on the North Shore of Long Island, Gatsby's Landing offers an extraordinary dining experience for brunch, lunch, and dinner accompanied by scenic views of Roslyn Pond on its heated outdoor patio. Aptly named, the venue was inspired by the great American novel "The Great Gatsby", and the environment is both stylish and sophisticated. Taste your way around the menu from squid ink tonnarelli to roasted duck to branzino.
Del Vino Vineyards (Northport)
Vast vineyard views can be found at Del Vino Vineyards (pictured), where the wine is as divine as the dining. Situated on the rolling hills of Northport, Long Island's Gold Coast, this family-owned and operated venue offers a sense of serenity and seclusion on its vast and covered outdoor area. A special menu pairs wines with artfully crafted cuisine, like the truffle ravioli with a glass of Rose or the pork belly sandwich with a glass of Bobina. For lighter fare, try the mozzarella, tomato and basil paired with Amore.
SALT (Merrick)
Eat against the backdrop of the pristine waters of Long Island at this seafood-driven spot. The ample deck overlooking East Bay will have you embracing the autumn breeze as you sip on thirst-quenching beverages and a drool-worthy brunch, dinner, and raw bar menu.
Pilot (Brooklyn)
All aboard one of America's most prized wooden schooners for a meal you'll have to sea to believe! Over the course of Pilot's nearly 100-year history, the ship has been a contender for fastest sailboat in the world, the country's longest serving pilot ship, and a research vessel that circumnavigated the world twice. Now docked on the north side of Brooklyn Bridge Park's Pier 6, this rare dining experience will take your tastebuds on a tour with dishes like sea scallops, lobster salad, and caviar hash brown. Marvel at exclusive vantage points on the ship against the Hudson River and Manhattan skyline.
The Fulton (Manhattan)
Escape the bustle of the city and rediscover tranquil waterside dining at The Fulton on Pier 17. Owned by world-renowned Chef Jean-Georges Vongerichten, the patio seating serves some of the best and freshest surf and turf along with unobstructed views of the Brooklyn Bridge.
The Oasis Cafe ( Queens)
The name speaks for itself when you arrive at the outdoor garden escape that is Oasis Cafe. The long-running venue is popular for its huge covered patio that will transport you to a chic and elegant Greek getaway, ideal for a brunch gathering with friends or a romantic dinner under the stars. Peruse the pastries, meticulously crafted coffees, sweet crepes, or try the signature souvlaki skewer platter.
Ladurée Cafe (Manhattan)
Take a trip to Paris (in the city) with a visit to Ladurée, an upscale cafe and bakery with Parisian origins. The gorgeous garden out back transports you to a peaceful European escape where you can sip on a signature tea while enjoying Croque-Monsieur for brunch and one of their famous French macarons for dessert.
Seaway Grille (Clayton) 
Warm and welcoming vibes await you at the Seaway Grille located in the AAA Four Diamond 1000 Islands Harbor Hotel (pictured). Breakfast, lunch, and dinner are served daily on the covered outdoor patio with heaters and fire pits to keep you cozy all autumn long. Whether you're craving a mouth-watering New York strip steak, ocean fresh seafood or a fresh and bountiful salad, the extensive menu is sure to satisfy. 
GS Steamers Bar & Grill (Oswego)
This prime waterfront eatery overlooking the Oswego River is dishing out gourmet pizza, steak, seafood, and American fare on the deck for lunch and dinner, seven days a week. The brisk air will keep you cool as you chow down on the decadent house-made New England clam chowder. Enjoy food and brews with scenic views, and regular live music.
---
Don't forget to post photos of your New York adventures on Instagram, TikTok, and Twitter with #iSpyNY and tag us on Facebook!