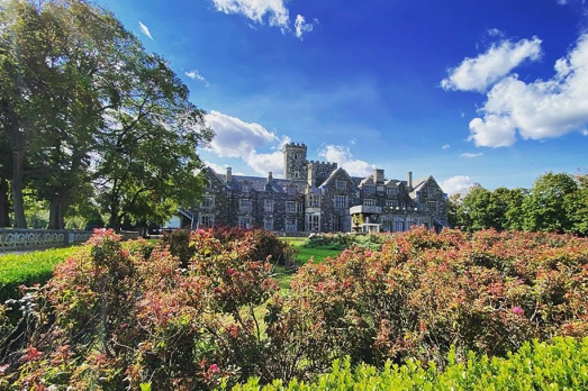 Credit: @lyssavec on Instagram
From its world-renowned wine region and grand Gold Coast estates to its pristine white sand beaches and Hollywood-approved Hamptons hangouts, Long Island exudes luxury. Once a popular summer retreat for some of America's most prominent early 20th century families, you don't need to be a Vanderbilt to enjoy finer things in life on Long Island. Here are 15 budget-friendly ways to experience the best of this historic seaside paradise.
Masks are encouraged, but optional in most settings per New York State guidelines. Individual businesses or attractions may require mask wearing. Call ahead and check websites and social media to make sure attractions and amenities are open and available.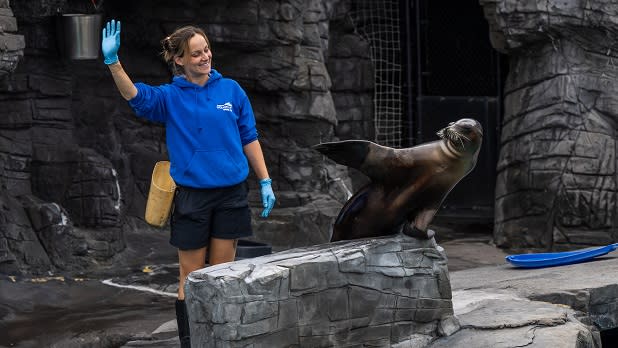 Have a whale of a good time on your birthday, courtesy of the Long Island Aquarium in Riverhead. The popular year round attraction, home to one of the largest all-living coral reef displays in the Western Hemisphere, offers free admission to visitors for their cake day. Make friends with penguins, barred owls, sea lions, otters, and more, explore old world wonders, the Amazon rainforest, and a shark habitat, have a hands-on encounter with sea stars, clams, and horseshoe crabs at the touch tanks, and more at the aquarium's 100 exhibits and interactive experiences. Just stop by within a week of your birthdate (adults must show a valid photo ID and children need a copy of their birth certificate or passport) and your birthday sea-labration is free!
2. Hit the beach!
You hear that? The sun, sea, and sand are calling! Jones Beach State Park (pictured) has a beautiful boardwalk and 6.5 miles of white sand beach that Long Island is famous for, making it the perfect spot to take in some of the summer's hottest events including the Bethpage Air Show happening Memorial Day weekend and Fourth of July Fireworks. ($10 vehicle entrance fee during peak season). Nearby Robert Moses State Park is also ideal for swimming, surfing, and sunning along with saltwater fishing and boating ($10 per car during peak season). If you're looking for beach town vibes, a trip to Long Beach is a must. A day pass to access the beach and ocean will cost you $15, but walking the 2-mile boardwalk is free! Grab some soft serve from Marvel and then pick a bench to watch the surfers or a volleyball game.
3. Snap a selfie with the Big Duck

Credit: Marta Zielinska
No trip to the East End is complete without a stop in the small hamlet of Flanders to snap a selfie in front of The Big Duck (pictured), a towering symbol of Long Island's duck farming past. The iconic 20-foot roadside attraction, made in the likeness of a giant Peking duck, was built in 1931 by duck farmer Martin Maurer. Once a shop for poultry and duck eggs, today the unique structure houses a mini museum and charming gift shop operated by the Friends for Long Island Heritage, open Monday-Friday from 10am - 5pm, Saturdays 10am - 3pm, Sundays 10am - 5pm. 
4. Visit a sculpture garden
Get artsy in the Gold Coast at the Nassau County Museum of Art (pictured) in Roslyn. Stroll the 145-acre grounds of the former Frick Estate to admire more than 40 sculptures by renowned artists scattered among the fields, woods, ponds, and formal gardens. With six miles of walking trails, you're in for a day of wonder and exploration. The arboretum, sculpture garden, and trails are free, while the exhibition space inside the three-story Georgian-style mansion costs $15 for adults, $10 for seniors, $5 for students and children under 12, and free for children under 4. Looking for more art in the outdoors? Check out the Parrish Art Museum in Water Mill, which utilizes 14 acres of grassy meadows to showcase important sculpture art ($16 adults, $12 seniors, free for visitors 18 and under).
5. Learn presidential history at Sagamore Hill

Credit: Marta Zielinska
President Theodore Roosevelt made the 83-acre Sagamore Hill National Historic Site (pictured) in Oyster Bay his home from 1885 until his death in 1919. The elegant yet understated Queen Anne-style home saw its share of luminaries from around the world at No. 26's "Summer White House." A walk through the comfy abode that's filled with animal rugs and trophy heads along with historical memorabilia gives you a sense of the simpler man behind the larger-than-life persona. The home is accessible by guided tour only (tickets must be purchased online in advance; $10 for adults; $1 service fee for children under 16). It's free to take a walk through the nature trail, beach, marshland, and wildlife refuge, and visit the Old Orchard Museum and Visitor Center. Bully for you!
6. Free concerts and festivals 
There's plenty of fun to be had all year long at free concerts and festivals across Long Island. Summer nights at Eisenhower Park were made for live music and movies. Just pack a cooler, bring a beach chair or towel, and claim your spot on the lawn for a night under the stars! Even more live music can be found in Patchogue at the Alive After Five street festival, featuring five stages plus plenty of food and drink. October means it's time for Oyster Fest (pictured) in Oyster Bay — one of the East Coast's largest waterfront celebrations. There's carnival rides and games for the kids, a food court and beer garden, live music, and plenty of fresh oysters ready for shucking! In December, Father Christmas, Scrooge, the Town Crier and beloved chimney sweeps roam the streets of Port Jefferson at the Dickens Festival that also features ice skating, magic shows, and an annual production of A Christmas Carol.
7. Explore gardens and arboretums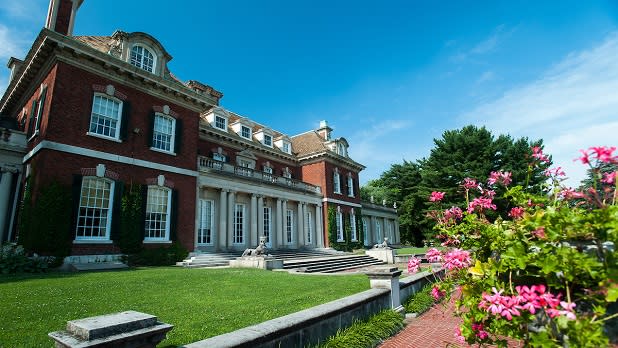 Sometimes you just need to stop and smell the flowers. Luckily, Long Island is full of immaculate historic estates enveloped by beautiful landscapes made for a day of meandering. Feel like the star of your own movie strolling the formal gardens sprawled over 200 acres at Old Westbury Gardens (pictured), featured in over 25 films and dozens of TV shows including North by Northwest, Love Story, Sex and the City, and The Gilded Age (Admission: $15 adults, $13 ages 62 and older, full-time students with valid ID, $8 Children, ages 7 to 17, free Children, ages 6 and under). At Planting Fields, witness 600 types of rhododendrons and azaleas peak in May, see a rainbow of colors in the dahlia strolling garden as summer turns to fall, and experience the scents and colors in the rose garden (Vehicle entrance fee $8, Coe House tours cost extra). Explore the Frederic Law Olmsted-designed Bayard Cutting Arboretum along the Connetquot River and feel like you've been transported to Provence, France in the purple fields of Lavender by the Bay.
8. Explore wine country
Head out to the North Fork and raise a glass to the Golden Anniversary of Long Island Wine Country. Sample award-winning wines in unmatched settings from waterfront vineyards to 19th-century barns in what Wine Enthusiast named one of the Top 10 Wine Regions in the world. Discover the vast farmlands and winding country roads on a DIY bike tour starting at Rose Hill Vineyards ($28-$30 flights) making your way up Oregon Road to Lieb Cellars ($20-$30 flights) and then heading down Route 48 for a picnic at the winery that was the first to plant grapes on Long Island, Castello di Borghese (pictured).
9. Take a shopping trip

Credit: Marta Zielinska
Looking for a little retail therapy? Get your steps in and do some window shopping at Long Island's largest mall, Roosevelt Field, where you'll find Neiman Marcus, Bloomingdale's, Nordstrom, and more than 270 specialty stores plus a Dining District with fast-casual eateries and sit-down restaurants. The Tanger Outlets in Deer Park and Riverhead were made for bargain hunters while the Stony Brook Village Center (pictured) evokes a quaint traditional New England-style village perfect for a leisurely afternoon of sampling oils and vinegars at The Crushed Olive, inhaling the sweet scent of chocolate at Stony Brook Chocolate, and more. Greenport and Northport also have charming Main Streets filled with boutiques, gift shops, restaurants, and art galleries.
10. Climb famous lighthouses

Credit: @rjwphoto on Instagram
Feel like you're on top of the world with a trek up Long Island's historic beacons. Elevate your trip to Montauk, or as the locals call it "The End," with a visit to the state's oldest lighthouse, completed in 1796 with authorization from President George Washington. You'll be treated to breathtaking ocean views and unique artifacts within the museum (adults: $15, seniors 62+: $10, children under 12: $5, children under 41" in height will be admitted for free, but will not be allowed to climb the tower). Climb the 192 steps of Fire Island Lighthouse (pictured), located on the western end of the Fire Island National Seashore, to see the Great South Bay on one side and the Atlantic Ocean on the other. On a clear day, you may be able to spot the Manhattan skyline! Get a glimpse into the daily life of a lightkeeper and learn more about Fire Island's place in LGBTQ history with a free museum visit. (Tower tours are $10 for adults, $5 for seniors 65 and older, veterans, and children 12 and under).
11. Explore Long Island's craft beer scene
Long Island is home to 60 breweries scattered across cool coastal communities and luscious farmlands. Pop in for a cold one at Montauk Brewing Company (pictured) after exploring Montauk Point State Park or play corn hole on the lawn at Greenport Harbor Brewing's Peconic location. Oyster Bay Brewing Company, known as Long Island's Gold Coast Brewery, offers a wide variety of original brews and seasonal favorites in its cozy taproom and nationally-recognized Blue Point serves up exclusive brews from its innovation room at its Patchogue brewpub along with fresh shucked oysters for a true taste of Long Island!
12. Go bird watching
With over 400 species of birds, Long Island is a haven for our feathered friends. The sandy pine barrens, wetlands, ponds, and woodlands of the 3,500-acre Connetquot River State Park provide excellent opportunities to see woodpeckers, birds of prey, songbirds, and rare nesting birds such as osprey. Caumsett Historic State Park (pictured), which overlooks Lloyd Harbor and the Long Island Sound, is a great spot to catch endangered piping plovers and least terns seen nesting along the shore. (Both parks have a vehicle entrance fee of $8 April through November). Amp up the fun by taking the I BIRD NY Challenge to earn a commemorative patch by identifying any 10 bird species of your choosing. You'll also be entered into a drawing for great birding prizes!
13. Unleash your inner Gatsby

Credit: @lyssavec on Instagram
Step into the pages of The Great Gatsby on Long Island's fabled Gold Coast at the Guggenheim Estate at Sands Point Preserve (pictured), nestled on the famed "East Egg" in the F. Scott Fitzgerald classic. Six nature trails wind their way through the 216-acre park that's home to three mansions with sweeping views of the Long Island Sound: Falaise (where Charles Lindbergh penned his autobiography), Castle Gould, and the opulent three-story Tudor-style castle Hempstead House. ($15 entry per car; mansion tour costs extra). Experience the lifestyles of the rich and famous in Centerport at the Vanderbilt Museum & Reichert Planetarium. Stroll the beautiful grounds and gardens, explore galleries of marine life, and see inside the 24-room Spanish-Revival mansion overlooking the Long Island Sound. (General admission costs $10 for adults, $9 for seniors and students, $7 for children under 12, and free for military members and children under 2. Mansion tours and planetarium shows cost extra).
14. Go camping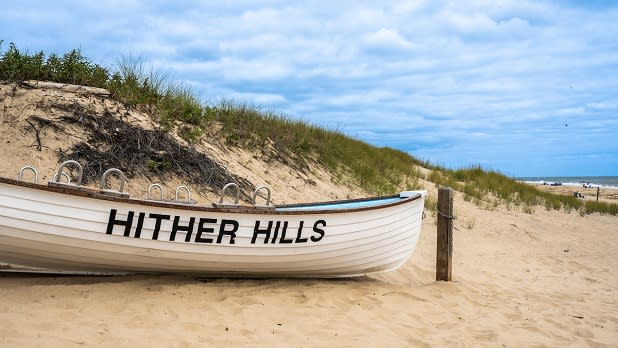 Want to camp in the woods and still be within walking distance to the beach? Enjoy the best of both worlds at Wildwood State Park, nestled amid 600 acres of undeveloped hardwood forest overlooking the Long Island Sound. For just $18 a night, you can set up a tent and sleep under the stars while spending your day in the sun on two-miles of beach fishing, swimming, or catching some rays. Catch outdoor movie screenings, square dancing, and other fun events in the summer. Prefer to camp Hamptons style? Enjoy beachfront accommodations at Hither Hills State Park (pictured) with easy access to the Atlantic Ocean starting at $35 a night. 
15. Explore Long Island's history

Credit: @vtom61 on Instagram
Fly, ride, and boat your way through Long Island history at museums celebrating its fascinating past. In Garden City, over 100 years of aerospace history is on display at the Cradle of Aviation (pictured) where you'll see over 60 aircraft and scale models of airplanes including Charles Lindbergh's Curtiss Jenny and an unused Apollo Lunar Module. Watch vintage aircraft take flight at the American Airpower Museum in Farmingdale or explore the seas at the Long Island Maritime Museum in West Sayville, where you can learn about shellfishing, view historic boats, and see an active boat-building shop. The Railroad Museum of Long Island pays tribute to the trains that helped make Long Island what it is today at its locations in Riverhead and Greenport. (Museum prices vary, ranging from free to $21).
---
Share New York State adventures with us on TikTok, Instagram and Twitter with #ILoveNY and #iSpyNY, and tag us on Facebook!