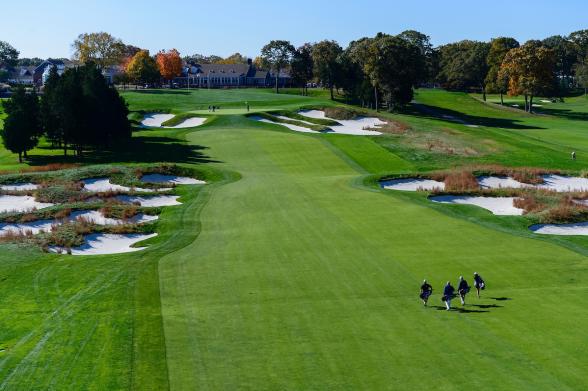 Golf's prestigious Ryder Cup is coming to Bethpage State Park's world-renowned Black Course, home of the 2019 PGA Championship and two-time host of the U.S. Open! Plan the getaway of a lifetime to New York State and come watch the best golfers in the world compete in 2025. From its historic sites, award-winning wineries, trendy epicurean scene, and world-class shopping, there's much to discover on Long Island. And with the Long Island Rail Road, you're also just a short train ride away from all the best that New York City has to offer. Check out the list below for a look at all the things you can do while in town for Ryder Cup 2025 and start planning your trip!
1. Delve into Local History

Credit: @rjwphoto on Instagram
Glimpse into the region's rich history and cultural heritage through opulent attractions and historic sites. Find breathtaking ocean views at New York's oldest lighthouse at Montauk Point (pictured) and visit the museum to dive into Long Island's maritime past. Tour the former home of President Theodore Roosevelt at the Sagamore Hill National Historic Site and immerse yourself in the brilliance of Gatsby-esque Gold Coast mansions at Vanderbilt Museum & Reichert Planetarium, Planting Fields Arboretum, Old Westbury Gardens, and Sands Point Preserve. Soar to new heights at the Cradle of Aviation Museum, home to one of the most diverse aerospace collections in the world. World-class museums abound in New York City, so make time for the American Museum of Natural History, Metropolitan Museum of Art, Guggenheim, MoMA, and many more.
2. Explore Wine Country or Grab a Brew
Sip and stay a while in Long Island Wine Country, one of the most diverse wine regions in the country, best known for its superb reds, Bordeaux blends, Cabernet Sauvignon, and Merlot. Venture to rural but luxurious Bedell Cellars and Pindar Vineyards on the North Fork, Del Vino Vineyards on the Gold Coast, or gaze out into 55 acres of picturesque vineyards at Wolffer Estate (pictured), where you can try their 28-time award-winning White Horse wine. Browse the island for your new favorite brew at treasured breweries. On the vibrant coastline of Huntington, you can check out the town's only micro-brewery, Six Harbors Brewing Co. Take your tastebuds to the taproom at Jamestown Farm Brewery, located on a working farm where all the ingredients from hops to barley to wheat are home-grown. The brewpub may be small but the selection is large and the events are plentiful at Blue Point Brewing Company. Savor a seasonal pumpkin ale or bourbon barrel-aged stout at Oyster Bay Brewing Company.
3. Catch a Show
New York City is the ultimate venue for live performances, where the bright lights of Broadway illuminate the stage with world-class performances that lure audiences from across the globe. With over 40 Broadway sites across the Theatre District, you can enjoy longstanding shows like The Lion King, The Book of Mormon, or Chicago, seasonal special events, or limited run plays and musicals. More shows are on deck at Lincoln Center, a campus of 11 organizations focused on music, dance, and theater, and most notably home to the NY Philharmonic Orchestra. For even more entertainment, Long Island is home to the UBS Arena, NYCB Theatre at Westbury, and The Paramount.
4. Relax in a Luxe Resort or Hotel

Credit: @ler430 on Instagram
With ample accommodations in the area, here's a look at some of the premier places to stay. Conveniently, 15 minutes from Bethpage you can stay at Viana Hotel and Spa, Long Island's only "green built" Feng Shui hotel, offering lavish accommodations and amenities. Also 15 minutes from Bethpage, you can live like royalty at Oheka Castle. This historic mansion on the famed Gold Coast offers charming luxury and European ambiance. The New York Times declared it, "the finest country house in America." Settle into the good life along the most pristine stretch of oceanfront real estate at Gurney's Montauk Resort and Seawater Spa (pictured). Ocean views, an acclaimed spa, and five unique dining and drinking venues make this a destination in and of itself. Stay at the only full-service luxury hotel in the Hamptons, the Topping Rose House. This renovated 19th-century mansion with contemporary accommodations is also home to Jean-Georges, a casually elegant restaurant that presents farm-to-table cuisine using ingredients sourced from the area's reputable fishermen and farmers. If you prefer to spend your nights in NYC, find tranquility and grandeur with accommodations at The Plaza, Equinox Hotel, or Aman, all in Manhattan.
5. Take a Sightseeing Adventure
Head into NYC to check off the must-see sights! Wander the tree-lined paths and lakeside trails of Central Park (pictured) to picturesque bridges and iconic spots like Bethesda Fountain and Bow Bridge that showcase photo settings straight out of the movies. Soak in the skyline from on high at One World Observatory, Edge, Summit One Vanderbilt, and, of course, the Empire State Building. You can also check out Times Square, Statue of Liberty, and other NYC attractions that have been on your travel bucket list!
6. Spend Time in Nature
Natural beauty and recreational respite can be discovered at Heckscher State Park on the South Shore. Roam 1,600 acres of outdoor oasis where you can picnic, play field sports, walk, run, bike, and simply enjoy stunning views of the Great South Bay with Fire Island as your backdrop. With Caumsett, Connetquot, Bayard Cutting Arboretum (pictured), and other parks across Long Island, there's plenty of ways to become one with nature.
7. Hit the Shops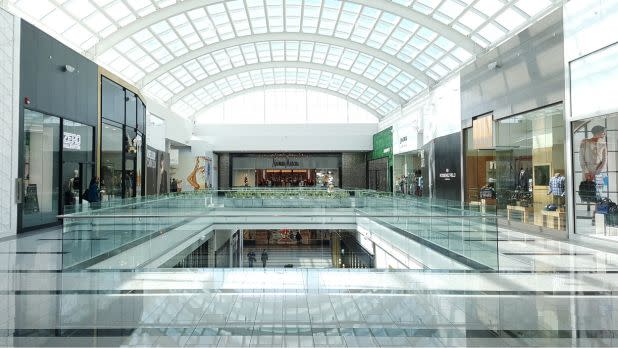 Shop til you drop in the Hamptons. East Hampton, Southampton, and Sag Harbor all have walkable shopping districts lined with specialty shops including jewelry stores, artisan culinary merchants, enchanting bookstores, and clothing boutiques. Northport and Oyster Bay also offer quaint main streets where you can find something for yourself, and everyone else! Roosevelt Field (pictured) is a mecca for retail therapy, featuring 270 shops from major department stores and luxury brands, to popular national chain stores. Make your way to Manhattan and stroll down famed Fifth Avenue where you'll have access to high-end shopping like Bergdorf Goodman, Saks Fifth Avenue, Cartier, Tiffany & Co., and more!
8. Play Your Own Round of Golf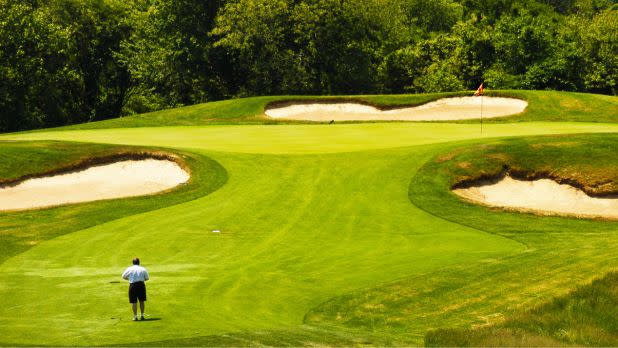 While you're in town to watch the pros play, get your own round of golf in. Tee off in Manorville, "The Gateway to the Hamptons" at Rock Hill Golf and Country Club or Pine Hills Golf and Country Club. In magnificent Montauk, you'll test your swing against wind currents from the ocean and beautiful landscapes at Montauk Downs State Park Golf Course (pictured). And conveniently located just west of the city in Port Washington, Harbor Links Golf Course offers a links-style design with several split fairways and a large, rocky bluff. Chip away at your itinerary with an indoor golf experience at Simplay, Long Island's only multi-sport simulator facility, equipped with eight units offering 87 golf courses around the world to choose from. Try your luck kicking field goals, beating an alien soccer goalie, or working on your fastball. At Topgolf you can enjoy climate-controlled hitting bays for year-round comfort with HDTVs in every bay and throughout the sports bar and restaurant.
9. Catch a Ballgame

Batter up! Baseball's playoff chase is in full swing and you can experience the thrill in New York. Catch a Yankees game in the Bronx at Yankee Stadium or slide into Queens at Citi Field to watch the Mets drive it home.
10. Make Dinner Plans
Relish in epicurean excellence amidst the backdrop of coastal waterfront wonder just a short drive from the Ryder Cup course. Long Island's premiere steakhouse offers idyllic al fresco dining at Blackstone Steakhouse (pictured). Enjoy a New American dinner on the deck overlooking the Great South Bay at LakeHouse. Savor upscale surf and turf cuisine at Hendrick's Tavern, a restored estate home built in 1740 in the historic village of Roslyn. Within the landmark Garden City Hotel lies Chef David Burke's Red Salt Room, awarded the American Academy of Hospitality Science's "Five Star" Diamond award. Osteria Morini brings the soulful cuisine and convivial spirit of Emilia-Romagna in northern Italy to Roosevelt Field.
Venture into New York City, to dine at the New York Times #1 pick Tatiana, located in Lincoln Center. For a 3 Michelin star fine dining plant-based experience, make reservations at Eleven Madison Park. For cocktail lovers, The Flatiron Room is world-famous for their whiskey and spirit collection that pairs perfectly with nightly live music. For a golf-themed culinary and entertainment experience, T-Squared Social is par for the course. Tiger Woods and Justin Timberlake teamed up to open this hot spot for good food, gaming and sports, music and entertainment.
11. Bring the Kids!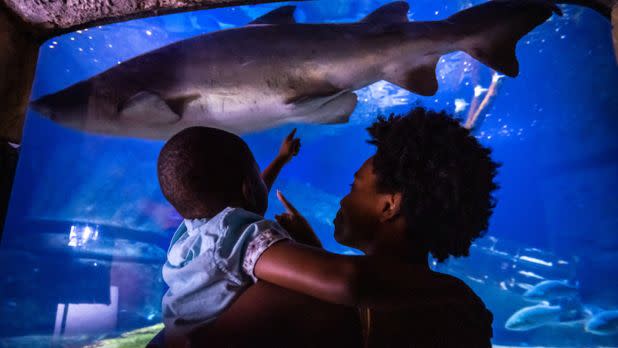 Roaring fun for the whole family can be found at the Long Island Aquarium (pictured), Bronx Zoo, Harbes Family Farm, and the American Museum of Natural History. Whether you're looking for a penguin encounter, to cross paths with big cats, spectate pig races, or fossilize a memory next to T-Rex, all of these spots promise wild amusement. To add some twists and turns to your excursion, check out the Greenport Carousel, Adventureland, and Coney Island, while the Long Island Children's Museum promises indoor and outdoor play and creativity. When it's time to refuel, keep the fun going at restaurants the kids are sure to love. Try the headline-stealing Doritos bagel at Bean's Bagels, get a head start on Halloween at the Haunted House of Hamburgers, and stop by Maureen's Kitchen for a truly a-MOO-sing time at this treasured cow-themed mainstay.