Now is the perfect time to make 2023 resolutions and new year goals for renewal and self-discovery. Whether you choose to get fit, eat healthier, try a new experience or learn a craft, want to de-stress, or just desire a "new year, new you," New York has options to help you achieve your goals, with in-person activities and virtual offerings for those who prefer to stay home. Don't procrastinate. Get started on your New Year's resolutions today!
Masks are encouraged, but optional in most settings per New York State guidelines. Individual businesses or attractions may require mask wearing. Call ahead and check websites and social media to make sure attractions and amenities are open and available.
Get Healthier  
In-person: It's a pledge that nearly everyone makes yet few manage to keep, to practice healthier habits in the new year. New York can help improve your chances of success at fulfilling your new year goal in 2023! Eating healthier has never been easier thanks to acclaimed farm-to-table restaurants in every part of the state. The Empire State Trail (pictured) stretches from New York City to Albany, then splits off with extensions north to the Adirondacks and west all the way to Buffalo, offering hundreds of miles of brand new trails perfect for running, bicycling, and long walks. Another fun way to get healthy is to visit famed New York ski areas from spring through fall, when the slopes turn into heart-pounding runs for mountain bikers. Try it out at Windham Mountain Bike Park in the Catskills, Gore Mountain in the Adirondacks, or at a mountain near you.
Virtual: Join Chiku Awali African Dance, Arts & Culture every Monday night at 4:30 p.m. for a virtual African dance class. The African dance programs harness your creative energy, challenge your body, discipline your mind, and teach you about African culture. Advanced registration required.
Procrastinate Less

Credit: Jordan Layton
In-person: Anyone who has ever tried to book a weekend getaway during peak fall foliage season in New York can tell you that one thing is true: "You snooze, you lose." In 2023, make a resolution to get your dream trip reserved well in advance. Sought-after locations for summer include Long Island's North Fork, where rooms at the highly-rated Arbor View Bed & Breakfast fill up early with travelers looking for a great home base to explore wineries, beaches, and charming villages. Also in summer, waterfront accommodations book quickly at locations such as the Watkins Glen Harbor Hotel on Seneca Lake in the Finger Lakes and The Lodges at Cresthaven on Lake George in the Adirondacks. In fall, the best Catskills accommodations sell out quickly, especially at chic hideaways like Eastwind (pictured), which has A-frame cottages with glass walls to maximize the colorful views.
Virtual: How to Create Your Own NY Date Night has tips for a great way to spend a special evening in, many of which require advance planning. It'll be worth it, though, and your significant other will be especially appreciative! 
Improve Your Cooking Skills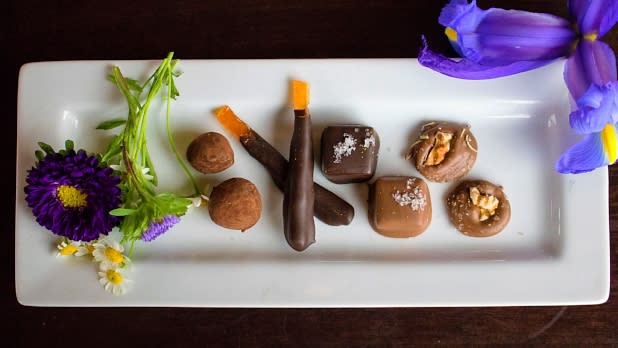 In-person: This resolution is the gift that keeps on giving. Whether you're looking to learn the basics or become the next Top Chef, New York cooking schools offer classes at every level, currently operating at reduced capacities. Miette Culinary Studio in New York City offers technique classes to help with knife skills as well as fun classes focusing on traditional Italian and French cuisines. At New York Kitchen in the Finger Lakes, a limited number of Chef Table classes will be offered in the new year. Craving dessert? Take a chocolate-making class at Chocolate Works on Long Island and get creative with your designs. 
Virtual: The above schools and others in New York offer virtual classes as well, and New York Kitchen partnered with I LOVE NY to bring you New York State recipes, so you can cook favorite New York-inspired dishes at home.     
De-stress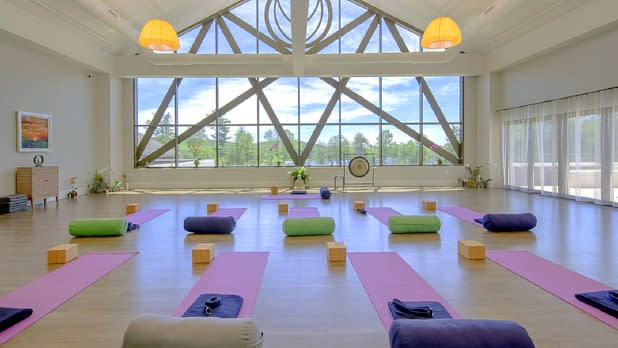 Credit: Revette Studio
In-person: Make this year about you. Relax and pamper yourself with a rejuvenating visit to a New York State spa. At Mirbeau Inn & Spa Skaneateles in the Finger Lakes, enjoy complimentary indulgences with your spa treatment, including a resting room with a heated foot pool, herbal-infused saunas, and a heated whirlpool spa with a private bar. At YO1 Longevity & Health Resorts (pictured), relax and rejuvenate in the Catskills with natural holistic treatments for health and wellness like Ayurvedic hot oil massages, acupuncture, and yoga.  The Spa at Equinox Hotels in New York City has a menu of always-evolving treatments, from indulgent massages to techno-therapies designed to enhance your health and performance.
Virtual: Start your New Year with zen. New York Yoga hosts a variety of live-stream yoga classes seven days a week on Zoom. 
Try Something New

Credit: Revolution Rail Company
In-person: Ring out the old, ring in the new with something you haven't tried. Make Your Own Glass at the Corning Museum of Glass. From hot glassworking to flameworking to fusing to sandblasting, with the help of experienced glassworkers, you and your family can make just about anything with glass and take home a memorable souvenir. Want to up your winter hiking game? Try snowshoeing in a New York State Park. Make it a point to enjoy nature and the solitude and all-engulfing silence of the wilderness in winter traversing some of the thousands of miles of state parks by snowshoe. Another unique option? For a fun new way to travel and see New York's amazing scenery, try self-powered rail biking (pictured) along historic railroad tracks in the Adirondacks, Catskills, and Cooperstown. If you've ever wanted to try stand-up comedy but have yet to get up the nerve, head to the National Comedy Center in Jamestown and try Comedy Karaoke! At this exhibit, choose from more than a dozen routines from comedians like Aziz Ansari, Jeff Foxworthy, and Ali Wong, and of course visit the other hilarious exhibits at this acclaimed institution devoted to all things funny.
Virtual: If you've never experienced a Finger Lakes wine and food pairing experience, you can do so right in your own home, as you join certified sommelier and wine instructor, Laura Winter Falk, PhD, as she guides you through a virtual pairing experience with regional wines and local cheeses or chocolates. 
Connect With Nature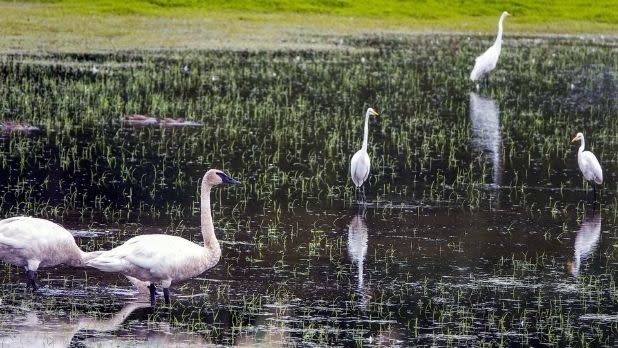 In-person: This spring, grab your binoculars and witness a tidal wave of birds, as hundreds of thousands of warblers will soon be filling New York State's trees, skies, and wetlands with color and song. Experience New York State's natural beauty and wilderness while feeling the adrenaline rush of New York's rapids on a whitewater rafting adventure. For a more relaxing journey through scenic vistas, try tubing! Of course, if you're seeking to experience New York the way explorers have for centuries—on foot—there are thousands of miles of trails across the state for hikers of all abilities, whether you want to hike the Appalachian Trail or take the family out for a short excursion to a scenic view. 
Virtual: If you can't make it to the great outdoors, bring the great outdoors to you by virtually exploring some of the state's unique natural attractions. Nature and adventure live cams offer the next best thing to being there.
Reach New Heights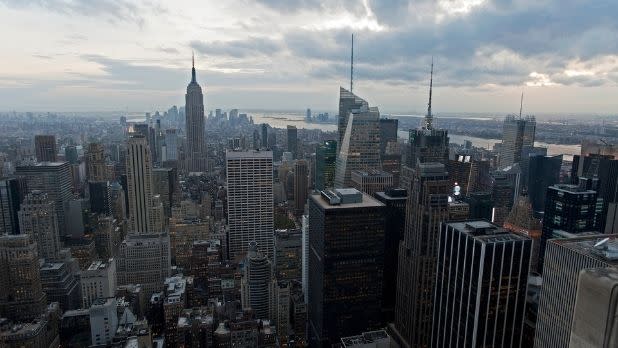 In-person: Think you've seen everything? Make it a point to aim high and get a new perspective on some of the greatest sights in the world by checking out these amazing views and experiences! At the Olympic Jumping Complex in Lake Placid, a ride on the Lake Placid Skyride offers breathtaking panoramic vistas of the Adirondack High Peaks on an eight-person, state-of-the-art pulse gondola and glass elevator trip ending at the observation deck of the HS-128 meter jump. New York City favorite Top of the Rock Observation Deck (pictured) offers a window on Manhattan like you've never seen before, with sweeping 70-floor high, 360-degree views from the three indoor and outdoor viewing decks. Hunter Mountain Zipline in the Catskills is the longest and highest zipline canopy tour in North America (and the second largest zipline in the world) offering exhilarating mountain forest views.
Virtual: Virtually experience breathtaking aerial views of the 6-million acre Adirondack Park!
Get More Artsy  
In-person: Broaden your artistic knowledge and horizons at New York State's amazing and diverse art and cultural museums. A visit to the Hudson River Museum in the Hudson Valley lets you experience the power of art, science, and history, with a permanent collection and dynamic exhibitions of American art ranging from 19th-century Hudson River School paintings to contemporary art installations. Discover the art of the nation at the Everson Museum of Art (pictured) in Syracuse, home to a permanent collection of American paintings, sculpture, drawings, and graphics that date from colonial times to the present. Whether it's showing you something you've never seen before or showing you how to see something familiar in a new way, the Museum of Modern Art (MoMA) in Manhattan is always an eye- and mind-opening experience for those seeking the best in modern and contemporary art. 
Virtual: If you can't make it in person, or if a museum is closed, you can still take a virtual museum tour. View the Hyde Collection online, attend a lecture, or take a tour at the Thomas Cole Historic Site, enjoy outdoor drone footage of Griffis Sculpture Park, and more. 
Learn About the World Around You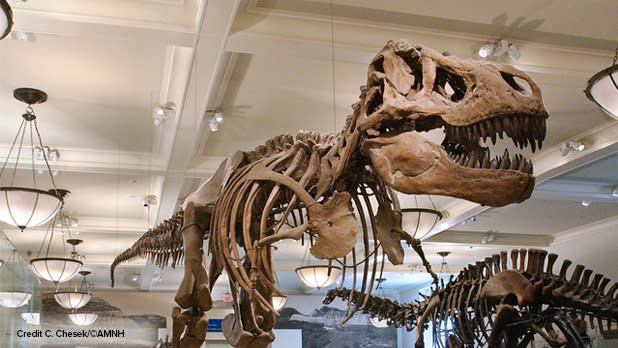 In-person: Warm up your body and mind as you step into the fascinating worlds of art, culture, history, and science in New York State. Plan a summer trip to the Chautauqua Institution, where you can broaden your horizons with world-class artistic performances, lectures and conversations wrestling with the critical issues of our time. In addition, you can access many of Chautauqua Institution's programs online all year long at its streaming channel, CHQ Assembly. Unlock the secrets of the earth's past and present at the American Museum of Natural History (pictured) in New York City. It's packed with exhibitions representing people and animals throughout the ages and features exciting exhibitions like "Sharks," delving into the incredible science and history behind this ancient and captivating group of fishes now through September 4, 2023. Marvel at the largest collection of antique and classic boats on display in North America at the Antique Boat Museum in the Thousand Islands-Seaway region, which reopens for the season in May. You can learn about boating history on the St. Lawrence River, tour George Boldt's 1903 two-story houseboat, and even take a speedboat ride through the islands in a triple cockpit runabout! El Museo del Barrio is the only museum in New York City specializing in Puerto Rican, Caribbean, and Latin American art. Learn about these Latino cultures through the museum's extensive fine arts collection and special programs.
Virtual: If you can't make it into the wilderness, bring the wilderness to you through The Wild Center! Take a virtual visit of exhibits, tune into Lunchtime Live and Digital Lessons, or check out the live views throughout the Wild Center and beyond.
Treat Yourself to a Little Luxury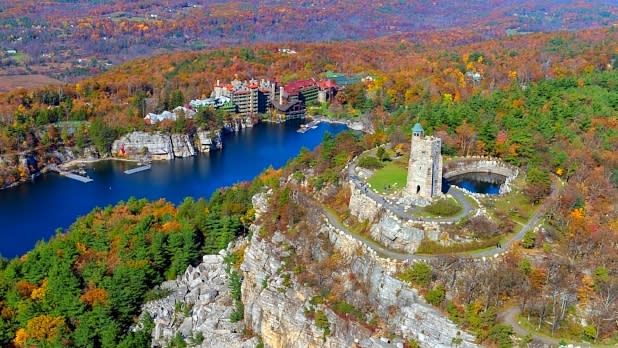 In-person: New York is home to many world-class resorts that epitomize luxury. Recreate and renew your mind, body, and spirit at the Mohonk Mountain House (pictured) in the Hudson Valley, a grand 265-room Victorian castle resort that is so picturesque it's used as a setting in popular TV shows such as Billions and Upload. The resort features an award-winning spa; year-round recreation including rock climbing, hiking, mountain biking, and snowshoeing; and family activities. In the Adirondacks, spend quality time at the romantic and rustically elegant Lake Placid Lodge. It features stone fireplaces, deep soaking tubs, an acclaimed restaurant, and endless recreation opportunities. Looking for a family-friendly luxury resort stay? Try The Sagamore Resort on Lake George, which offers a wealth of on-site amenities including an 18-hole Donald Ross golf course, a full waterfront marina, indoor and outdoor pool complex, and more. Indulge in Long Island luxury at Gurney's Montauk Resort & Seawater Spa. Situated on Montauk's most pristine stretch of oceanfront real estate, the only year-round resort in the village features 158 rooms, suites, and beachfront cottages, all delivering dramatic ocean views, and all with direct access to a 2,000-foot private sand beach. The resort's renewed Seawater Spa debuted in May 2022. The 30,000-square-foot, state of the art wellbeing destination features the only ocean-fed seawater pool in North America, a caldarium, thermae baths, reinvigorating cold plunge pools, indoor-outdoor treatment rooms and a variety of fitness studios. In Central New York, experience the charm and gracious hospitality of a bygone era at The Otesaga Resort Hotel. The lakefront resort has first-class dining options as well as sports and recreational facilities including a heated outdoor pool, bicycle rentals, canoeing, boating and paddleboarding, lake swimming, tennis courts, and a spa.
Virtual: If you can't make it in person to one of these great luxury resorts right now, purchase a gift certificate at any one of them for your future travel!
Change Your Perspective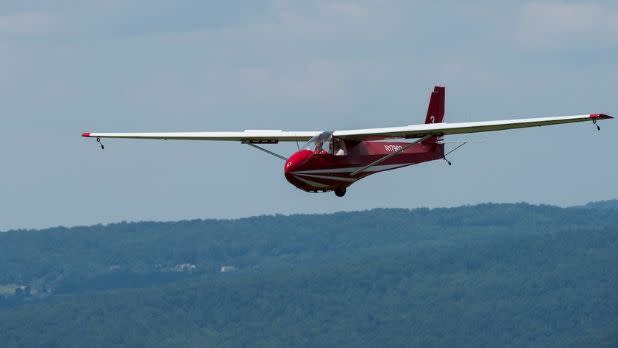 In-person: The new year is the perfect time to try and better yourself by seeing things from a different perspective. How you choose to do that is up to you, but here are some awesome ideas for new views. Introduce your children to the amazing world of science (and learn something yourself) at a science museum, like the Milton J Rubenstein Museum of Science & Technology (MOST) in Syracuse. Also in the Finger Lakes region, in Elmira, explore the history of motorless flight where it began in America through one of the world's largest collections of historical and vintage gliders and sailplanes at the National Soaring Museum. Next, at the on-site Harris Hill Soaring Center (pictured), take a 20-minute sailplane ride over the Chemung Valley. Further south, get an awesome view of the Hudson Valley as you walk, bike, or run across the region's most unique state park, Walkway Over the Hudson State Historic Park. The world's longest elevated pedestrian bridge (1.28 miles), the Walkway stands 212 feet above the Hudson River and was created on an abandoned railroad bridge originally opened in 1889. 
Virtual: Even if you can't leave the house, you can still enrich and expand your world and the world of those you love. The Long Island Children's Museum is offering virtual classes on a wide range of topics, from cooking to exercising to voting.  
Read More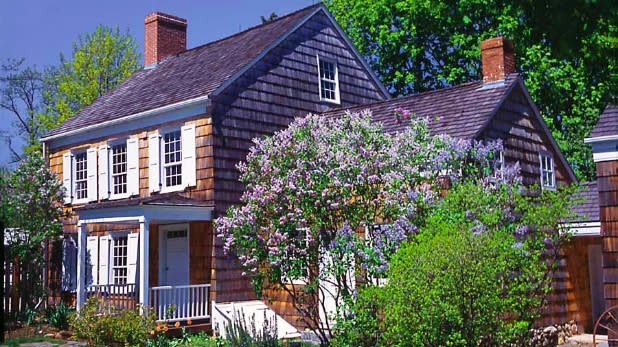 In-person: Looking for motivation to build the perfect reading list this year? Look no further than New York State for inspiration! Explore the life of the famous poet Walt Whitman and learn about a typical day in the life of a 19th century Long Island family at the Walt Whitman Birthplace State Historic Site & Interpretive Center (pictured). At the Mark Twain Study & Exhibit in the Finger Lakes, step inside the octagonal structure built in 1874 where the legendary author spent his days working on The Adventures of Tom Sawyer, The Adventures of Huckleberry Finn, The Prince and the Pauper, and other notable works. Journey back in time to a world of elegance and unique architectural style which embodied the extravagance of the era known as the Gilded Age, immortalized in the classic novel, The Great Gatsby, by touring the Gold Coast Mansions of Long Island. The Harlem Renaissance brought along a new creative energy for African American literature, with authors rejecting the traditional American standards of writing and discovering and utilizing their own style of writing to signify their cultural identity. A tour of Harlem is an entertaining and informative journey that captures the history and milestones of jazz, hip-hop, gospel, and the art of the neighborhood.  
Virtual: Ready to start cracking the books? Here are 11 great books, from classic literature to page-turning nonfiction to accounts of major historical moments and figures, that all have one very special thing in common: New York State!
Go Somewhere You've Never Been

Credit: Adirondack Coast Visitors Bureau
In-person: This year, explore your world by going somewhere you've never been before. Check out these places to put on your must-visit list for 2023. Enjoy more than 15 miles of hiking trails and some of the country's most jaw-dropping views at Niagara Falls State Park, the oldest state park in the United States. Explore nature trails with scenic vistas set amid 500 million-year-old sandstone and waterfalls during the day or take a lantern tour on a summer night at Ausable Chasm (pictured), also known as "The Grand Canyon of the Adirondacks." If you're up for some subterranean exploration, Howe Caverns in Central New York invites you to discover amazing rock formations 156 feet below the earth's surface in the northeast's largest cavern and take a boat ride on the underground river that carved them. It's hard not to be left spellbound at Watkins Glen State Park. Within two miles, the glen's stream descends 400 feet past 200-foot cliffs, generating 19 waterfalls along its course! Want to view another grand canyon? The 14,350-acre scenic Letchworth State Park, also known as "The Grand Canyon of the East," features year-round recreational activities and accommodations including three large waterfalls, each carved by the Genesee River. If you've been putting off your first visit to New York City and its world-class museums, amazing food, and unforgettable views until later in 2023, now is the time to start planning for it!
Virtual: Even if you can't see New York's great natural wonders in person, you can still take a 360-degree virtual tour of any of the magnificent New York State Parks!
Share New York State adventures with us on Instagram and Twitter with #ILoveNY and #iSpyNY, and tag us on Facebook!