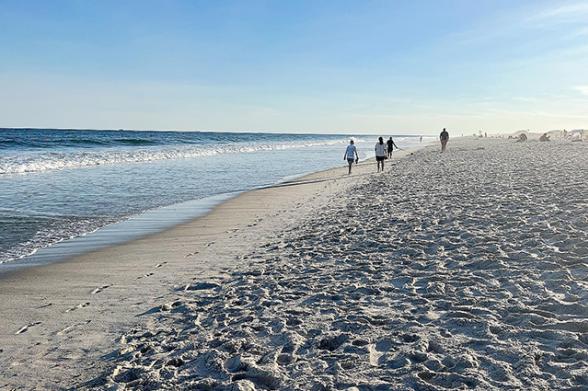 Gather your friends together and celebrate summer in the Empire State! There are so many destinations to choose from and activities sure to thrill everyone. You might sample some New York State wine, ride in a hot air balloon, or wade mindfully through a river. Whether you're planning a trip for foodies, art-lovers, or outdoor enthusiasts, you'll find what you're looking for in New York State. Read on and decide where you'd like summer to take you!
Masks are encouraged, but optional in most settings per New York State guidelines. Individual businesses or attractions may require mask wearing. Call ahead and check websites and social media to make sure attractions and amenities are open and available.
Originally published 07/25/2022
Hone your Cooking Skills and Create Lasting Bonds (Hudson Valley)

Credit: CIA New York Restaurants
Nourish the body and forge meaningful bonds with friends in the Hudson Valley, where you and your best buds can embark on amazing culinary experiences. In Pleasantville, ZWILLING Cooking Studio bills itself as "part culinary classroom, part dinner party" and welcomes groups celebrating birthdays, bachelor and bachelorette parties, and other events. With classes like "Girls Night Out" Asian Street Food and Mexican Fiesta Menu, you're sure to have a blast! A little further north in Hyde Park, amateur home cooks, hobby bakers, and avid foodies alike can sharpen their skills with a class at the Culinary Institute of America (CIA), where many of the world's top chefs have trained. Take classes like Artisan Breads at Home or Food and Wine Pairing 101, where you'll learn (and taste) the best vintages to pair with any meal. Students and faculty chefs also run several world-class restaurants at CIA. Guests can dine on French cuisine, casual Italian fare, or upscale farm-to-table dishes (restaurants are closed for summer break from August 4-September 6). Finally, Hillsdale General Store is a one-stop-shopping experience for all home chefs; they also host a regular schedule of interesting cooking classes.
Contemplate Art and Nature (Catskills / Hudson Valley)
Inspire the senses with a getaway to the charming village of Catskill where you'll discover a nice mix of art and culture, with lots of chances for stunning views. And if that's not enough, several breweries on the Catskills Beverage Trail are here, too. Visit the Thomas Cole National Historic Site (pictured) to learn about America's earliest art movement and follow the Hudson River School Art Trail to experience the sites immortalized in paintings by Cole and other artists. The art trail will take you on hikes in North-South Lake State Campground and when you see the stunning view from the Catskill Mountain House Site, you'll understand why artists like Cole devoted their lives to painting them.
The art trail will also have you crossing the Hudson River Skywalk, a pedestrian-friendly bridge that connects to the town of Hudson and the Olana State Historic Site (pictured), a beautiful estate that was once home to Cole's protégé, Frederic Edwin Church. If you've got some time to spend in Hudson, check out Warren Street and the antique stores, art galleries, and farm-to-table restaurants that the city is so well-known for. Back in Catskill, be sure to spend some time taking in the 19th century architecture and overall charm of this riverfront village. Through mid-September, catch a series of artistic statues lining Main Street in an exhibition known as Cat'n Around Catskill, a whimsical tribute to felines that's now in its 17th year. If you're live music aficionados, catch a performance at Dutchman's Landing Park. At the end of each day, unwind with a cold one at a local brewery such as Subversive Malting & Brewing, Crossroads Brewing Company, or Rip Van Winkle Brewing Company.
Settle in to Lake Life in a Charming Village (Central New York)
Lounge around a scenic lake, spend a little time shopping on a quaint main street, and eat a few fabulous meals with your favorite people. If that sounds like an ideal summer trip with friends, head to Cazenovia, a village located on the southeastern shore of a lake by the same name. Budget Travel magazine once named Cazenovia one of their "Coolest Small Towns" for good reason. Downtown, there are unique boutiques, cafes, and shops like Cazenovia Artisans, an artist cooperative gallery that sells handmade jewelry, ceramics, decorative art, and textiles. There's also the Albany Street Historic District, where you'll see a number of Cazenovia's 19th century buildings. The area was added to the National Register of Historic Places in 1978. For more historical sightseeing, visit Lorenzo State Historic Site, the 1807 Federal-style home of village founder John Lincklaen.
Ready for some fun in the sun? Relax and swim at Lakeland Park's sandy beach, or rent kayaks and stand up paddleboards at Morse Kayak Rentals. For more outdoor recreation, head to nearby Chittenango Falls State Park for a hike, a picnic, and a view of the 167-foot waterfall. A little further north, go to Green Lakes (pictured), where you can walk on a pleasant wooded trail that circles the tranquil blue-green lake, and then cool off at the lifeguarded swimming area. Back in Cazenovia, dine at The Brae Loch Inn. They frequently host live music performances and their Scottish-themed dining room is cozily ideal for groups. For lakefront fine dining, go to The Brewster Inn, housed in a grand Gilded Age mansion. Both inns also offer overnight accommodations.
View Nature from Numerous Perspectives (Greater Niagara)

Credit: Getty Images
The state park in New York known as the "Grand Canyon of the East" is so stunningly beautiful and offers such a range of things to do that it's sure to delight each and every one of your best buds, no matter what their getaway goals are. At Letchworth State Park, the nature lovers among you can hike on some of the 66 miles of trails, viewing waterfalls that cascade from as high as 600 feet. Adventure seeking friends can go whitewater rafting on the Genesee River and then get a view of this astonishingly beautiful landscape from a hot air balloon. There's also a swimming pool in the park, guided walks, tours, and lectures at Humphrey Nature Center at Letchworth, and a mile-long Autism Nature Trail, offering eight distinct sensory experiences. Also in the park is Glen Iris Inn, which overlooks Middle Falls and offers guest rooms as well as group accommodations for up to eight people. Even if you don't stay at Glen Iris Inn, be sure to dine on the terrace at Caroline's, their restaurant named after the woman who was once the park's superintendent, librarian, and museum curator.
Celebrate Summer in the Big Apple (New York City)
Summer in the city can be downright magical, and who better than your best buddies to share it with? Catch a live performance–and maybe a cool breeze–at Little Island, the park hovering above the Hudson River at Pier 55. Nightly free events include spoken word and comedy performances, piano sing-alongs, and bingo with NYC's bingo queen, Linda Simpson. Upcoming ticketed events are an eclectic selection of dance, music, and even circus performances. When it comes to hanging out with friends, nothing is more fun than a breezy boat trip. Take a sightseeing cruise around the island of Manhattan with CircleLine, dance the night away on a live concert cruise with Rocks Off, or party on the New York Alive After Five Cruise with City Cruises by Hornblower.

Credit: Matt Lewis
For a unique dining experience, make reservations on La Barca (pictured), where you can fill up on tacos and margaritas while sailing on the Hudson River. If you're more of a seafood lover, no problem. Just next to La Barca is the North River Lobster Company, a boat that sets sail as you're diving into lobster rolls, oysters, and shrimp cocktail. Another fun group experience is watching an outdoor movie. They're usually free and take place at parks and other locations all over the city. And just because you're in the concrete jungle doesn't mean you have to miss out on pool time! Just be sure to book a hotel that has an outdoor pool, like The William Vale or Margaritaville Resort Times Square. If your New York City summer getaway coincides with the likely scenario of a heat wave, spend the day viewing masterpieces in the air conditioning of The Metropolitan Museum of Art. If you can brave the heat, it'll be worth it to head up to the museum's roof garden bar, where you can order a refreshing cocktail and take in views of Central Park and the Manhattan skyline. The roof garden is currently open later on Fridays and Saturdays for sunset views. 
Work Your Way Through a Wine Passport (Finger Lakes)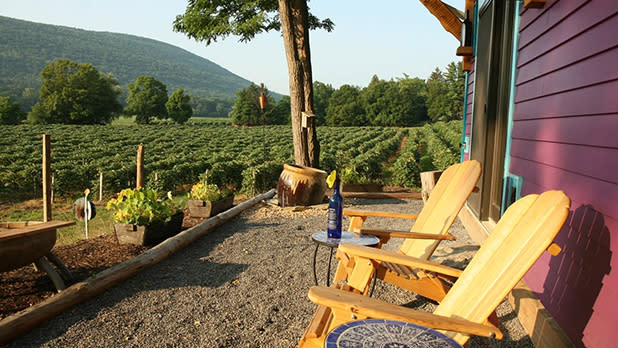 If you're wine lovers, nothing beats a summer weekend trip with friends more than wine tasting in the beautiful Finger Lakes. You could hit the wineries on Seneca Lake, which has the biggest wine trail in the region, or those on Cayuga Lake, which is the oldest wine trail. But if you want something a bit off the beaten path, check out the Canandaigua Lake Wine Trail, made up of 30 miles of wine and food experiences. Before you go, purchase the digital Wine Tasting Passport, (not valid for groups of more than six). Show your passport at the Canandaigua Lake wineries and receive complimentary tastings and discounts on bottles and cases. In between wine tasting, you can explore historic downtown Canandaigua, located at the north end of Canandaigua Lake and loaded with shops, restaurants, and galleries. A favorite local place to eat is Eric's Office Restaurant, which serves up a huge selection of hearty foods. When you find yourselves at the opposite end of the lake in Naples, stop at Joseph's Wayside Market, one of the largest open air farmer's markets in the Finger Lakes. And absolutely don't miss out on sampling some grape pie in Naples, a delicacy that the village is famous for. Cindy's Grape Pies is a local staple, but call ahead to check their daily supply or to see if you can place a preorder.
Cement your Friendship with New Experiences (Adirondacks)
Nothing bonds us more tightly together than trying new experiences. Even better if those experiences happen in a serene place like the Adirondacks. If you base your getaway in or near the village of Saranac Lake, you'll have access to unique activities that might teach you something new while revealing the region's beauty at the same time. You can take a sailing lesson with Sail Adirondacks (three adults max per lesson). During the two-hour lesson, you and your crew will learn basic sailing skills and terminology while sailing on Saranac Lake. Prefer to let the pros take the helm? Book a crewed sailboat instead and sit back and enjoy the ride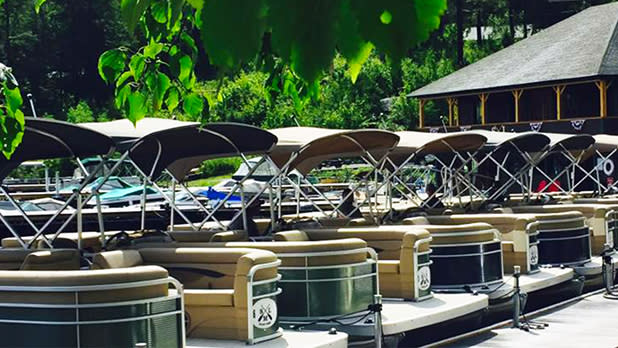 If anyone wants to paddle their own watercraft, rent a canoe or kayak at Saranac Lake Marina or take a day-long guided canoe trip with St. Regis Canoe Outfitters. If you need a break from water sports, get your adrenaline pumping by mountain biking at Dewey Mountain Recreation Center. When you're ready to take down the activity level a notch, book a forest bathing or riverwalking experience. On a forest bathing excursion, a guide will encourage you to take special notice of the sights, sounds, and smells of the forest. While riverwalking, participants are guided to take in sensory stimulation while wading in the Ausable River. Summer forest bathing walks are offered through the end of July; riverwalking is offered through September. If you found serenity and wish to keep it going, book massages for everyone at Ampersand Salon and Spa at Hotel Saranac.
Unplug and Reconnect on a Beach Getaway (Long Island)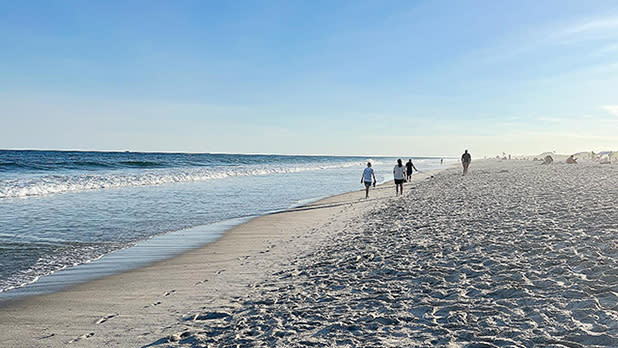 Do you and your friends need nothing more than a few lazy days at the beach, the sound of lapping waves the only thing interrupting your catch-up conversations? Head to Fire Island, a 32-mile barrier island with unspoiled beaches and diverse nature and wildlife. You could simply stake out a spot on the sand and stay for the duration of your trip–no judgment on that! You could also rent a bike from a local business like Corliss Bike & Supply (one week minimum rentals) or Ocean Beach Hardware (daily and weekly rentals) and bike your way across the easily explorable island. Get the lay of the land by checking out different communities and beaches. Ocean Beach is the largest community, with lots of bars, restaurants, and shops.
If you haven't had breakfast, Rachel's Restaurant & Bakery is the place to go for a bagel with lox, a classic omelet, or a freshly baked croissant or biscuit. Next, stop at Sailors Haven / Sunken Forest, where you can spend a few hours relaxing and swimming at the lifeguarded beach and then explore a forest of holly trees (some up to 300 years old) that have grown behind sand dunes along the Atlantic coast. A little further east, check out Cherry Grove, a well-known LGBTQ-friendly community with great restaurants, fun nightlife, and interesting architecture. If you'd like to still widen your exploration of Fire Island, head to Fire Island Lighthouse (pictured), where you can climb 182 steps to the tower for panoramic views. Want a view over the water? Book a parasailing trip with Fire Island Parasail.
Explore the St. Lawrence from Above and Below (Thousand Islands)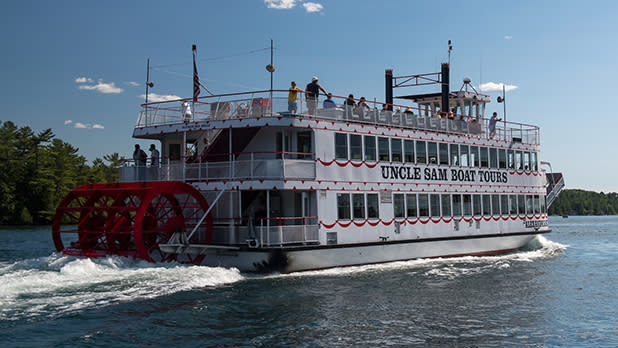 There's nothing like summer on the St. Lawrence River and you and your pals can explore it, as well as surrounding waterways, with tons of different activities. Start by taking a relaxing and incredibly scenic river cruise to orient you to this beautiful region. You could book a two-nation narrated tour on a boat that travels through local islands, to Boldt Castle, and on both U.S. and Canadian waters with Clayton Island Tours. Or get a glimpse of Gilded Age mansions that dot the islands on a Millionaire's Row Tour with Uncle Sam Boat Tours.

Credit: Taste 1000 Islands
Classic Island Cruises does fishing trips, and if cruising with wine is more suitable to your group, book a Wine Cruise with Coyote Moon Vineyards. If you'd like a private, luxury excursion, you could rent your own pontoon or open bow boat with Mac's Boat Rentals in Alexandria Bay. After cruising, it's time to look below the surface for a totally different perspective. Did you know that thousands of shipwrecks lie on the floor of the St. Lawrence River? Many are accessible from shore or by boat. Blue Foot Diving in Alexandria Bay will take certified divers to wrecks that are within a 30-minute boat ride. Thousand Islands Dive Excursions in Clayton offers similar trips, as well as night dives. If you'd rather stay on the surface of the water, you can rent kayaks from Bayside Marina or for something a little more heart-thumping, go whitewater rafting on the Black River with Adirondack River Outfitters or Whitewater Challengers.
Channel Your Inner Farmer (Capital-Saratoga)
Does a unique getaway on a farm tucked into the rolling hills of the Upper Hudson Valley sound like just the getaway your group needs? If so, book a stay at June Farms, a working farm that's also a sanctuary for heritage breed animals like Highland cows, Nigerian dwarf goats, Old Spot pigs, and Shire horses. The animals are friendly and guests are welcome to tour the farm and get to know them. When you're done snapping pics of your newest animal pals, you can explore the area by walking on nearby nature trails. During the summer, the farm also hosts lots of weekly events such as Saturday Barn Crawls, Wednesday Night Food Trucks, Dog Park Night, and Goat Yoga. Also on the premises is The Pony Barn, which sells beer, wine, and cocktails. Dinner and brunch are available on select days. June Farms offers several accommodation options, including small cabins, a Tipi, a vintage Airstream, and a lodge that accommodates up to four guests. Note that the cabins include BBQ grills, while the Airstream and lodge are equipped with kitchens. There are plenty of restaurants nearby, too, including CrossRoads American Grille and Asian Tea House. When you're ready to get off the farm and explore the area, you can catch a movie under the stars at Hollywood Drive-In Theatre, then go to Emporium Farm Brewery for house-made beer, cider, mead, and wine. June Farms is also a 20-minute drive from Albany, so it would be easy to hop in a car and spend an afternoon exploring popular sites like the New York State Museum and the New York State Capitol Building. 
Frolic in the Treetops at an Aerial Adventure Park (Chautauqua-Allegheny)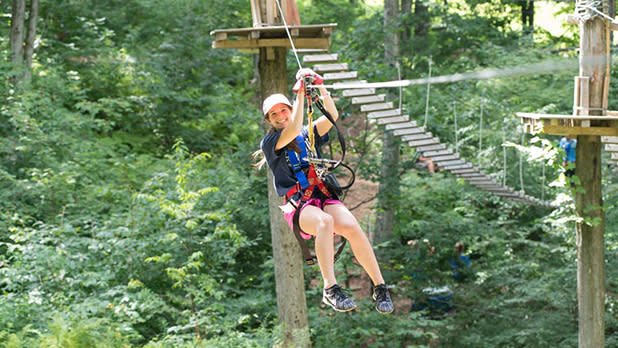 Challenges are better faced with friends, which is why Holiday Valley Sky High Aerial Adventure Park makes a perfect summer getaway. Together, you can navigate the series of platforms, obstacles, bridges, and ziplines that make up the aerial course. You can cheer on the friends who will opt for the more difficult courses, which can reach nearly 70 feet up in the trees, and support the friends who want to stay on the easier courses, which are 15-20 feet high. No matter which course you choose, you'll face moving bridges, zip lines, tunnels, nets, and other challenging elements. All participants are harnessed in for safety. With a total of 13 aerial adventure courses spanning five acres, this is the largest aerial adventure park in New York State and the third largest in the U.S.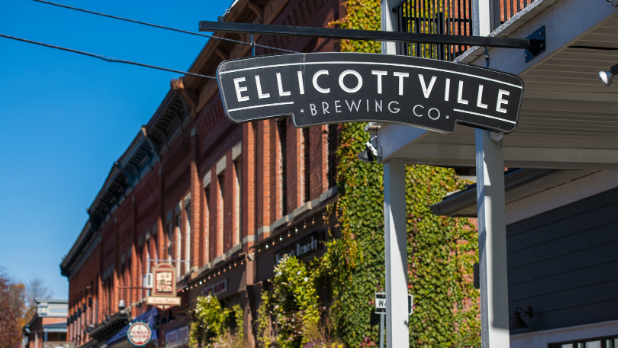 When you're done hopping among the trees, you can explore the nearby village of Ellicottville. Start at Nannen Arboretum, a botanical garden with a lake, Japanese garden, and nature trails. Then sharpen your axe throwing skills at Ratchet Hatchet. When you're ready for a refreshment, sample local wine at the Winery of Ellicottville and local beer at Ellicottville Brewing Company. Be sure to check your calendar to see if your getaway coincides with one of the village's exciting events like the Summer Music Festival (June 30 - July 2), Jazz n' Blues Weekend (July 28 - 30), or Taste of Ellicottville (August 12 - 13).
---
Don't forget to post photos of your New York adventures on Instagram and Twitter with #iSpyNY and tag us on Facebook!