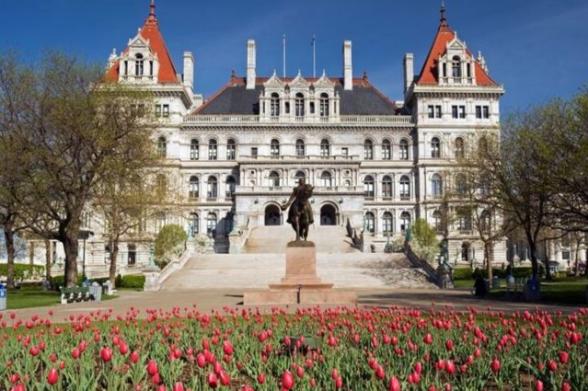 Credit: @abovealbany & @Amityphotos.com
The Capital-Saratoga region is well-known for its Revolutionary War history, farming communities, and craft beverage scene. But did you know that the potato chip was invented right in Saratoga or that the character of Uncle Sam is said to be modeled after a former resident of Troy? Settle in as we take you through 11 more secrets of the Capital-Saratoga region for foodies, history lovers, appreciators of art and architecture, and travelers looking to get off the beaten path.
A fried chicken that beat Bobby Flay's!

Credit: Heather Bohm-Tallman
Contrary to popular belief, you don't have to head down south for some of the country's best fried chicken. Hattie's Restaurant in Saratoga Springs has been serving it up since 1938. Current chef and owner Jasper Alexander has kept the tradition alive and even won "best fried chicken" on "Throwdown with Bobby Flay" on Food Network. Hattie's also specializes in Louisiana-style favorites include fried catfish, jambalaya, gumbo, slow-cooked spare ribs, and hush puppies. Don't miss the cocktails—Hattie's famous mojito comes with a strip of fresh sugar cane and the Hattie's Bloody Mary with a fried chicken wing and candied bacon!
The home of Angelica, Eliza, and Peggy!
Fans of "Hamilton" "can never be satisfied" with what they know about the Schuyler sisters and the family that Alexander Hamilton married into. There is plenty to explore about Hamilton, the Schuylers, and Hamilton's rival Aaron Burr in the Albany area, starting with the Schuyler Mansion State Historic Site (pictured). The mansion, which offers Hamilton-themed tours, has been restored to when it held the 1780 wedding of Alexander and Eliza. Visit the First Church, which the Hamiltons attended, where the minister Eliphalet Nott eulogized Hamilton, and coincidentally where Burr's daughter Theodosia was married. Walk by City Hall to see a statue of Philip Schuyler, Alexander's father-in-law and the first senator of New York, who later lost the seat to Burr before Burr famously dueled Hamilton. For more on Hamilton and the Schuylers in Albany, visit the Albany Heritage Area Visitors Center site.
A meadery worth the buzz!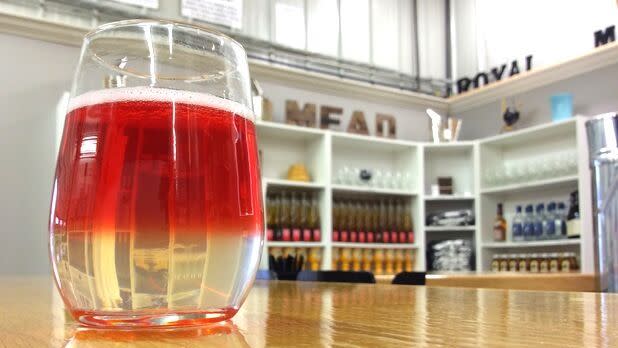 New York State is already revered for its wineries, breweries, and cideries, but the meadery scene is also starting to take flight. Instead of using grapes as in winemaking, crafters at a meadery make mead—the world's oldest fermented beverage—with honey, yeast, and water. Royal Meadery in Delmar makes a variety of fun mead flavors, many using honey from their own bees. Visit the tasting room on Friday evenings and Saturdays to try "Royal Meadery Apple Pie" (with honey, New York apple cider, apple pie spices, and whole vanilla beans), "The Queens" (a blend of different honeys plus buckwheat), and "Cranberry Orange" (orange blossom honey mixed with cranberry and orange peel).
A mineral spring taste-test through Saratoga Springs!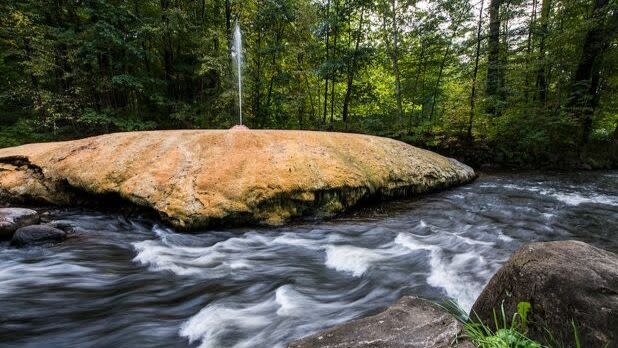 Saratoga Springs was built on a geological fault that shifted, causing natural mineral springs to appear from deep down under the layers of shale and limestone. For centuries, the Mohawk and Iroquois populations bathed in the springs for their health benefits and named the area "Serachtuague," which translated to "place of fast-moving water." European settlers and even George Washington also experienced the healing and curative nature of the springs. The word spread, doctors prescribed patients visits to the springs, spas and mineral baths started opening up, and here we are today. Throughout the city, there are 21 public mineral springs, all naturally carbonated, many believed to have special health benefits based on the level of minerals absorbed as the water rises to the surface. For example, drinking water from Congress Spring and Old Red Spring is said to help skin disorders while water from Orenda Spring is said to strengthen blood, thanks to its high iron content. BYO bottle or cup as you travel around! (Side note: The Geyser Island Spouter, pictured, is the only geyser east of the Mississippi River!)
A tour with ghosts of visitors past!

Credit: @Amityphotos.com
The New York State Capitol, combining two of the fanciest 19th-century architecture styles of Romanesque Revival and Neo-Renaissance, is a must-see for all visitors to Albany. But did you know that some previous visitors may have never left the grand structure?! During the month of October, a free daily tour of the Capitol is given with a special focus on spooky stories and haunted tales, including rumors of a night watchman who perished in the Capitol fire of 1911. Spoiler alert: Two US presidents make an appearance. Reservations highly recommended.
More Tiffany windows than anywhere else!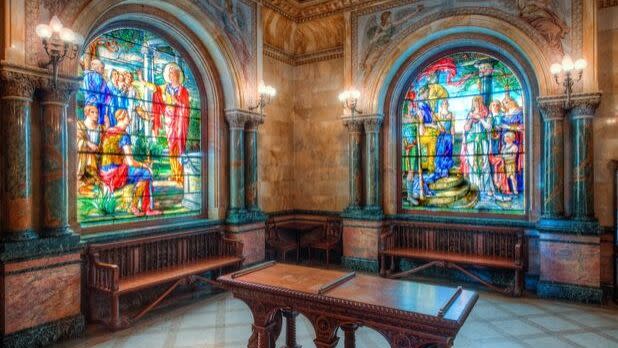 The revitalized city of Troy (where we totally recommend spending a weekend) is known for more than its hip dining and brewery scene and killer farmers' market. It's also where you'll find the most Tiffany windows per square mile than anywhere else in the US. Seek them out at St. Paul's Church (decorated almost entirely in Tiffany glass and mosaics), St. Joseph Church (with 42 stained-glass windows), St. John's Episcopal Church, and Gardner Earl Memorial Chapel and Crematorium (pictured) within Oakwood Cemetery. The Hudson Mohawk Industrial Gateway puts on a once-a-year guided Troy's Tiffany Treasures tour—it always sells out, so get your tickets in advance.
A Thorough(bred)-ly peaceful morning!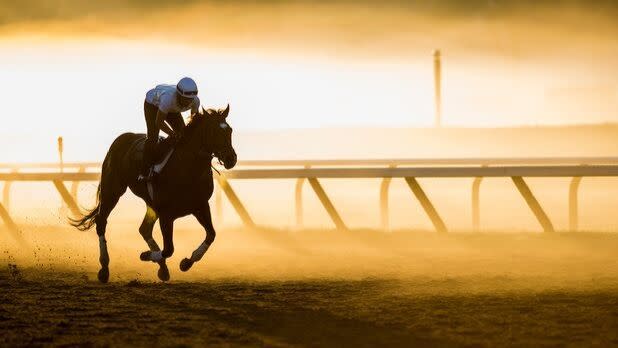 During the summer racing season, wake up to the sound of horses at Saratoga Race Course. Until 9:30 am, watch the Thoroughbreds warm up and exercise around the track while sitting in the stands with your own coffee or dining on a full breakfast on the Clubhouse porch. Walking tours of the stables are held from 7:30 to 9 am (except for Travers Day and Labor Day). Your track-side parking fees are refunded if you get out of there by 10 am. This is a peaceful and affordable way to see one of the most beautiful sporting venues in the country.
A 42-square-mile lake flying under the radar!

Credit: Leslie Dixon
Great Sacandaga Lake is known as "the best-kept secret of the Adirondacks," but you know we can't keep a secret! This large (and largely undiscovered) lake sits within Adirondack Park but stretches into to the Capital-Saratoga region. The lake is actually a reservoir created in 1930 to protect the surrounding communities from Hudson and Sacandaga River flooding. Almost a century later, the lake area remains perfect for outdoor adventures like fishing, hiking, boating, and cycling. Winter activities include snowshoeing, ice fishing, and snowmobiling the trails around the lake. There is also plenty of waterfront dining along the shores—try the upscale Italian at Lanzi's on the Lake in Mayfield or the casual offerings of I-Go-Inn in Edinburg.
Four historic covered bridges!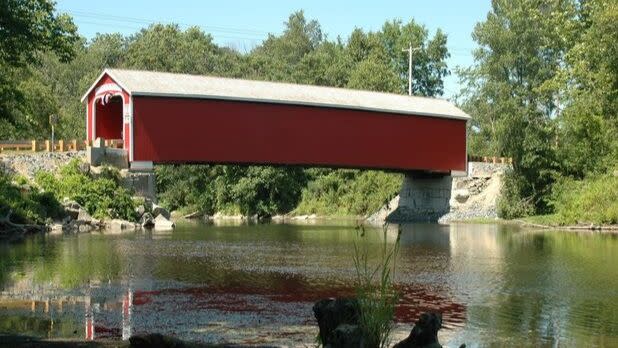 If you're one of the many travelers who go berserk for covered bridges, you'll find the greatest concentration in New York in Washington County, with four—all on the National Register of Historic Places. Buskirk in Cambridge is the only covered bridge in the state that stretches county lines (into Rensselaer County) and spans the Hoosic River. Across the Batten Kill River are Eagleville, Rexleigh (pictured), and Shushan, now a small museum with farm tools donated by the local community.
A ride in a replica 1700s bateau!

Credit: Schenectady County Historical Society
If you've read previous Secrets posts, you know all about the Antique Boat Museum in the Thousand Islands. But did you know you can ride in a bateau, a flat-bottomed cargo boat used by the Dutch settlers all over the Mohawk Valley, at Mabee Farm Historic Site, outside of Schenectady? The flat bottoms of bateaux were necessary because the Mohawk River could become quite shallow, exposing sand bars and rock ledges. Because vessels could be easily destroyed in the rapids, it helped that the bateaux could be built cheaply with local materials. These highly versatile vessels could be rowed, moved with poles, or sailed, depending on the depth of the waters and the weather. At Mabee Farm Historic Site, you can also explore historical buildings (including the Dutch Barn from the 1760s), meet farm animals, and learn about blacksmithing. Bateau rides are offered during special events and on Tuesday evenings during the summer.
A regional specialty to make you say, "Oh, boy!"
Just as Buffalo has the wing and Binghamton the spiedie, Saratoga Springs is home to the "Oboy." Formerly called the "Doughboy," this specialty was recently rebranded so people didn't confuse it with another food by the name, sweet fried dough with powdered sugar. In the simplest of terms, the Oboy is a pizza burrito—made with chicken breast (or lots of veggies), a soft cream-cheese-like cheese, scallions, and secret spices all baked into pizza dough. Try this Saratoga staple downtown at the pizzeria/Mexican restaurant Esperanto, which invented the treat in the 1990s and now sells more than 125,000 Oboys each year.
Don't forget to post photos of your New York adventures on Instagram and Twitter with #iSpyNY and tag us on Facebook!