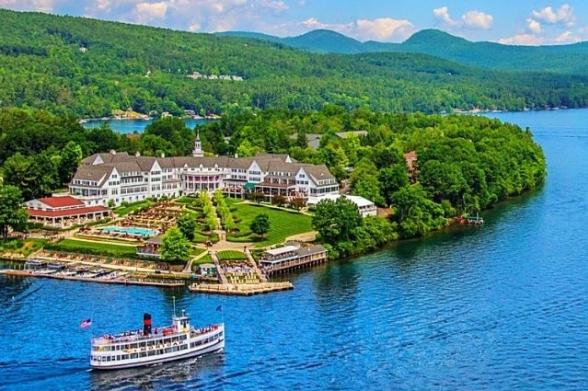 Credit: Courtesy of Sagamore Resort
 
Get ready for some eggcellent springtime fun this April with colorful events, festive brunches, and more across New York State. This year, Easter and Passover celebrations fall on the same weekend, with certain events taking place the week before the holidays. Here's where you can find holiday activities and events this month.
Masks are encouraged, but optional in most settings per New York State guidelines. Individual businesses or attractions may require mask wearing. Call ahead and check websites and social media to make sure attractions and amenities are open and available.
Updated  03/22/2023
Hop Aboard the Easter Bunny Express (Central New York and Catskills)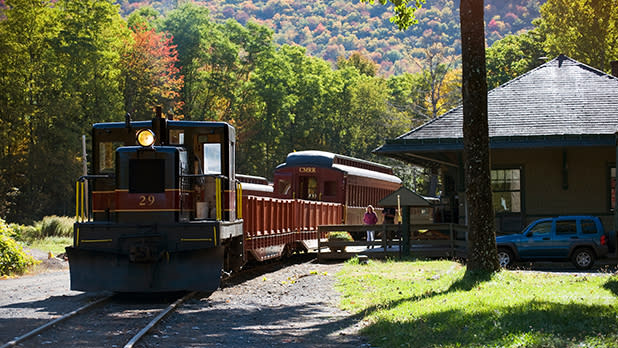 Take a festive sightseeing train ride this Easter at one of three locations across New York State. In Central New York, Cooperstown & Charlotte Valley Railroad will host a two-hour round trip train ride with the Easter Bunny on Saturdays and Sundays, April 1, 2, and 8. The train journey includes complimentary snacks and entertainment from the Easter Bunny, stopping off for an Easter Egg Hunt. Adirondack Railroad is also hosting an Easter Bunny Express, April 7 and 8, from Holland Patent Station at the base of the Adirondack Mountains, stopping off at the historic Remsen Depot for an Easter egg hunt and the chance to take snaps with the Easter Bunny.
In the Catskills, on April 1, 2, and 8, the Catskill Mountain Railroad (pictured) is also promising a holiday adventure on their one-hour train ride from Kingston, complete with an Easter egg hunt and a visit from the Easter Bunny on board their festively-decorated vintage trains.
Discover Your Perfect "Peeps Pairing" at Liberty Vineyards & Winery (Chautauqua-Allegheny)

Credit: Courtesy of Liberty Vineyards & Winery
Tested and tasted by the wine experts themselves, Liberty Vineyards & Winery are here to guide you through the ultimate sweet treat pairing with your vino of choice. The annual event pairs a variety of award-winning wines with a variety of Easter candies (a favorite every year is the Purple Haze wine paired with a Peanut Butter Egg, which tastes just like a gourmet PB & J). Also included is a standard wine tasting. Peeps Pairing is held on Saturday, April 1 (10 am–6 pm), Sunday, April 2 (11 am–5 pm), and Saturday, April 8 (10 am–6 pm).
Easter Eggsperience at the Buffalo Zoo (Greater Niagara)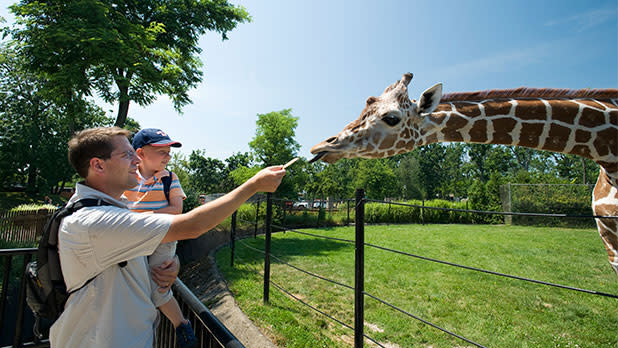 Head to Buffalo Zoo for a wild Easter Eggsperience! From April 1–2, tickets to the fun-filled family event include a special photo op with the Easter Bunny, complimentary train rides, and a candy trail from 10 am-2 pm. Admission to the zoo is included, so stick around and explore the exhibits with your Easter goodies in tow.
Pick Your Easter Brunch Along Alexandria Bay (Thousand Islands-Seaway)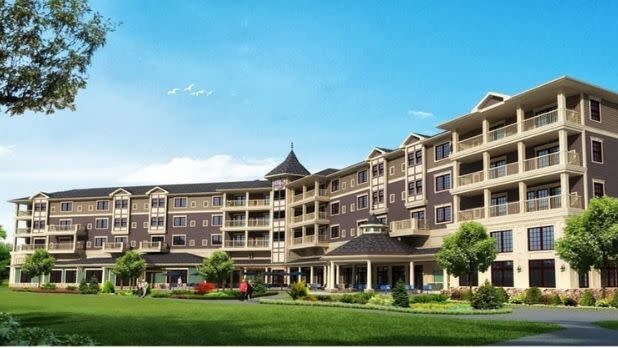 Who doesn't love brunch with a view? Enjoy two Easter brunches by the water in the Thousand Islands in Alexandria Bay, including a traditional breakfast with the Easter Bunny on Saturday, April 2 at 1000 Islands Harbor Hotel (pictured) with coloring and craft activities for kids (reservations only). The hotel also hosts an Easter Grand Buffet (reservations only) on April 9, where seasonal breakfast (11am-1pm) and dinner (11am-6pm) are served. Enjoy sweeping views of the river and Boldt Castle at Riveredge Resort's Easter Brunch on April 9 from 10 am to 2 pm. 
Easter Brunch and Spa Day at Greek Peak Mountain Resort (Finger Lakes)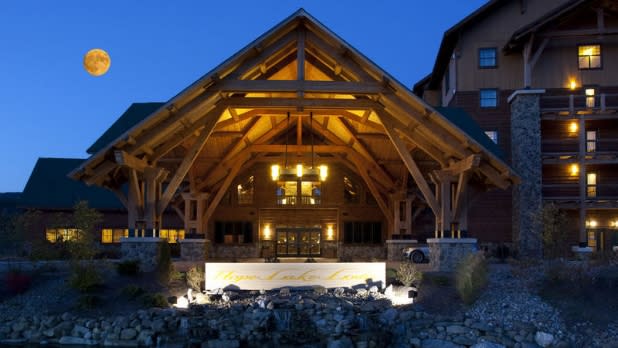 Greek Peak Mountain Resort is hosting an Easter Brunch Buffet on April 9, 2023 at its upscale venue, opened in 2022, "The Lookout at Hope Lake", an idyllic spot to sip mimosas and dine among scenic views of Hope Lake and mountain ranges. Turn your brunch outing into a day of pampering with a trip to Waterfalls Spa at nearby Hope Lake Lodge (pictured), a luxurious European-style day spa with rejuvenating massage, and facial and salon services. Reservations are required.
Explore a Jewish Community Center (New York City)
On the Upper West Side, the Marlene Meyerson JCC Manhattan is a community center for Jewish life offering a wide variety of programs, arts and film exhibitions, children's activities, and more for adults and children. See one of the film screenings or register for the "Cooking and Spiritual Passover Preparation" class on March 23 at the Center, or sign-up for a presentation of the "Passover Story in Egyptian Art" being held at the Metropolitan Museum of Art on April 9, to add to your Passover experience.
Enjoy an Easter Weekend Retreat at The Sagamore Resort (Adirondacks)

Credit: Courtesy of the Sagamore Resort
Treat yourself to a relaxing holiday weekend at a premier luxury resort by the lake. From April 7-9, The Sagamore Resort is celebrating the spring holiday with an array of festive Easter activities and events, starting with a champagne welcome in the lobby, followed by a movie night, s'mores by the bonfire, an Easter egg hunt on the front lawn overlooking the glittering Lake George waters, and more. Indulge your taste buds with the resort's Easter brunch at their signature Italian restaurant La Bella Vita, and experience a culinary demo and wine tasting. 
Celebrate Passover at a Kosher-Friendly Hotel (Catskills)

Credit: @melour_resort on Instagram
Breathe in the fresh mountain air and explore scenic vistas in the Catskills this Passover with a weekend vacation to a kosher-friendly resort. Since the 1920s, the Catskills has been the go-to summer destination for Jewish families and became known as the "Borscht Belt" or "Jewish Alps", due to the hundreds of kosher-friendly resorts throughout the region. Just one mile from Windham Mountain is Hotel Vienna, a European-style hotel with private balconies to each room, an indoor swimming pool, and centrally located to Woodstock, Hudson, and Cooperstown. For a signature retreat designed by wellness experts, head to Honor's Haven Retreat & Conference, a four-season resort in the Shawangunk Mountain Range with a host of inclusive outdoor and wellness experiences. For a modern high-end vacation experience close to Hunter Mountain, try the newly opened Melour Resort (pictured) in the village of Tannersville, with all-inclusive Kosher dining and a variety of family-friendly activities and amenities.
Attend the Easter Celebration at Liberty Ridge Farm (Capital-Saratoga)

Credit: @libertyridgefarmweddings on Instagram
Grab your rubber boots and head to Liberty Ridge Farm for their 11th Annual Easter Eggs-perience on Saturday, April 8 from 8:30 am to 3 pm. Centrally located between Albany and Saratoga Springs, Liberty Ridge Farm is tucked away in the Capital region's picturesque countryside, surrounded by rolling hills. Say hello and snap photos with the Easter Bunny, participate in the annual Easter egg hunt, meet baby farm animals, and shop for Easter gifts or baked goods at the Market Barn & Bakery.
Explore Art Sculpture Gardens (Hudson Valley)

Credit: @wunderlust on Instagram
Surround yourself with blossoming trees and springtime flowers in bloom on a tour through art sculpture parks in the Hudson Valley. Visit Art Omi in Ghent, and admire the group exhibition of four international collectives titled "Shared Spaces" featured in the Newmark Gallery and on display now until June 11, 2023. Explore art in nature at Storm King Art Center in New Windsor, one of the largest outdoor sculpture parks in the United States, and peruse its permanent outdoor "gallery" from large-scale structures to site-specific earthworks.
Enter an Easter Road Race (Long Island & New York City)
On your marks, set, grab your bonnets, and race through Long Island and New York City on an Easter road race. Find yourself some bunny to walk or run with at the 4th annual Easter Bunny 5K Trail event in Bethpage on Long Island, through the scenic trails of Bethpage State Park on April 8 (race begins at 9:30 am). Also on Long Island, the Easter Bunny 5K race takes place at 8:30 am on April 9 through Eisenhower Park. In Flushing Meadows Corona Park in Queens, get ready for a hopping good race at The Great Easter Basket 5K & Half Marathon on April 9 (race begins at 9:30 am).
Attend The Annual Easter Parade (New York City)

Credit: NYC & Company
Fun, color, and creativity shine at the annual Easter Parade & Bonnet Festival in New York City. One of the city's favorite springtime highlights, the parade is open to anyone and everyone who dons a bonnet–no registration required! Starting at St. Patrick's Cathedral at 10 am on Easter Sunday, the parade moves along Fifth Avenue from 49th to 57th Street. Stake your spot along the sidewalk to see the whimsical and whacky bonnet designs, or better yet, fashion your own creation and join the march!
Learn About Jewish History at Eldridge Street Synagogue (New York City)

Credit: Peter Aaron
One of the first synagogues erected in the United States, Eldridge Street Synagogue is an architectural marvel bordering Chinatown and the Lower East Side. Built in the 19th century by immigrants from Eastern Europe, the synagogue is now a National Historic Landmark. Tour the Museum at Eldridge Street Synagogue and learn about the history of its beginnings in the Lower East Side to its rebirth as a 21st-century museum. The current exhibition on display until April 23, 2023 presents "Upon Thy Gates, The Elaine K. and Normal Winik Mezuzah Collection" from the Oregon Jewish Museum and Center for Holocaust Education. The exhibition is a collection of 73 mezuzahs collected by the Winiks and represents a wide variety of styles, materials, and Jewish symbols.
---
Don't forget to post photos of your New York adventures on Instagram and Twitter with #iSpyNY and tag us on Facebook!