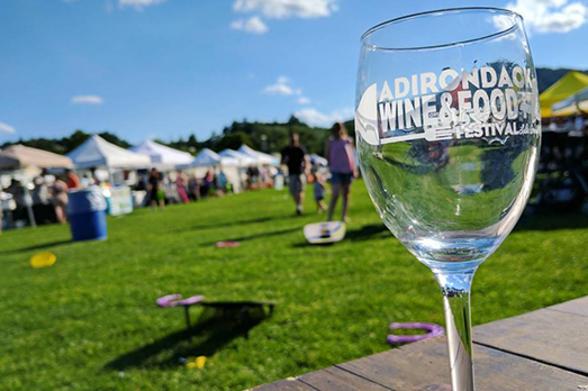 The first month of summer brings an amazing variety of cultural, historic, sporting, and foodie events to New York State. Join in Pride celebrations statewide, commemorate Juneteenth at one of the nation's largest festivals in Buffalo, get set to race for the finish line in the Adirondacks, travel back to the Renaissance in the Capital-Saratoga region, enjoy country sounds in the Catskills, jazz and blues in the Finger Lakes, and classical music on Long Island, celebrate New York State food and wine in the Thousand Islands, plus so much more this eventful June!  
Celebrate Pride Month (Multiple Regions)
Various Dates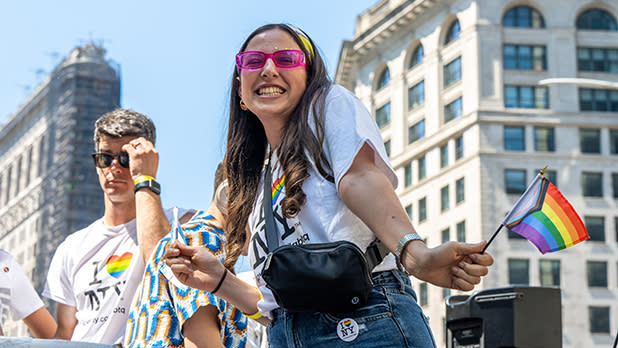 To commemorate the Stonewall Riots of 1969, June is officially Lesbian, Gay, Bisexual, Transgender, and Queer Pride Month in the United States, and, in New York, it's a statewide celebration too big to be contained in one city (or even one month, with Pride events starting in earnest in May and continuing through the summer and into the fall). New York City is clearly the mother of all Prides, with its unparalleled Pride March, PrideFest and other events all throughout June. Each of the five boroughs celebrate in their own inimitable style, as do communities all across the state, from Long Island to Buffalo. At Pride celebrations, you'll enjoy parades, musical performances, outdoor street festivals, delicious food and more! Some of the upcoming celebrations include Buffalo Pride Week, Brooklyn Pride, Long Island Pride, Capital Pride, Catskills Pride, and many more. Check out our calendar to find a Pride event near you! Various dates and locations.
Music Festivals in the Finger Lakes (Finger Lakes)
Various Dates
The Finger Lakes will be alive with the sound of music this June. The 2023 New York State Blues Festival, one of the largest free blues events in the Northeast, comes to Syracuse with blues legend Buddy Guy closing things out on his Damn Right Farewell tour (June 15-17). Syracuse Jazz Fest, now in its 37th year, features a powerhouse lineup of Gladys Knight, Herbie Hancock, Spyro Gyra, Tower of Power, and Postmodern Jukebox performing in venues all across Downtown Syracuse (June 21-25). And that's not all! From June 23-July 1, the CGI Rochester International Jazz Festival celebrates its 20th anniversary with nine days of 300 shows featuring more than 1,750 artists at 19 venues. Syracuse and Rochester; free admission for 2023 New York State Blues Festival and Syracuse Jazz Fest; CGI Rochester International Jazz Festival features both free and tickets events. 
June 2-3
It's time to get a Taste of Syracuse! Celebrating local food, music, and more, this iconic festival has been the city's summer kickoff for more than 25 years. With free admission, the festival features more than 75 restaurants and vendors offering $2 samples, along with three stages of live entertainment headlined this year by Spin Doctors and Eve 6. If you're looking to burn some calories before the eating begins, be sure to sign up for Paige's Butterfly Run, happening ahead of the Taste on Saturday, June 3. Proceeds from the event benefit the Dr. William J. Waters Center for Children's Cancer and Blood Disorders at Upstate Golisano Children's Hospital. Syracuse; free admission; $2 food samples. $40 registration fee for all Paige's Butterfly Run events except the Caterpillar Crawl, a 40 ft. fun run/walk for kids ages 0-5 years, which is free.
Spring Races in Wilmington (Adirondacks)
June 3, 4, and 17
Get ready for thrilling adventures in the heart of the Adirondacks with exhilarating races in Wilmington for all ages and abilities! With breathtaking scenery and challenging terrain, these races will push you to your limits and leave you with unforgettable memories. If you like a challenge, the Whiteface Mountain Uphill Bike Race on June 3 is the course for you, as you'll pedal eight miles over an 8 percent grade up Whiteface Mountain's scenic Veterans' Memorial Highway. Prefer running? Race your way to the top at the Whiteface Mountain Uphill Foot Race to experience some of Adirondacks greatest views and take home bragging rights! On June 4, the Wilmington Whiteface 100K and 50K Mountain Bike Race returns, featuring a mix of rugged backcountry roads, stretches of flowing and smooth singletrack, and plenty of climbing. And, if a casual 5K and 10K fundraiser followed by some great whiskey is more your speed, head to town for the Wilmington Whiteface Whiskey Run and accompanying Whiskey Run Festival on June 17! Wilmington; please visit individual event websites for prices and registration information.
June 9-11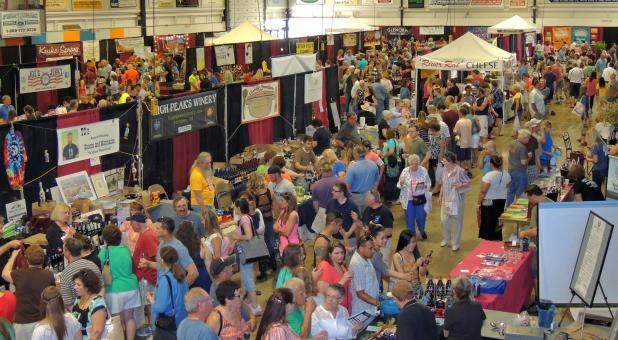 Bring your appetite to the Thousand Islands for a three-day celebration of all things New York food and drink. Featuring quality "Made in New York" products, this fun family-friendly festival boasts more than 70 exhibitors, including more than 30 wineries from Long Island to Buffalo and the Finger Lakes, along with live music daily. At the festival you can enjoy candy, cheese, meat, nuts, dips and sauces, herbs and spices, maple products, cookies, fudge, desserts, soda, coffee, jerky, popcorn, wine flour, distilled spirits and, of course, New York State wines! Clayton; $20 adults, $5 children 13 and up, under 12 free.
June 10
Get ready for a breathtaking finish as the world of horse racing turns its attention to Long Island's Belmont Park for the 155th running of the Belmont Stakes. Belmont Park is one of America's greatest and most historic racetracks, and this $1.5 million, 1½ half-mile race for three-year-olds is the final leg of thoroughbred racing's Triple Crown (it's also the oldest of the Triple Crown events). The action-packed day also features the 130th running of the Grade 1, $1 million Hill 'N' Dale Metropolitan Handicap, the Grade 1, $750,000 Resorts World Casino Manhattan, and the Grade 1, $500,000 Ogden Phips for four-year-olds and up. Elmont; $46.80 for general admission, $92.04 for reserved seating, $569.45 for premium hospitality (open bar and all-inclusive dining).
June 10

Photo courtesy of Long Island Aquarium
There's something tasty happening on Long Island's East End in June as the Long Island Aquarium becomes the setting for a flavor-filled night featuring local restaurants and food vendors pairing their signature dishes with local craft beer, wine and cider. Plus, live music will be provided throughout the aquarium property. Riverhead; $85 per person (+tax), includes all food and craft beverage tastings. Reservations are required. Visit the website or call 631.208.9200 ext. 426. Guests at this event must be 21 and older.
June 10-11
It's "joust" about time to get ready for a weekend of kings, queens, minstrels, and knights as Indian Ladder Farms in Altamont is transformed into a Renaissance village for the 8th Annual New York Capital District Renaissance Festival! Enjoy fun for the whole family as you cheer on your favorite knight at a joust, catch a sword fight, join a princess tea party, and enter costume contests. With 60+ vendors on hand, you'll meet all your medieval needs from toys and pottery to leather and blacksmith goods, jewelry, clothing, and more. There will also be food trucks (giant turkey leg, anyone?), activities for children all day, plus a 21+ pub crawl (additional fees apply). Altamont; day-of admission is $18 for adults and $5 for children 12 years old and younger. Children 2 and younger are free.
June 11
Hosted in a historic Olympic Village and surrounded by the beautiful Adirondack Mountains, the 18th Annual Lake Placid Marathon and Half is a premier early-season race featuring a course that's a combination of flat ground and rolling hills. Along the way, runners enjoy mountain views, open areas, shaded areas, a class III trout stream, and beautiful Mirror Lake. Each year, the marathons attract athletes and spectators from all over North America and abroad, with runners from more than 40 states as well as Canada, Bermuda, New Zealand, Panama, and Europe. Of course, with that kind of reach, registration typically fills up quickly, so secure your place now! Lake Placid; Half Marathon registration through June 7 is $107 and $147 June 8-11; Full Marathon registration through June 7 is $117 and $157 June 8-11. The Half Marathon is for ages 13+, and those under the age of 18 on Race Day must have a parent or guardian sign a waiver at Athlete Check-In prior to race.
June 13

CREDIT: @ARTMUSENY ON INSTAGRAM
Get ready for a mile-long celebration of art and culture at the 44th edition of New York City's Museum Mile Festival! Billed as New York's biggest block party, the festival features free admission to some of the world's finest art collections during extended evening hours. The stretch of Fifth Avenue known as Museum Mile is home to eight participating institutions—The Africa Center, El Museo del Barrio, the Solomon R. Guggenheim Museum, the Metropolitan Museum of Art, the Cooper Hewitt Smithsonian Design Museum, the Jewish Museum, Neue Galerie, and the Museum of the City of New York. Don't worry about bringing the kids – many of the participating museums have art related activities for them, and you'll be entertained by bands and street performers up and down the mile-long stretch. The festival kicks off at 6 pm, rain or shine! New York City, Fifth Avenue from 82nd Street to 105th Street; free admission.
June 17-18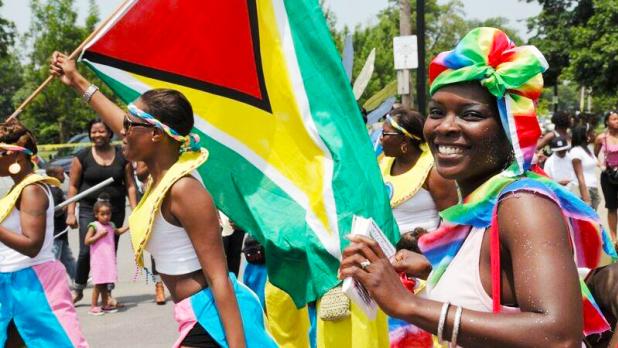 Juneteenth of Buffalo is one of the largest celebrations of its kind in the world. Held in and around Martin Luther King, Jr. Park, this lively event is highlighted by a parade, musical performances, food vendors and cultural activities showcasing the diversity of talent found in Buffalo's Black community and uniting people from different backgrounds, religions, and neighborhoods in solidarity. It's more than just a summer festival, it is a celebration of shared ancestry, shared struggle, shared culture, and shared heritage. Buffalo; free admission.
June 17-18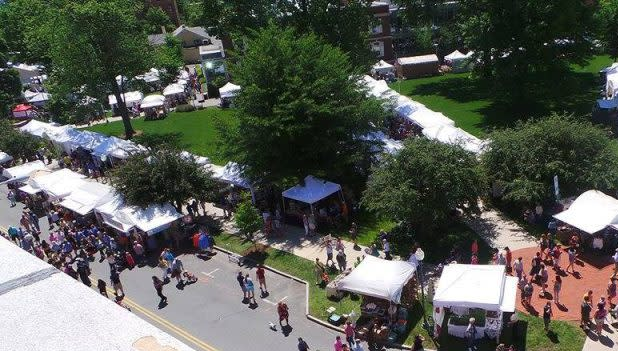 Visitors from far and wide will be coming to Glens Falls City Park for the annual Lower Adirondack Regional Arts Council (LARAC) Arts Festival. This juried outdoor art and craft festival features 130 artists offering a variety of handmade items such as jewelry, fine art, textiles, home and garden decor, and much more! Local and specialty foods will also be available on-site, along with live music, children's activities, and arts demonstrations. It's the perfect opportunity to find a birthday, anniversary, wedding, or graduation gift for the special people in your life. Glens Falls; free admission.
June 23-25

Photo courtesy of The New York Faerie Festival
Attention Elfin and Sylvan folk, Wood Sprites and Faerie folk, and all you humans who still believe in magic. Get ready to escape from ordinary reality to the rolling hills and wooded hollows of rural Central New York for a nature-loving and family-friendly festival featuring fairies, elves and fantastic creatures! Join them for three days of enchanting music and colorful pageantry celebrating nature's wonders and the magic of imagination. You'll be entranced as you walk the paths of the Wattlestone Garden and the Labyrinth, enjoying the play of jugglers, magicians and wandering minstrels, and the art of  puppeteers, actors and storytellers. With parades, processions and interactive performances throughout the day, opportunities abound to share in the festival's pomp and pageantry. Camping on site is the best way to get the full experience of the land, the performers, and the community of friends. Ouaquaga; $20 adults over 16; $10 children 4-15; children under 4 free; $5 parking; save time at the gate by ordering in advance.
June 23 - July 1
Lovers of high-quality classical music are cordially invited to join the Oyster Bay Music Festival for its 12th season of transformative musical experiences. You'll enjoy world class musicians and prizewinning up-and-coming young artists presenting solo and chamber music repertoire in 10 days of concerts at some of the most beautiful, intimate, and storied indoor venues along the Gold Coast of Long Island, as well as at some of its most idyllic outdoor settings. Venues include Coe Hall, St. John's Episcopal Church in Cold Spring Harbor, Raynham Hall Museum, Christ Church of Oyster Bay, and the Nassau County Museum of Art. Oyster Bay; most performances are free, plus one ticketed fundraiser performance at $40.
June 24
Country music fans rejoice! Get ready for an exciting live concert event on the water headlined by platinum selling artist Michael Ray, featuring Spencer Crandall and special guest Ian Flanigan. It's all taking place at Historic Catskill Point, which features one-of-a-kind views of the Catskill Mountains and two scenic waterways, Catskill Creek and the Hudson River. Catskill; $35 presale general admission (includes access to the hospitality area and beer garden); $40 day of show general admission (includes access to the hospitality area and beer garden).
June 24-25
Showcasing more than 120 of the region's best wineries, breweries, distilleries, artisan food vendors, crafts, and food trucks, this festival delights food lovers with the beauty of Lake George as its backdrop. In addition to wine, liquor, and beer tastings, this try-before-you-buy, farmers market-style event lets you sample chocolate, cheese, maple products, ice cream, hot sauce, slushies, jerky, olive oil, mustard, rubs, fudge, cookies, crackers, and more. To sample craft beverages, you'll receive a commemorative wine glass to be used throughout the event. This family-friendly event offers a kids activity tent, state-of-the-art natural playground, and a skateboard park just outside the Festival Commons on the grounds of Charles R. Wood Park. Lake George; $49.99 general admission; $99 VIP admission; $19.99 designated driver admission. There is a $2.28 fee for each admission purchased online.
June 24-25

Credit: @crnphoto on Instagram
The U.S. Navy Blue Angels will roar across the skies during an unforgettable weekend of electrifying aerial exercises, incredible aircraft displays, and mouth-watering food vendors. The thrilling 2023 New York Air Show will also feature the West Point Parachute Team, aerobatic pilot Michael Goulian, a flight of the C-17 Globemaster III ( the newest, most flexible cargo aircraft to enter the airlift force), acrobatic performer Kent Pietsch, and a demo of the Czechoslovakian Cold War Era L-39 jet. There's a wide range of ticket options, including the VIP viewing experience at air show center featuring a catered lunch with tents and tables for dining, an all-day beverage bar, and the comfort of reserved event seating. Montgomery; $35-$199.
June 30 – July 2

Photo courtesy of the Great Blue Heron Music Festival 
Enjoy Americana music at a magical campground in the hills of western New York at this music festival that's become a tradition for many to celebrate music, nature, and the spirit of self-expression. Taking place at the Heron Farm and Event Center, the festival draws thousands of fans from across the U.S. You'll find that making new friends happens naturally here among the community of free-spirited, friendly people who come together each year as friends and family united by music. This year's event boasts more than 30 bands, three stages, and three days and nights of epic fun, and will feature headliners Donna the Buffalo, Keller & The Keels, Peter Rowan, Kaleta & Super Yamba Band, Kevin Kinsella OG JBB, and Couch. Sherman; $149 three-day pass; $179 four-day pass; prices will increase May 1.
---
Share New York State adventures with us on TikTok, Instagram and Twitter with #ILoveNY and #iSpyNY, and tag us on Facebook!