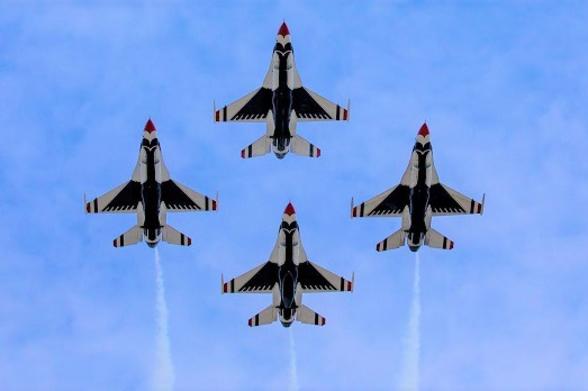 Get ready as New York State blooms in May with a colorful array of special things to do for foodies, birders, motorcyclists, music lovers, and more! Get a taste of the best cuisine in the Catskills, enjoy celebrations of spring and flowers, groove to music on Buffalo's porches, thrill to an exciting air show on Long Island, and many other great events!
Masks are encouraged, but optional in most settings per New York State guidelines. Individual businesses or attractions may require mask wearing. Call ahead and check websites and social media to make sure attractions and amenities are open and available. 
Celebrate Asian American and Pacific Islander Heritage Month (Multiple Regions)
Various dates
The month of May honors the culture, traditions, and history of Asian Americans and Pacific Islanders. In the Finger Lakes, visit the Memorial Art Gallery in Rochester for the Asian Pacific Heritage Celebration on May 7. While you're there, visit the Asian art gallery on the second floor featuring paintings and sculptures. On Long Island, Planting Fields will present the Asian American Pacific Islander Festival on May 13. In the Hudson Valley, visit the Hammond Museum and Japanese Stroll Garden. Mahayana Buddhist Temple (pictured), the oldest Chinese Buddhist temple in the eastern US, is in South Cairo in the Catskills. Click here to discover more ways to learn about, appreciate, and experience Asian Pacific American culture and history in New York State! 
Wednesdays in May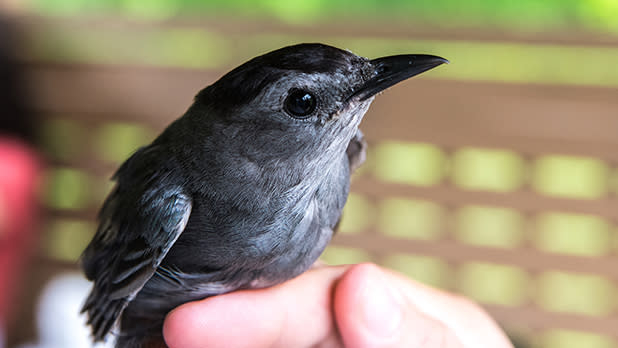 Spring has sprung, and it's time to grab your binoculars and witness a tidal wave of birds! May 13th is Migratory Bird Day, and hundreds of thousands of warblers, including tanagers, thrushes, grosbeaks, flycatchers and cuckoos will fill New York's trees and skies with color and song. To help you get a great view of our returning flying friends, the Roger Tory Peterson Institute of Natural History is conducting a series of 1-hour Wednesday morning bird walks in the Peterson Preserve led by Craig D. Thompson, who served for 33 years as an Environmental Educator for the New York State Department of Environmental Conservation. Whether you're an experienced birder or a beginner, there's lots to discover in the Peterson Preserve including a new trail where you can see adult bluebirds feeding their young atop newly installed nest boxes. Jamestown; 9:00am-10:00am; free with registration. To register, email info@rtpi.org, or call (716) 665-2473.
May 12-21
The City of Rochester blooms in May with one of its most iconic events, the Lilac Festival! Each year this free festival, the largest of its kind, draws over half a million visitors from all over the world to the Frederick Law Olmsted-designed Highland Park to see and celebrate the blooming of the largest collection of lilacs in North America. You'll marvel at the sight of 1,200 bushes displaying 500 varieties in a floral masterpiece of the deepest purples and purest whites. The festival also boasts more than 80 bands, from national touring acts to regional players, along with an amazing variety of mouth-watering food, a parade, a 5K and 10K run, a special events tent with wine and craft beer expos, garden battles, exhibitors and vendors, an award-winning art show, and a whole lot more. Rochester; 10:30am-8:30pm; free admission.
May 13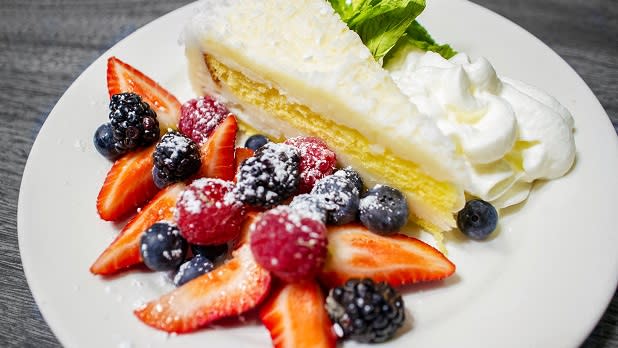 Foodies assemble! A first-of-its-kind immersive culinary experience highlighting the thriving Catskill cuisine scene is taking place on the grounds of the legendary 1969 Woodstock Festival at Bethel Woods Center for the Arts. You'll see celebrity chefs, including Alton Brown, Scott Conant, Alex Guarnaschelli, Marcus Samuelsson, and Geoffrey Zakarian showcasing their culinary prowess, and enjoy cooking demos, tastings, a marketplace with local vendors, music, book signings, children's events, and more as you join in this amazing celebration of gourmet goodness. Bethel; 12:00pm; $76 adults, $25 children.
May 13
Come experience and celebrate the wonders of traditional and modern Japanese culture, art, and food at the Japan Day Parade and Street Fair on the Upper West Side. You'll see talented martial arts groups, feel the rhythm of the Japanese Folk Dance Institute of NY, and hear the thunder of taiko drums at the parade, which kicks off with an opening ceremony at 12:30PM on Central Park West between West 70th and 71st streets. This year's Grand Marshal is Olympic gold medalist figure skater Kristi Yamaguchi. Make sure to stop by the Japan Day street fair (10:00am-5:00pm) on 72nd Street between Central Park West and Columbus Avenue to indulge in delicious traditional Japanese foods, browse art, learn about history, and shop for treasures. Manhattan, Free
May 13-14 
Ahoy, mateys! The pirates are coming! Step back in time to an age where pirates ruled the seven seas and set sail for a family-friendly treat in true buccaneer style! At the Hudson Valley Pirate Festival, taking place at the Ulster County Fairgrounds, you'll discover a weekend full of singing, dancing, sword fighting, 75+ vendors, handmade crafts, and food and beverages, plus mermaids, pirate ships, and lots of treasures to be found! On May 14th a special Mother's Day show and brunch will include a gift for every mom. New Paltz; 11:00am-6:00pm; free (children under 4) to $18.05 (14 and up).
May 13-14
Featuring annual traditions rooted in the city's rich Dutch heritage, Albany's Tulip Festival is the capital's signature spring event. You're invited to spend a beautiful Mother's Day weekend taking in nearly 100 artisans selling their handmade crafts, in addition to a fine arts show, delicious food, a KidZone family fun area, two stages of world-class live entertainment, and more than 140,000 tulips in 150 different varieties! This sparkling showcase of local culture and business all takes place in historic Washington Park, the 81-acre "crown jewel" of the city. Albany; 11:00am-6:00pm; free.
May 15-21

Credit: @vince.fio on Instagram
(NOTE: Tickets for the 2023 PGA Championship are officially sold out.) The world's best golfers are coming to the Finger Lakes in search of a major championship title, and golf fans are getting ready to witness the pure drama, excitement, and history of one of the largest sporting events in the world as the PGA Championship returns to Rochester. The action takes place on the recently restored East Course of the historic and world-class Oak Hill Country Club. Established in 1916, the Championship features the strongest field in golf with the sport's best professionals competing for the coveted Wanamaker Trophy. Past champions have included Tiger Woods, Phil Mickelson, Vijay Singh, Davis Love III, Jack Nicklaus, Lee Trevino, Sam Snead, Gene Sarazen, Byron Nelson, Ben Hogan, and Walter Hagen. Rochester; SOLD OUT.
May 20

Credit: Drew Brown/Visit Buffalo Niagara 
One of the most unique music festivals in the country is happening on the porches of Buffalo. Get to know the city's music scene up close and personal at Porchfest, a grassroots music festival that turns the porches of neighborhood hosts into stages for local bands and musicians for an afternoon! Porchfest takes place every spring in the Elmwood Village, one of America's 10 Best Neighborhoods as designated by the American Planning Association, and the most vibrant shopping, dining and cultural district in the city. Come, stroll, take in the sounds, shop, and dine, all while enjoying a beautiful day in Buffalo! Buffalo; 1:00pm-6:00pm; free.
May 20-21
A nirvana for foodies, the Ninth Avenue International Food Festival is also one of New York City's largest and oldest traditions. This lively celebration of cultural diversity through food features local restaurants and merchants taking it to the street to serve an array of ethnic foods representing different cultures in the neighborhood. Savor traditional festival treats like zeppolis, mozzarepas, funnel cakes, egg creams, and more, plus cuisine from Argentina, Brazil, Cuba, the Dominican Republic, Ethiopia, Greece, Haiti, Ireland, Morocco, Ukraine, and other regions and countries. You'll be entertained by international music and dance, from German folk, Arabian scarf, and Celtic to Egyptian belly dance, performed on two stages. New York City, Ninth Avenue between 42nd-57th Streets; 10:00am-6:00pm; free admission.
May 20-21
Brews and tunes await you at the 24th annual TAP New York Craft Beer & Music Festival at Bethel Woods Center for the Arts! Enjoy a two-day festival showcasing 100 breweries from across New York State, unlimited samples of more than 200 carefully-crafted beers, and live music from The Wailers, Blues Traveler, and more! There will also be plenty of food vendors celebrating staple cuisine from regions across New York. Bethel; $79 1-day pass, $149 2-day pass.
May 21
Is there anything better than goat yoga? How about wine and goat yoga! NY Goat Yoga at Gilbertsville Farmhouse, New York's first-ever goat yoga business, is holding one of its classic classes followed by a wine tasting and photos with the goats! Led by certified yoga instructors, classes will include 45 minutes of instruction followed by 15 minutes of selfies and posed shots. Designed for beginners to experienced yogis, classes are open to adults and children 12 and over, who should be able to make it through the hour-long class. South New Berlin; 3:00pm-4:00pm; $45.
May 27-28
Do you feel the need for speed? Then you'll want to head over to Jones Beach this Memorial Day Weekend for the thrilling Bethpage Air Show. This year's lineup includes the triumphant return of the United States Air Force Thunderbirds (pictured), plus sky-high performances by the United States Army Golden Knights, United States Marines F-35B Demo, United States Navy Growler Legacy Team, 106th Air National Guard Rescue Wing, Mike Goulian, David Windmiller, Folds of Honor Biplane with Ed Hamill, Farmingdale State College Aviation, Skytypers, Warbird Thunder Airshows, and American Airpower Museum Warbirds. Jones Beach State Park, Wantagh; 10:00am-3:00pm; $10 parking fee.
May 31 - June 4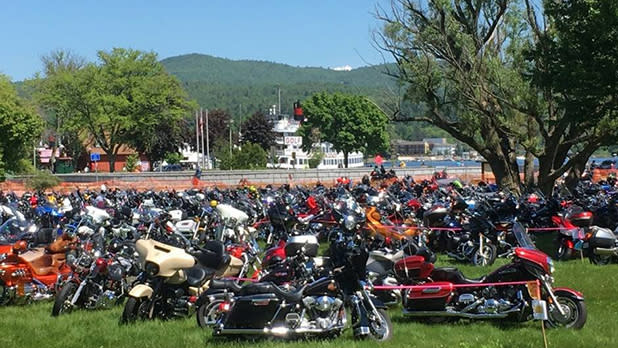 Calling all motorcycle enthusiasts! You're invited to cruise into the scenic Village of Lake George for the 40th Anniversary Americade, the world's largest multi-brand motorcycle touring rally. More than 100,000 riders are expected per day throughout this legendary five-day event. Attend massive trade shows to check out the latest bikes, gear, and demonstrations, watch stunt shows and live comedy, and enjoy a catered dinner boat cruise. And of course, join kindred spirits for a peaceful ride through the stunning Adirondacks. In celebration of the event's 40th, a huge section of the village's main drag will feature free entertainment, a custom motorcycle show, street entertainers, and  delicious food! May 31 – June 4; opening celebration May 30, Lake George; Discounted pre-registration passes ($99-$159) available until May 1; or register in person at the Holiday Inn Lake George.
---
Share New York State adventures with us on TikTok, Instagram and Twitter with #ILoveNY and #iSpyNY, and tag us on Facebook!