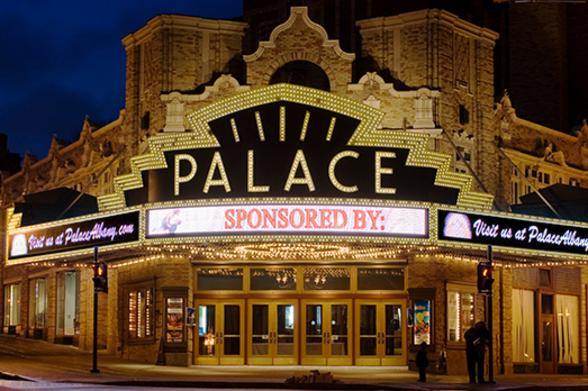 Spring showers bring plenty of opportunities to step indoors and discover an amazing variety of exciting, educational, and tasty things to do in New York State. From skating on the famed Olympic oval to relaxing at a renowned spa, discovering niche museums, and more—find new inspiration with these unique rainy day experiences.
Masks are encouraged, but optional in most settings per New York State guidelines. Individual businesses or attractions may require mask wearing. Call ahead and check websites and social media to make sure attractions and amenities are open and available. 
Updated 3/27/2023
1. Trade Your Rain Boots For Ice Skates at the Olympic Center and Museum (Adirondacks)

Credit: @mustumm on Instagram
Rainy day in the Adirondacks? No problem! Head to the Olympic Center and Museum in Lake Placid, home of the 2023 FISU World University Games,and relive Olympic memories and achievements from 1932 and 1980, including the American hockey team's "Miracle on Ice'', and then experience skating for yourself within the 1980 Herb Brooks Arena inside the Olympic Center. Experience the inspiration of winter Olympic champions at exhibits like How the Olympic Flame Comes to the Adirondacks, What it Takes to be an Olympian, Lake Placid's Olympic Legacy, and more.
2. Catch a Captivating Performance (Capital-Saratoga)

Credit: @parkalbany on Instagram
A theatrical outing makes for a perfect way to dodge the raindrops in the Capital-Saratoga region. Take in a performance at the grand Palace Theatre, a local entertainment institution since 1931. Also known as the "Jewel of Downtown Albany," the Palace Theatre frequently features a diverse schedule of concerts, films, and events. Also in Albany within the Empire State Plaza is The Egg, a performing arts center set within a building that you could almost mistake for a sculpture. See music, dance, and comedy performances, or try a yoga class in the Hart Theater. 
3. Look Up at The World's Largest Kaleidoscope (Catskills)
Typically, you don't look straight up on rainy days, but if you're in Mount Tremper in the Catskills you'll definitely want to as you check out a mind-bending attraction unlike any other in the world: The Kaatskill Kaleidoscope, also known as the World's Largest Kaleidoscope. The kaleidoscope, located inside an old silo at the Emerson Resort & Spa, wows audiences of all ages with brilliant images and sound. While you're there, peruse the neighboring Shops at Emerson for modern farmhouse decor, artisan goods, and local gourmet food products.  
4. Tour a Sporting Hall of Fame (Central New York)

Credit: @wandergenic on Instagram
Spend a rainy day in Central New York with the best of the best. Celebrate the greats of boxing and see their fascinating memorabilia, including robes, gloves, and hand wraps, at the International Boxing Hall of Fame in Canastota. Of course, no hall of fame journey would be complete without visiting one of the most famous in the world, the National Baseball Hall of Fame & Museum in Cooperstown.
5. Turn Your Frown Upside Down at Comedy Museums (Chautauqua-Allegheny)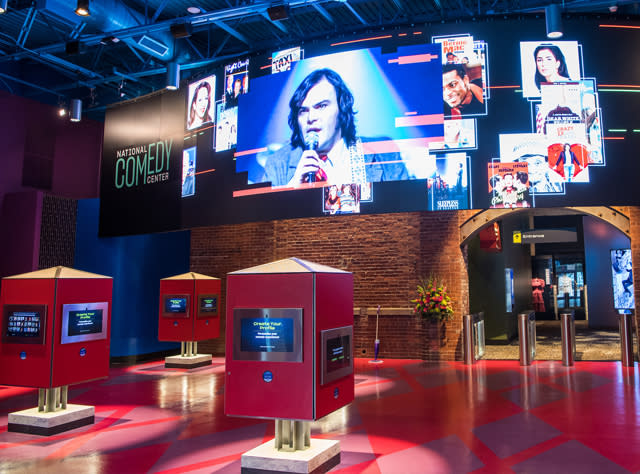 Laugh away the raindrops in Jamestown at New York State's funniest attraction, the National Comedy Center. Take a seat in front of the green screen and put yourself in scenes from famous comedic movies and TV shows, try your hand at comedy karaoke, make a cartoon, roast a friend, and much more! As the hometown of Lucille Ball, Jamestown is also home to the Lucille Ball-Desi Arnaz Museum, a museum dedicated to the life and work of one of America's most beloved comedy duos. You can buy tickets to both comedy museums at a discounted rate here. 
6. Discover Your One-Stop-Shop For Rainy Day Retail Therapy and Entertainment at DestinyUSA (Finger Lakes)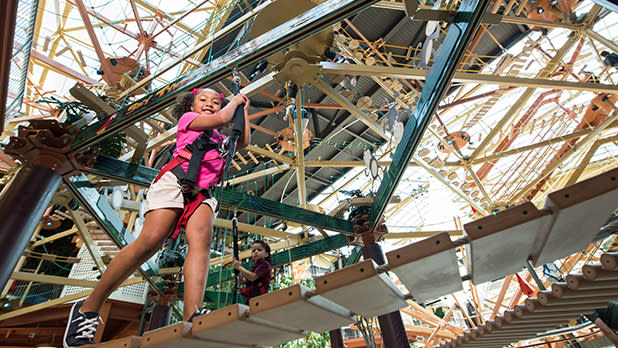 If the raindrops have you down, try some retail therapy by spending the day at DestinyUSA in Syracuse. In addition to more than 250 stores on six floors, DestinyUSA features fun activities like go-karts, a mirror maze, and the "amusement park for the mind," WonderWorks, where you can lie on a bed of nails, experience hurricane-force winds and more, including their Canyon Climb ropes course with over 81 obstacles!
7. Learn About Buffalo's Rich Jazz History (Greater Niagara)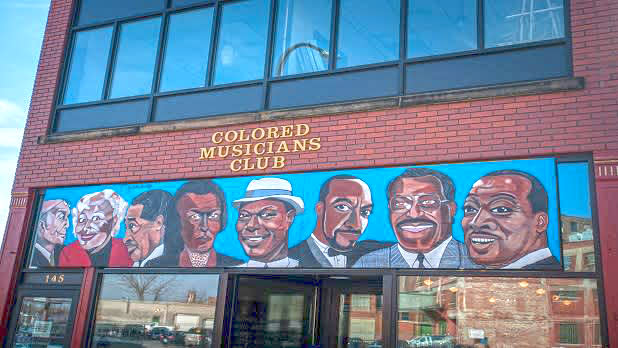 Step into the Colored Musicians Club & Museum to discover and celebrate the lives and livelihoods of Black musicians from the 1900s, a time in American history when African American musicians were not allowed to play in Buffalo's all-white musicians union. An Official Path Through History site, The Colored Musicians Club is the only remaining African American club of its kind in the United States, dedicated to preserving the history of jazz in Buffalo where jazz legends Duke Ellington, Miles Davis and more passed through its doors in its heyday.
8. Cook Up a Storm With Expert Chefs (Hudson Valley)

Courtesy of The Culinary Institute of America
Make the most of a rainy day in the Hudson Valley by dining in or maybe taking a class at the Culinary Institute of America in Hyde Park. You can choose to dine at five award-winning restaurants staffed by future celebrity chefs, including Ristorante Caterina de' Medici, where truly authentic regional Italian cuisine takes center stage in a sophisticated dining room overlooking a stunning herb and rose garden, and just steps away from spectacular Hudson River views. 
While in Hyde Park, tour historic homes like the Home of Franklin D. Roosevelt Historic Site and the Vanderbilt Mansion National Historic Site. In the southern portion of the region, in Tarrytown, visit one of the finest Gothic Revival homes, Lyndhurst, and the Rockefeller Estate.
9. Find Rainy Day Rejuvenation in The Hamptons (Long Island)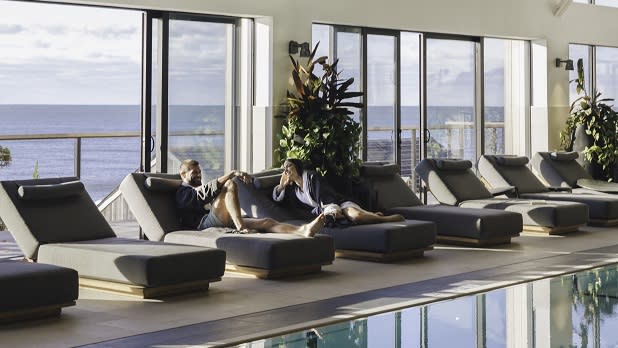 A rainy day on Long Island can be one of the most relaxing days you're ever had when combined with a spa experience in the Hamptons. MAGNOLIA: A Wellness & Beauty Collective in Montauk features multiple spaces featuring licensed practitioners for both wellness and beauty. Also in Montauk, Gurney's Montauk Resort & Seawater Spa (pictured) offers healing treatments and an ocean-fed seawater pool. Spend a tranquil rainy day in the heart of the North Fork wine trail at Spa Bellezza in Aquebogue. At this serene sanctuary, you'll choose from a bountiful menu of health-inspired treatments including spa, massage, facial, nail & foot care, and more.
10. Tour a World-Famous Baseball Stadium (New York City)

Credit: @evanflieskites on Instagram
You might not think a baseball stadium would be a good place to visit when it rains, but a Classic Tour of Yankee Stadium is the perfect way to brighten any baseball fan's day. Your tour of the 27-time World Series Champions' home includes iconic locations such as Monument Park, where the Bronx Bombers' greatest legends are enshrined, and the New York Yankees Museum, where you'll get up close to historic baseball artifacts and learn about Yankee Stadium events which go beyond baseball.
11. Visit Niche Riverside Museums (Thousand Islands-Seaway)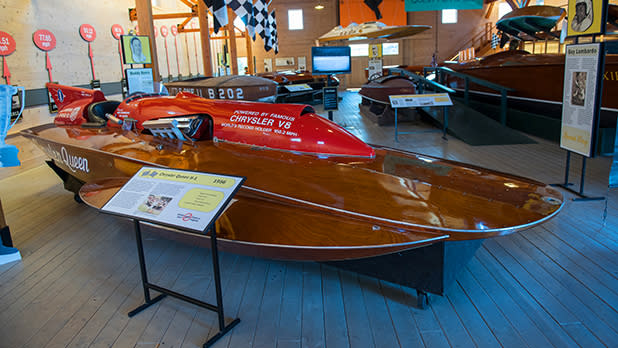 Make a rainy day in the Thousand Islands-Seaway region a museum day! On the banks of the St. Lawrence River in Clayton, the Antique Boat Museum features the largest collection of antique and classic boats on display in North America, with over 300 unique and beautifully-preserved vessels. Art lovers treasure the Frederic Remington Art Museum in Ogdensburg for its unparalleled collection of the art and archival materials of Remington, the great artist of the Old West.
---
Don't forget to post photos of your New York adventures on Instagram and Twitter with #iSpyNY and tag us on Facebook!