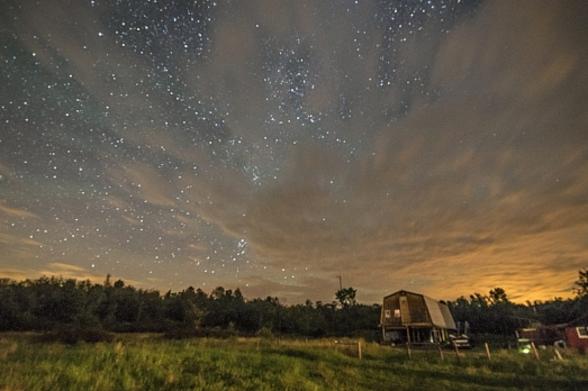 If you want to stay somewhere really unique, you may want to consider one of New York State's farmstays. Help out with chores like milking cows and gathering eggs, enjoy a slice of country fun, or simply relax amid soothing green acres. From rustic farmhouse to polished B&B, New York has a perfect country home for everyone. 
Masks are encouraged, but optional in most settings per New York State guidelines. Individual businesses or attractions may require mask wearing. Call ahead and check websites and social media to make sure attractions and amenities are open and available. 
Originally Published 09/05/2017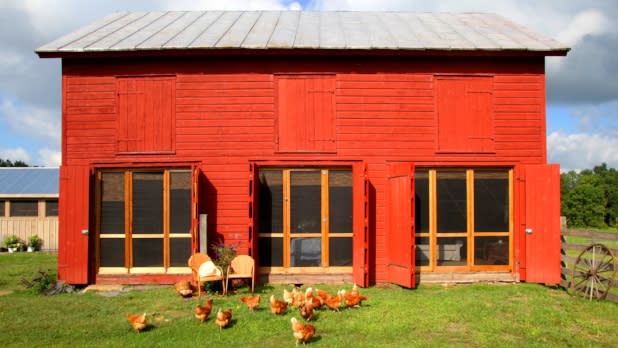 The Country and Farm B&B, a 27-acre horse farm near New Paltz in the Hudson Valley, welcomes families with children as well as couples. Four-season fun includes summertime swimming, autumn trail rides, and cross-country skiing in winter. Take a walk on the horse trails where kids can learn about farm life, spending time with the horses and chickens! Spend an evening under the stars by the bonfires held every Saturday night or take a relaxing dip in the hot tub open all year long! Reserve your stay in one of their 11 different accommodations from the sophisticated and historical Cowboy Cabin to the country-styled Hen House that's part of the horse barn. You can make reservations to bring your pet, too. Dog, cat or a horse, of course! Rates start at $145/night during the week; 71 Stonykill Road, Accord (845-626-4596, countryandfarm.net.)

FarmStay at Kinderhook, a 1,200-acre working farm, features a converted red barn with a full kitchen and family accommodations for up to six people. Guests can tag along with the farmers to check on new lambs and calves in the pastures, pick veggies, dive into a secret swimming hole, or nap in a hammock. The farm store sells grass-fed beef and lamb, pasture-raised pork, chicken, and eggs. Don't miss the spectacular sunsets! Rates start at $300/night; 1958 County Route 21, Valatie 12184 (518)-218-6684;kinderhookfarm.square.site)
WhistleWood, Rhinebeck (Hudson Valley)
Don't be fooled by the polished antiques and Persian rugs. WhistleWood is a working farm with horses, cows, donkeys, and free-range chickens. But this country retreat pampers guests with four-poster king beds, whirlpool tubs, gourmet breakfasts, and an all-day buffet of home-made pies, fresh fruit, and other treats. Explore hiking and horse trails, feed the chickens, socialize in sunny communal areas or curl up by the fire with a good book. Three miles down the road, the village of Rhinebeck beckons with unique shops, fine dining, and good cheer at Foster's 1890 Coach House Tavern. Rooms range from $215 to $372/night, three-night minimum stay; 52 Pells Road, Rhinebeck (845-876-6838, whistlewood.com).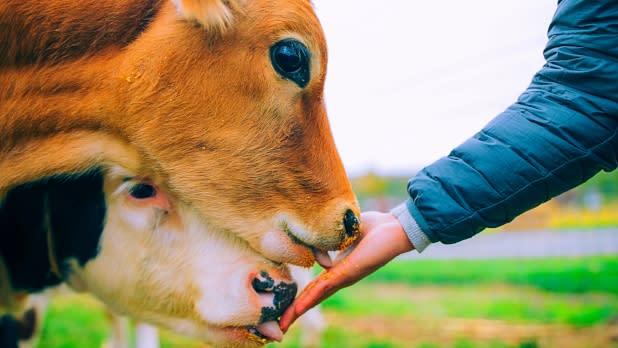 New York's Hull-O Farms has been featured on the Today show. This 8th-generation (!) working farm in the northern Catskills hosts about 1,000 visitors each year, with two cozy cottages, the Rose, a cozy and inviting country cottage, and the Gifford, a two-story cheery home. The friendly hosts specialize in delighting children and despite the farm's fame, manage to keep it country. Enjoy down-home meals sourced from the farm's bounty, nightly campfires, hayrides, fishing, and the chance to tend every kind of farm animal your kids could sing about, from a "moo moo" here to a "quack quack" there. Rates vary with packages and season, 10 Cochrane Road, Durham (518-239-6950; hull-o.com).
Spend a weekend indulging in the country life at Stone and Thistle Farm in the Catskills. Relax in the rustic, first-floor suite in the 1863 Greek Revival farmhouse, or look out at Kortright Creek from the Farmhand Cabin. Lend a hand around the farm in a guided tour where you'll collect eggs, bottle feed kid goats, feed the chickens, rabbits, and pigs, or herd the sheep with the border collies! Don't forget to ask about farm-made culinary delights like sausage, pate, local cheese, savory dips, fresh fruits and vegetables, and regional wine. The Farmhouse suite is $165/night and open year-round, and the Farmhand Cabin is $129/night and open May-November. Two-night minimum. 1211 Kelso Road, East Meredith, NY 13757 (607-278-5800).
Saratoga Farmstead, Saratoga Springs (Capital-Saratoga)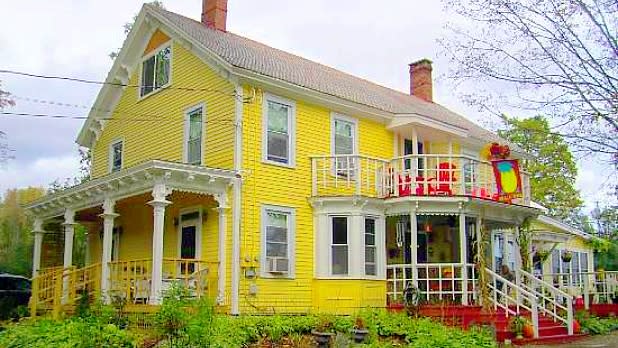 Although Saratoga Farmstead is only two miles from downtown Saratoga Springs, the peaceful 9-acre sanctuary seems a world away. The 1860 farmhouse currently has five available guestrooms, wraparound porches, and beautiful outdoor spaces on a gold-rated Audubon green property that's home to birds, butterflies, and other native wildlife. Hike the lush nature trails, lounge in a hammock, or explore great local attractions and restaurants nearby. Unwind with a therapeutic North Eastern Massage from the on-site licensed massage therapist. Indulge in delicious breakfasts and snacks served with local beers and wine. Rates vary, call for information; 41 Locust Grove Rd, Saratoga Springs (518-587-2074; saratogafarmstead.com).
Feel rejuvenated and refreshed breathing in the fresh air off of the Adirondacks at the Inn on Lake Champlain. This 440-acre family farm along the western shore of Lake Champlain produces its own organic hay and raises lean, grass-fed organic dairy beef, jersey cows, jumping/sport horses, Ameraucana chickens, and huge Anatolian-Shepard working farm dogs! Become immersed in timeless elegance inside the Victorian farmhouse known for its original woodwork and beautiful antiques. Take a hike through the scenic property or sign up for horseback riding lessons! Rates vary, visit website for prices and availability. 428 county route 3, Putnam Station 12861(518-547-8406, innonlakechamplain.com).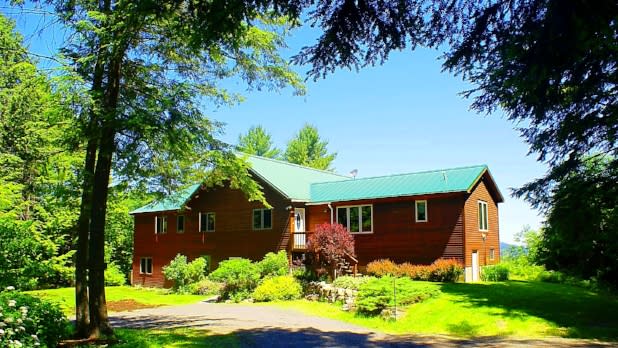 Nestled between the Adirondack Mountains and Lake Champlain, DaCy Meadow Farm invites guests to unwind, feel at home, and enjoy great farm-to-table dining. Meals prepared with local foods are served family-style in the art gallery. Menu items include DaCy Meadow heritage meats, fresh seasonal vegetables, and homemade ice-cream topped with local berries. Help with farm chores, enjoy special events, or roam the trails crisscrossing 150 magnificent acres. Take time to kick back and enjoy the view. The only sound you'll hear is the cows. Rates vary; call for information; 7103 Route 9N, Westport (518-524-4241; dacymeadowfarm.com).
Better Farm, Redwood (1000 Islands-Seaway)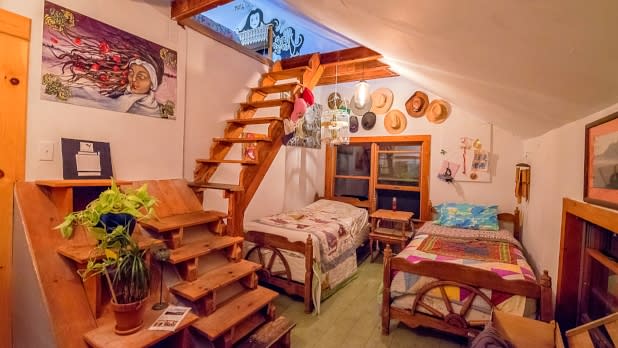 A thousand islands around you and a million stars above add magic to overnight stays at Better Farm. Though the farm is about 10 miles from Alexandria Bay and close to Boldt Castle, it goes all-in on getting back to nature and nurturing body, mind, and spirit. The gardens are 100% organic, the farm-fresh food is vegetarian, and all the animals—from ducks and pigs to alpacas—are rescues. Art meets sustainability through summer music festivals, year-round art programs, and mindfulness classes to keep you grounded. Rooms start at $50/night, check website for more details; 31060 Cottage Hill Road, Redwood (315-482-2536; betterfarm.org/visit).
Stay in a private cabin at Country Cousins Farm and wake to sounds of birds singing, cows mooing, and gentle winds rustling the trees. This peaceful Thousand Islands dairy farm with about 50 milk cows and 40 young stock offers plenty of hands-on farm experiences from early morning 'til the sun goes down. Milk a cow, see newborn calves, or help with chores like pitching hay. Other activities include hayrides, bonfires, and bird-watching. Of course, you can also choose to just lounge around and enjoy the tasty home-cooked meals. Rates are $120/night for two adults; additional adults or children (age 3–17) $25/night; 29415 Fults Road, Evans Mills (315-629-2401; countrycousinsfarm.com)
In Finger Lakes wine country, Windswept Farms provides a unique farm-life experience amid 80 acres of dazzling scenery. Along with tours and pleasant chores like harvesting fresh vegetables and gathering berries, four-season activities include swimming in the spectacular gorge with sparkling waterfalls, hiking in the autumn woods, and cross-country skiing through the frosted vineyards. Call for rates; 3934 Tichenor Rd; (607-546-2864).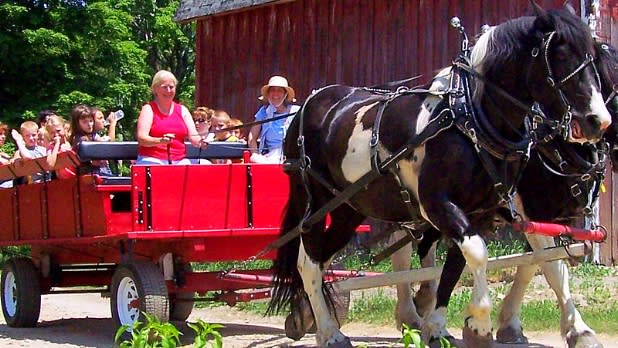 Rule No. 1 at Greenwood Hill Farm: Make yourself at home. Join in farm activities, follow woodsy trails or sleep in every day. Families with children love feeding the animals, garden work, and wagon rides on 125 hilltop acres. Adults find this pastoral haven in Allegany County an ideal place to relax and restore. The rambling farmhouse, surrounded by lovely gardens, has three accessible main-floor guest rooms. Cook your own farm-style breakfast with farm-fresh eggs and summer garden produce hand picked by you (free of charge)! Rates start at $158/night for two adults; 230 Slaght Road, Andover (returntocountry@gmail.com; greenwoodhill.com).
Share New York State pictures on Instagram and Twitter with #ILoveNY and #iSpyNY and tag us on Facebook!