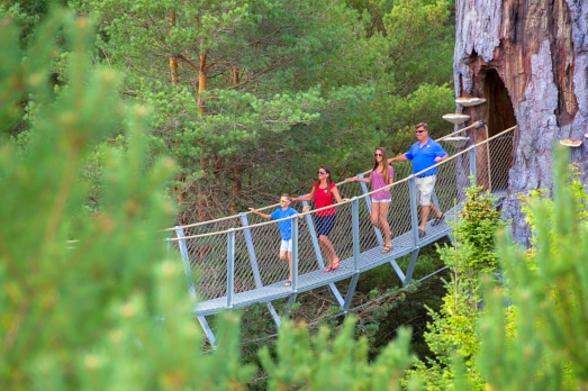 Happy (almost) Father's Day! We appreciate all different types of dads, so instead of one-size-fits-all plans, read on for ideas on where and how to treat the unique dad in your life. From outdoor activities to unique museums, from gardens and restaurants to historical attractions and even spas, find the best way to show Dad you appreciate him.
Updated 05/23/2022
The Outdoorsy One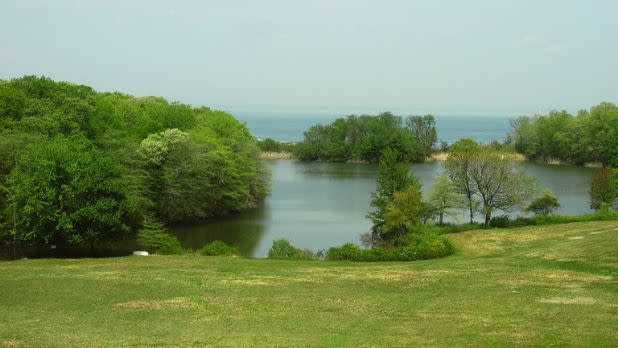 Dad can't spend enough time in the fresh outdoors? Good thing you're in a state filled with beautiful natural settings. Take him hiking in the Catskills on a trail like Giant Ledge, a moderately difficult hike that runs almost four miles and leads you to five unbelievable scenic overlooks. The Frick Pond Loop is another great trail that's not as challenging, so it's a better bet if you've got young kiddos hiking with you. Or, load up the bikes and head to Long Island to coast along the paved Jones Beach Bikeway for ocean views. Caumsett State Park (pictured) has accessible dirt trails for all skill levels, plus you'll get to enjoy the beautiful Long Island Sound. To fully immerse your family in the beauty of the Adirondacks, visit the Wild Center and Wild Walk where you can hang out above the treetops on viewing platforms, swinging bridges, and a giant spider web. For more adventure, try white water rafting. North Creek Rafting Company will set you up with everything you need to take their Hudson River Day Trip—three miles of intense Class III whitewater action.
The Indoorsy One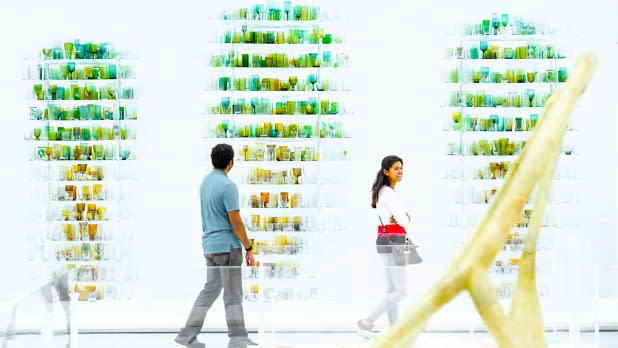 Not everyone's trying to work up a sweat in the June weather. If you've got an indoorsy dad, take him to an interesting museum! The Corning Museum of Glass in the Finger Lakes (pictured) is not your typical art museum; instead of paintings hanging on walls, there are gigantic glass sculptures and exhibits on the history of glassmaking dating all the way back to the ancient Romans. Watch live glassmaking demonstrations and even play with the hot molten stuff yourself! In the charming Hudson Valley town of Beacon, your art-loving dad can step into room-scale, conceptual works of art at the world-famous Dia:Beacon. Check out Albany's New York State Museum, the largest and oldest state museum in the US, to explore displays about culture, natural history, and art.
The History Buff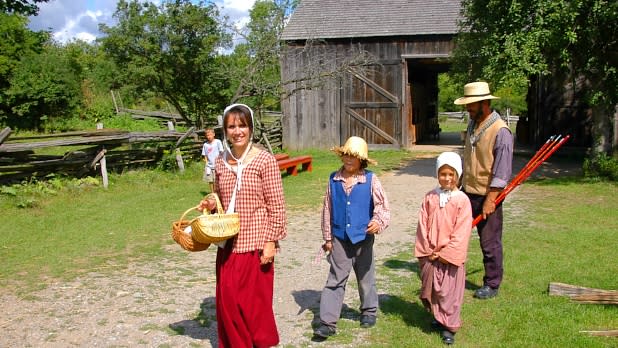 Know a dad who loves to tell you all he knows about history? This Father's Day, let some professionals do the telling as you take him out for New York's Path Through History Weekend. Historical locations all over the state will be holding special events, such as the Sackets Harbor Battlefield State Historic Site, where there will be a history trail scavenger hunt, military drills, and a glimpse into daily life during the War of 1812. Does Dad reminisce about his days in the scouts? Take him to the Seatuck Environmental Association's Father's Day Explorer's Program. Learn the basics of using a compass and map (you know, how folks navigated before cell phones), before embarking on an epic scavenger hunt through the woodland trails. New York State's largest living history museum, the Genesee Country Village & Museum (pictured), is celebrating dads by offering them free admission! Dad can watch live blacksmithing and pottery-making, step into recreated buildings, and enjoy a beer or cider tasting.
The Foodie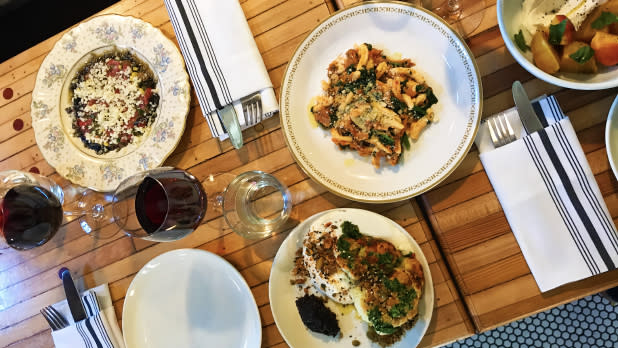 Sure, all dads love to eat, but not all dads are gourmands. Take your foodie father out to dinner somewhere with a menu that's sure to impress. One great option is New York Kitchen in the Finger Lakes, which offers an experience that goes beyond eating. There's a hands-on kitchen which offers cooking classes, a wine education theater, a tasting room, a gift boutique, and a farm-to-table restaurant on the second floor overlooking Canandaigua Lake. It's a dream for anyone truly passionate about food. It also offers an amazing sampling of New York-crafted foods, from dishes made with local ingredients to wine made with New York grapes. Visit Peck's Arcade in Troy (pictured) for delicious "vegetable-forward" New American food in a chic and cozy atmosphere. And if you're in the Buffalo area, book a table at Las Puertas, helmed by Acapulco-born, Montreal-trained acclaimed chef, Victor Gonzalez, for Mexican flavors made with French techniques (Open Tuesday-Saturday 5:00 PM- 10:00 PM).
The Botanist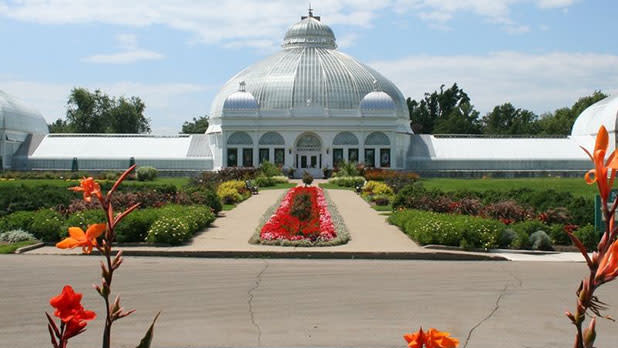 Take your green-thumbed dad to stop and smell the roses. The Buffalo & Erie County Botanical Gardens (pictured) offers a botanical journey with its large collection of tropical and exotic plants. Take a guided tour through the gorgeous conservatory or just meander on your own time. There are also more than 11 acres of grounds waiting outside in Buffalo's South Park, where you can walk and talk and enjoy the weather. In the Finger Lakes, enjoy a leisurely exploration of the Cornell Botanic Gardens, with its arboretum, gardens, trails, and greenhouses. Continue the nature appreciation and head right on into a hike through Ithaca's gorges for breathtaking views. Pack up a tasty picnic of Dad's favorite foods and head to Innisfree Garden in the Hudson Valley, where you'll find peaceful and picturesque Chinese and Japanese gardens. Enjoy the garden's waterfalls, sculptures, bridges, trails, and pond (a popular hangout for turtles), then settle in at one of the picnic tables for lunch.
The Goofball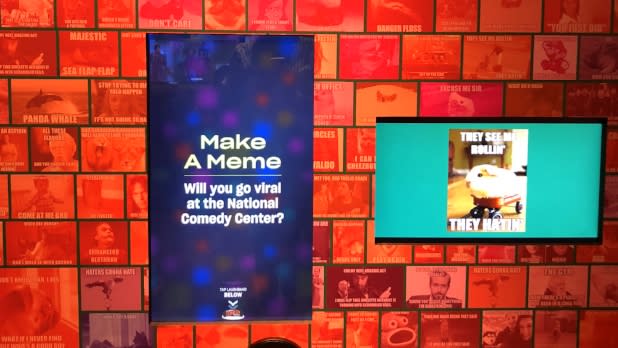 Let's hear it for dad jokes! Keep your jokester pop inspired with fresh content. The National Comedy Center in Jamestown (pictured) is always a good bet. Dad can work his way through more than 50 interactive exhibits that delve into different genres of comedy—including a karaoke station with the chance to deliver classic bits from favorite comics. The Funny Bone comedy club in Syracuse is actually located inside Destiny USA, an enormous mall with plenty of dining and entertainment options. Swing by the go-karting track or the world's largest indoor suspended ropes course before catching a stand-up show. And of course, there's always live comedy happening in NYC. For a night of laughs, check out Carolines on Broadway for the Father and Sons Comedy Tour featuring the Kelly family of America's Got Talent fame.
The One in Need of Pampering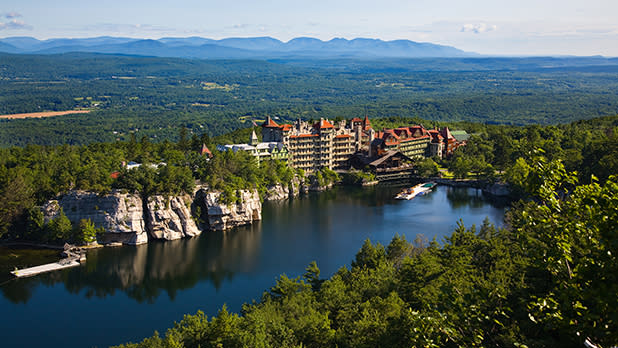 Let's get real—dads deserve pampering too! We think a day at the spa is a perfect Father's Day option, and by the end of his back massage, we're sure he'll agree. At the Roosevelt Baths & Spa, Dad can rest in the natural Saratoga Springs mineral baths, get a massage, facial, and scrub. They offer a Gentleman's Facial which specifically addresses razor burn and other male skin sensitivities. The award-winning spa at Mohonk Mountain House (pictured) offers a number of man-centric services, including the "Fuel Your Face" Gentleman's Organic Facial, Man on the Go: Real Relief for Calves & Feet, and the Eagle Cliff Deep Tissue Massage, which focuses on recovery from sports and fitness. Go all out and stay at the Turning Stone Resort Casino to relax and rejuvenate at the spa, then hit up the tables in the casino! A definite win-win.
The Gearhead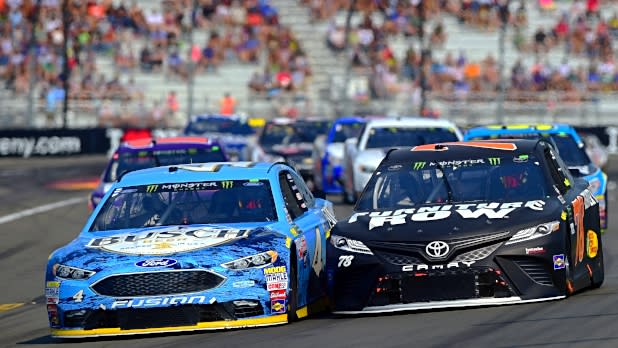 A gearhead is someone with a passion for automobiles, bikes, and other machines. If that's your dad, we have suggestions. Saratoga Automobile Museum, for starters, has a large and gorgeous collection of antique race and sports cars, with fascinating rotating exhibits such as "RADwood Saratoga – A Celebration Of 80's & 90's Cars & Culture." If he's more into bikes, you'll make his day with a visit to Motorcyclopedia in the Hudson Valley! He'll be wowed by more than 500 motorcycles, some dating back to 1897, plus plenty of memorabilia and other novelties from automotive history. For those racing fans, Dad can actually put his pedal to the metal at Watkins Glen International (pictured), home of the Formula One United States Grand Prix. On select dates (including Father's Day) visitors are allowed to take their cars around the circuit and feel like superstar race car drivers.
The Sporty One
Even if Dad's the only one who loves sports, on Father's Day, you're a sports family (we promise you'll have fun too!). Baseball season is in full swing and New York has some amazing teams repping it. Father's Day Weekend, watch the New York Mets take on the Miami Marlins at their home turf, Citi Field in Flushing Meadows–Corona Park (pictured). Catch some minor league action and major thrills as the Rochester Red Wings play the Scranton/Wilkes-Barre RailRiders in the Silver Stadium. And June weather is absolutely perfect for a round of golf, which, we hear can be quite popular amongst dads. Christman's Windham House Country Inn and Golf Resort in the Catskills features a historic Colonial inn and 27-hole golf course on a 300-acre property.
The Musical One

Credit: Mountain Jam Photographer
Is Dad always humming a tune? Take the day to enjoy live music together! For something super family-friendly, Turnure Park in White Plains holds a big Father's Day Concert In the Park featuring International Women in Reggae — an all female reggae band; it's totally free and open to all. Another great free event can be found on Staten Island where the New York Philharmonic will be performing at the St. George Theatre.
Don't forget to share your summer vacation with us! Share New York State pictures on Instagram and Twitter with #FindWhatYouLoveNY and tag us on Facebook!