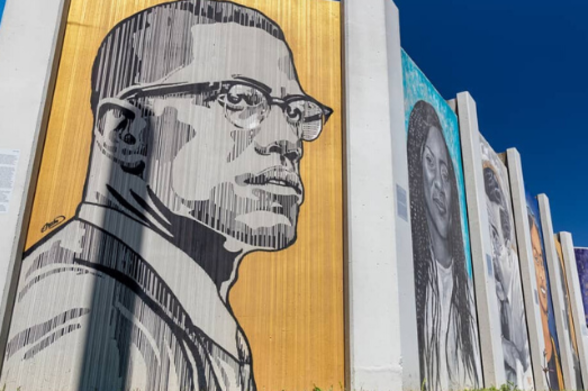 Credit: @chopan585 on Instagram
Black culture has a deep impact on New York State. Jazz and hip-hop, art and dance, sports, literature, history, film, food, and fashion—all of these worlds look a lot less interesting without the contributions of Black New Yorkers. There are many ways and places to experience Black culture in New York State today whether at an important historical site, a legendary restaurant, an influential music venue, or a well-known museum.
Masks are encouraged, but optional in most settings per New York State guidelines. Individual businesses or attractions may require mask wearing. Call ahead and check websites and social media to make sure attractions and amenities are open and available.
Originally published 7/13/2020. Updated 5/5/2023.
Harlem (NYC)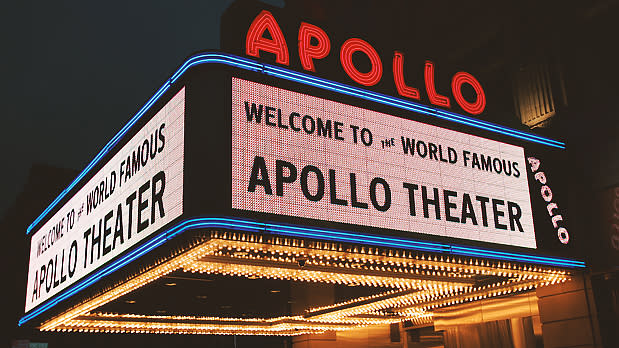 As a historically Black and culturally-rich neighborhood, Harlem is known for its jazz clubs, influence on hip-hop culture, and most notably, its soul food scene with restaurants like Sylvia's and Melba's. Harlem is a community where travelers can immerse themselves in endless Black culture and heritage, and the Apollo Theater is one place to do just that! Many Black artists, including Stevie Wonder, James Brown, and Billie Holiday, have graced the Apollo stage. Take a selfie in front of the iconic marquee, and for those who can't make it in person, you can still enjoy music performances and discussions on the Apollo Digital Stage. Also in Harlem is the Schomburg Center for Research in Black Culture, where visitors can explore exhibits on the work of photographer Austin Hansen and the history of Black comics. The center also offers a digital collection of exhibitions, books, articles, photographs, audio and video streams, and more online that provide a better understanding of the Black community. You can also learn about Black history with the Studio Museum in Harlem online magazine and lesson plans as construction continues on their new building. If you're looking to dance with some of the best from Alvin Ailey American Dance Theater (or just watch!), enjoy their online masterclasses and performances on Ailey All Access, or book a spot at one of their in-studio classes. In August, Harlem Week returns to celebrate and recognize the culture, history, and strength of Harlem through conferences, seminars, performances, food, music, dance, and more.
John Brown Historic State Park (Adirondacks)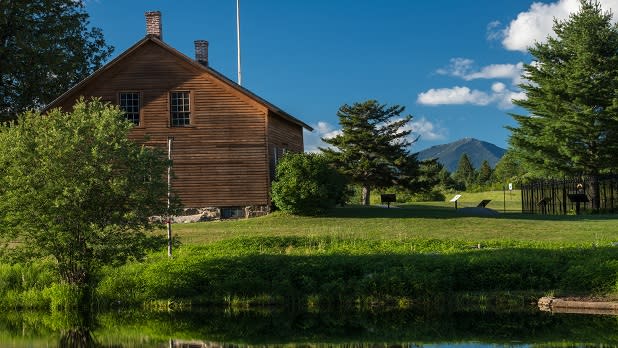 The John Brown Historic State Park, near Lake Placid, stands on the site of a key stop on the Underground Railroad for people seeking freedom in the north and in Canada. Brown was an abolitionist known for his raid on Harper's Ferry, an attempted armed revolt aimed at destroying the institution of slavery. Learn about how Brown's home became a pilgrimage for abolitionists through a guided tour, or hike the trails of this National Historic Landmark. (The grounds are open year-round and tours are available from May through October. Click here for more information.) If you're in Ausable Chasm, dive further into the stories of slaves who passed through northeastern New York on their way to Canada at The North Star Underground Railroad Museum. 
Saratoga National Historical Park (Capital-Saratoga)

Credit: @allie____ on Instagram 
African Americans were vital to the Battle of Saratoga in 1777. Initially banned from joining the Continental Army, nearly 400 Black soldiers took to the battlefield, a turning-point victory in the Revolutionary War that is honored at Saratoga National Historical Park. Walk through the battlefield or bring your own bike and ride its trails, or journey through Victory Woods. The park is also dog-friendly.
Bethel Woods Center for the Arts (Catskills)
Put on your tie-dye t-shirt and flower headband and feel like you're at the 1969 Woodstock Festival! Explore the story of each performing group at the Bethel Woods Museum exhibition "Corridor Exhibit Gallery: 3 Days of Peace & Music: The Performers of The Woodstock Festival", featuring Black musicians like Richie Havens, whose opening performance and festival-inspired song, "Freedom," kicked off the festival, to the headband-wearing and guitar shredding closing act of Jimi Hendrix, highlighted by his psychedelic instrumental performance of "The Star-Spangled Banner."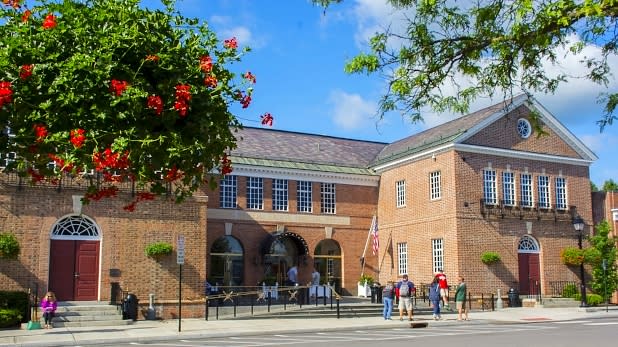 National Baseball Hall of Fame and Museum (Central New York)
At the National Baseball Hall of Fame and Museum in Cooperstown, go back in history and learn about the role of Jackie Robinson, the first Black player in Major League Baseball, who broke the color barrier and debuted with the Brooklyn Dodgers in 1947. (Robinson continually fought for Civil Rights long after his playing days.) While you're at the Hall of Fame, also learn about the Negro leagues, professional baseball leagues with predominantly African American players; view exhibits like "Pride and Passion: The African American Experience"; and dive into the Black experience in the world of baseball from the 1860s to now. If you can't make the trip to Cooperstown, you can participate in educational programs, read stories, and watch videos in "The History of Baseball and Civil Rights in America" on the Hall of Fame website. Also, be sure to stop by the Gerrit Smith Estate National Historic Landmark home to abolitionist Gerrit Smith who freed hundreds of slaves and helped them find safe passage and establish a new life. 
Jackie Robinson Museum (Manhattan)
Opened in 2022, the Jackie Robinson Museum set out on a mission to build community and appreciation of diverse experiences through chronicling one of the most important Americans of the 20th century. Affectionally known as No. 42, the Brooklyn Dodgers legend solidified his legacy on and off the field as a champion for racial, social, and economic equality. The museum features an impressive starting lineup of exhibits including "The Story Towers" which delve into the details of Robinson's roles as a soldier, activist, entrepreneur and family man through narrative, artifacts, and media. "Crossing The Color Line" gives visitors an exclusive glimpse into what the Robinsons endured beyond the baseball field—told through Rachel Robinson's and journalist Wendell Smith's accounts of the couple's 1946 cross-country trip from California to spring training in the Jim Crow South. Listen to 42 accounts of people from all walks of life express what No. 42 meant to them. All ages are invited to step up to the plate and interact with programming which places an emphasis on dialogue around critical issues that continue to challenge our society. Check out the events calendar for timely, family-friendly experiences.
Fenton History Center (Chautauqua County)
The Fenton History Center, an 1863 mansion, offers libraries and archives, educational resources, and local history exhibits like "Intersections: The Underground Railroad in Chautauqua County," which explores the story of Catherine Harris, an aid to many African Americans escaping slavery and journeying north. 
Mount Hope Cemetery (Finger Lakes)
View the gravesite and bronze and granite monument of newspaper editor and abolitionist Frederick Douglass at the Mount Hope Cemetery in Rochester. Guided tours of its 196 acres include views of soaring Egyptian obelisks, winged angels of mercy, stone Gothic chapels, a Florentine cast-iron fountain, and a Moorish gazebo. While you're in the Finger Lakes, explore the area's connection to the Underground Railroad at the Harriet Tubman House, where the famous abolitionist and former slave Harriet Tubman lived, and stop by the NYS Equal Rights Heritage Center (just up the street!), which features a collection of exhibits showcasing the history of the equal rights movement. Next door to the Heritage Center, learn about one of the most significant stops on the Underground Railroad, the Seward House Museum. Learn about one of the foremost politicians of 19th century America, William Seward, and his role in the passage of the Emancipation Proclamation and his family's deep connections with the Tubman family.  
Nash House Museum and The Freedom Wall (Greater Niagara)
Visit the Nash House Museum in Buffalo, the former home of Rev. J Edward Nash, pastor of the Michigan Avenue Baptist Church. Rev. Nash wrote many of his sermons and letters here, and these crucial parts of Buffalo's African American community history are on display for viewing. All tours outside 11:00am-4:00pm Saturdays must be made by appointment. Drive 10 minutes away from the museum and view the portraits of prominent African American figures like Martin Luther King, Jr., Shirley Chisholm, and Rev. J Edward Nash at The Freedom Wall. While you're in the Buffalo-Niagara area, also snap a photo of the exterior of the only operating African American jazz club in the United States, The Colored Musicians Club, which is set to undergo a multi-million dollar renovation and expansion. The Niagara Falls Underground Railroad Heritage Center is a museum that reveals authentic stories of Underground Railroad freedom seekers and abolitionists in Niagara Falls.
The Library at the A.J. Williams-Myers African Roots Center (Hudson Valley)
The Library at the A.J Williams-Myers African Roots Center in Kingston, NY, named after Dr. A.J. Williams-Myers, Professor Emeritus of Black Studies at The State University of New York at New Paltz, is dedicated to promoting literacy through teaching and learning of African roots. Discover online screenings and discussions on their Facebook page or browse the online book collection on their website. While you're in Kingston, be sure to check out a powerful mural dedicated to the Black Lives Matter movement, led by local Kingston-based community organization O+.  
Joseph Lloyd Manor House (Long Island)
Jupiter Hammon, considered the founder of African American literature, was the first Black person to have his poem published in North America in 1761. You can view the home where he lived and wrote his poems at the Joseph Lloyd Manor House and dive into the history of Black literature. Call 631-692-4664 in advance to make sure hours are in effect. If you can't be there physically, watch the online aerial tour of the manor and journey on a virtual house tour!
Starr Clark Tin Shop & Underground Railroad Museum (Thousand Islands-Seaway)
The Starr Clark Tin Shop & Underground Railroad Museum was the hub of the abolitionist movement in Oswego County. Abolitionist Starr Clark gave refuge to several African American slaves in this building from the mid-1830s to the Civil War. The tin shop and museum features interpretive displays and exhibits on the Underground Railroad and abolitionist activity in Oswego County. Tours are available by appointment at 315-963-7853.