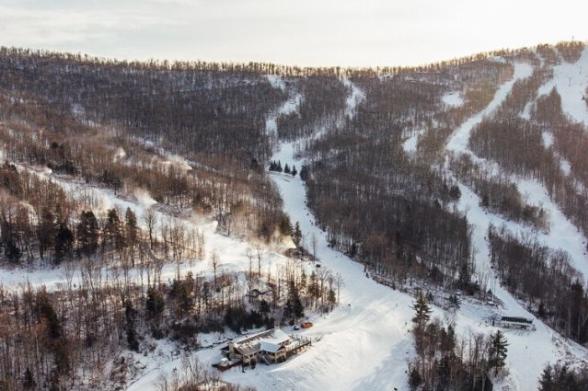 Winter holidays mean hanging out, watching games on TV, eating big meals—all fantastic options. But sometimes after all the lounging you're needing a new adventure. The good news is New York State offers a wide range of affordable wintertime escapes. Read on for amazing trips to give you plenty of memories for the family scrapbook (or Instagram feed). 
Masks are encouraged, but optional in most settings per New York State guidelines. Individual businesses or attractions may require mask wearing.
Originally published: 12/1/22
1. Buffalo and Niagara Falls (Greater Niagara)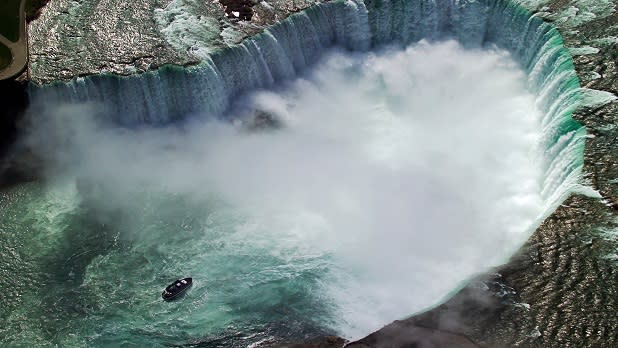 Colder months are a great time to check out normally very crowded places, such as Niagara Falls (pictured), which just so happens to be absolutely magnificent in the winter. The surrounding trees get all sparkly in the ice and snow, and even though the falls don't technically freeze, the white rushing water still looks like massive icicles. Take a walk around Goat Island, where the mist from the falls freezes and turns into snow—just be sure to bundle up!
In Buffalo, Canalside needs to be on your itinerary. It's a great place to go for a walk along the waterfront and stop for a bite. If you're feeling festive you can ice skate at The Ice on Canalside, open for public skating from November 20 through March 1. There's plenty to see and do in the area, including the Explore & More Children's Museum, with 43,000 square feet of space devoted to play and learning.
Finally, visit the impressive Buffalo & Erie County Botanical Gardens. The grounds feature a large indoor conservatory, connected greenhouses, and paths to take in the landscaped scenery. Select nights throughout December, explore Poinsettias After Dark: Dimensions, a nighttime experience that lights up the gardens in a whole new way ($17.50 adults, $16students/seniors, $9.50 kids 3-12). Stay in the beautiful rooms at the Hampton Inn Niagara Falls, in walking distance (0.5 mile) from Niagara Falls State Park. Rates start at under $100 per night.
2. Saratoga Springs and Albany (Capital-Saratoga)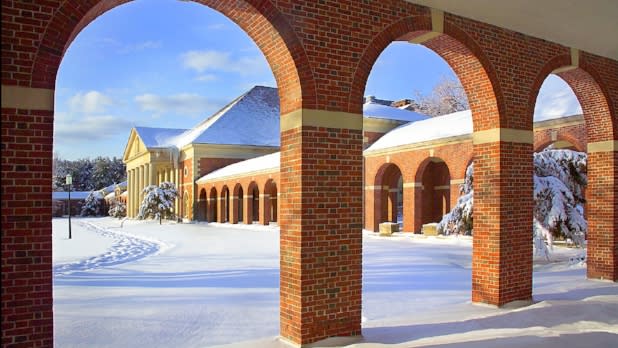 Visit Saratoga Spa State Park (pictured) for 12 miles of cross-country skiing and snowshoeing trails. If you don't have your own gear, head to the warming hut to pick up a trail map and rent equipment for $10 a day or $5 for a maximum of four hours. Up for more outdoor activities? Head to Albany's Corning Preserve at Jennings Landing or Washington Park and take a scenic snow-covered stroll. At night, come home to the stylish Hampton Inn & Suites in the center of downtown, with views overlooking the city and room rates at around $130 per night.
3. Cooperstown (Central New York)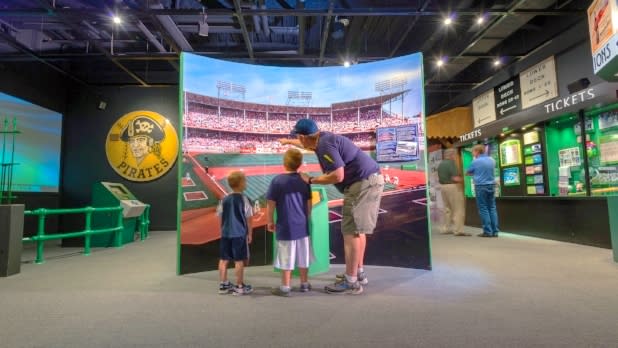 Baseball season is several months away, which means you can enjoy fewer crowds at popular attractions in Cooperstown. Family-friendly hotels that book up quickly during the summer will have plenty of options available. Try Best Western Cooperstown Inn & Suites, where room rates start at only $90 a night and come with complimentary breakfast and access to the heated indoor pool. Plus, you're just ten minutes away from the National Baseball Hall of Fame (Adult tickets $28, seniors $22, kids ages 7–12 $17, kids ages 6 and under are free). Peruse the memorabilia and video displays at your own pace and learn all about the sport's long history. Kids can embark on a scavenger hunt for the chance to win baseball cards and Big League Chew bubble gum.
Winter turns Glimmerglass State Park into one big glimmering winter playground, with ice skating on Otsego Lake, and trails for cross-country skiing, snowshoeing, and snowmobiling. It's also beloved by winter hikers seeking peaceful frosty beauty. After your venture, warm up with hot apple cider at the 160-year-old Fly Creek Cider Mill & Orchard. Take a tour of the mill and watch the cider-pressing process right before your eyes before shopping for gifts and treats in the mill store marketplace. You'll find apple salsas, jams, fudge, and best of all, plenty of samples!
4. Catskills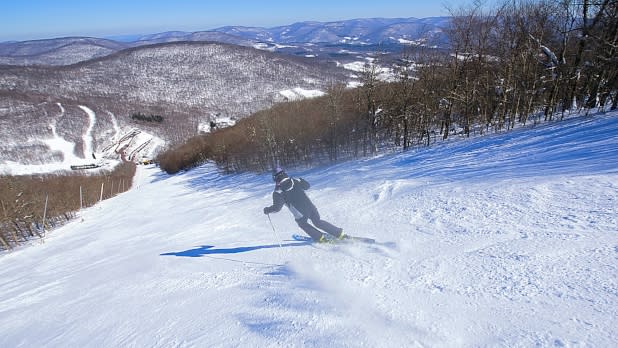 Crank up the cozy factor in the Catskill Mountains. First, get your winter sports on at the family-owned Plattekill Mountain (pictured, ticket prices vary), where the slopes are never overcrowded and tubers get their own lift-serviced mountain space. They also offer options for private lessons for kids at an introductory level, and group lessons for kids ages 7-12. The lodge has a roaring fire to warm you up after you're finished. Next, bookworms will delight in a trip to the Hobart Book Village, a cluster of eight unique bookshops all within walking distance of each other on Main Street in Hobart. Enjoy unhurried book browsing in various categories. For example, one shop specializes in antique books and another in DIY and crafting books. With all the options, you'll find something for everyone to read by the fire.
Plan your route to pass the Catskill Mountain Country Store and Restaurant in nearby Windham, to dig into delicious and fresh breakfast and lunch foods, but also to shop the gourmet foods and crafts on sale. They sell items like homemade soaps, jams, fudge, candles, and all types of gifts. When it's bedtime, head to the Roxbury Motel (room rates start at $114). From the outside it looks like your average mountain lodge, but inside, each room has a completely unique, funky design inspired by 60's and 70's pop culture, with themes based on The Partridge Family, The Mod Squad, and Bewitched. Choose from studio rooms and kitchenettes.
5. Greek Peak Mountain Resort (Finger Lakes)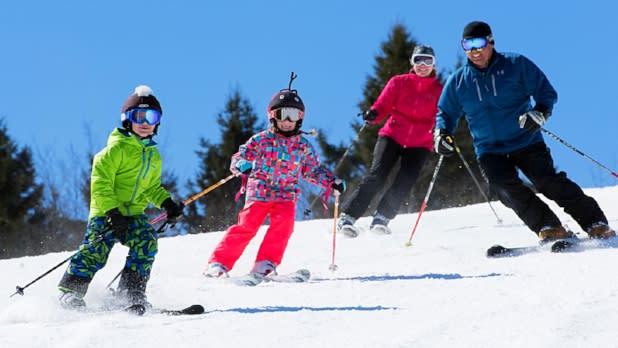 We're guessing that when you hear "resort" you're not thinking "affordable," but let us stop you right there! Greek Peak Mountain Resort in Cortland has fantastic winter getaway deals. There are a range of family package offers that combine a stay with tickets for snow tubing or rides on the mountain coaster. If you just want to go all in on skiing, consider the Ski & Stay packages, which include lift tickets so you can wake up and hit the slopes.
6. Hudson Valley

Hudson Valley has everything you need to assemble the perfect winter getaway weekend. Spend time in the great snowy outdoors at Mount Peter Ski Area (pictured) in Warwick (ticket prices vary depending on age and when you go). It's a great spot to get started with skiing or snowboarding thanks to free beginner lessons on weekends and holidays, and the snow tubing is convenient and fun thanks to a moving carpet that tows you up the mountain. There's even a Little Tikes Tubing Play Area for tiny tubers.
In need of a nice winter walk? Thomas Bull Memorial Park is over 700 acres with trails, a pond, and places to stop for a picnic or moments of reflection. Spend the night at the Courtyard By Marriott Middletown Goshen, known for its friendly staff, clean and spacious rooms, and for offering pet-friendly rooms for an additional fee. Rates from $133 per night.
7. Long Island

Long Island is more than just amazing beaches and summer fun! Check into the Hyatt Place Garden City for affordable rates starting around $176 per night, cozy rooms, an indoor swimming pool, and short driving distances to wintertime activities. Just a 12-minute drive away is the Long Island Children's Museum (admission is $17) where little ones can run, clamber all over the climbing structures, use tools to make sculptures, and play with various interactive exhibits until they've expended all their excess energy.
Only 15 minutes away is the Cold Spring Harbor Fish Hatchery and Aquarium (Adult tickets are $7; children ages 3–12 are $5, ages 2 and under are free). You'll find views overlooking Cold Spring Harbor as well as the largest living collection of New York freshwater fish, reptiles, and amphibians. Learn all about the creatures in the two aquarium buildings, tour the eight outdoor ponds, and even feed the trout yourself! Take a stroll through the charming village of Cold Spring Harbor (pictured) for shops and restaurants and soak up beautiful winter scenes along the waterfront. Finally, the beautiful outdoor mall, the Tanger Outlets in Deer Park, is less than half an hour away. Come to shop at tons of stores for those amazing outlet bargains.
8. Brooklyn (NYC)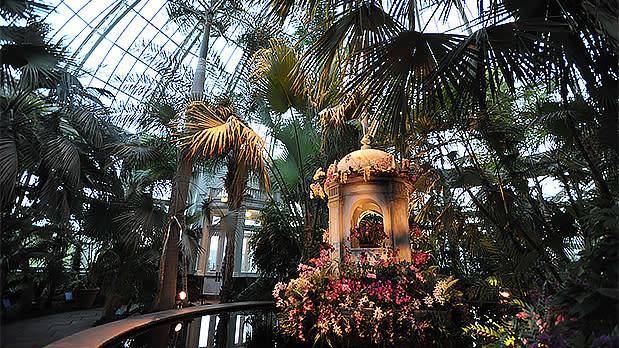 That's right, an affordable getaway in New York City is totally doable. For a more affordable (and less crowded) alternative to Manhattan attractions, consider fun and eclectic Brooklyn! Stay at the sleek and comfortable Holiday Inn Brooklyn Downtown for a centrally located home base with rooms at around $138 per night. Kids ages 18 and under stay for free in their parents' room, and kids 11 and under (up to four kids) eat for free at the hotel restaurant. Even when the world feels frozen over, you can step into a tropical oasis at the Brooklyn Botanic Garden (Adults tickets are $18, kids ages 12 and over are $12, under 12 are free, and pay what you wish on winter weekdays (December–February)). Treat your nose to the sweet scents of flowers, admire beautiful blooming orchids, and enjoy the warm climate within the  glass-enclosed Aquatic House, and take a botanical journey through the three indoor pavilions which replicate the ecosystems of South Africa, California, and the Mediterranean. Check their website for seasonal highlights tours and other special events.
9. Thousand Islands-Seaway

Credit: Thousand Island Winery: Marketing Department
Find the ultimate winter hideaway by the St. Lawrence River by checking into a room at the McKinley House B&B. You'll be situated right in the heart of Clayton with a delicious breakfast provided and rooms starting at $175 a night. Plus, it's only a 13-minute drive to the Thousand Islands Winery in adjacent Alexandria Bay. A barn that used to house an original 1923 Sears & Roebuck is now the tasting room, where you can sip award-winning wines and purchase wines by the glass and bottle. Take a tour of the winery and learn all about the winemaking process, from the growing and harvesting of the grapes to the fermenting and bottling. You can also shop for cheese, crackers, snacks, and chocolate in their gift shop.
And just because the degrees are getting down to the teens doesn't mean fishing is on hold! Lake of the Isles on Wellesley Island, a calm and shallow embayment of the St. Lawrence River, makes for amazing ice fishing for bluegills, sunfish, and crappies. It's a popular spot, so oftentimes you'll find holes pre-drilled, just lightly frozen over, ready and waiting for you.
10. Chautauqua-Allegheny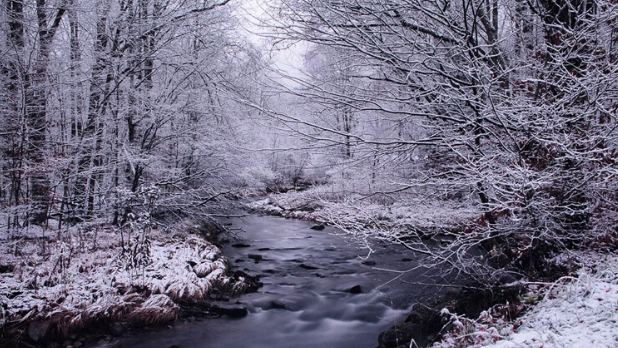 Credit: @mischief_ue on Instagram
Chautauqua is THE place to go in winter, thanks to the lake-effect snow off of Lake Erie (the lake-effect refers to when cold air moves across warmer lake water, causing more snow!). Stay at the Peek'n Peak Resort in Clymer, where they offer various winter package deals at discounted prices.
You can find a comfortable place to spend the nights in Jamestown, such as the Comfort Inn Jamestown Falconer, where rooms start at only $90 a night. While in Jamestown, warm your belly with big laughs at the National Comedy Center's 50+ exhibits all about the history and culture of comedy (Adult tickets are $33.50, youth tickets are $26.50, and kids ages 6–12 are $20.50). Keep the giggles going at the Lucille Ball-Desi Arnaz Center, dedicated to Jamestown native Lucille Ball and an all around good time, even for those born well after the show's heyday. Adult tickets are $21, seniors are $20, youth ages 13–17 are $18, and children 6-12 are $16. Combo tickets with the National Comedy Center are $40.50 for adults, $33.50 for ages 13–17, and $27.50 for kids ages 6–12). If you enjoy the cold, just one hour away you can walk, cross-country ski, snowshoe, or snowmobile the trails around Allegany State Park, where you'll come across spectacular winterscapes.
11. Glen Falls (Adirondacks)

Credit: Greg Beckleu​
Pack your chunky cable-knit sweaters and head up to Glen Falls in New York's gorgeous, mountainous Adirondacks region. The Queensbury Hotel has room rates starting at around $114, a steal considering the level of luxury. Forget the frigid outdoor temps and bring a bathing suit to wear to the indoor pool and jacuzzi. The West Mountain Ski Area is a reliable destination for the ideal family activity—snow tubing! (Adult tickets are $35 for ages 13 and up, and $25 for ages 4-12, for two hours.) There's no skill required and tons of fun to be had while swooshing down their 10 tubing lanes. $70/1.5-hour group lessons for skiing or snowboarding, ages four and up are also offered.
Head over to the Natural Stone Bridge & Caves Park in Pottersville to explore 14.5 miles of snowshoeing trails (adult tickets are $16; kids ages 5–12 are $8.95). Bring your own shoes and poles or find everything you need there for just $5 a day. You'll pass the Natural Stone Bridge, icy waterfalls, sinkholes, glacial boulders, and ledges, which are beautiful all year long but especially when covered in snow.
---
Share your New York State adventures with us on Instagram and Twitter with #iSpyNY and tag us on Facebook!