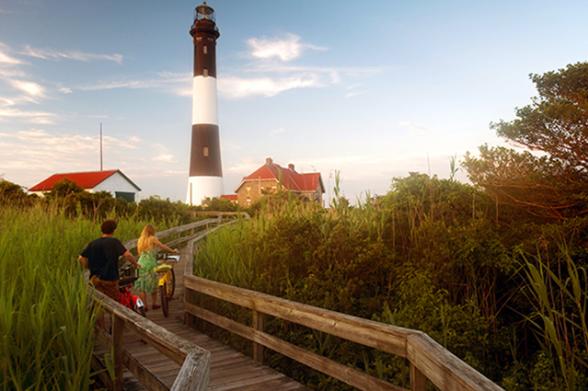 Experience natural wonders, historic treasures, culinary delights, world-class beaches, and more on a short day trip to Long Island and Upstate New York! 
Masks are encouraged, but optional in most settings per New York State guidelines. Individual businesses or attractions may require mask wearing. Call ahead and check websites and social media to make sure attractions and amenities are open and available. 
Updated 2/23/2023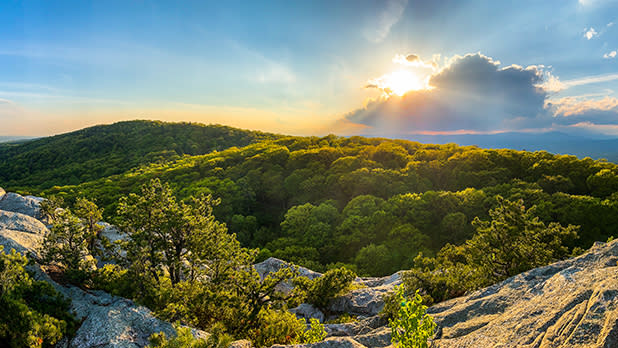 For amazing views of the Hudson Valley's Shawangunk Ridge, head to Mohonk Preserve, just a couple of hours from the city. Hike on 70 miles of carriage roads and trails, bike on historic carriage roads, climb the world-famous Gunks cliffs, horseback ride, and run through forests, fields, and mountains. For rock climbers, there are more than 1,000 climbing routes, and plant and animal lovers will adore the discoveries awaiting them in the preserve's 8,000 acres. 
Getting there: 
Best for Beach Lovers: Long Beach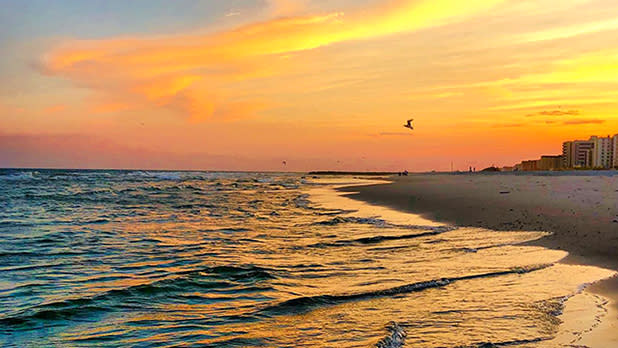 Credit: @the_breezy_blonde on Instagram
Hey, beach lovers - looking for the perfect getaway trip? Pack your sunscreen and head out to Long Beach on Long Island!  Known for its white sandy beaches and iconic boardwalk, Long Beach has it all, from surfing and volleyball to free concerts and food trucks, and many more ways to enjoy a beautiful summer day. Be sure to rent a beach chair from Beach Comfort for lasting fun in the sun!
Getting there: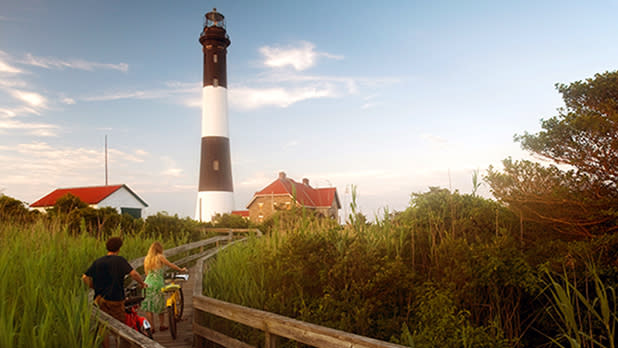 Fire Island National Seashore has played an important role in LGBTQ history, from Oscar Wilde's visit in 1882, to the steady development of Cherry Grove and Fire Island Pines as "America's First Gay and Lesbian Town." Long before the Stonewall Riots set the movement for Gay Liberation into motion, Fire Island provided an important enclave to residents and visitors at a time when almost everything about living openly as a lesbian, gay, bisexual, transgender, or queer (LGBTQ) person was illegal in the United States. Visitors enjoy 26 miles of a dynamic barrier island with high dunes, centuries-old maritime forests, glimpses of wildlife, and desolate beaches -- far from the sounds and pressures of the city. Leave the car behind and enjoy miles of boardwalk and trails, public marinas, a rustic campground, lifeguarded beaches, and a visitors center. Explore New York State's only federally designated wilderness area, and climb to the top of one of the tallest lighthouses in the United States!
Getting there: 
By car: Cars are not allowed onto the residential part of the island, but visitors can park at one of three ferry terminals and take a half-hour scenic ferry ride across the Great South Bay. Ferries leave from Bay Shore, Sayville, and Patchogue (a 1-1.5 hours drive from Midtown Manhattan).

​By train: Take the 1.5-hour Long Island Rail Road (LIRR) train from Penn Station or Grand Central Terminal in Midtown Manhattan to Bay Shore; then take a half-hour scenic ferry ride across the Great South Bay.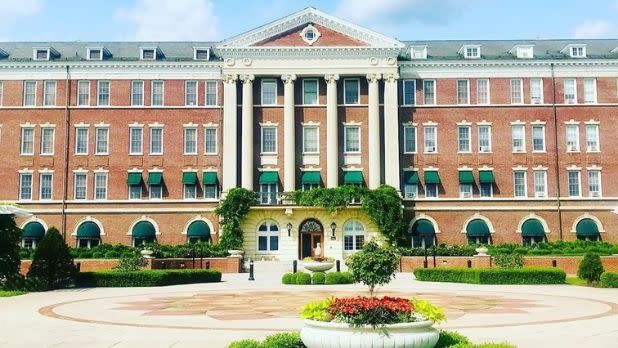 Credit: @gimletstyle on Instagram
Immerse yourself in the amazing world of food! The Culinary Institute of America has been setting the standard for excellence in professional culinary education for more than 70 years, with notable alumni such as Anthony Bourdain and Michael Mina. Tour the CIA's flagship campus in Hyde Park, take a cooking class with expert chefs, and dine in one of the on-campus restaurants with exquisite dishes cooked by rising stars of the culinary world! Walk off your meal on the nearby Walkway Over the Hudson!
Getting there: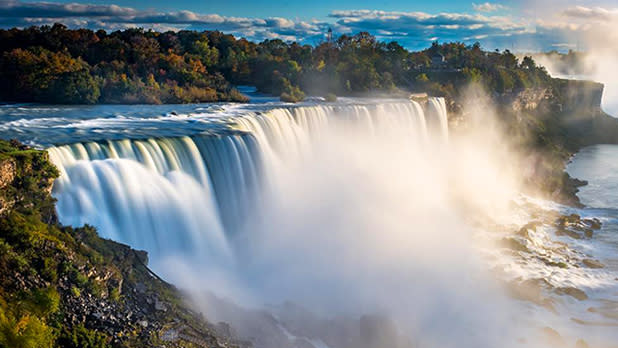 Credit: @chriskozen on Instagram
Go big on your New York State adventure and head to some of the most jaw-dropping views in the country at Niagara Falls State Park, the oldest state park in the United States. The park's spectacular falls are considered to be one of the world's seven natural wonders by naturalists and conservationists worldwide. On the grounds of the more than 400-acre park, you'll find lush terrain with protected wildlife and an array of exciting activities and fantastic attractions, including beautiful gardens, hiking and biking trails, and stunning views at every turn. Include tradition and adventure on your visit with a ride on the world-famous Maid of the Mist boat, a fantastic journey through crashing waters surrounded by massive rock formations, which cruises right to the base of the American Falls then to the basin of the magnificent Horseshoe Falls! For an equally impressive up-close look at the falls, descend 175 feet into the awe-inspiring Niagara Gorge on a Cave of the Winds tour. A series of wooden walkways brings you to the unbelievable "Hurricane Deck" where you are within feet of the crashing Bridal Veil Falls and surrounded by tropical storm-like conditions. 
Getting there: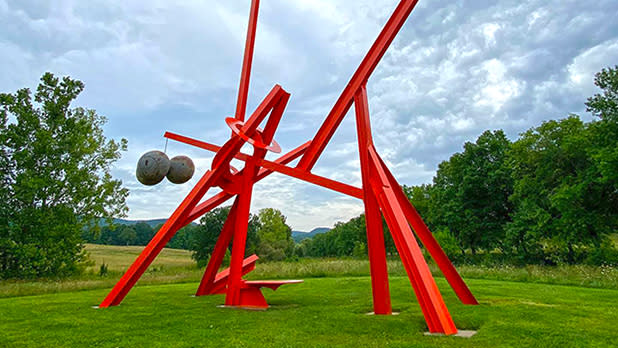 Credit: @itsmelettie on Instagram
Get your fill of fresh air and amazing art at this stunning 500-acre outdoor sculpture park and museum in New Windsor, NY. Renowned for its mostly outdoor large-scale art pieces and the harmonious, yet dramatic interaction between the monumental sculpture, the sky, and the surrounding landscape, Storm King (pictured) features works from artists including Alexander Calder, Zhang Huan, Barbara Hepworth, Louise Nevelson, Isamu Noguchi, and many more. You may also wish to check out another iconic art site, Dia: Beacon, or stroll around the antique shops and cafes in nearby downtown Beacon.
Getting there: 
By car: 1-1.5 hours drive from Midtown Manhattan.

By bus: Take a 1.5-hour Coach USA bus from the Port Authority Bus Terminal in Midtown Manhattan to Storm King Art Center. Ticket package includes Storm King admission and round-trip bus transportation from Manhattan.

​By train: Take a 1.5-hour Metro North train from Grand Central Terminal to Beacon; then rent a Zipcar or take a taxi or rideshare service to Storm King Art Center.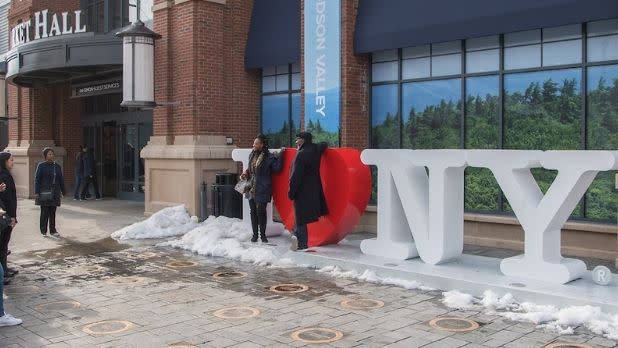 Spend a day at the ultimate destination for shopping and dining! Woodbury Common Premium Outlets features more than 250 of the most sought after, high-end fashion and designer retail brands in the world including Tory Burch, Nike, Celine, Bottega Veneta, Polo Ralph Lauren, Michael Kors, and more, all at savings of 25% to 65% every day. Just a little over an hour's drive from Manhattan, these outlets attract shoppers from all over the world for their proximity to the city and incredible bargains.
Getting there: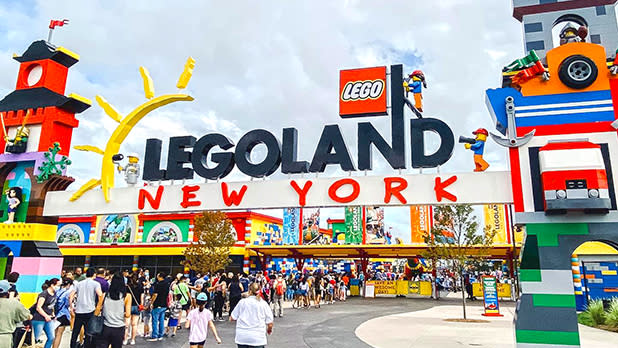 Credit: @kathybuccio on Instagram
Here it is -- the ultimate LEGO® theme park destination for kids ages 2–12 and their families! Opened in 2021, in the heart of the Hudson Valley, LEGOLAND New York Resort is the largest LEGOLAND theme park in the world, with more than 50 rides, shows, and attractions on 150 acres. Get a one-day pass and enjoy incredible adventures throughout the Park's seven LEGO® themed lands, including Brick Street, Bricktopia, LEGO® NINJAGO® World, LEGO Castle, LEGO City, MINILAND, and LEGO Pirates. Families can splash into summer with the opening of an all-new water playground in LEGO® City. Theme park opens for the season March 31, 2023. Water playground opens Memorial Day Weekend. Getting there: 
By car: 1-1.5 hours drive from Midtown Manhattan. 

​By bus: Take a 1.5-hour Coach USA bus from Midtown Manhattan to Goshen.
Best for History Buffs: Sleepy Hollow, NY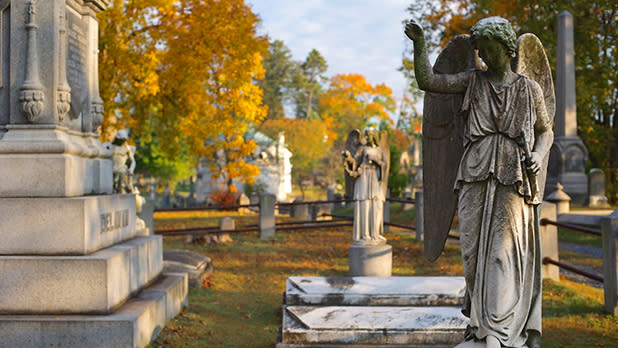 Credit: Courtesy of Sleepy Hollow Cemetery
The Headless Horseman awaits you in the "Capital of Halloween," Sleepy Hollow!  Collect your wits and take a short trip to the villages of Sleepy Hollow and nearby Tarrytown in Westchester County to see the iconic places author Washington Irving wrote about in his classic spooky story, The Legend of Sleepy Hollow. Visit the 17th-century Old Dutch Church and Burying Ground, listed on the National Register of Historic Places, a large setting in the story. The church cemetery, the haunt of the Headless Horseman, is also the resting place of local citizens who likely inspired characters in the story. Across from the church, see the Sleepy Hollow Cemetery (pictured), where Tarrytown resident Irving is buried, along with other notable people like Elizabeth Arden, Andrew Carnegie, members of the Astor and Rockefeller families, and Alexander Hamilton's children.
In neighboring Tarrytown, visit Sunnyside, Irving's picturesque former home, which he renovated after purchasing in 1835. The grounds, with incredible views of the Hudson River, reopen in the Spring of 2023, and tours are available.
Getting there: 
Best Walkable Downtowns: Various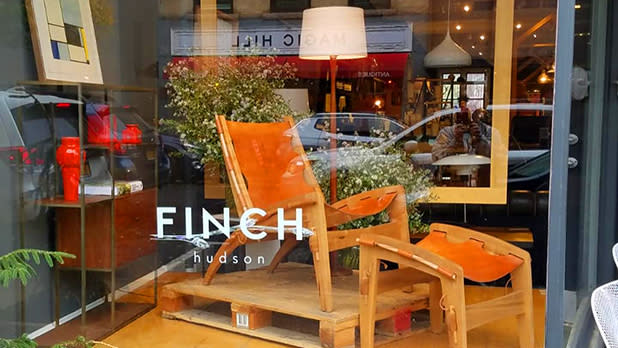 Credit: @danbursztyn on Instagram
A small riverfront city with a hot dining and shopping scene, with dozens of antique shops, award-winning restaurants, art galleries, stylish independent retailers along Warren Street, and small parks. 
Getting there: 
By car: 2-2.5 hours drive from Midtown Manhattan.

By bus: Take a 2-hour Empire Service bus from Penn Station in Midtown Manhattan to Hudson, NY.

​By train: Take a 2-hour Amtrak train from Moynihan Train Hall in Midtown Manhattan to Hudson, NY.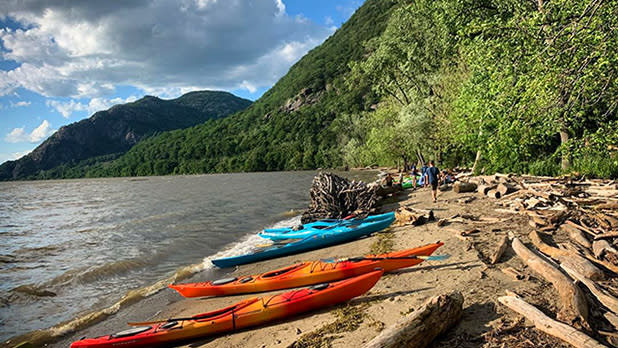 Credit: @kayakerlynda on Instagram
Tucked along the Hudson River, where nature meets art, you'll find Cold Spring. Once a vital artillery center during the American Civil War, this river town has blossomed into an idyllic village where local restaurants and Main Street boutiques greet Hudson Highlands hikers as well as culture lovers from nearby New York City. Shop, dine, or simply take in the Hudson River views at your leisure. Breakneck Ridge, in nearby Philipstown, features incredible views of surrounding Hudson Highlands State Park and Storm King Mountain across the river and should be on everyone's hiking bucket list. Paddlers enjoy great views of the surrounding Hudson Highlands from the water. 
Getting there: 
By car: 1-1.5 hours drive from Midtown Manhattan.

By bus: Take a 1-hour Hudson Line bus from Harlem-125th Street to Cold Spring, NY. 

By train: Take a 70-minute Metro North train from Grand Central Terminal in Midtown Manhattan to Cold Spring, NY.  
Nyack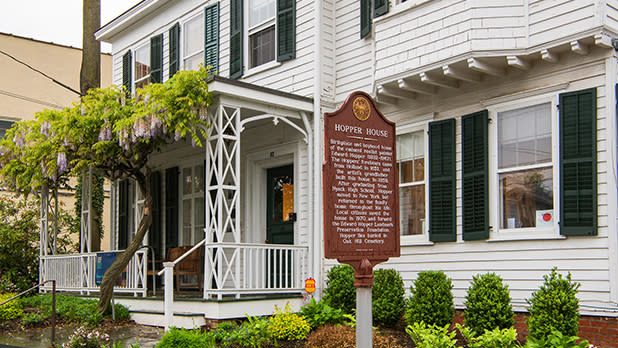 Just 25 miles from New York City, the Village of Nyack's downtown on the west shore of the Hudson River is a treasure trove of unique art and antique shops, delicious restaurants, and historical landmarks. Foodies flock to Nyack for its growing international restaurant scene, like the flavor-rich Filipino cuisine and warm service at Karenderya–named one the 20 best new restaurants of 2018 in the country by Esquire. Art and history lovers enjoy exploring the Edward Hopper House (pictured), the birthplace and childhood home of iconic American artist Edward Hopper, which features exhibitions of 20th century and contemporary art, with early Hopper work, memorabilia, and rotating exhibits relating to the artist. The village is also home to annual festivals, a farmer's market, theaters, and nightclubs.
Getting there: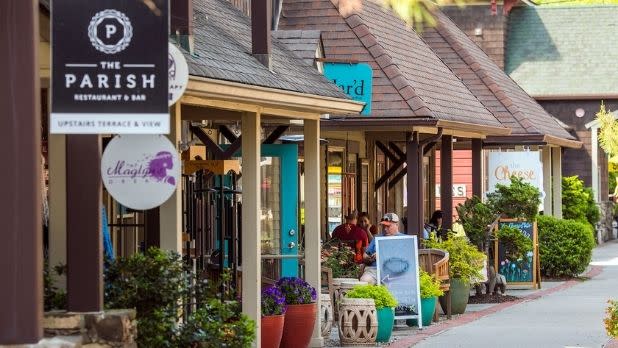 This vibrant Ulster County village has it all, from hiking and biking to wining and dining. It's home to a lively music scene, farm-to-table eateries, charming boutiques and cafes, the SUNY New Paltz campus, and the historic Mohonk Preserve. On Historic Huguenot Street, discover 10 acres of beautifully preserved 17th-century homes, buildings, and artifacts.
Getting there: 
By car: 1.5-2 hours drive from Midtown Manhattan

By bus: Take a 1.5-hour bus from the Port Authority Bus Terminal in Midtown Manhattan to New Paltz. 
Port Jefferson 
Credit: @explore_longisland on Instagram
Take a day trip to Long Island's North Shore and enjoy dining, shopping, and outdoor exploration in the beautiful waterfront village of Port Jefferson. The village's rich history dates to the 1600s and many of the historic buildings and homes still standing here belonged to prominent area sailors and shipbuilders. Explore this history at buildings like the Village Center, formerly a shipyard where builders created and launched ships into the Long Island Sound, then admire the seagrass landscape while taking a stroll on the 350-foot pier at Harborfront Park. Kids will love that the village is home to Long Island's premier hands-on science museum for children, the Long Island Explorium. 
Getting there: 
By car: 1.5-2 hours drive from Midtown Manhattan.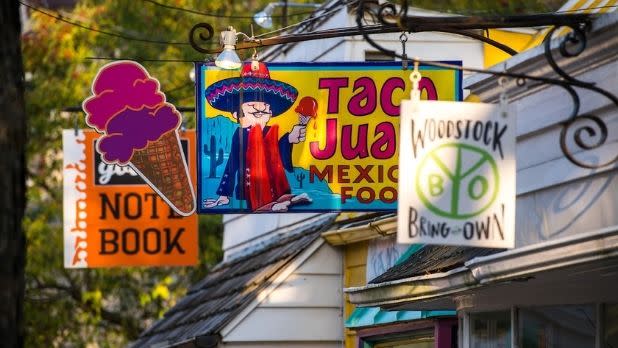 Although the famous festival that borrowed the town's name actually took place about an hour west, the spirit of the 1960s and early 1970s is still alive in Woodstock, New York. Peace, love, understanding, art, and music still reign in this quaint village nestled in the Catskill Mountains, along with farm-fresh food, excellent dining, community shopping, and great entertainment. Quaint stores along Tinker Street invite you to shop for clothing, home goods, jewelry, and great one-of-a-kind items, many of them artisan originals. Be sure to stop in some of the many art spaces, featuring photography, sculptures, ceramics, contemporary art, and more. If the weather's good, take a hike on Overlook Mountain, climb the fire tower, and enjoy the breathtaking views of the Hudson Valley and the Ashokan Reservoir.
Getting there: 
By car: 2-2.5 hours drive from Midtown Manhattan.

​By train: Take a 2-hour Metro North train from Grand Central Station in Midtown Manhattan to Poughkeepsie, NY; then rent a Zipcar for a 45-minute drive to Woodstock.
---
Share your New York State adventures with us on Instagram and Twitter and tag us on Facebook!