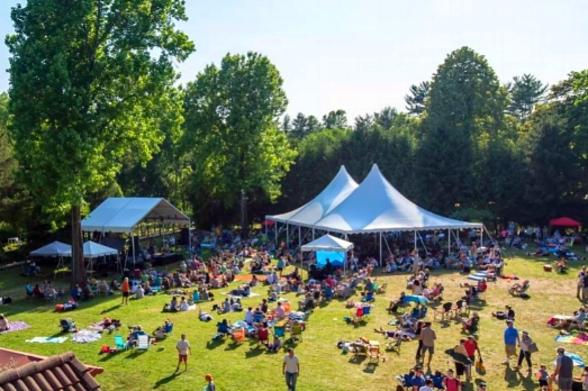 Get your sunscreen ready... It's music festival season! Summer concerts in New York cover every genre of music you'll want to jam out to, from jazz to country to pop to folk. Read on to find the types of music and the artists you love who'll be performing all around the state and have an unforgettable summer experience.
Updated 05/31/2023
Photo Credit: Michael Seto
If a SummerStage show is not on your NYC summer bucket list— it's time to fix that. This landmark festival, which is nearing its 40th year, makes the city come alive with music as it brings nearly 80 shows to its mainstage in Central Park, as well as 13 parks across all five boroughs. The festival spans four months of performances of all types of music, plus dance, theater, and more. Best of all, most of the shows are free, while many of the paid events, featuring headliners such as Indigo Girls, Vance Joy, Buddy Guy, Jimmy Eat World, and more, are benefit concerts that help SummerStage continue its ambitious programming. Through September 30; New York; Prices vary
Celebrate the rich history and renaissance of the Greater Niagara region at this three-day music and cultural festival on the scenic grounds of Knox Farm State Park. Influenced by the Great Lakes and the area's industrious spirit, this festival will go beyond boundaries, transforming East Aurora into a musical wonderland you don't want to miss. Headlining performances include Goose (September 15), Trey Anastasio with Classic Tab (September 16), and Moe (September 17). There will even be appearances from the historic Buffalo Colored Musicians Club, Sammy Rae and the Friends, Dawes, and more to keep you entertained all weekend long. Complete your memorable music adventure with a three-day tent or RV camping pass with Kissing Bridge Ski Resort. You'll stay 15 minutes from the festival and have access to shuttles going to and from the resort, complimentary parking, and more. September 15-17, East Aurora, Single-day GA is $91. Three-day GA is $177. 
Known for being one of New York City's most-anticipated music festivals of the year, for the first time Governors Ball will take over Flushing Meadows Corona Park in Queens as more than 60 artists perform across three stages over three days. Lizzo, Odesza, and Kendrick Lamar headline this year's festival, which will also feature performances by Lil Uzi Vert, Diplo, Lil Nas X, Lil Baby, and more. As you work up an appetite, you'll find plenty to eat along the festival grounds which will feature specially-curated food and drink vendors offering all types of dietary and beverage options. June 9-11, Queens, Prices vary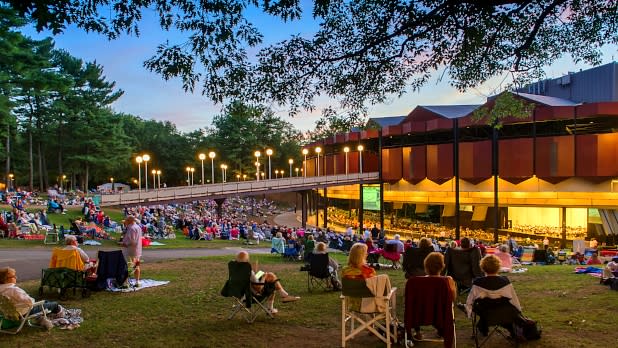 Here's something that will definitely jazz up your summer plans. Every year on the last weekend of June, jazz lovers flock to the Saratoga Performing Arts Center in Saratoga Spa State Park. Performances take place over two stages. One is the amphitheater, where you can see headliners such as Bonnie Raitt, Snarky Puppy, Pat Metheny Side-Eye, Angelique Kidjo, and more.Meanwhile the Charles R. Wood "Jazz Discovery" Stage hosts up-and-coming artists you'll want to see before they blow up. This year, many of the jazz discovery stage performers are making their festival debuts, including Kurt Rosenwinkel, Emmet Cohen Trio, Caludia Acuna, Samara Joy, Jupiter & Okwess, the Skidmore Jazz Institute Faculty All-Stars Centennial Celebration of Wes Montgomery, and lots more. June 24-25; Saratoga Springs; Tickets range from $84 to $249
Listen to Americana, blues, folk, bluegrass, and more at the elegant Caramoor Center for Music and the Arts' annual American Roots Festival. Ten-time Grammy-nominated singer/songwriter Brandy Clark headlines this year's festival, which also features performances by Nashville-based singer/songwriter Sunny War, Country MTV's 2022 Next Women of Country class member Miko Marks, pioneering cellist, singer, and composer Mike Block Trio, and American Bluegrass pioneer Nefesh Mountain. Daytime artist performances begin at 12:30 PM, while evening performers go on at 7:30 pm. Other performers include Leon Timbo, Divining Rod, Hayley Reardon, and Our Band. June 24; Katonah; Day-only adult tickets are $49, full festival tickets range from $59-$116

Photo Credit: Xerox Rochester International Jazz Festival
The Rochester International Jazz Festival is one of the world's most recognizable jazz festivals, and the festivities return in June. The performances are held in nearly 20 different locations in downtown Rochester, but each is walking distance from the next so you can explore on foot. The 2023 festival features a whopping 1,750 artists at 325 events, including more than 100 free shows. Rochester's Main Street between Gibbs and Chestnut streets will be closed off to traffic and transformed into "Jazz Street," with family-friendly free outdoor concerts, merchandise, food, beverages, and a two-story vending tent. June 23-July 1; Rochester; Ticket prices vary by artist and location, 3- and 9-day passes available

Photo Credit: Ellicottville Chamber of Commerce 
Head to Ellicottville where the Holiday Valley resort turns one of its fairways into an enormous outdoor concert venue. This year, enjoy the voices of classic rock featuring Barracuda, a Heart tribute band followed by Grammy award-winning and top former members of Chicago and Earth, Wind, & Fire headliners, Bill Champlin, Keith Howland, Jeff Coffey, and Gorden Campbell, dubbed "The Players".Shop from 50 artisan craft vendors and watch the cuteness of the annual pet parade. Later in the weekend, watch the Buffalo Philharmonic perform and end your Sunday with a stunning fireworks display. June 30-July 2; Ellicottville; Tickets are $50 in advance; children 12 and under free
Photo Credit: Great Blue Heron Festival
What's wild about the Great Blue Heron Festival is the range of genres represented, including bluegrass, Cajun, zydeco, African, reggae, Americana, old-time music, Irish music, and folk. Wander around from the main stage to the smaller Tiger Maple Stage, and then to the "Dance Tent" before crashing in your tent at night beneath the stars. The festival will also have over craft and food vendors, so you can refuel after dancing your heart out with local favorites. Dance even more at the Drum and Fire Circle or take a dip in the beach to cool off after the fun summer day. Kiddos can make crafts at the Kids' Tent or play games at the Teen Tent. Bonus: every camping area is allowed its own personal campfire. If hot, gooey s'mores aren't the perfect ending to a full day of live music, we don't know what is. June 30-July 2; Sherman; Passes range from $49-$184 depending on length of stay, children under 12 free (not including camping fees)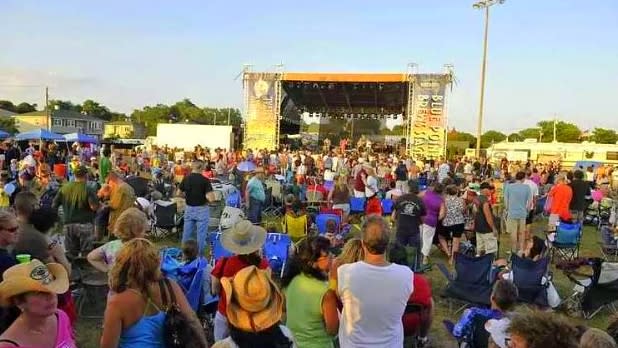 The Great South Bay Music Festival is one of Long Island's longest-running music, art, and cultural events. Nearly 60 big-name, up-and-coming, and local artists perform the gamut of American music, from classic rock to jazz to folk across four stages at Shorefront Park. Phil Lesh & Friends, Govt. Mule, Dirty Heads, and Hot Tuna are among this year's headliners. Combine that with the Great South Bay Artisan Market and KIDZONE, with all-day children's entertainment and you'll see why large groups and families love to attend year after year. To top it all off, there's a rich food court with gourmet and international options and multiple beer and wine gardens. July 20-23; Patchogue; Ticket prices vary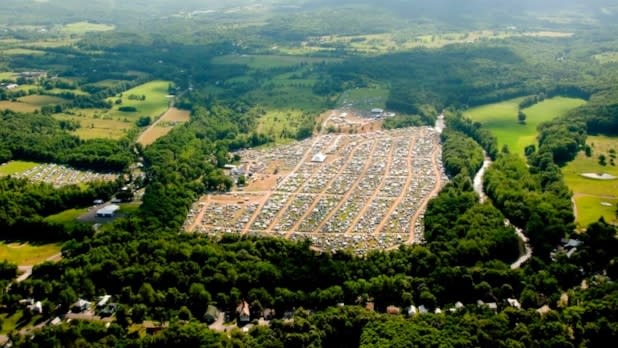 The Grey Fox brings nearly 40 artists to perform across five stages, making it one of the biggest bluegrass festivals in the country. Come for lively, twangy music, the festive atmosphere, and morning yoga and meditation congregations. You can even see a bluegrass film or perform at the Annual Open Mic Night. On the Family Stage, you'll find tie-dying, instrument-making, and nature crafts for kids. At the BGA Tent, your little prodigy can attend bluegrass classes for the entire four days with preregistration. July 12-16; Oak Hill; Single-day passes range from $90-$95, full fest with camping $295, kids 12 and under free with a ticketed adult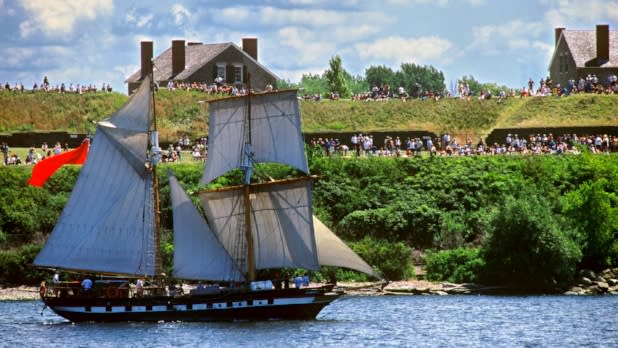 The annual Oswego Harborfest is mainly a music festival, with more than 30 music artists performing in Breitbeck Park and East Park/Washington Square. We say "mainly" because this completely free four-day event also includes a children's parade and musical, magic shows, make-your-own t-shirt and puppet stands, and numerous craft and food vendors. That's not to mention the Ferris wheel, merry-go-round, and, on Saturday evening, a spectacular fireworks show over the harbor. One day is definitely not enough to see, do, and eat everything this festival has to offer. July 27-30; Oswego; Free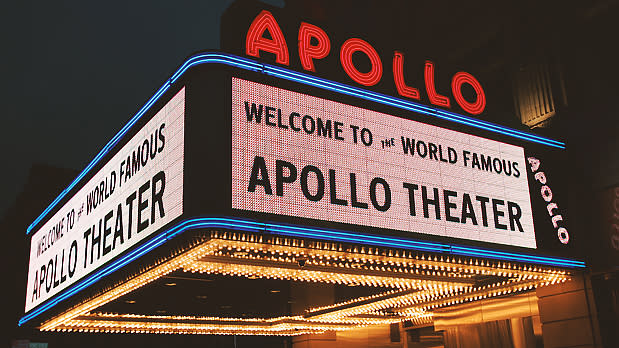 NYC's Harlem Week is actually, thankfully, not just a week long. Now nearing its 50th year year, it's a series of more than 100 cultural events celebrating Harlem's African, African-American, Caribbean, Hispanic, and European history that take place over several days in August. Think film festivals, fashion shows, auto shows, a 5K run, career fairs, street fairs, and so. much. delicious. food. And of course, great music. August 10-20; New York; Free

Photo Credit: David Warner
The stunning Lake George serves as a picturesque backdrop for this week-long festival of orchestral and chamber music. Professionals and current students from world-class philharmonic orchestras perform at the Carriage House at Fort William Henry! Festival pass holders also get to enjoy some great perks including attending open rehearsals, public receptions, and informational talks. August 6-17; Lake George; Ticket prices vary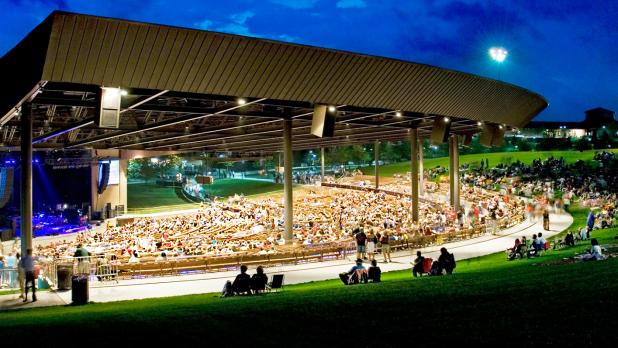 Bethel Woods Center for the Arts, the site of the original Woodstock music festival, will feature major headliners in its picturesque outdoor pavilion all summer long, including James Taylor & His All Star Band, Robert Plant & Alison Krauss, Steve Miller Band, Shania Twain, Tears for Fears, Chris Stapleton, and more. Sing and dance your heart out at one of the best and most historic concert venues in the Catskills. Through Sept. 1; Bethel; Prices vary
Enjoy the sounds of reggae, rock & roll, bluegrass, and funk as more than 30 musical acts descend on the Blackthorne Resort nestled in the northern Catskill Mountains for the third annual Catskill Mountain Jubilee. This year's headliner includes Philadelphia natives and modern jam band pioneers, The Disco Biscuits. The festival features an array of local and national vendors, foods, and crafts, and the resort's 100-acre property offers both RV and tent camping, onsite lodging, a pool, and more. August 10-13, East Durham; Prices vary
Electronic music fans, don't forget to add Electric Zoo to your festival wishlist this year! Established in 2009 and one of New York City's largest and internationally-renowned musical experiences, featuring a wide-variety of acts and some of the top names in electronic music. Take in this year's energizing ensemble from the lush green of Randall's Island Park surrounded by breathtaking views of Manhattan's East River with a soon-to-be-announced highly-anticipated lineup. Past festivals have included star-studded performances from Marshmello, Martin Garrix, Tiesto, Bonobo, and more. September 1-3, New York, three-day GA starts at $179.99.
---
Don't forget to share your summer vacation with us! Share New York State pictures on Instagram and Twitter with #FindWhatYouLoveNY and tag us on Facebook!