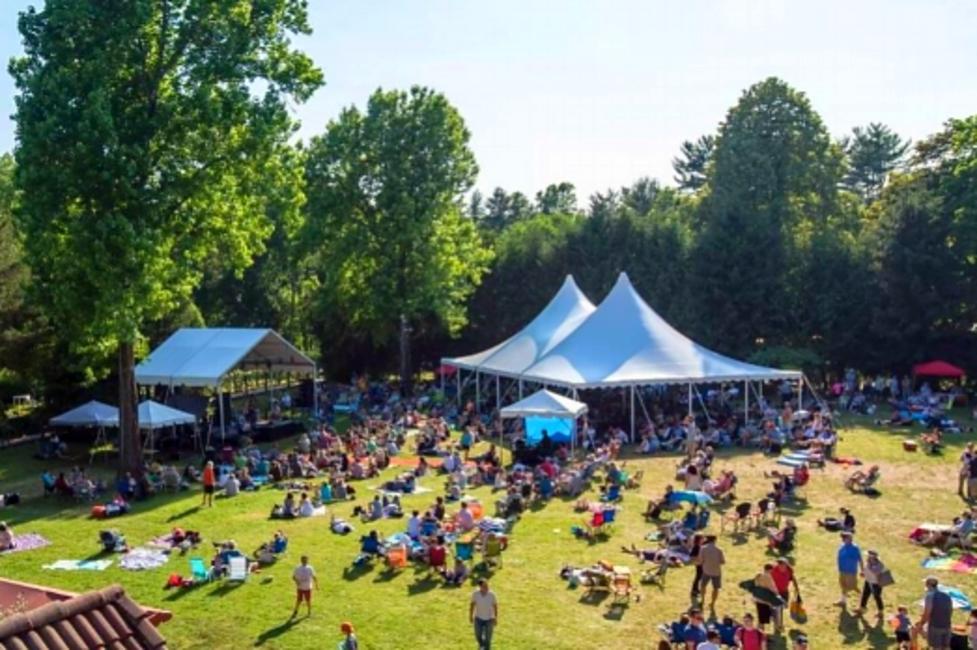 It's music festival season! Summer concerts in New York cover every genre of music you'll want to jam out to, from jazz to country to pop to folk. Read on to find the types of music and the artists you love who'll be performing all around the state at these unforgettable summer experiences.
SummerStage
Photo Credit: Michael Seto
If a SummerStage show is not on your NYC summer bucket list—fix that. In its 33rd year running, the festival spans three months, five boroughs, and performances of music (from R&B to Klezmer), dance, theater, and more. Best of all, with the exceptions of a few big names such as Jason Mraz and Dispatch, almost all of the shows are totally free. June 2–September 2; New York; Prices Vary
Jam at the Ridge
The Ridge in Le Roy basically turns the entire summer into one long music festival, by holding different themed Jam Weekends throughout the season. June 15–16 is the Country Jam Weekend, with headliners Jason Michael Carroll and Rodney Atkins. They switch over to Classic Rock for July 27 and 28, featuring Quiet Riot and Little River Band. Next up, listen to Southern Rock on August 3 with Blackjack Billy. The series comes full circle with a Country Jam Weekend II with headliner Zac Brown Tribute Band. The Ridge itself is not only a concert venue but also a campground, so pick your weekend (or weekends!) and bring your tent for this perfect combo of music and the outdoors. June 15–June 16; Le Roy; Prices vary by artist
Clearwater Music Fest
The Clearwater Music Fest in Westchester hosts performances on seven bio-diesel-powered stages (featuring headliners Ani DiFranco, They Might Be Giants, and more). All proceeds benefit Hudson River Sloop Clearwater, an organization dedicated to preserving and protecting the Hudson River. You'll also find a juried artisan "Handcrafters' Village," a food and farm market, and educational exhibits on conservationism. Stop by the Family Stage for kid-centric shows, as well as the Children's Area for hands-on activities and crafts. June 16–June 17; Croton-on-Hudson; Ticket prices vary
The 2018 Freihofer's Saratoga Jazz Festival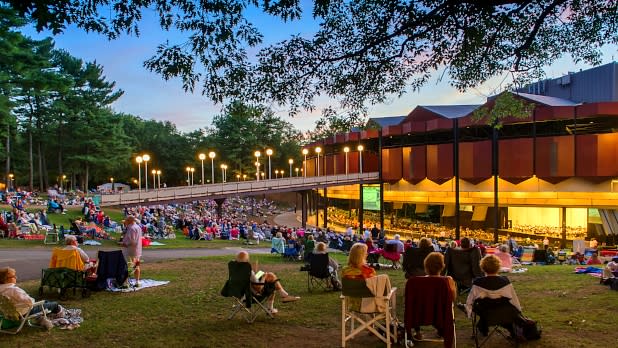 Here's something that will definitely jazz up your summer plans. Every year on the last weekend of June, jazz lovers flock to the Saratoga Performing Arts Center in Saratoga Spa State Park. Performances take place over two stages. One is the amphitheater, where you can see headliners such as Chris Botti, Herbie Hancock, and José James. Meanwhile the Charles R. Wood "Jazz Discovery" Stage hosts up-and-coming artists you'll want to see before they blow up. On top of that, for the first time ever, the festival will kickoff with "Jazz Fest Friday," a day of live music, dining, and dances at restaurants, bars, and other locations all around the city. June 23; Saratoga Springs; Single day: $65–95, 2-Day Pass: $110–170
American Roots Festival
Get in touch with American Roots at the elegant Caramoor Center for Music and the Arts' annual American Roots Festival. Legendary singer-songwriter Aimee Mann and folksy, bluesy singer Valerie June are headlining this year while performances of folk, country, bluegrass, gospel, blues, and more fill out this full-day experience. The big names will take to the Venetian Theater, an enormous, fully covered outdoor venue. The smaller up-and-coming shows will play their tunes in the Center's Sunken Garden and Friends Field, so you can listen to incredible music while enjoying the surrounding nature. June 23; Katonah; Tickets range from $15 to $90
Xerox Rochester International Jazz Festival

Photo Credit: Xerox Rochester International Jazz Festival
Xerox probably isn't a name you associate with jazz, but strangely enough, they've been sponsoring one of the best jazz festivals in the country for the past nine years. The performances are held in 20 different locations in downtown Rochester, but each is walking distance from the next so you can explore on foot. The festival features a whopping 1500 musicians, guaranteeing that you will never run out of performances. Rochester's Gibbs Street and part of Main Street are closed off from traffic and transformed into "Jazz Street," with family-friendly free outdoor concerts and a two-story vending tent. June 22–June 30; Rochester; Ticket prices vary by artist and location, 3- and 9-day passes available
The Ellicottville Summer Music Festival

Photo Credit: Ellicottville Chamber of Commerce 
Search no further for Independence Day weekend plans—you're going to want to head to Ellicottville where the Holiday Valley resort turns its fairway into an enormous outdoor concert venue. Rock out to the tunes of headliners Dennis DeYoung, the Music of Styx, and the Buffalo Philharmonic. Shop from 50 artisan craft vendors, bask in the glory of the annual pet parade, and kick back and watch the festival's closing fireworks. June 29–July 1; Ellicottville; Ticket prices vary by day, children 12 and under free
July Fest and Binghamton Jazz Festival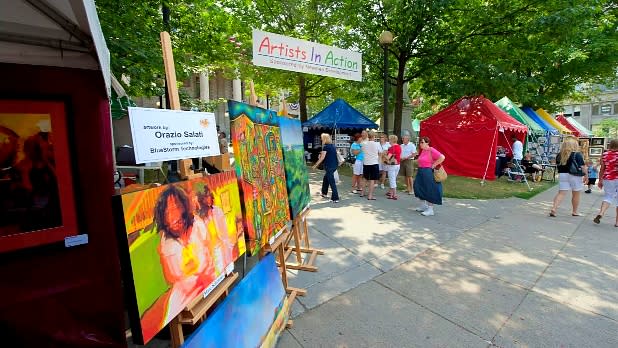 You know what they say, two festivals are better than one! For the eighth year, Binghamton's Music & Jazz Festival and July Fest Binghamton join together to form one super summer event for the whole family. For three days, jazz and blues bands take to the stage, providing the soundtrack to July Fest goings-on, such as a 5K run, a showing of gorgeous vintage cars, and a craft fair. At the Kidz Art Zone kiddos can paint, craft, and have their faces painted. June 6–July 8; Binghamton; Free
Great Blue Heron Festival 2018
Photo Credit: Great Blue Heron Festival
What's wild about the Great Blue Heron Festival is the range of genres represented, including bluegrass, Cajun, zydeco, African, reggae, Americana, old-time music, Irish music, and folk. Wander around from the main stage to the smaller Tiger Maple Stage, and then to the "Dance Tent" before crashing in your tent at night beneath the stars. The festival has its own eatery, the Heron's Cafe in the Woods, where you can refuel after dancing your heart out with coffee, pizza, baked goods, and more. Bonus: every camping area is allowed its own personal campfire. If hot, gooey s'mores aren't the perfect ending to a full day of live music, we don't know what is. July 6–July 8; Herman; Day passes from $50-$60, weekend passes $130, children under 12 free (not including camping fees)
Great South Bay Music Festival 2018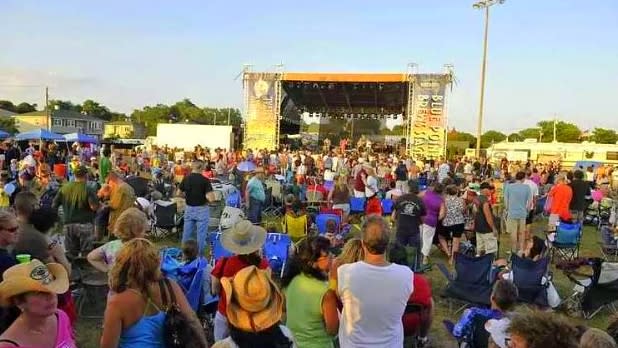 The Great South Bay Music Festival is one of Long Island's longest-running music, art, and cultural events. 60 big-name, up-and-coming, and local artists perform the gamut of American music, from classic rock to jazz to folk. Combine that with the Great South Bay Artisan Market and KIDZONE, with all-day children's entertainment and you'll see why large groups and families love to attend year after year. (FYI, parents, Disney's Imagination Movers will perform for young fans on Sunday.) To top it all off, there's a rich food court with gourmet and international options and multiple beer and wine gardens. July 12–July 15; Patchogue; Ticket prices vary
Grey Fox Bluegrass Festival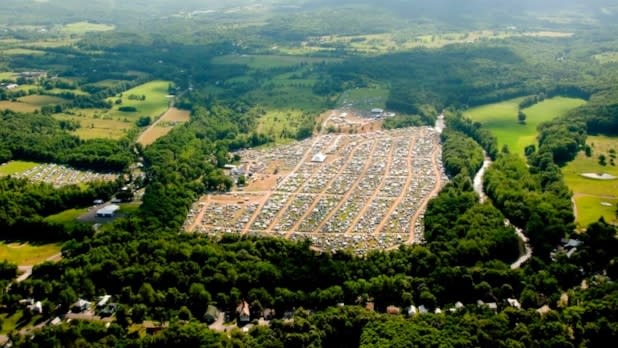 The Grey Fox brings more than 40 artists to perform across six stages, making it one of the biggest bluegrass festivals in the country. Come for lively, twangy music, the festive atmosphere, and morning yoga and meditation congregations. Besides the performances, you can partake in a number of workshops, whether you're brand new at an instrument or want to take your skills to the next level. On the Family Stage, you'll find tie-dying, instrument-making, and nature crafts for kids. At the BGA Tent, your little prodigy can attend bluegrass classes for the entire four days with preregistration. July 19–July 22; Oak Hill; Single-day passes $80, full Fest with camping: $225, kids 12 and under free with ticketed adult
Oswego Harborfest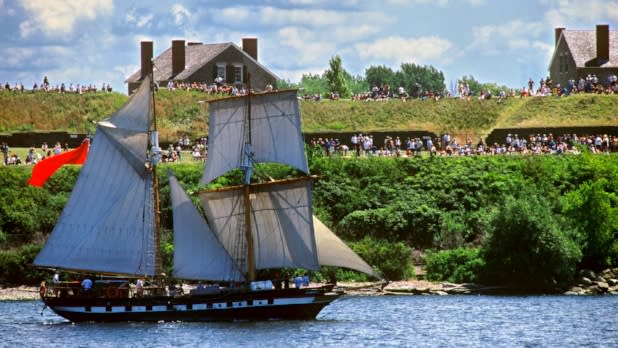 The annual Oswego Harborfest is mostly a music festival, with more than 50 music artists performing in Breitbeck Park and East Park/Washington Square. We say "mostly" because this completely free four-day event also includes a children's parade and musical, magic shows, make-your-own t-shirt and puppet stands, and numerous craft and food vendors. That's not to mention the Ferris wheel, merry-go-round, and, on Saturday evening, a spectacular fireworks show over the harbor. One day is definitely not enough to see, do, and eat everything this festival has to offer. July 26–July 29; Oswego; Free
Panorama Music Festival
When it comes to NYC music festivals, the competition is fierce, but Panorama (brought to you by the folks behind Coachella) gives others a run for their money. Head out to Randall's Island Park for a diverse showing of genre-leading artists. Headliners include The Weeknd, Janet Jackson, and The Killers, with performances by Migos, SZA, St. Vincent, Dua Lipa, The XX, Fleet Foxes, and so many more. You'll find plenty of delicious (Instagrammable) eats, and an experience called "The Lab," which includes interactive digital art installations and a 360-degree virtual-reality theater. It's only the festival's third year running, but we're convinced Panorama is going to become a New York summer staple for years to come. July 27–July 29; New York; Single day pass $99, two-day pass $185, three-day pass $250, not including fees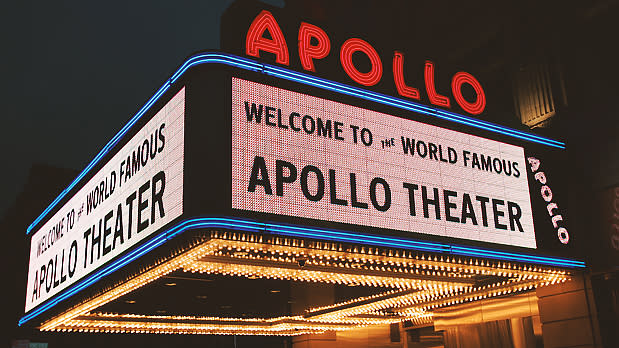 NYC's Harlem Week is actually, thankfully, not just a week long. It's a series of more than 100 cultural events celebrating Harlem's African, African-American, Caribbean, Hispanic, and European history that take place from the end of July through August. Think film festivals, fashion shows, auto shows, a 5K run, career fairs, street fairs, and so. much. delicious. food. And of course, great music. Here is your chance to hear some of the country's best gospel choirs, R&B artists, world music groups, and more. July 29–August 31; New York; Free
Lake George Music Festival
Photo Credit: David Warner
The stunning Lake George is just about the most picturesque backdrop as you could want for this 10-day festival of orchestral and chamber music. World-class philharmonic orchestras from around the country perform in various locations, including an amphitheater, a historic church, and even aboard the famous Minne-Ha-Ha boat! Instill an appreciation for classical music in your little ones by bringing them to the special children's concert. The show weaves in a story about a conductor finding a magic spell book that controls the orchestra, explaining the role of each instrument. August 12–August 24; Lake George; Ticket prices vary
Don't forget to post photos of your New York adventures on Instagram and Twitter with #iSpyNY and tag us on Facebook!