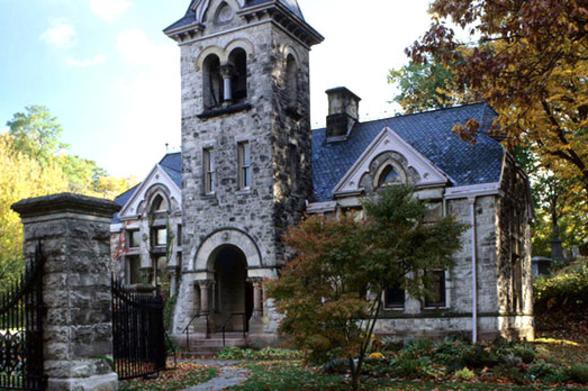 For those who seek it, New York State has a darker side to show off to fans of the offbeat, eerie, or macabre. Discover ghosts, haunted hotels, and creepy graveyards when you check out these spooky spots. 
Masks are encouraged, but optional in most settings per New York State guidelines. Individual businesses or attractions may require mask wearing. Call ahead and check websites and social media to make sure attractions and amenities are open and available. 
The best collection of all things paranormal is the Haunted History Trail of New York State, with opportunities to discover over 400 years of history and maybe make some disembodied friends along the way. Their website is chock full of creepy locations, spirit hunts, guided tours, haunted inns, ghostly events, and even other-worldly dining all across New York State for the paranormal-curious, even some locations that cater to spectral investigation teams.
Stay in a haunted hotel

Credit: AmityPhotos.com
The Sagamore Resort on Lake George (pictured) has been recognized as one of the Best Haunted Hotels in the US. Visitors have been said to come across a ghostly couple in the restaurant, a woman in a pinkish-brown dress on the porch, a young child on the golf course who pranks golfers, and a ghost in the elevator, among other spirits. Ghostly stories have also been reported at Fainting Goat Island Inn in Nichols and Belhurst Castle in Geneva.
Tour a historic asylum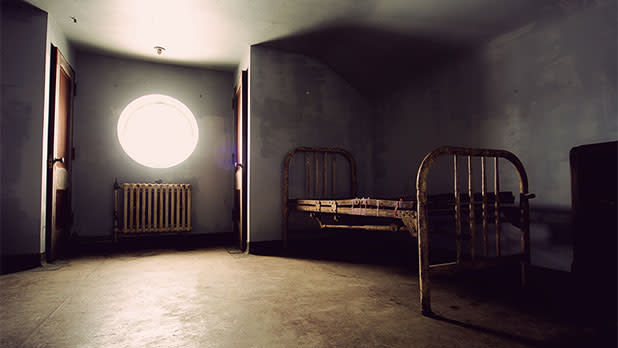 Rolling Hills Asylum in the Greater Niagara town of East Bethany is not a theatrical attraction—it is an actual historical asylum and one of the most haunted locations in the world, featured on shows like Travel Channel's Ghost Adventures. There are two-hour historical flashlight walking tours, plus private and group Ghost Hunts. 
Medical museums to make you shiver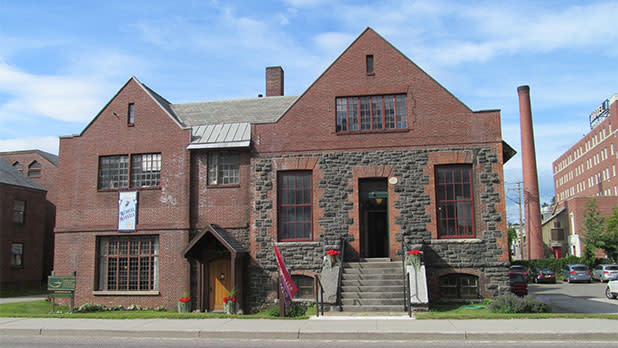 Medical practices that were once considered cutting-edge can now seem outlandish. The Dr. Best House & Medical Museum in Middleburgh is a step back into a historic Victorian home and medical office. The site features a myriad of preserved items, including antique medical equipment like Dr. Best's bottles of potions that range from Hemlock Oil to Digitalis to Calamine Powder. Special paranormal programs are held at various times of the year as well. In addition, the Saranac Laboratory Museum tells the fascinating story of Saranac Lake's role in the treatment of tuberculosis.
Explore castle ruins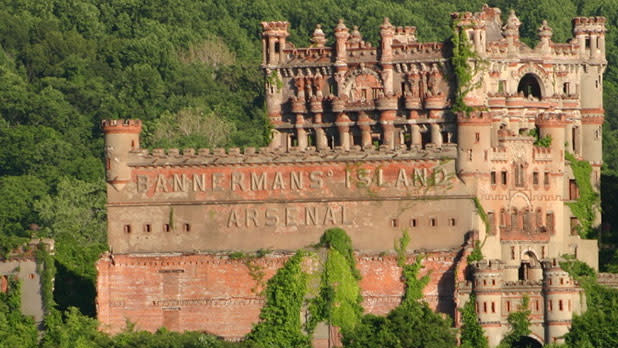 On an island just off the shores of the Hudson River are the mysterious, ornate, still-standing remains of Bannerman Castle. It was once an ammunition storage facility modeled on a Scottish castle. Now the Bannerman Castle Trust hosts tours, special dinners, theatrical experiences, and outdoor film screenings.
Find great graveyard tours
Graveyards are inherently creepy for some, but they can also be educational and even serene. A number of cemeteries across the state offer tours that run the gambit from the historic to the chilling.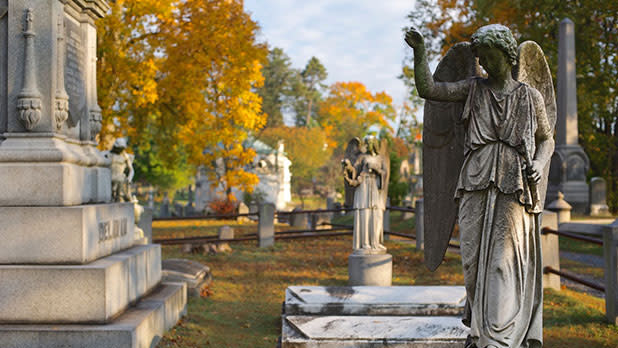 During the day, the Sleepy Hollow Cemetery (pictured) offers a guided walking tour focusing on Washington Irving and his famous story, The Legend of Sleepy Hollow, as well as ones focusing on all the important people buried there. They include steel titan Andrew Carnegie and industrialist William Rockefeller, among many others. There are also nighttime tours by lantern-light like "Murder & Mayhem" available for advanced purchase.
The Mischief, Murder and Mayhem Tours of Mount Hope Cemetery include intriguing stories from Rochester's history, as do daytime themed tours that focus on the luminaries who are interred there, like Frederick Douglass and Susan B. Anthony.
Elmira GhostWalk tours of Woodlawn Cemetery in the Finger Lakes include "appearances" by notable tenants of the cemetery. This event sells out so grab your tickets in advance.
The 269-acre Forest Lawn Cemetery in Buffalo has unique offerings like Civil War history and Frank Lloyd Wright architecture. Experience it with walking and trolley tours.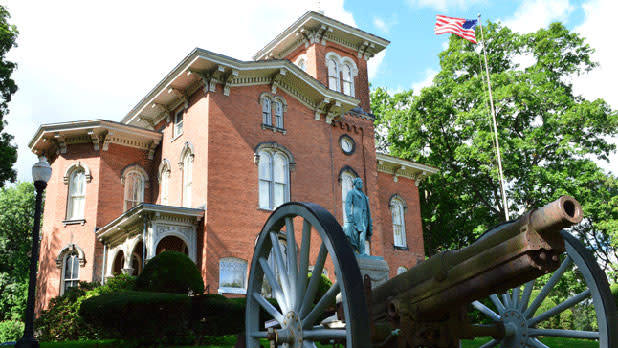 Jamestown is the final resting place of Lucille Ball and home of the Lucy-Desi Museum and the National Comedy Center; the Fenton History Center (pictured) offers tours of Lake View Cemetery.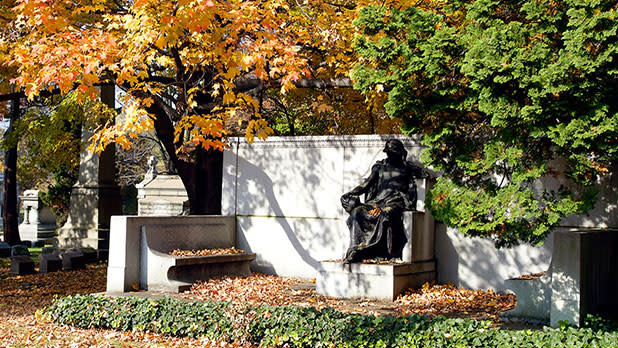 Famous New York City cemeteries with tours include: Green-Wood Cemetery in Brooklyn, home of Leonard Bernstein, Boss Tweed, and Jean-Michel Basquiat, with trolley and walking tours and concerts; and Woodlawn Cemetery in the Bronx (pictured), with residents like Miles Davis, Robert Moses, and Joseph Pulitzer, and tours like "Illuminated Mausoleums."
---
Share New York State adventures with us on Instagram and Twitter with #ILoveNY and #iSpyNY, and tag us on Facebook!