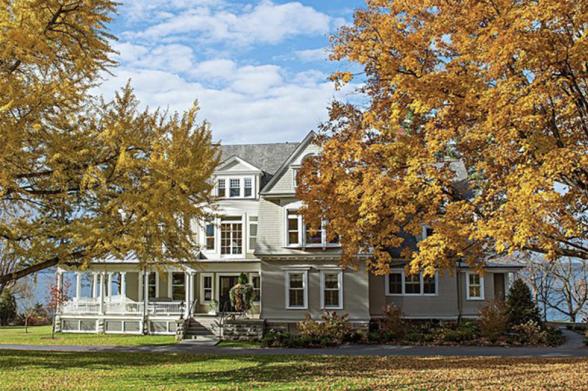 October is New York State History Month and we're throwing it back to a few moments and places in NY history with a fun nostalgic twist. Scroll down to find the American Girl doll you had growing up (or wish you had!), and we'll match you with a place to visit to learn all about New York's storied past.
Kaya (Chautauqua-Allegheny)
Adventure awaits with courageous and caring Kaya, a Native American girl living in 1764. Pay homage to some of the first inhabitants of New York with a visit to the Seneca-Iroquois National Museum. Journey through 33,000 square feet filled with hundreds of items from the Seneca Nation, including cultural art like beadwork, pottery, basketry, and carvings. Outside, you'll even find the first Seneca Longhouse raised in Alleghany since 1820. Nearby Allegheny State Park offers plenty of opportunity to experience the beauty of the natural world, something Kaya loved to do with her friends. Learn even more about the Native American experience in New York State on the Native American Path Through History.
Addy Walker (Adirondacks)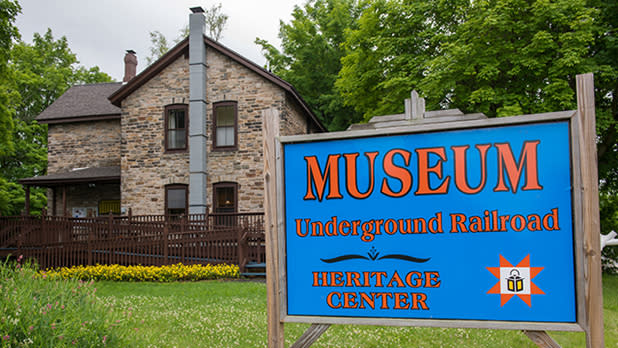 Follow the journey of Addy Walker, an African-American girl who escapes a North Carolina plantation to seek freedom up North alongside her mother. Learn more about the stories of freedom seekers like Addy at the North Star Underground Railroad Museum, which preserves and highlights the rich history of the Underground Railroad along New York's northeastern waterways. Walk through intricate exhibits, multimedia displays, and collections that depict the journey many took to freedom during the Civil War period. Less than an hour away, the John Brown Farm Historic Site offers a fascinating look into the efforts abolitionists undertook to free enslaved people. Discover more about the Underground Railroad movement in New York State along the Equal Rights Path Through History.  
Felicity Merriman (Capital-Saratoga)
Felicity lived through the American Revolution, and New York State has plenty of Revolutionary War and Colonial History to explore on its Path Through History. From touring the mansion home of renowned Revolutionary War general Philip J. Schuyler (the father of "Angelica! Eliza! And Peggy!" of Hamilton fame) to the famed Saratoga National Historic Park, where you can learn about the two hotly contested Revolutionary War battles fought on the Saratoga Battlefield, the Capital-Saratoga region, the state's capital, is steeped in revolutionary history. 
Kirsten Larson (Central New York)
Originally from a small town in Sweden, Kirsten's family immigrated to America to take advantage of rich farmland like the kind you can see in the Central New York region. See farming history come alive with a fun visit to The Farmers' Museum in Cooperstown, NY. Explore the village atmosphere by going through the various historic buildings on the property as you watch costumed reenactors do craft demonstrations, ride the Empire State Carousel, or pet adorable farm animals. Take advantage of a combo ticket to take in some American folk art at the nearby Fenimore Art Museum and be sure to visit one of the many working farms in the region! You can also learn more about how the Empire State became the center of the American immigrant experience on the Immigration Path Through History.
Samantha Parkington (Long Island)
Explore the glitz and glamour befitting Samantha's posh NY upbringing by visiting some of Long Island's most iconic historic mansions along "the Gold Coast." Frolic through over 200 acres of gardens at Old Westbury Gardens, and be sure to stop by for a mansion tour and lunch (or just "Gatsby Hour" if you are on more of a budget) at Oheka Castle, where you can even stay overnight. Don't miss other gems of the era, including Vanderbilt Museum & Reichert Planetarium, Mill Neck Mansion, Sands Point Preserve (once home to the Guggenheims), and President Theodore Roosevelt's "Summer White House" at Sagamore Hill National Historic Site. Learn more about the innovators of yesteryear who built these grand homes on New York's Innovation Path Through History. 
Rebecca Rubin (NYC)
Credit: @kevinmu on Instagram
Discover Rebecca's Russian-Jewish immigrant roots by going on a tour of the type of Lower East Side tenements where new arrivals might have settled at the time led by a docent from the Tenement Museum. New York City's Jewish community is the largest of any city in the world, and you can learn more about it at the gorgeous Eldridge Street Synagogue. One of the best ways to explore a culture is through its food so grab a nosh at iconic LES eateries like Katz's Delicatessen, known for grandiose pastrami sandwiches, and Russ & Daughters, where you can try classics like smoked salmon on a bagel, potato latkes, chocolate babkas, and more. Don't miss the chance to head down to Ellis Island and the Statue of Liberty to see where many early New Yorkers got their start. Finally, Rebecca dreamed of being a Broadway actress so there's no way you can miss a show on "The Great White Way" while in town! Learn more about New York State's rich Immigration and Arts & Culture Path Through History. 
Molly McIntire (Hudson Valley)
Learn all about one of the most important figures in the era that shaped Molly's childhood with a visit to the Franklin D. Roosevelt Presidential Library and Museum. There, you can learn all about pivotal moments in World War II history, see the homes of both FDR and First Lady Eleanor Roosevelt, and explore the beautiful estate full of trees planted by the former President himself.  Because of the restrictions and rationing during this time period, many families weren't able to take vacations due to the war but took to the outdoors, spending their time in large parks. Visit the nearby Minnewaska State Park Preserve, located on the dramatic Shawangunk Mountain ridge, for over 50 miles of footpaths perfect for hiking, biking, and connecting with nature.  Explore more on the US Presidents and Natural History Path Through History. 
Julie Albright (Catskills)
Peace, love, and happiness aren't the only things Julie has on her mind throughout the mid-1970s. Relive the history of the '60s and '70s at Bethel Woods Center for the Arts Museum located on the historic grounds of the 1969 Woodstock Music and Arts Festival. The main exhibit The Story of Woodstock and the '60s features 20 films, five interactive productions, 164 artifacts, more than 300 photographic murals, and dozens of interpretive text panels to explore. Discover how Julie came to acquire her groovy and funky fashion sense (and signature bell bottoms!) as you listen to the music of the era throughout the gallery. If you're stopping by in the summertime, don't miss out on one of Bethel Woods' lively concerts from the amphitheater. Learn more about New York's role in the arts along the Arts & Culture Path Through History.
Caroline Abbott (Thousand Islands-Seaway)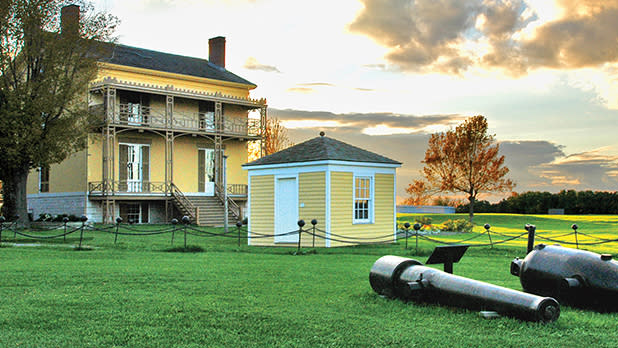 Visit Caroline's historic hometown of Sackets Harbor where her story unfolds during the  War of 1812. Along the US-Canadian border you'll find the historic grounds that saw two monumental battles at the Sackets Harbor Battlefield Historic Site. Take a tour of engaging exhibits and 70 scenic acres overlooking Lake Ontario. Seasonally, you can even witness historical reenactments, where tour guides dress in military clothing of 1813 and reenact the camp life of the common soldier. Afterward, be sure to explore Caroline's hometown and follow along the village's War of 1812 Bicentennial Trail. To discover more about New York's part in the War of 1812, follow the War of 1812 Path Through History.
Melody Ellison (Greater Niagara)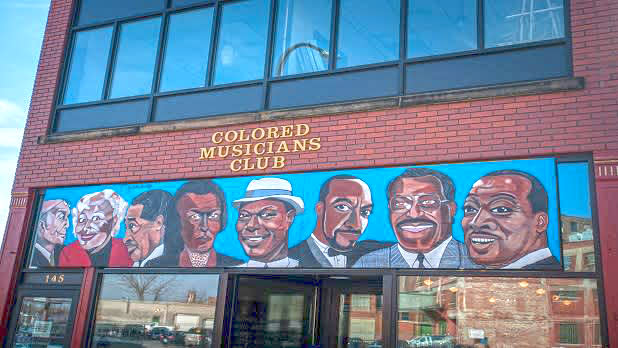 Musically-talented Melody Ellison represents the changing society during the African-American Civil Rights Movement throughout the 1960s. Learn more about the role of music throughout African-American history at the Colored Musicians Club and Jazz Museum in Buffalo. This famous and legendary cultural hub is the only continuously running, all-Black-owned music venue in the United States and has seen some of music's greatest like Miles Davis, Duke Ellington, and Dizzy Gillespie. Explore the museum with multimedia exhibits and be sure to check out the events calendar for live performances. Learn more on the Arts & Culture and Equal Rights Path Through History.
All the Dolls (Finger Lakes) 
No matter your doll of choice, pay a visit to Aurora and step into the quaint and idyllic town that was once home to founder Pleasant Rowland and the inspiration for the whole American Girl collection. After selling American Girl in 1998, Rowland teamed up with her alma mater, Wells College, to revitalize this charming town on the shores of Cayuga Lake. Today, you can explore the businesses, restaurants, and artisan shops that line Main Street and make sure to pop into the farmers market from May to October. You'll also find Rowland's main project, the Inns of Aurora, a collection of five lovingly restored estates each with their own rich history and personality, just like the dolls! These luxury resorts also feature a world-class spa, farm-to-table dining, spectacular views of the town, and more.  
If You Didn't Have A Doll (NYC)
If you've never had a doll, don't worry, this blog is still for you – head down to New York City where the American Girl store will lend you one to keep you company while dining in their cafe. From there, plot your way to The New-York Historical Society to explore the rich history of New York and the nation where you can see exhibits honoring the women who preserved NYC as well as a photo series celebrating the 50th Anniversary of the founding of hip hop, take a "Views from the Past" walking tour with the Central Park Conservancy, and head up to Harlem for an exhilarating night of live entertainment at the Apollo Theater, whose amateur night series is one of the most important star makers in history, launching the careers of legends like Michael Jackson and Stevie Wonder.   
---
Don't forget to post photos of your New York adventures on Instagram and Twitter with #iSpyNY and tag us on Facebook!