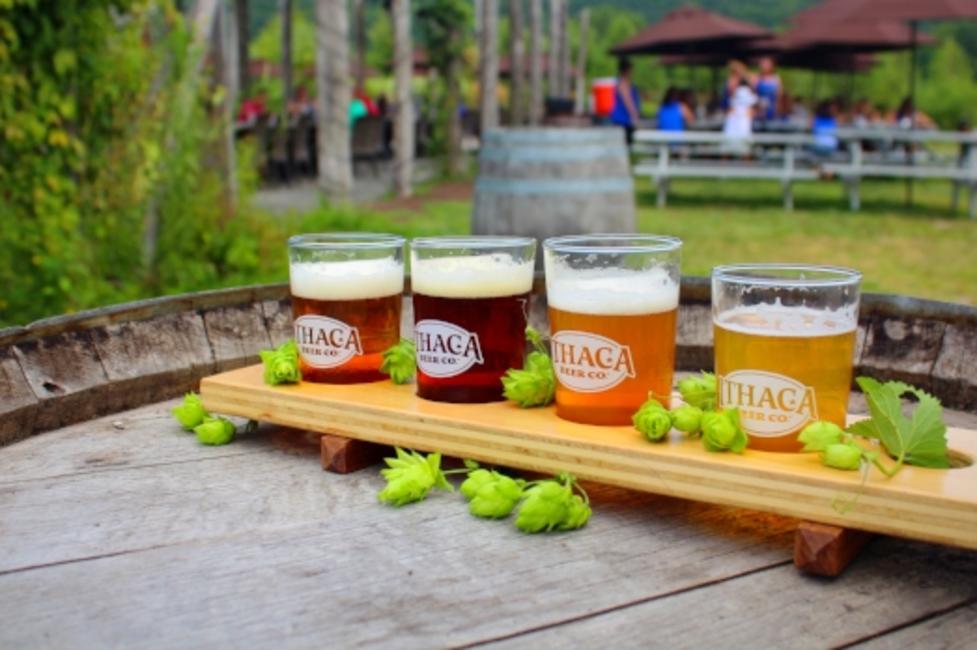 If you love tasting, learning about, and kicking back with beer, we've got some good news to make you hoppy. Craft brewing is not only a huge part of New York's history, but right now it's taking off, growing more prevalent and crafty, with uniquely New York flavors. With tons of breweries using locally-sourced ingredients and becoming more inventive with their creations, sampling beer is a great way to get a (literal) taste of New York culture. Even better, nearly every spot on this list serves up delicious beer-compatible local bites to go with it. Read on for 12 of the best brewery experiences across the state!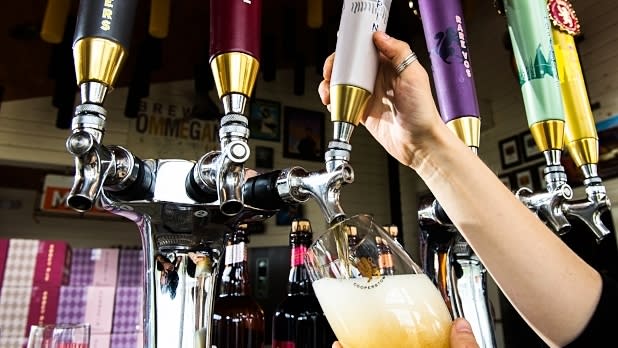 For those of you unfamiliar, Ommegang is a BIG name in the craft brewery scene. You can find cans and bottles of its Belgian-inspired specialty and seasonal ales in most high-end beer shops. It's been brewing since 1997 on a 136-acre farmstead in Cooperstown, which you can tour while you learn about the brewing process and try samples. You even get to keep the tasting glass as a souvenir. Don't miss the classic "Hennepin," Ommegang's farmhouse saison, the "Gnomegang Blonde Ale" (extra points for cuteness here), or consider one of its more inventive limited editions. The brewery just released a new Game of Thrones themed brew: "Mother of Dragons," a blend of a smoked porter and a Belgian kriek, "representing the smoke and fire that Daenerys has unleashed on her opponents." We think Khaleesi would approve! Please note that tours require that you wear closed-toe shoes.

Credit: Liz BanField
The Greenport Harbor Brewing Company has two locations on Long Island, one in Greenport and another larger one in Peconic; both offer an amazing atmosphere and even better beer. To start, the Peconic brewery can be described as a beer drinker's haven, with an enormous lawn where you'll find Adirondack chairs, outdoor games like cornhole and giant Jenga, dogs of patrons, and often live music. It's also got a fantastic restaurant serving up foods that happen to pair perfectly with beer, such as Korean fried chicken sandwiches, gourmet hot dogs, big 'ol pretzels with harbor ale cheese sauce. Up on the North Fork at the Greenport location, you'll find a sightly cozier atmosphere inside the firehouse-turned-brewery. In the second-floor tasting room, try a pint or two of the rotating taps, currently featuring creative flavors such as a pumpkin ale, a sour IPA with blood orange, grapefruit, and tangerine, and the "Crème De Fork," an imperial cream ale with coffee from the local North Fork Roasting Company. Or try the tasting flight for $8!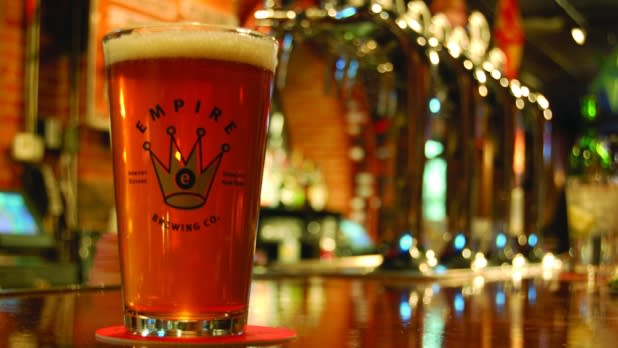 Empire Brewing Company's 22+ acre plot of land in Cazenovia makes up the largest farm brewery on the East Coast. The brewing company grows most of the natural ingredients used in its beers, from hops to lavender, herbs, and fruit. Besides its own crops, the brewery incorporates locally-sourced products from more than 60 farms in Central New York, and even draws its brewing water from Skaneateles Lake! All the extra effort pays off. Empire's "Skinny Atlas" light beer has been crowned the Great American Beer Festival winner four times, and its nitrogen-carbonated "Black Magic Stout" won gold for being the best Dry-Irish Style Stout at the World Beer Cup. It also puts out a number of limited releases and specialty drafts which you can sample at the farm brewery or at its brewpub in downtown Syracuse. It offers brewery tours every Saturday and Sunday, which last about half an hour and conclude with a complimentary 5-ounce sample.

Credit: LPP & B
The Lake Placid Pub & Brewery has twice been voted Best Brewery in New York State at the TAP-NY Brewery Festival, and its flagship "Ubu Ale" microbrew (named, adorably, after a regular customer's chocolate lab) has swept up awards right and left almost every year for more than a decade. The beer picked up notice ever since some White House interns bought it for then-President Clinton, who liked it so much he ordered three cases! You can try the Ubu and other beers on tap, as well as tasty pub fare like nachos, wings, pizza, and even ribs at the three-story bar/restaurant. The third floor, dubbed "The Hop Loft," has a gorgeous view overlooking Mirror Lake, another bar, and even a kids room with activities—basically, they've thought of everything! Plus, if you want to learn all about how the delicious beer is made, brewery tours are offered every Saturday afternoon at 4:30, or upon request.
5. Catskill Brewery, Livingston Manor (Catskills)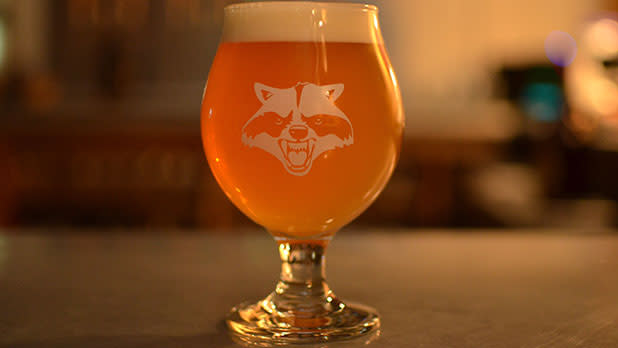 The only thing better than a sip of one of Catskill Brewery's refreshing beers is knowing that by imbibing you're actually supporting a mission of sustainability. The brewery is Gold LEED certified, which means it's powered by solar and natural energy, and anything that can be recycled, reused, and re-purposed, is. The milling room uses a dust filtration system to ensure a high quality of air, and the tasting area is paneled with reclaimed wood to be both environmentally-friendly and just plain cozy. Then there's the beer itself, brewed with pure Catskill Mountain water and natural (mostly local) ingredients. You can check the brewery's website in advance to see what's on tap. Currently we're loving the taste (and name) of its "Freak Tractor," a slightly fruity wild beer made with 100% Brettanomyces yeast.
Welcome home, sour-beer-lovers. Hudson Valley Brewery has a very large range of perfectly tart sour beers, which can sometimes be hard to find. The folks here age their wild ales between four and 14 months before blending them with younger saisons. All that extra time spent aging (as opposed to only a few months) gives the beer a tannic complexity. Plus, the owners use a special bacteria and yeast culture which they've cultivated since before they opened shop. (FYI they have excellent non-sours as well!) Also, they're located right in the heart of Beacon, which means that fun activities nearby, like Dia:Beacon and gorgeous hiking are at your fingertips. Instead of growlers, they sell 32-ounce "crowlers"—a mix between can and growler, so you can take some to go, or just hang out at their bar or outdoor seating area and enjoy.

Credit: Ithaca Beer Company
The Ithaca Beer Company stays true to the innovative spirit it had as a tiny seven-barrel brewhouse, even though today it brews about 25,000 barrels of beer a year, including several IPAs and a double IPA. The coffee stout is wonderfully smooth and the "Apricot Wheat" beer is sure to please the hop-averse beer drinkers. The bottles, as well as small-batch brews (tapped every Wednesday), are delightful to drink in the enormous outdoor beer garden. In the taproom restaurant you'll find perfectly crispy fries, and piping hot pizza and burgers to go along with the beer, as well as a seasonal menu of street food dishes cooked up in its outdoor kitchen! As a tribute to the region, the foods focus heavily on local ingredients straight from the on-site farm or local suppliers throughout the Finger Lakes. If you're interested in taking a tour of the brewery, plan your visit for a Saturday or Sunday and call in advance to reserve, and be sure to wear closed-toed shoes. Each tour ticket is redeemable for a $5 discount on a case of bottled beer!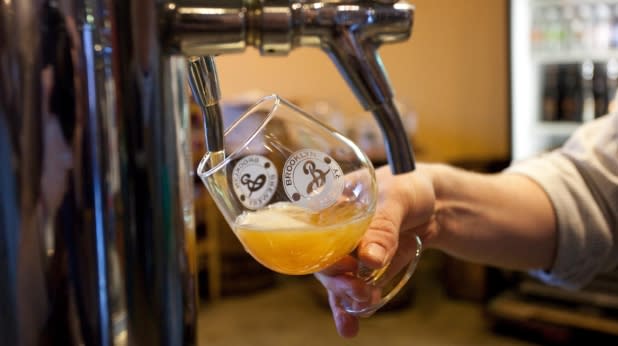 Duck into any bar (or beer shop or supermarket) in New York City, and odds are you'll see the classic green Brooklyn Brewery lager; it's become definitively iconic. It was actually created as a throwback to the late 1800's when Brooklyn was the country's brewing hub, and Vienna-style lager was the local favorite. Head out to the brewery's tasting room to try its saison, pilsner, IPAs, brown ale, and brand new sour, plus a rotation of small-batch beers on tap. There is no restaurant at the brewery but you're more than welcome to order in. It offers small-batch tours Mondays through Friday by reservation, where a guide will delve into the history of the brewery and the whole process (and you get a nifty souvenir Brooklyn "Spiegelau Saison" Glass to take home at the end). If you don't feel like taking the full tour, which is $18 a person, come Saturday or Sunday between 12 and 8 PM. The first 40 people can take a truncated tour for free. By the by, the Brooklyn waterfront and a stunning view of the Manhattan skyline are only a few blocks away!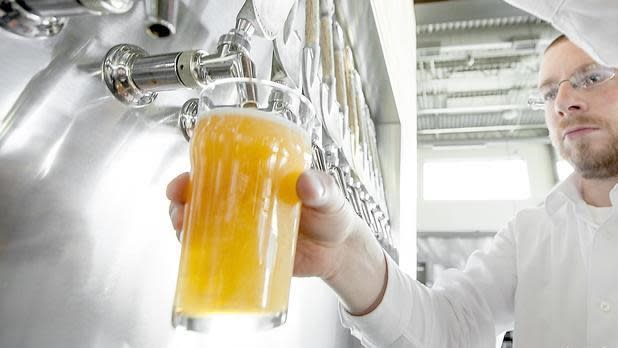 The name "Big Ditch" comes from a place of deep love and pride for the city of Buffalo. The story goes like this. In 1825 then-governor of New York State, DeWitt Clinton, drafted plans to build what would become the Erie Canal, connecting the Great Lakes to the Atlantic Ocean. It was thought a doomed venture, and thus nicknamed "Clinton's Big Ditch"—but the haters were proven wrong! Once it was completed it was an immediate success and turned the city into a thriving trading port. So the folks at Big Ditch Brewing pay homage to those who changed the course of Buffalo history, with their name and with their top notch brew. Visit the Tap Room, a massive two-level restaurant, where you can find beers on tap and a menu that likes to incorporate beer into the food. For example, they have a Breuben sandwich, made of corned beef brined in "Excavator Rye Brown Ale", or chicken wings coated in "Hayburner IPA" wing sauce. As for beers, they have a signature IPA, golden ale, and rye brown ale, as well as seasonals. As the weather keeps cooling down, go for special beers like "Cinnamon Apple" amber ale, and "Fresh Baked", which is a winter ale brewed with chocolate malt, English brown malt, and oats, and tastes a bit like oatmeal cookies. What's not to love?
10. Skewed Brewing, Watertown (Thousand Islands)
Skewed Brewing is one of the more unusual breweries on this list. For starters, it's located, oddly enough, inside a shopping mall. This means you can "run some errands" and explore delicious New York beer all on the same trip. It also means there is plenty to do for any family or friends who just don't like beer. Although, Skewed Brewing really goes out of their way to accommodate all tastes in libation, serving cocktails, wine, and well drinks. The food menu is loaded with beer-suited bites, including 11 different types of poutine! Skewed has a number of flagship brews on draft rotation, including a milk stout brewed with 22 pounds of Belgian chocolate, dubbed "The Milky Way," and a bright and fruity hopped American Pale Ale called "The Juice." And as of early October Skewed is pouring "Szechuan Saison," a collaboration with Empire Brewing Company! There's no telling how long it will last but you can always bet on finding something funky and creative at Skewed.
11. Ellicottville Brewing, Ellicottville/Fredonia/Bemus Point/Little Valley (Chautauqua-Allegheny)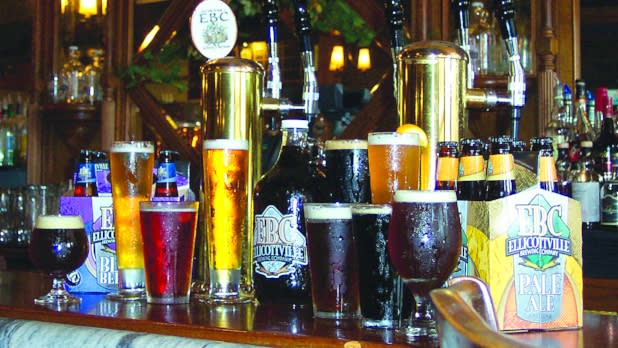 Ellicottville Brewing is a microbrewery, a really large one, with a total of four different locations in the region. Two are brewpubs in Fredonia and Bemus Point, and their flagship brewery in Ellicottville offers tours for groups even larger than 20 people. The tour takes people through their Pub Brewery and expanded German brewhouse, and wraps up with a tasting of four beers—yes, you can keep the souvenir glass. But if you really want to learn about beer, visit the newest location in Little Valley which opened in the fall of 2017. Besides a brewpub, it has a Craft Brewing Science Center full of exhibits that explain and demonstrate various stages in the brewing process, such as malting, the effect of hops, the importance of water types, how yeast works, and more! All ages are welcome to come learn. For those older than 21, get excited to taste a variety of "everyday" beers, including "Hot Chocolate Stout," "Blueberry Wheat Ale," a "Keepin' It Peel" Citrus IPA, and seasonal brews. The imperial series is where the flavors get even more interesting, with inventions like a peanut butter porter and a chocolate cherry bomb stout. We can't tell if writing about these makes us hungry or thirsty, but either way we want them all.
Druthers Brewing is another microbrewery that has several locations to its name, blessing the Capital region with excellent beer in Albany (with a state-of-the-art filler visible from the restaurant), Saratoga Springs, and Schenectady. The genius behind the beer is Druthers' master brewer, George de Piro, who has won three gold medals at the Great American Beer Festival, and gold, silver, and bronze at the World Beer Cup. Each location's food menu varies slightly, though all three share items in common, like the drool-worthy beer cheese dip made of three cheeses, hop butter and beer, served with pretzel bites, and wood-fired pizza with housemade sauces. Beer and fresh pizza? Name a better duo—we'll wait.
Share photos of your New York adventures on Instagram and Twitter with #ILoveNY and #iSpyNY and tag us on Facebook!