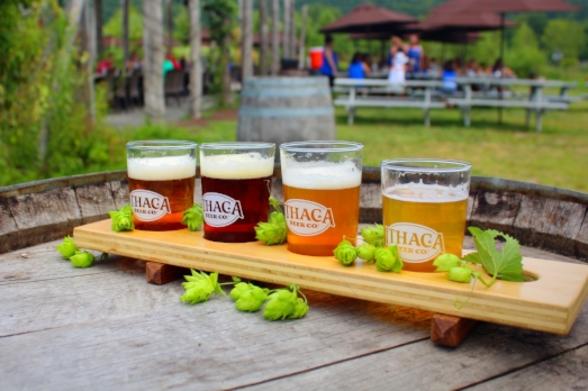 Craft brewing is not only a huge part of New York's history but an important part of its present as well. Brewers increasingly draw on ingredients, from hops to seasonal fruits, which showcase New York flavor and creativity. Even better, nearly every spot on this list serves delicious beer-compatible local bites to pair with a pint. Read on for 11 of the best brewery experiences across the state.  
Masks are encouraged, but optional in most settings per New York State guidelines. Individual businesses or attractions may require mask wearing. Call ahead and check websites and social media to make sure attractions and amenities are open and available.
Updated 07/31/2023
1. Brewery Ommegang, Cooperstown (Central New York)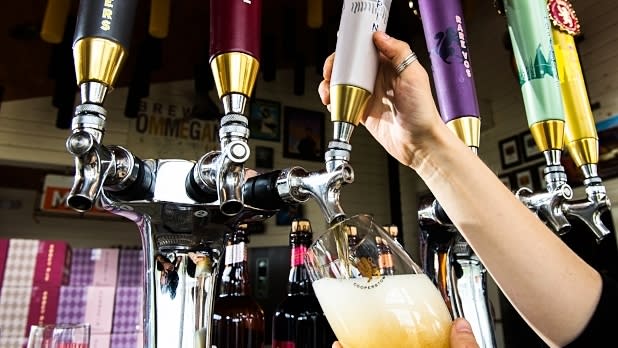 Ommegang is a BIG name in the craft brewery scene. You can find cans and bottles of its Belgian-inspired specialty and seasonal ales in most high-end beer shops. It's been brewing since 1997 on a 136-acre farmstead in Cooperstown. Enjoy a guided tasting ($20) that takes you on a trip through Ommegang's beer history from their storied heritage series to its latest creations or pop into the Tap House and Mercantile for a savory bite to eat paired with their award-winning brews. As for its beers, don't miss the classic "Hennepin," Ommegang's farmhouse Saison, the Nirvana IPA, grown with New York hops, or consider one of its more inventive limited editions. 

Credit: Liz BanField
The Greenport Harbor Brewing Company has two locations on Long Island, one in Greenport and another larger one in Peconic; both offer an amazing atmosphere and even better beer. To start, the Peconic brewery can be described as a beer drinker's haven, with an enormous lawn where you'll find Adirondack chairs, outdoor games like cornhole and giant Jenga, dogs of patrons, and often live music. It's also got a fantastic restaurant serving up locally sourced dishes that pair perfectly with Greenport Harbor Brewing Company's beer. The menu is ever-changing so you have a reason to visit time and time again! A bit further east on the North Fork at the Greenport location, you'll find a cozier atmosphere inside the firehouse-turned-brewery. In the second-floor tasting room, try a pint or two of the rotating taps or the tasting flight.

Credit: @518craftbeer on Instagram
Druthers Brewing is another microbrewery that has several locations, blessing the Capital-Saratoga region with excellent beer in Albany (with a state-of-the-art filler visible from the restaurant), Clifton Park, Saratoga Springs, and Schenectady. The man behind the beer is Druthers' master brewer, George de Piro, who has won three gold medals at the Great American Beer Festival, and three medals at the World Beer Cup. The locations currently share the same seasonal menu; be sure to try items like the drool-worthy beer cheese dip made of a seven-cheese blend, golden rule blonde, and cherry peppers served with Bavarian-style pretzels, and wood-fired pizza with house-made sauces. Beer and homemade pizza? Name a better duo—we'll wait.

Credit: LPP & B
The Lake Placid Pub & Brewery has twice been voted Best Brewery in New York State at the TAP-NY Brewery Festival, and its flagship "Ubu Ale" microbrew (named, adorably, after a regular customer's chocolate lab) has swept up awards right and left almost every year for more than a decade. The beer picked up notice ever since some White House interns bought it for then-President Clinton, who liked it so much he ordered three cases! You can try the Ubu and other beers on tap, as well as tasty pub fare like barbacoa nachos, wings, pizza, and even beer battered fried fish at the three-story bar/restaurant. The third floor, dubbed "The Hop Loft," has a gorgeous view overlooking Mirror Lake.
5. Catskill Brewery, Livingston Manor (Catskills)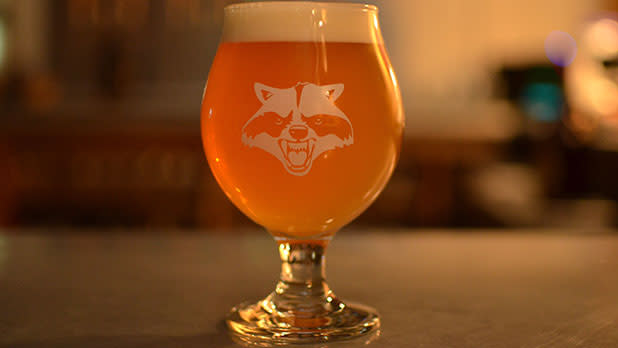 The only thing better than a sip of one of Catskill Brewery's refreshing beers is knowing that by imbibing you're actually supporting a mission of sustainability. The brewery is Gold LEED-certified, which means it's powered by solar and natural energy, and anything that can be recycled, reused, and re-purposed, is. Currently, beer is available in the beer garden or to-go only. As for the beer itself, it's brewed with pure Catskill Mountain water and natural (mostly local) ingredients. You can check the brewery's website in advance to see what's on tap.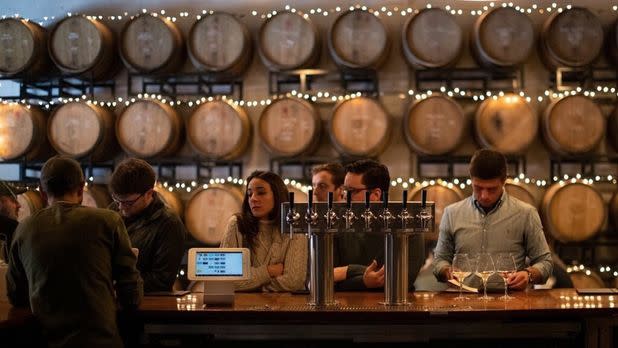 Welcome home, sour-beer-lovers. Hudson Valley Brewery has a very large range of perfectly tart sour beers, which can sometimes be hard to find. The folks here age their wild ales between four and 14 months before blending them with younger saisons. All that extra time spent aging (as opposed to only a few months) gives the beer a tannic complexity. Plus, the owners use a special bacteria and yeast culture that they've cultivated since before they opened shop. (FYI they have excellent non-sours as well!) Also, they're located right in the heart of Beacon, which means that fun activities nearby, like Dia:Beacon and gorgeous hiking are at your fingertips.

Credit: Ithaca Beer Company
The Ithaca Beer Company stays true to the innovative spirit it had as a tiny seven-barrel brewhouse, even though today it brews about 20,000 barrels of beer a year, including several IPAs and a double IPA. The "Nut Brown" ale is wonderfully rich and the "Apricot Wheat" beer is sure to please the hop-averse beer drinkers. The bottles, as well as small-batch brews, are delightful to drink in the enormous outdoor beer garden or indoor taproom where you can also indulge in some comfort food favorites like pizza and fries. As a tribute to the region, the foods focus heavily on local ingredients straight from the on-site farm or local suppliers throughout the Finger Lakes.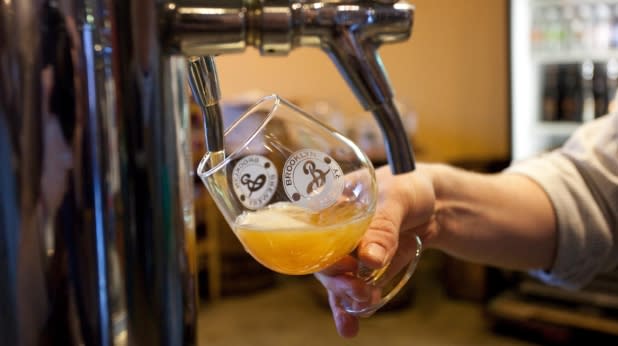 Duck into any bar (or beer shop or supermarket) and odds are you'll see the classic green Brooklyn Brewery lager logo, designed by Milton Glaser, who also gave us I LOVE NY! The lager itself, brewed under the guidance of brewmaster Garrett Oliver, was actually created as a throwback to the 19th-century era when Brooklyn was the country's brewing hub and Vienna-style lager was the local favorite. Oliver has expanded the Brooklyn Brewery lineup to include many cutting-edge, award-winning styles. Visit the popular brewery taproom and even take a tour of this iconic space!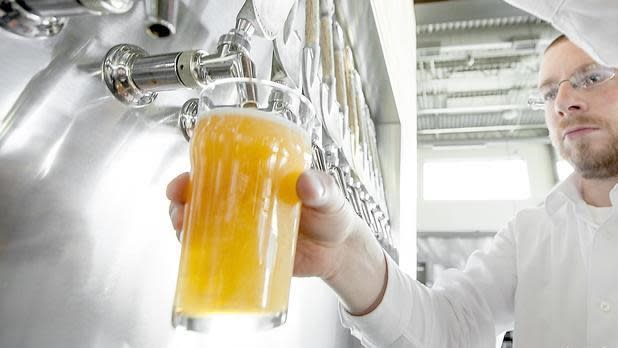 The name "Big Ditch" comes from a place of deep love and pride for the city of Buffalo. The story goes like this. In 1825, New York Governor DeWitt Clinton opened the Erie Canal, a project he had championed, connecting the Great Lakes to the Atlantic Ocean. It was thought a doomed venture, and thus nicknamed "Clinton's Big Ditch"—but the haters were proven wrong! Once it was completed it was an immediate success and turned the city into a thriving trading port. So the folks at Big Ditch Brewing pay homage to those who changed the course of Buffalo history, with both their name and with their top-notch brew. Visit the Tap Room, a massive two-level restaurant that offers beer paired with great food. For example, they have a Breuben sandwich, made of corned beef brined in "Excavator Rye Brown Ale," or chicken wings coated in "Hayburner IPA" wing sauce. For beers, try the signature IPA, golden ale, and rye brown ale, as well as seasonals. What's not to love?
10. Ellicottville Brewing, Ellicottville/Fredonia/Bemus Point/Little Valley (Chautauqua-Allegheny)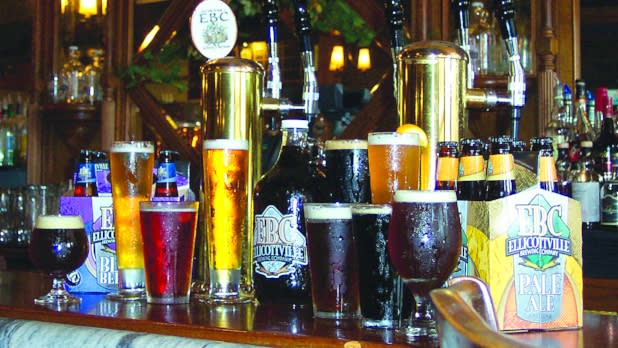 Ellicottville Brewing is a microbrewery (a really large one) with five locations, offering what it calls "Fresh, American-forward cuisine" including crowd-pleasers like brewer tots (house-made pulled pork over tater tots), salads and burgers, and regional favorites like beef on weck. The food is a main draw, but so is the beer of course, including Ellicottville Brewing's "Everyday Series," with classics like Blueberry Wheat Ale and Blood Orange, among other seasonal brews. The "Redeye Series" is where the flavors get even more interesting, with inventions like Blueberry Maple Pancake and Chocolate Cherry Bomb Stout.

Credit: Taste 1000 Islands and Le JIT Productions
Locally-sourced and locally-made, the craft beer at Wood Boat Brewery is made from hops and other products sourced straight from New York State farms. These fresh ingredients result in quality products like cherry wheat ale, oatmeal stout, and Bourbon Barrel Aged Brown Ale. Order a pint or flight and hang out in the pub-style restaurant or head out to the deck and enjoy a craft brew with St. Lawrence River views. If you're in a hurry, 64-ounce growlers are available to-go. Wood Boat Brewery serves a full menu, specializing in brick oven pizza. Adventurous eaters can try a specialty pie like the Popper Pizza, whose toppings include bacon, sliced jalapenos, and homemade raspberry jam. The brewery also runs The Boat Tasting Room in Lake Placid, NY, where they offer a tasting menu of their own beers as well as craft beverages from other Clayton area businesses. 
---
Share photos of your New York adventures on Instagram and Twitter with #ILoveNY and #iSpyNY and tag us on Facebook!