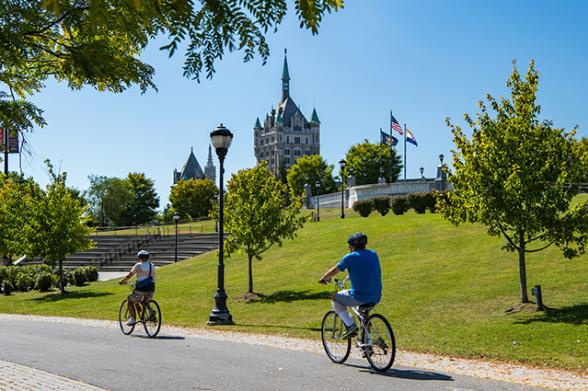 Get ready to enjoy New York's newest wonder, the 750-mile Empire State Trail. A perfect route for bicycling, hiking, running, or walking, the trail consists of three main sections: the Hudson Valley Greenway Trail, which extends from the Battery in Lower Manhattan up to Albany; the Champlain Valley Trail, which heads north to Rouses Point; and the Erie Canalway Trail, which winds through the Finger Lakes and ends in Buffalo. Much of the Empire State Trail is newly built or freshly renovated and off-road. There is easy access all along the trail and designated parking areas should you want to drive to a specific section (check the Empire State Trail map to find your entryway and route). Best of all, The Empire State Trail will get you outside to enjoy nature with countless diversions, from stopping for craft beverages and a bite to eat to visiting world-class museums and fascinating historic sites. Below, we've selected one attraction as a reference or "stop" on or within a mile or two of the trail, with suggestions for other nearby activities. 
Masks are encouraged, but optional in most settings per New York State guidelines. Individual businesses or attractions may require mask wearing. Call ahead and check websites and social media to make sure attractions and amenities are open and available. 
Updated 04/13/2023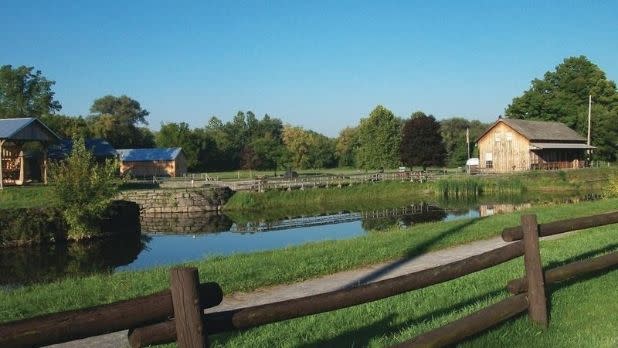 One of the true highlights of the Empire State Trail is getting up close and personal with the famed Erie Canal, and the stretch along this park is especially scenic. It features wetlands and wooded terrain, with spots to picnic, admire the view, or visit cultural sites such as the Chittenango Landing Canal Boat Museum (pictured) and the Canastota Canal Town Museum. Close by is the International Boxing Hall of Fame, and for farm-to-table fare, stop for lunch or dinner at Madison Bistro.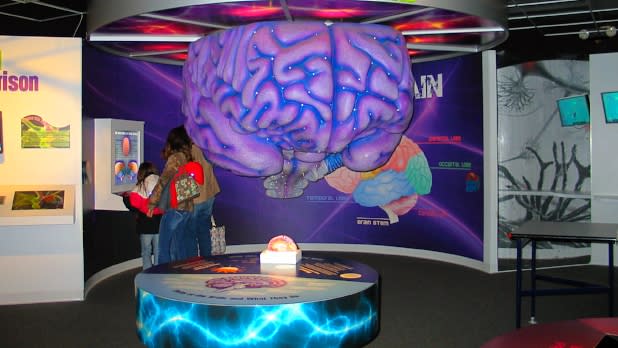 The trail runs through Syracuse near Armory Square, making this acclaimed science and technology museum an ideal place to stop for educational family fun. A few blocks away and right on the trail is the original location of Dinosaur Bar-B-Que, a great spot to power up for the rest of your trip with brisket, pulled pork, craft beer, and more.
Stroll through gardens and see one of the world's best collections of medieval sculpture, stained glass, tapestries, and more at this unique museum and grounds overlooking the Hudson River in upper Manhattan. A perfect complement to a day of time traveling through art and riding or enjoying the trail is a stop at Tryon Public House for burgers, salads, and other pub fare, as well as craft beers, wine, and cocktails. 
Buffalo and Canalside (Greater Niagara)
Depending on where you're coming from or going to, the Empire State Trail can either begin or end just south of Canalside, Buffalo's 21-acre waterfront park featuring year-round activities from kayaking in summer to ice skating in winter. Also here is the Explore & More children's museum. Nearby dining and drink options include Pearl Street Grill & Brewery (pictured) for pub fare and house-made craft beers.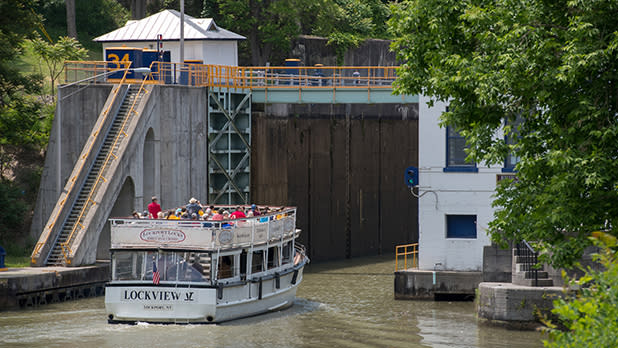 Hop off the trail and go for a cruise on the Erie Canal, including a ride past five of the original 1800s locks that helped boats navigate this important historic waterway. Daily cruises resume for the season on Saturday, May 20, at 10 am, 12:30 pm, and 3 pm, and run during the week at 12:30 pm and 3 pm. There's plenty more to do in Lockport, from the Erie Canal Discovery Center to grabbing a bite at one of the many restaurants, including Stooges, a stuffed burger bar where the beef patties are filled with extras like mac 'n' cheese, pepperoni and mozzarella, and more!
Munson (Central New York)
This internationally recognized fine arts center in Utica spans two architecturally significant buildings and features 20 galleries containing major works by artists including Picasso, Salvador Dali, and Jackson Pollock. Besides this satisfying cultural diversion, you can grab a bite of history at Hemstroughts, the bakery that invented the half moon cookie, frosted with chocolate fudge and buttermilk vanilla.
This stunning arts institution is a must-stop when bicycling or walking the trail through the village of Canajoharie. Created by the founder of the Beech-Nut packing company, the museum today features an impressive collection of sculptures and paintings by American artists including Winslow Homer, Georgia O'Keeffe, Andrew Wyeth, and others. Riverfront Park on the Mohawk River offers a view of the lock for prime boat-watching. A few miles away and also near the trail is one of the area's best-rated dining options, Mediterranean Kitchen, offering Greek specialties, pizza, and more.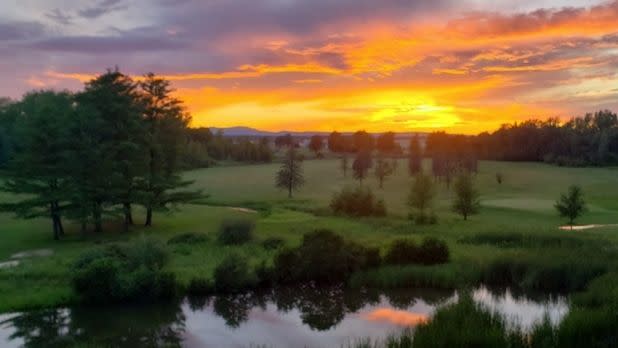 The Plattsburgh Barracks, once the longest-operating military facility in the United States, closed after 200 years in 2015. The site is now home to three museums and two breweries, and the Barracks Golf Course (pictured). Check out the War of 1812 Museum, the Plattsburgh Air Force Base Museum, and the Clinton County Historical Museum, then have a beer and a bite at the Valcour Brewing Company or at Oval Craft Brewing. Both breweries are stops on the Champ's Cuisine Trail, which offers 20 area restaurants, wineries, and breweries.

Credit: @tdecorah on Instagram
This 50-acre park with nature trails, a pedestrian/bicycling bridge (pictured), and a picnic pavilion is a great destination along the trail. There's also a canal and Hudson River access, as well as a Play Garden that's enjoyable for families. Bring food for a picnic or stop at nearby Sweet Lou's Bistro for a tasty lunch or dinner, with a menu of comfort food classics and heartier fare that can power your ride or walk along the trail.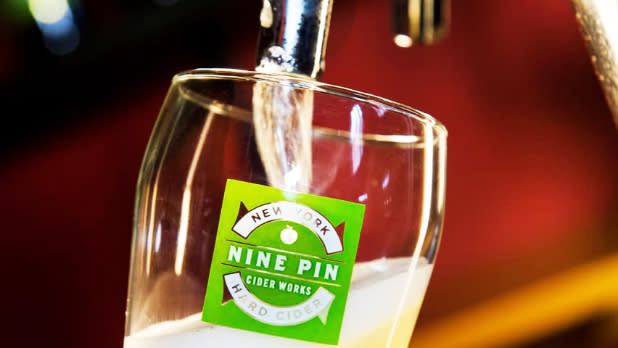 This homegrown cidery has long been a popular stop on the Erie Canalway Trail, now part of the Empire State Trail. Stop in for a cider made from 100 percent New York apples and fruits, and try the excellent sourdough pizzas. For more craft beverage options and a lively outdoor setting, Wolff's Biergarten serves great local and imported beer, and German biergarten staples such as pretzels and wursts (sausages). While in Albany, be sure to snap a pic in front of the magnificent New York State Capitol.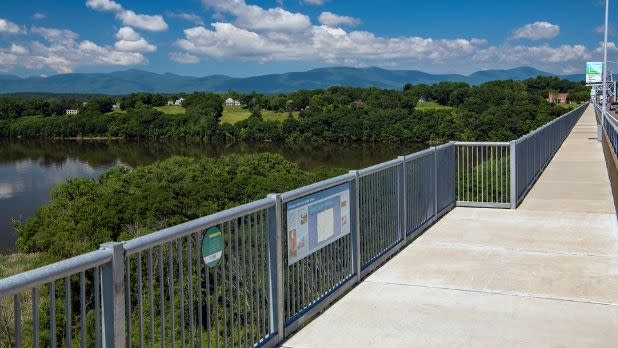 Those wanting to cross the Hudson River can park at the Hudson River Skywalk lot and walk or bike across the scenic span that connects two significant artist's homes, the Thomas Cole National Historic Site and Frederic Church's Olana. The lot also provides easy access to the trail leading into the walkable city of Hudson, with antique shopping, restaurants, and entertainment. Stop at the Kitty's Market across from the Hudson Amtrak station and get supplies for a picnic along the river in Henry Hudson Riverfront Park.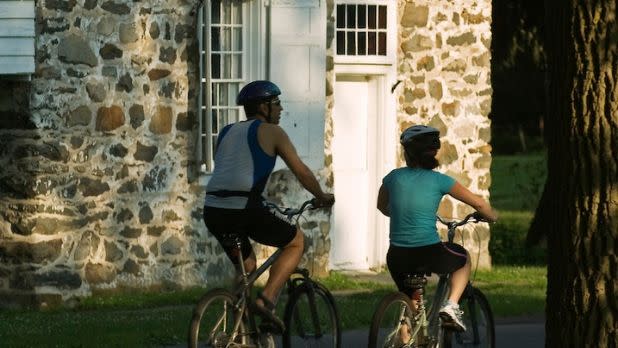 Travel back centuries to this well-preserved French settlement in New Paltz. The 10-acre National Historic Landmark District, home to seven stone house museums and other structures, is steps from the trail. Nearby food and drink options abound, with a variety of cuisines represented. Mexican Kitchen is popular from breakfast through dinner, with tacos, quesadillas, and plenty of vegetarian and vegan dishes. Five miles up (or down) the trail are several noteworthy food and beverage stops, including Coppersea Distilling, known for whiskey and eau-de-vie made from locally sourced grain and fruit; Bradley Farm and RB Brewing, with New York State-brewed beer, plus locally made wine and cider, and farm-fresh produce and meats; and the Rail Trail Cafe, a shack serving wood-fired pizza, salads, and burritos, scheduled to reopen for the season in mid-May.
---
Don't forget to post photos of your New York adventures on Instagram and Twitter with #iSpyNY and tag us on Facebook!